Bay of Fires Lodge Spa
 The Spa is located in surroundings so unique they are world recognised. We offer Spa services and packages to our walking guests exclusively. Our Spa menu has something for everyone with treatments for your relaxation and well-being including massage, facials, body exfoliations and hand & feet rituals. Begin your Spa experience with a soothing soak in our exquisite outdoor bathing pavilion and for the ultimate indulgence try one of our Bay of Fires Signature treatments.
We look forward to welcoming you to our beautiful Lodge Spa and creating a unique and special Spa experience for you.
World Luxury Spa Award
Winner Luxury Eco Spa for Australia/Oceania
Massage Therapies
The power of human touch combined with pure essential oils will allow you to escape into deep relaxation. Your Spa Therapist is skilled in a range of massage techniques to calm the mind, ease tired muscles and stimulate the body.
Kodo Massage (means 'melody')
30min $90          45min $115          60min $150          90min $210
This rhythmic body massage is inspired by traditional Australian Aboriginal techniques which balance & re-align energy flow, enhancing mind, body & spirit. A choice of native aromatic oils will individualise the treatment - to rejuvenate, harmonise or detoxify.
Enhancer - Quandong Hair Mask $20 (applied during scalp massage)
Yindjibardi Massage (means 'your path')
30min $90           45min $115          60min $150          90min $210
An individual tailored massage to match your unique journey. After a thorough consultation, your therapist will design a massage treatment to best suit your needs to ensure total rejuvenation. A range of massage techniques & movements, using light or firm pressure as requested, to relax and relieve muscular pain & tension.
Enhancer - Quandong Hair Mask $20 (applied during scalp massage)
Face, Hands, Head & Feet Rituals
Delight your senses with a rejuvenating ritual. Gentle exfoliants, wondrous hydrating masks, warm compresses and pressure point massage will heal, smooth and restore vitality to your skin.
Mirri (means 'face') 
45mins   $115
Integrating Australian native ingredients such as Lillypilly, Tasmanian Kelp & Macadamia, this is an ideal pick me up treatment to cleanse & nourish your skin. The perfect accompaniment to all body treatments.
Mikiri (means 'deep')
60min $150
This deeply clarifying & refining facial restores balance & harmony to skin troubled by sensitivity, congestion or dehydration. Personalised to suit your individual needs, it uses native herbal remedies which will eliminate toxins, rejuvenate, hydrate & nourish the skin.
Enhancer - Quandong Hair Mask $20
Paudi Head Treatment (means 'hair')
30min $90
Float away to another dimension when you surrender to the traditional Aboriginal head massage techniques. Incorporating a pressure point facial massage, neck & shoulder massage & scalp massage with Quandong Hair Mask to condition & nourish the hair.     
Miji Jina Foot Treatment (means 'little footprint')
30min $95
Soak away tension with this wonderfully relaxing, grounding treatment for your lower legs & feet. Exfoliate with desert salts, nourish with a warming Pepper berry pedi mask & smooth with Munthari lotion. To complete a stimulating pressure point foot massage to rejuvenate the whole body.
Extender - 15 min shoulder/scalp massage $25
Lowanna (means 'beautiful')
75min $205
Our deluxe Lowanna cares for all the zone therapy areas- the hands, feet & head. We work our magic with gentle exfoliants, soothing & hydrating masks and pressure point massage - re energising  the body & enhancing overall equilibrium.
Enhancer - Quandong Hair Mask $20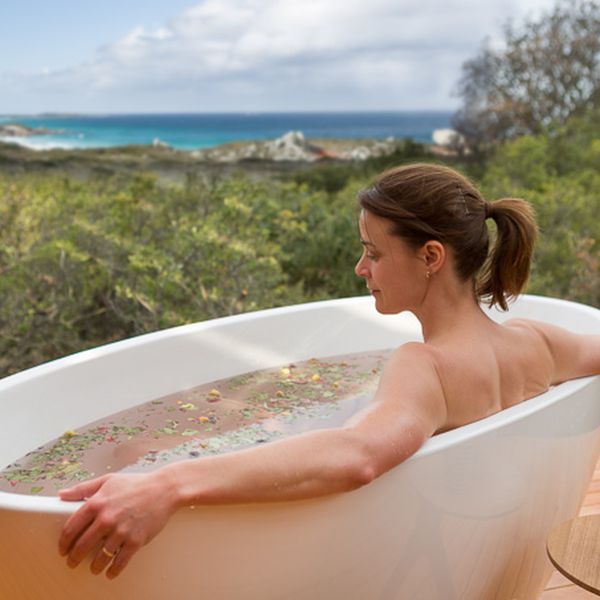 Bathing
There is no disputing the healing qualities of water. At the Lodge Spa we have created a private pavilion designed to fully submerge you in nature overlooking the Bay of Fires. Choose from these beautiful bath blends and soak up the view.
Tasmanian Peat Bath
30min $65 single
A powerful blend of natural Tasmanian Peat that is rich in proteins, trace elements and minerals and pure Essential Oils of Grapefruit, Neroli, Sage & Sandalwood. A wonderful skin hydrator and works to soothe muscle tension.
Jiga Jina Bath Soak
30min $65 single
A beautiful combination of pink salt crystals and fragrant Australian flowers, leaves, fruits & berries that stimulate through aroma and colour. This cleansing & nurturing soak will help ground the spirit & re-mineralise the body.
Ocean Dreaming
30min $65 single
A refreshing skin soothing blend of Honeysuckle, Lemon Scented tea-tree and Sandalwood to revitalize & invigorate. This bath is excellent for treating dry, sensitive skin conditions, bites or eczema.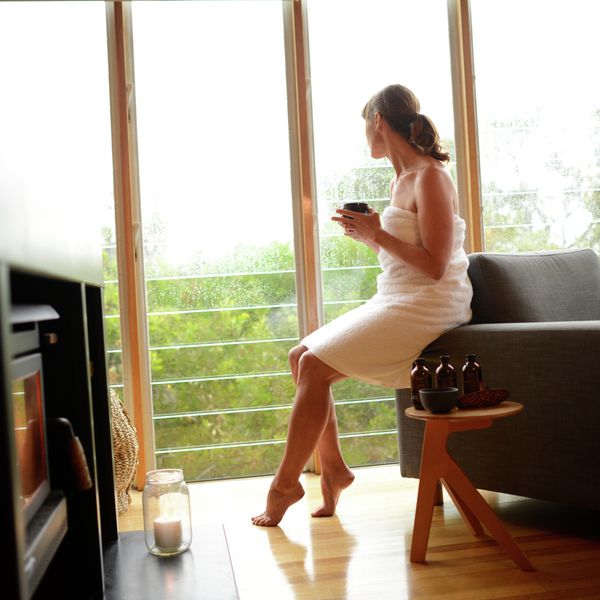 Bay of Fires Signatures
Our Spa signature treatments are designed to reconnect mind, body and spirit from head to toe. We will take you on a journey to complete relaxation. Awaken, rejuvenated and ready to embark on life's adventures.
Kubba Warra (means 'the warm dance of the skin')
135min $325     120min $305 (no bath)
Nurture, renew & revitalise with a Spa journey to reconnect body, mind and soul, from head to toe. The adventure includes a Tasmanian Peat Mud Bath, Kodo Massage, Mirri Facial & Jina Foot Treatment, all embracing traditional Australian indigenous healing techniques.
Enhancer - Quandong Hair Mask $20
Sea Salt Buff & Ocean Cleansing
60min $125
A refreshing, powerful skin recharging full body exfoliation therapy that integrates native aromatic oils & Australian Sea Salts to cleanse and purify leaving skin smooth & soft. Your therapist will then guide you to our exquisite outdoor bathing pavilion, wash away the stresses of the outside world in our beautiful Ocean Dreaming bath blend. 
Kanya (means 'to breathe')
90min $255
'Breathe' and reconnect to your inner self. This treatment is perfect for our walkers- we focus on the back, feet, head & shoulders. To begin your Spa escape, a therapeutic back massage tailored to your specific needs. We apply a Kunzea Muscle Balm to further help relieve muscular pain & tension. Surrender your senses to our mesmerising Paudi head treatment. We incorporate a foot therapy to heal, smooth and return vitality to tired feet.