An immersive walking and leadership retreat in the heart of nature
Ready for an inspirational escape? Bruny Island Long Weekend has teamed up with The Barefoot Coach, Dugald Christie-Johnston, to create a unique experience designed to develop your leadership skills.
Take a journey to Tasmania's unspoilt gem, Bruny Island, and walk to beautiful, remote places that renew, refresh and challenge. The laid-back isle is a perfect backdrop for a retreat led by one of Australia's best leadership coaches and two passionate walking guides. Dugald's distinct workshops inspire, engage and uplift - enabling individuals and teams to achieve balance, flow and peak performance.
This three-day, two-night experience will provide an opportunity for reflection, learning and growth, with a significant emphasis on leadership development. Explore how you and your team can lift performance, work smarter, and forge stronger relationships.
Each day you'll carry lightweight packs and enjoy the sanctuary of our private camp with hot showers, an outdoor fire (perfect for story-telling), and a cosy bed. You'll partake in Bruny Island's famed produce, including fresh seafood, cheese, wine and beer. These simple comforts will enable you to awaken rejuvenated each morning and truly engage in the experience.
Direct bookings only.  For all enquiries and bookings please contact Tasmanian Walking Company on (03) 6392 2211 or email bookings@taswalkingco.com.au
Discover our full collection of special interest and featured guest walks
Introducing Dugald Christie-Johnston
- The Barefoot Coach 
Dugald, also known as The Barefoot Coach, is Founder and Director of Seventh Wave, a boutique business with a focus on peak performance. Partnering closely with clients, Seventh Wave's vision is to emphatically improve the performance of individuals, teams and organizations, by creating unique opportunities for them to unleash the potential within.
Dugald is known for innovative approaches that deliver extraordinary results. Dugald utilises a solution-focused approach, drawing on N.L.P. techniques, the principles of positive psychology, wholebrain thinking and emotional intelligence to create an energetic and engaging experience for clients. "We're more productive when we enjoy what we do. Smile more, laugh more! You'll be more present, and get more value from the experience".
Retreat Outcomes:
• Develop an understanding of peak performance (flow) states
• Explore the connection between nature and creativity
• Nurture key relationships
• Foster greater self-awareness and forge deeper connections with others and nature
• Understand the concept of whole brain thinking and the neuroscience of creative movement
• Explore mindfulness and high-performance mind
• Set clear goals and make compelling commitments
Bruny Island Long Weekend (3-days)
Our award-winning Bruny Island Walk takes you by private boat from the waterfront of Tasmania's capital Hobart to Bruny Island. During your visit you will be treated to coastal walks, produce directly from the source, luxury camping and exquisite meals.
What makes this walk so special is access to Bruny's lesser-known gems. After traversing headlands where the next stop is Antarctica, visit a local oyster farm and shuck an oyster as pristine waters swirl about your ankles. Finally, retreat back to camp, built completely off-the-grid, with luxury in mind. Crisp sheets on king-sized beds and an outdoor shower framed by towering Eucalypts await.
Pre-walk
Prior to the walk, our reservation team will ensure you can complete the walks, take care of your dietary requirements and ensure you have the right gear.
Dugald will contact all guests with preparatory activities including a self-assessment to help determine your goals for the walk. You'll also get the opportunity to complete a behavioural profiling tool to help provide greater self-awareness. This could include:
• HBDI (Herrmann Brain Dominance Instrument)
• DiSC Workplace Profile
One to one and or group conversations (face to face or video conference) are arranged to discuss profiles and survey results. Pre-reading is distributed. Teams who book the entire will be encouraged to co-create the design of the program with Dugald.
Concepts and Models for the walk include:
• Leadership and Influence
• Goalsetting
• Comfort Zone
• Stages of Growth
• Wholebrain Thinking
• Journaling
• High-Value Communication - Leadership Language
• Positive Influence
• Breath Training
• Crucial Relationships
• Creative Problem-Solving
• Mindfulness
• Purposeful Presence and your Leadership Brand
• Balance, well-being and resilience
• Storytelling
• Trust and High-Quality Working Relationships
Day One: Great Bay
Approximately 5-6 hours walking
The retreat begins with everyone gathering at Daci and Daci at 7 am to prepare with Dugald and our naturalist guides. There is time for
• Receiving Learning Journal and Pen/pencils
• Intention-setting
• Introductions, Key Relationships
Your guides and fellow guests (maximum of 8) will step aboard your private boat and watch the city disappear with a cruise down the Derwent River to Bruny Island. Today our goal is to walk out to a spectacular cape on the east coast of Bruny Island. Throughout the walk, there will be time set aside to discuss and explore
• Flow State - Focus, and Breath
• Neuroscience of Nature and Creativity
On returning from our walk we will wade out into the crystal-clear waters of Great Bay to learn how the famous Bruny Island oysters are farmed and shuck them straight out of the water. The perfect way to cool down after a walk! Next stop; our camp. After a hot shower, reflection and journaling, join us in the dining house for a drink and to share stories of the day's adventures as the guides busy themselves preparing your dinner sourced from either on the island or in the waters surrounding it.
The evening includes Triple S Storytelling by the fire.
Day Two: East Cloudy Head

5-6 hrs walking
Awaken to the sounds of wallabies and Bruny Island's endemic birds. Breakfast is served at our rustic cabin kitchen.
Morning workshop
Intention-setting
• What will you focus on today?
• Who will you connect with today?
• Gratitude practice
• What and who are you grateful for, and why?

Today's walk is East Cloudy Head for views of Tasmania's far south and the wild Southern Ocean. The five-hour (14km) journey begins by walking the length of Cloudy Bay Beach. Windswept and beautiful, the walk then leads us into coastal heath and up toward spectacular views of Bruny Island's rugged south coast.

Throughout the day, there will be time again to discuss
• HBDI profiles
• Mindfulness
• High-Value Communication
• Mindfulness
Back at camp enjoy time to sit on the deck, reflect, journal, walk among the ferns, partake in another lavish shower or simply read a book while your guides prepare the evening meal.
Once more, the fire or kitchen table provide the ideal setting for the evening's Triple S Story-telling.
Day Three: Mt Mangana

2-3 hrs walking
Rise early and explore the 100-acre property and try to spot some of Bruny Island's 150 species of birds (including all 12 Tasmanian endemics).
Morning workshop
• Intention-setting
• What will you focus on today?
• Who will you connect with today?
• Gratitude practice
• What and who are you grateful for, and why?
• Life Balance, well-being and resilience
• Solving wicked challenges

Once we farewell camp, our goal is to climb through the ancient Gondwanan rainforest to the highest point of Bruny Island, Mt Mangana (4km, 3 hrs).
To finish the long weekend in style, Ray Jones at The Jetty Café's deck will serve a multi-course lunch of Bruny Island produce as we await the arrival of our private boat on the beach below. There will also be some time to explore the gallery showcasing some of Bruny's 60+ artists.
Throughout the day, we'll discuss take time for further discussion:
• Who are you?
• Leadership Brand and Purposeful Presence
The conclusion of the walk includes a Commitment Circle
Post-walk
One month after the walk, Dugald will connect for follow up conversations.
These take place face to face or via video conference.
An Island Sanctuary 
Our groups have exclusive use of our completely off-grid private accommodation, nestled in amongst tall eucalypts on the foothills of Mt Mangana at the southern end of Bruny Island.
With our days spent walking in wild, powerful, coastal places, our campsite is a sanctuary we can return to each evening. Featuring a gorgeous bespoke designed celery top timber kitchen and dining room, four canvas tents containing split king beds with quality linen, towels and pillows. The highlight for many of our guests is an incredible hot water shower discretely located with spectacular views!
One of the best things about our accommodation being located at the southern end of Bruny Island is the night sky. With no light pollution, the stars are just incredible and occasionally we have been lucky enough to experience the Aurora Australis.
Our Bruny Island Accommodation
Our accommodation is built completely off-grid. We harvest the rain from our roof and pressure feed this water for all of our needs, including the incredible outdoor shower. For our shower and hot water in the kitchen, we use a gas system. A solar panel on the main roof provides the power to run our pumps, small energy efficient lighting in the main structure and just two power points to enable guests to recharge their cameras (they do tend to take a lot of photos!)
The accommodation was architecturally designed to have as little impact on the site as possible. In fact, it has been designed so that it could be easily moved to another site. If this were to happen there would be little evidence of the building's footprint. We built from Celery Top Pine, supplied by Southern Forest Farm Products, just across the channel from Bruny Island at Garden Island Creek. The business has a "no waste policy". This means that all the timber used in the construction of our accommodation was salvaged from the southern forests of Tasmania, essentially the timbers left behind as waste in existing forestry coupes.
Once the accommodation was constructed we began a program to restore the rest of the land to its original state. This involved an eradication program for non-native species on the property, as well as a program to re-introduce endemics. Eucalyptus viminalis (white gums) have been planted around the property to support and encourage the very rare and threatened endemic bird species -Forty Spotted Pardalote. These birds only exist where Eucalyptus viminalis occur and Bruny Island is a stronghold for them.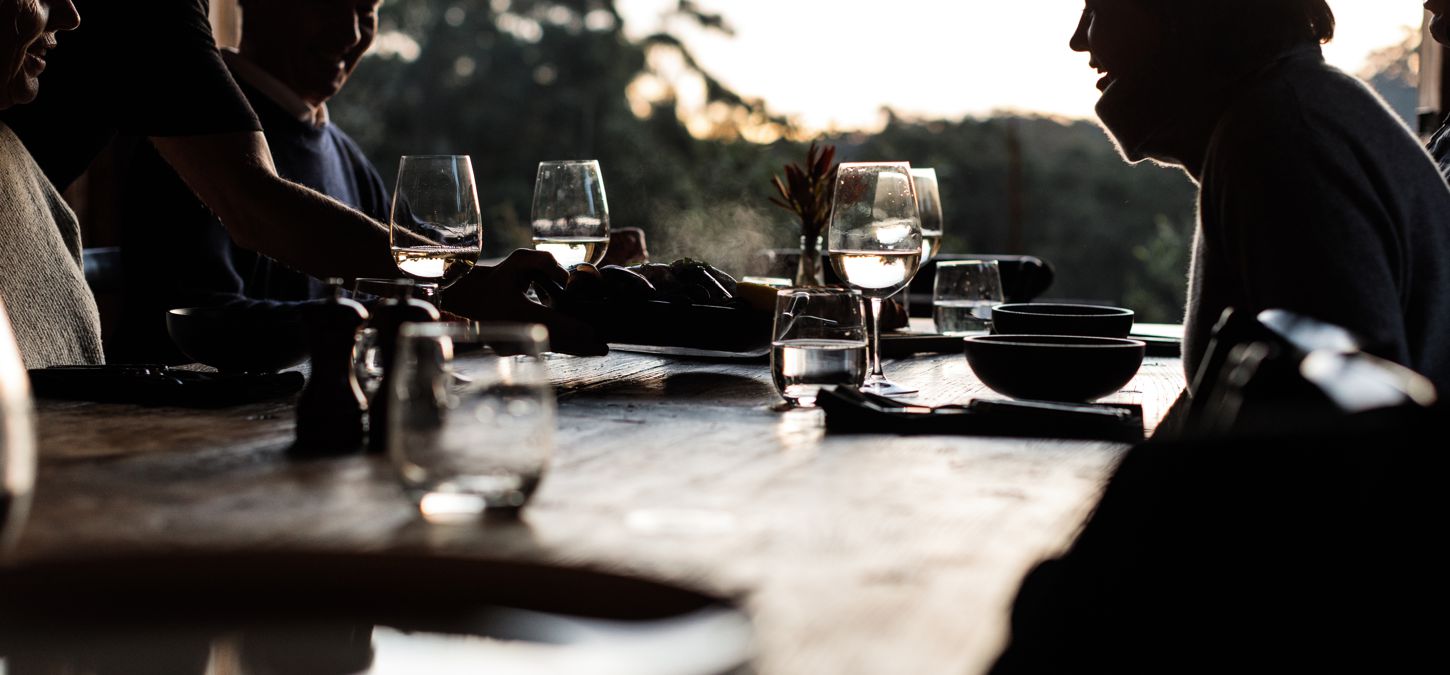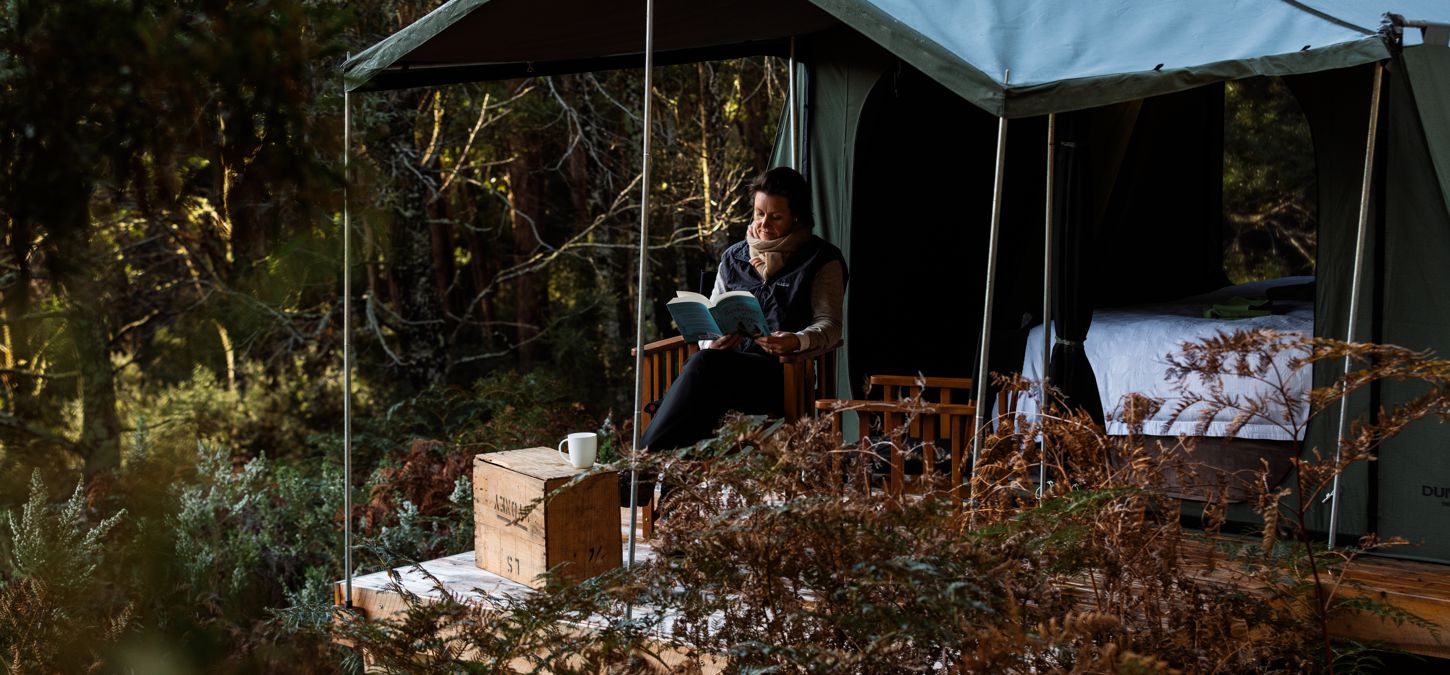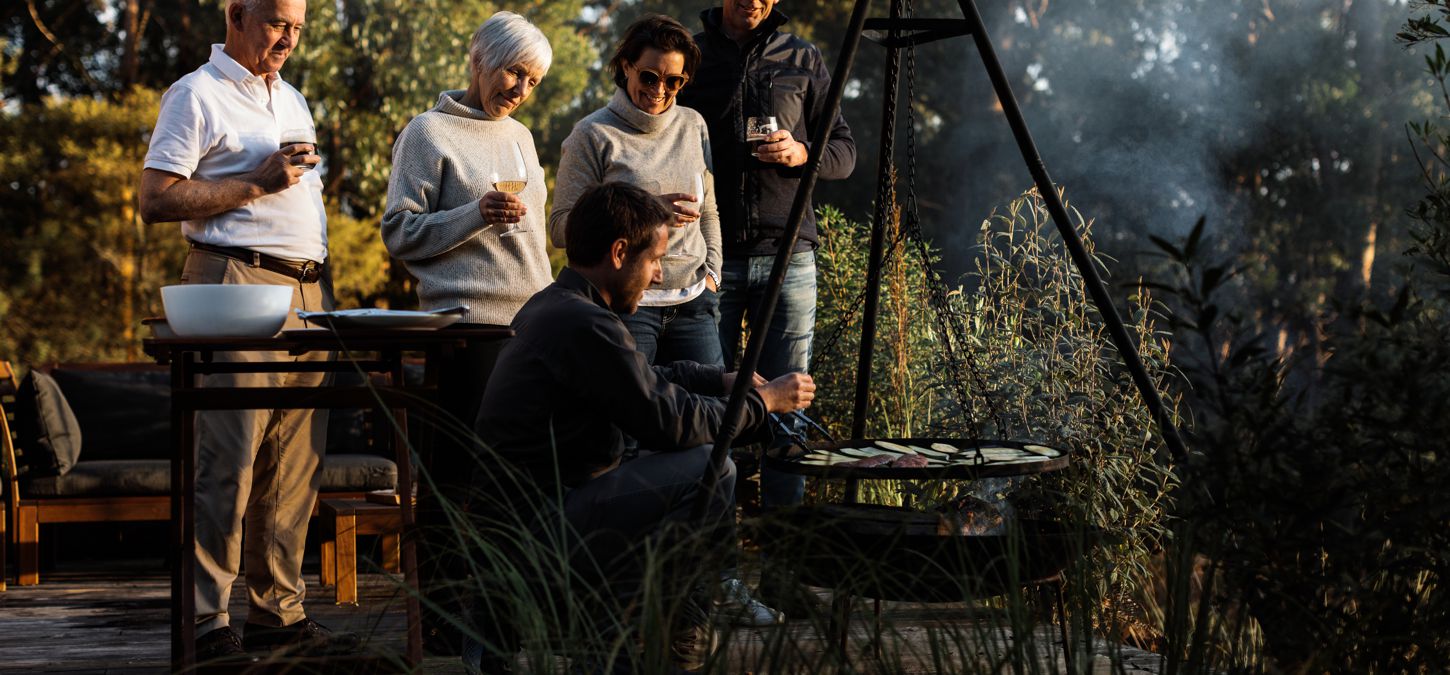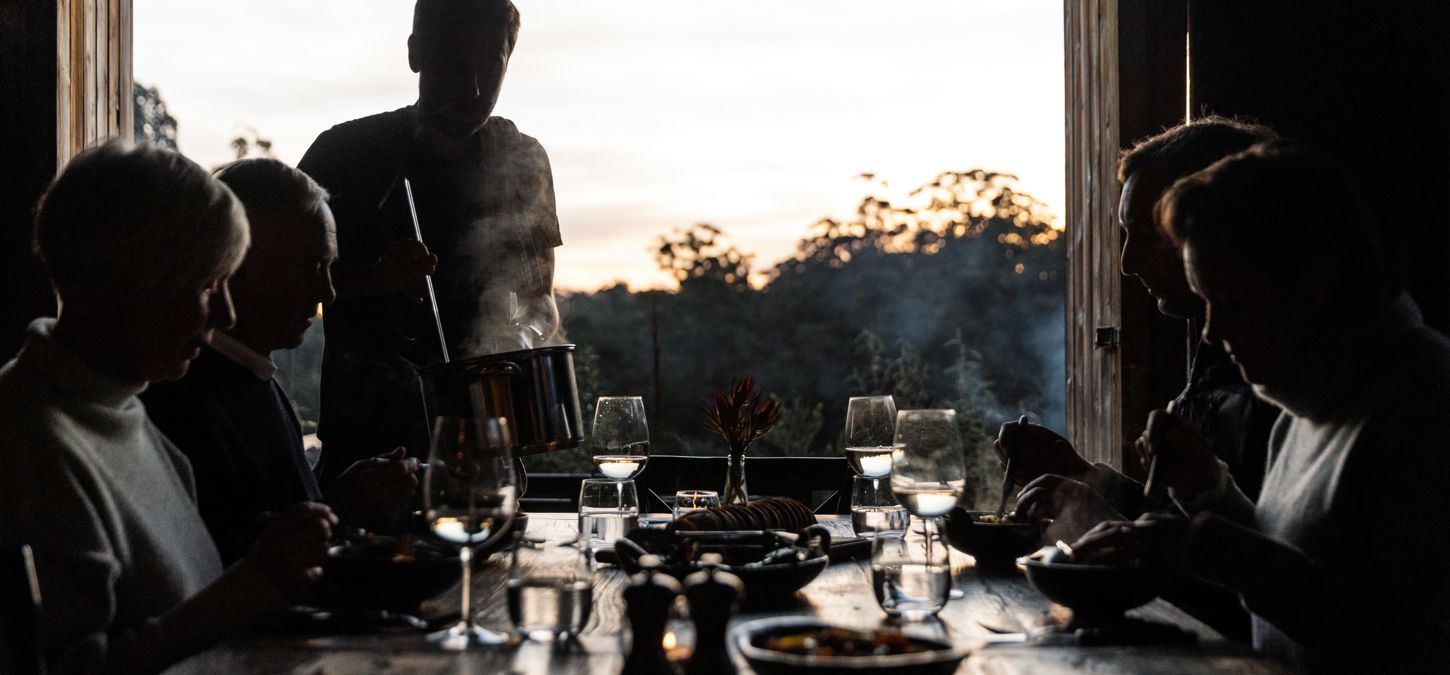 Bruny Island Long Weekend (3-days) - The Barefoot Coach Retreat 
Available "By Request"

• 3-day guided walk
• Minimum guests 4
• Maximum guests 4
Price per person for departures (inc. GST) Full price
| | |
| --- | --- |
| 01 March 2020 - 30 April 2020 | $7,050.00 |
| | |
| --- | --- |
| 01 October 2020 - 31 October 2020 | $6,650.00 |
| | |
| --- | --- |
| 01 November 2020 - 30 April 2021 | $7,050.00 |
Direct bookings only:
Single supplement
Each tent contains 1 king-size bed. As this workshop is best offered to small groups, all guests will have their own tent. There is no single supplement.
Special Interest Walks - Terms and Conditions 
All prices are quoted per person in $AUD including GST 
A deposit of $500 per person and the Guest Information Form are due within five days of booking

Minimum numbers are required three months prior to departure. 

The final payment is due three months before departure. For reservations made three months or less from departure date, full payment is due at time of booking. 
Prices are subject to change without notice
Travel and pre and post-trip accommodation expenses are not included.
Please view our traditional booking terms and conditions 
After the minimum number of bookings has been achieved, the trip is guaranteed to depart.  If for any reason, the trip cannot go ahead due to restrictions placed upon travel due to Covid-19,  guests will be permitted to reschedule their walk to the new date provided for this departure with no additional fee or rebook a traditional Bruny Island Long Weekend within 24 months. Guests can transfer to a traditional Bruny Island Long Weekend itinerary and have the difference in price refunded. Cancellations for other reasons will incur our standard cancellation fees.
Inclusions
Return transfers between Hobart and Bruny Island
Accommodation (twin-share) each evening in one of our four private tents 
All meals and non-alcoholic beverages, plus a limited selection of Tasmanian wines
Your Barefoot Coach - Dugald Christie-Johnston
Two qualified guides
National Park passes
Use of a daypack and rain jacket for the duration of the walk 
All bedding and linen
Additional information
Have a burning question?  Check out our

 

FAQ page, and if you need further help please don't hesitate to

 

contact our friendly reservations team
Ready to start planning your next adventure and want to know what to bring.

 

Check out our detailed gear list, including details on what's provided. If your unsure about anything on the gear list please call us or talk to you local outdoor adventure store.
Need help deciding? Talk to an expert
We're here to help 9am – 5pm Monday to Friday, otherwise, email us anytime and we'll be in touch.