Bay of Fires Bird Photography Long Weekend
Spring walk: October 23-25, 2021  | Price: from $2,195 | Maximum: 8 guests
Over three days with local Tasmanian bird, photography and fieldcraft experts, Elaine McDonald and Penny Geard, discover new birds, increase your knowledge of birding and photography in the wild, and enjoy the luxury of two nights accommodation at the award-winning Bay of Fires Lodge. 
Immerse yourself in one of the most pristine environments that Tasmania has to offer, with the ease of our pack free walk. This experience also gives you time and space to relax and breathe, indulge in a signature treatment at our exclusive spa or enjoy the outdoor bathing pavilion.
  Direct bookings only.  For all enquiries and bookings please contact Tasmanian Walking Company on (03) 6392 2211 or email bookings@taswalkingco.com.au
Available anytime by request for private groups
Elaine McDonald
I've been photographing birds in Tasmania for about 15 years - since buying my first digital camera. Raptors caught my attention initially, but my interest soon widened to include all birds. I also like macro photography - insects, plants and fungi being my favourite macro subjects. I sell my bird photographs and calendar from my weekly stall at Hobart's Salamanca Market in Hobart.
Bird photography is all about patience, skill and opportunity. There are multiple factors and challenges faced by every bird photographer. You need to be in the right place at the right time with the right equipment on the right settings. You also need good weather and good light - the list goes on.
You should also have an understanding of the ethics of bird photography and concern for the wellbeing of your subject. My advice is to learn everything you can about your subject - learn its call, its behaviour and its habitat. The most important thing though, is to have patience and be prepared to walk away if your subject shows signs of stress. Always show respect for the bird, only go as close as it will allow you and never cross that line. Don't harass any animal just to get a picture. You need to genuinely love nature to have your work show it. It is my hope that my photography shows how beautiful our birds and the fragile habitats that support them are, and that maybe I can make a difference to someone's perception of that world.
Elaine McDonald Facebook | Tasmanian Bird Sightings and Photography Facebook
Penny Geard
I've always loved photography. When I left school, I worked full-time as a clinical photographer's assistant in the University Medical School for a few years. Many years later, in 2006, I bought my first DSLR and I quickly gravitated toward birds as my favourite subject, attracted by the challenges that they present. You need a love of nature to become a bird photographer. I am generally much more interested in capturing aspects of bird behaviour than just looking for aesthetically pleasing images, although I always hope to end up with a bit of both.
Capturing great moments results from a combination of subject knowledge, fieldcraft, technology - and a lot of luck. As a bird photographer, I believe the greatest asset you have is the knowledge of your subject. This means you should know how to identify the species you see, know what species can be found in a certain habitats and how to get close to them, without causing them alarm. You should also know your subjects' habits, behaviour and calls and have your camera settings ready ahead of time so you can react instantly. It comes down to putting in the time and effort needed to learn about your subject along with the technical and artistic aspects of the work - all of which are equally important.
Bird photography isn't easy. Birds fly away and it takes many images to find a gem. I take thousands of bad photographs but only show the good ones.
Bay of Fires Lodge 'Bird Photography' Walk (3-days)
While bird watching and bird photography will be the focus of our walks, be prepared to learn the rules, ethics, and etiquette that will help you to develop birding fieldcraft skills. Fieldcraft is a knowledge of bird behaviour and habitats, combined with technical knowledge of your equipment and an attitude of respect for birds, nature and each other. For more information:
https://www.birdlife.org.au/images/uploads/education_sheets/INFO-Ethical-Birding.pdf
Advised Packing List:
Camera and/or binoculars
Extra charged batteries and memory cards
-we have very limited capacity to charge batteries at our solar-powered lodge
Lens cleaner and cloth 
Field guide (optional)
Notebook and pen        
Monopod (optional)
Luggage allowance: please note, gear above the allowed limit of 5kg must be carried by the walker.
Day 1: Quamby Homestead to Bay of Fires
Approximately 4 hours walking and birding
After breakfast at Quamby Homestead and a gear check at our walkers base at Entally Lodge, we arrive at the Bay of Fires, to be greeted by the azure blue waters, white sandy beaches and iconic orange lichen-covered granite boulders. 
Our lunch spot today is nestled in the dunes near Eddystone Point Lighthouse. It is also our first spot to pause and be introduced to the birds we will hope to encounter. We'll have time to explore the lighthouse and its long-standing story before it's time to get our walking boots sandy as we trek far-stretching beaches that lead to the celebrated Bay of Fires Lodge, where afternoon tea will be waiting.
Come evening, venture into the library or have your hosts deliver a cold drop while you dip toes into a foot spa on the back deck. Dinner is a Tasmanian long-table affair, featuring produce from the island matched with fine local beer and wine.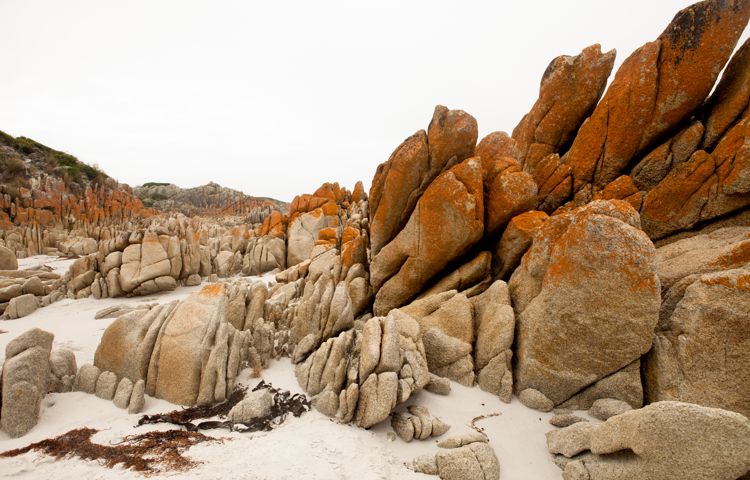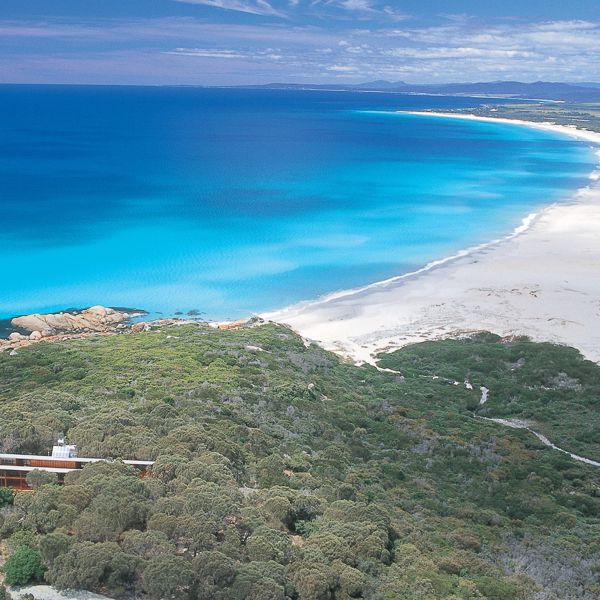 Day 2: Bay of Fires Lodge to Policeman's Point
Approximately 6 hours walking and birding
Today is a mix of time enjoying the lodge and fieldcraft sessions with Elaine and Penny.
Rise early to the native birds accompanying the dawn and enjoy a hot-cooked breakfast and freshly brewed coffee. If it's a sunny morning, breakfast on the deck can reward you with whale spotting and dolphins surfing the waves.
Our plan today is to leave the lodge after breakfast and walk some of the local trails and onto the Bay of Fires Beach. Elaine and Penny will take people birding along the beach, down to the sand spit opposite Policemans Point just south of the lodge. Bird records for the area and the sand spit usually show a good variety of resting sea birds and shorebirds.
The return walk up the beach and back to the lodge takes guests through heathland, where we can find bush birds later in the day as they become more active.
Day 3: Return to Launceston rejuvenated
Approximately 1 hour walking and birding
Following a leisurely breakfast at the lodge, and after we pack up, there's time for a morning swim, a final spa treatment and birding and photography close to the lodge before we depart.
On our final day, we venture through eucalypt forests and coastal heathland. We'll enjoy a forest lunch to the sound of native birds, including the endemic green rosella.
Upon our return to Entally Lodge there will be time to raise a glass to the three wonderful days spent together.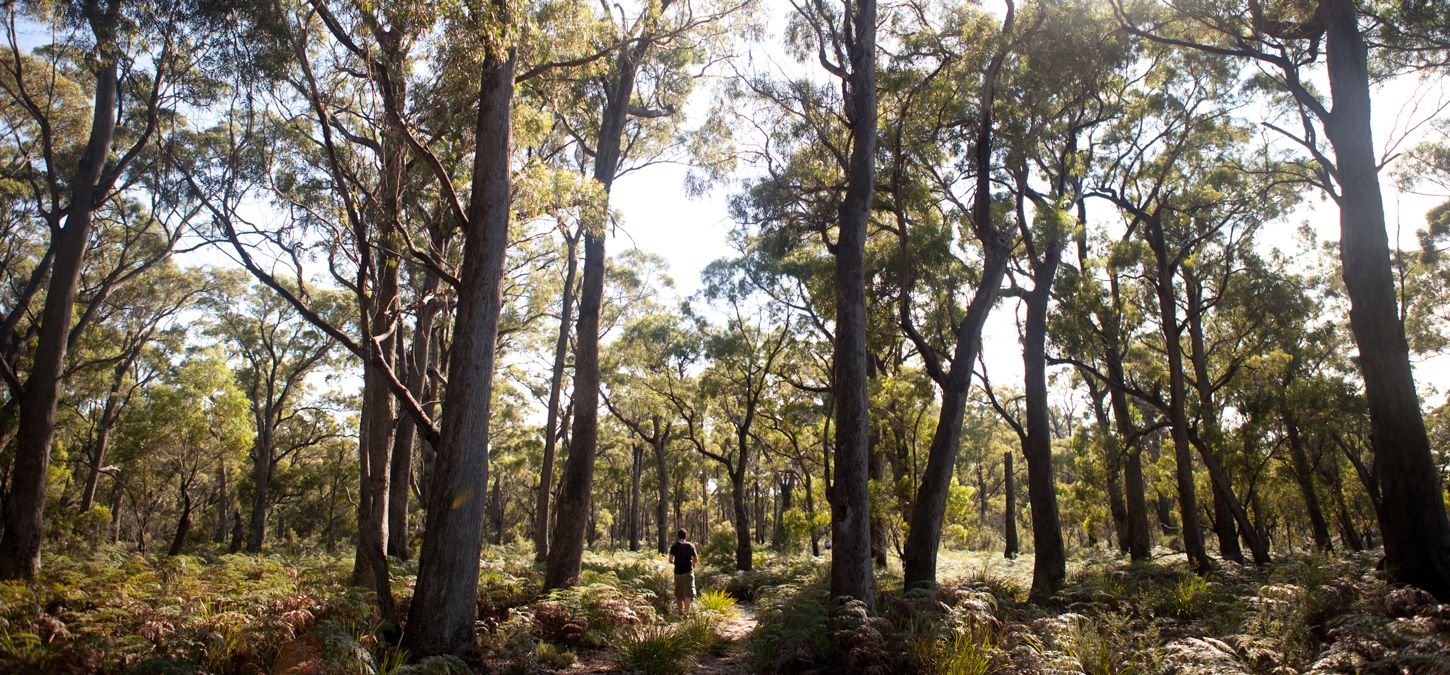 The Bay of Fires Lodge
Set on a hilltop, 40 metres above the pounding of the sea and surrounded by National Park, the Bay of Fires Lodge is the only building on 20km of outstanding coastal wilderness.
Enjoying views up and down the pristine white sandy beaches in an area of great significance to the Aboriginal community, a truly ecologically-aware building has been gently let into the landscape. Two long timber and glass pavilions allow maximum connection to the landscape with minimum impact on the environment: all building materials - Tasmanian hardwood and plantation pine - were lifted in by helicopter or hand carried to the site.
The lodge is autonomous in providing and managing its existence. Here you will experience true communion with nature in accommodation that combines simplicity of design with comfort and warmth. In the magnificent living area with its large timber deck and open fire, you'll enjoy delicious meals prepared with the freshest local produce, accompanied by fine Tasmanian wines. Solar power provides the lighting, while hot showers and comfortable hotel beds add a touch of luxury at the end of each day's activities.
All accommodation at the Lodge is twin or double share, arranged as two king-singles or one king bed.
There is a small library which is comfortable and cosy looking out over the ocean. This is a great place to sit back and relax or look through our selection of books and magazines.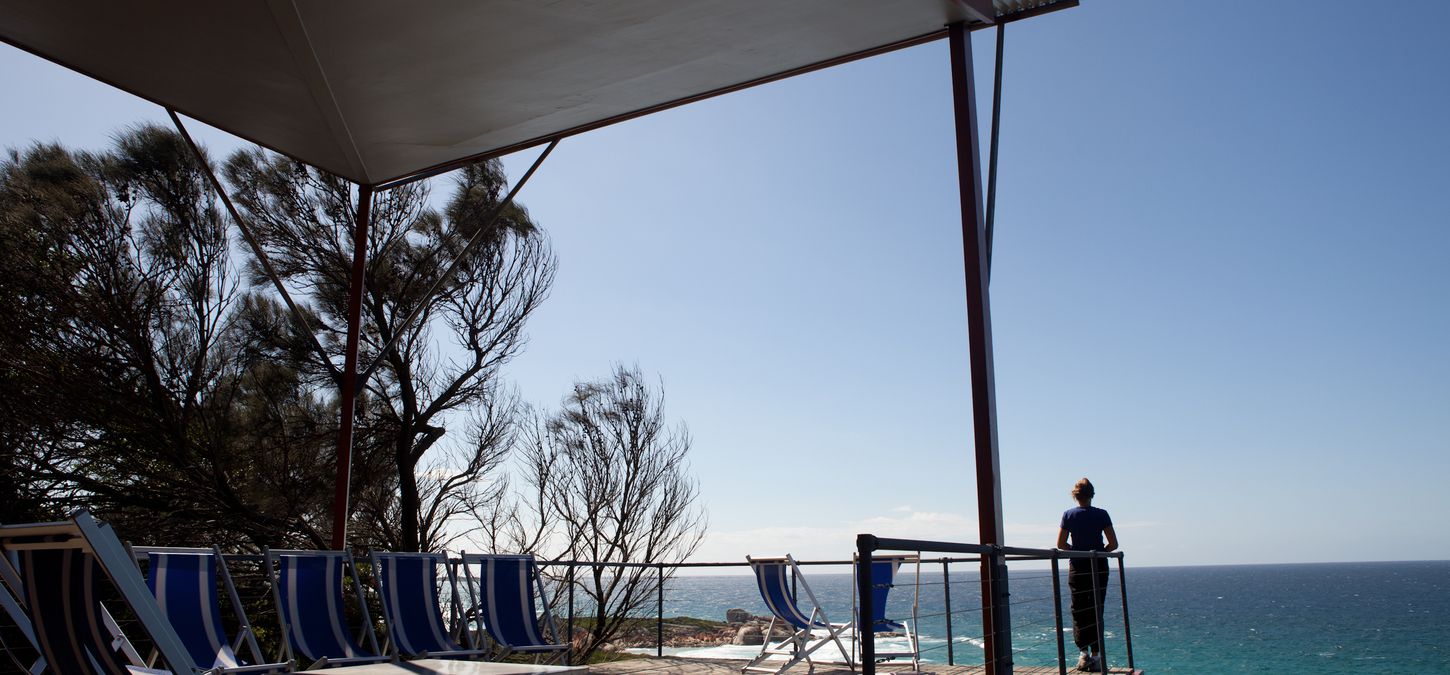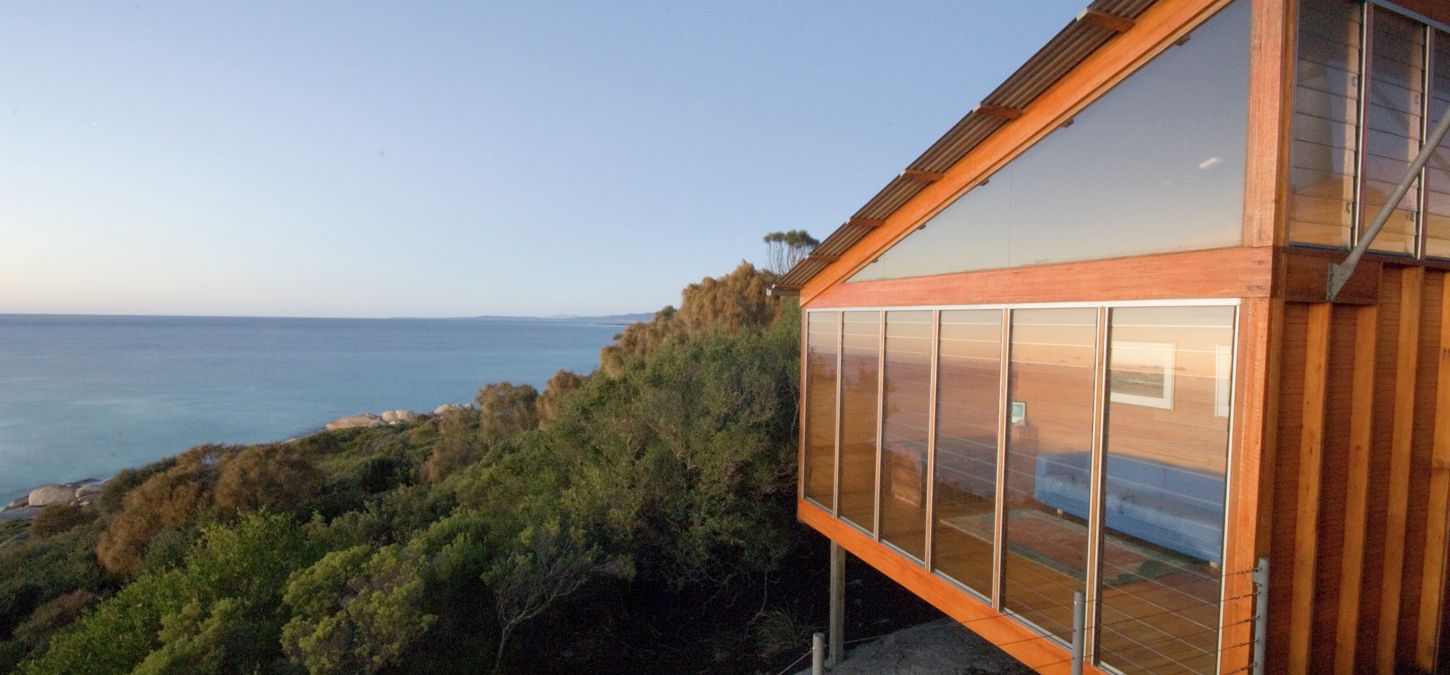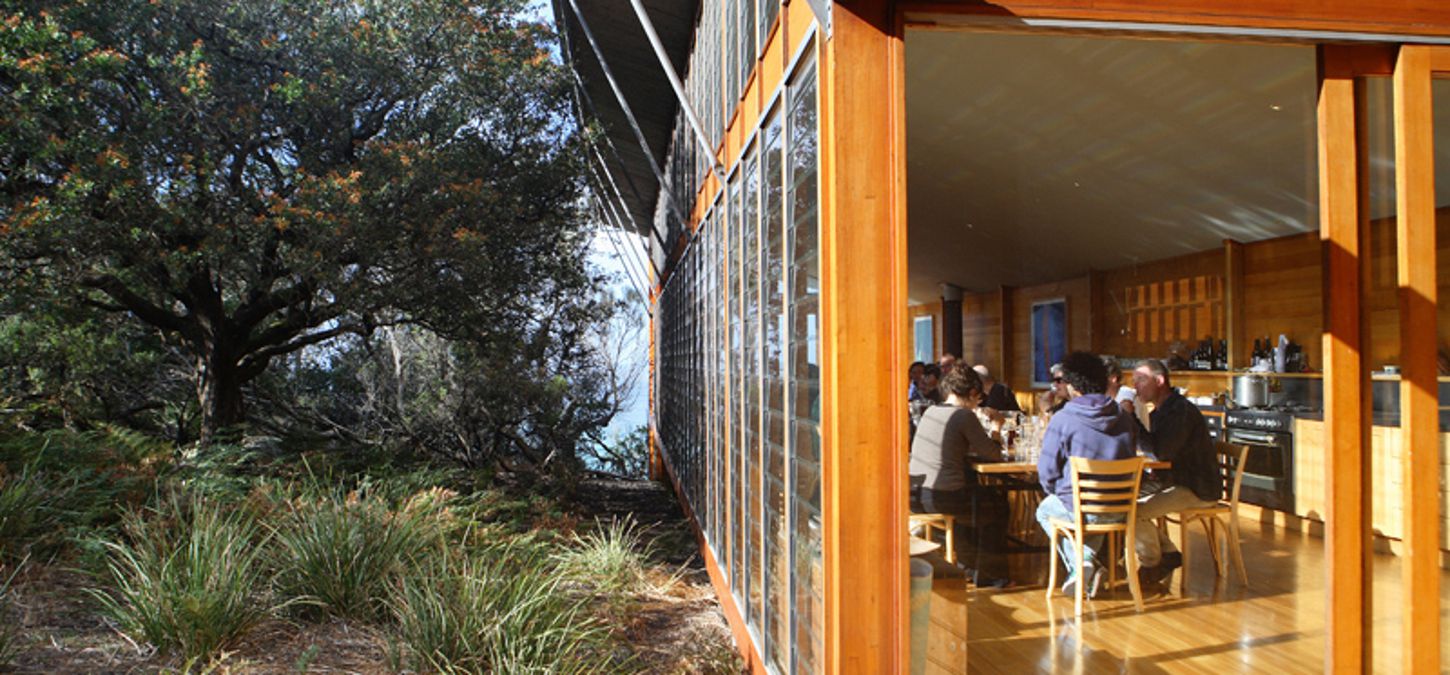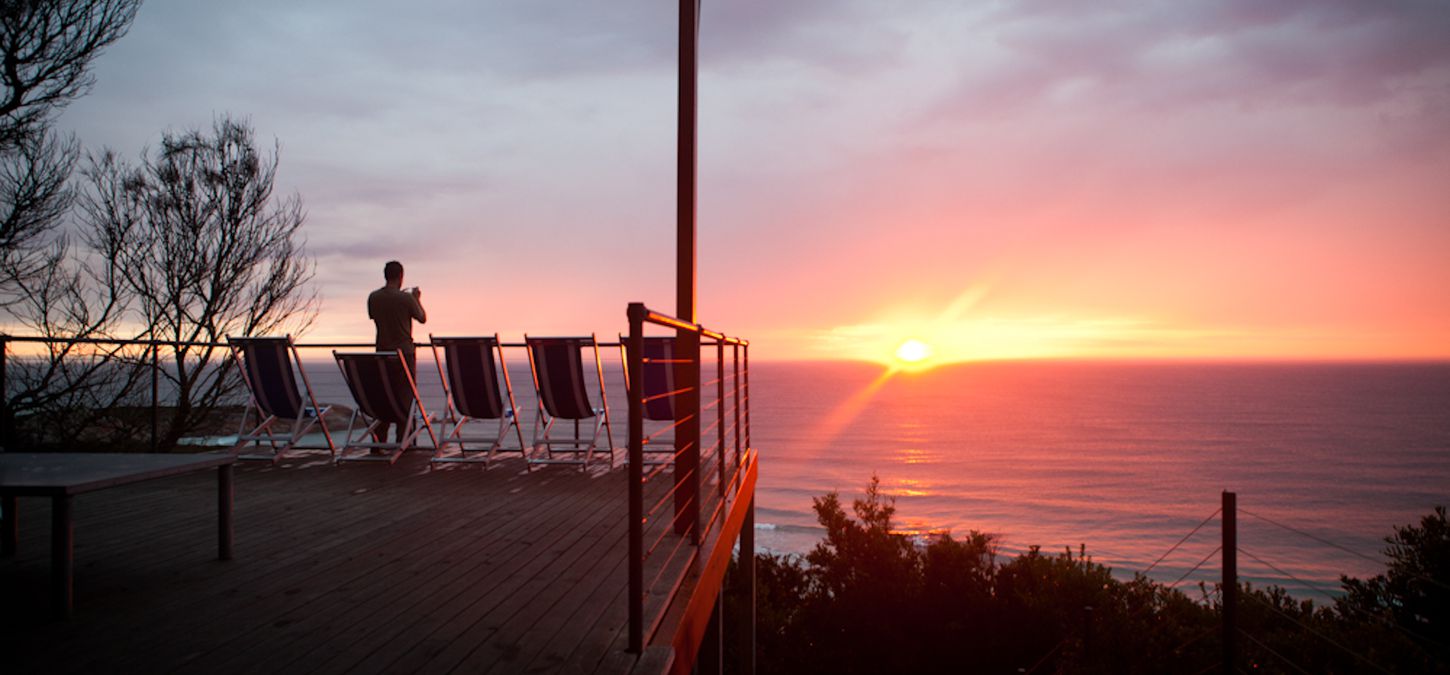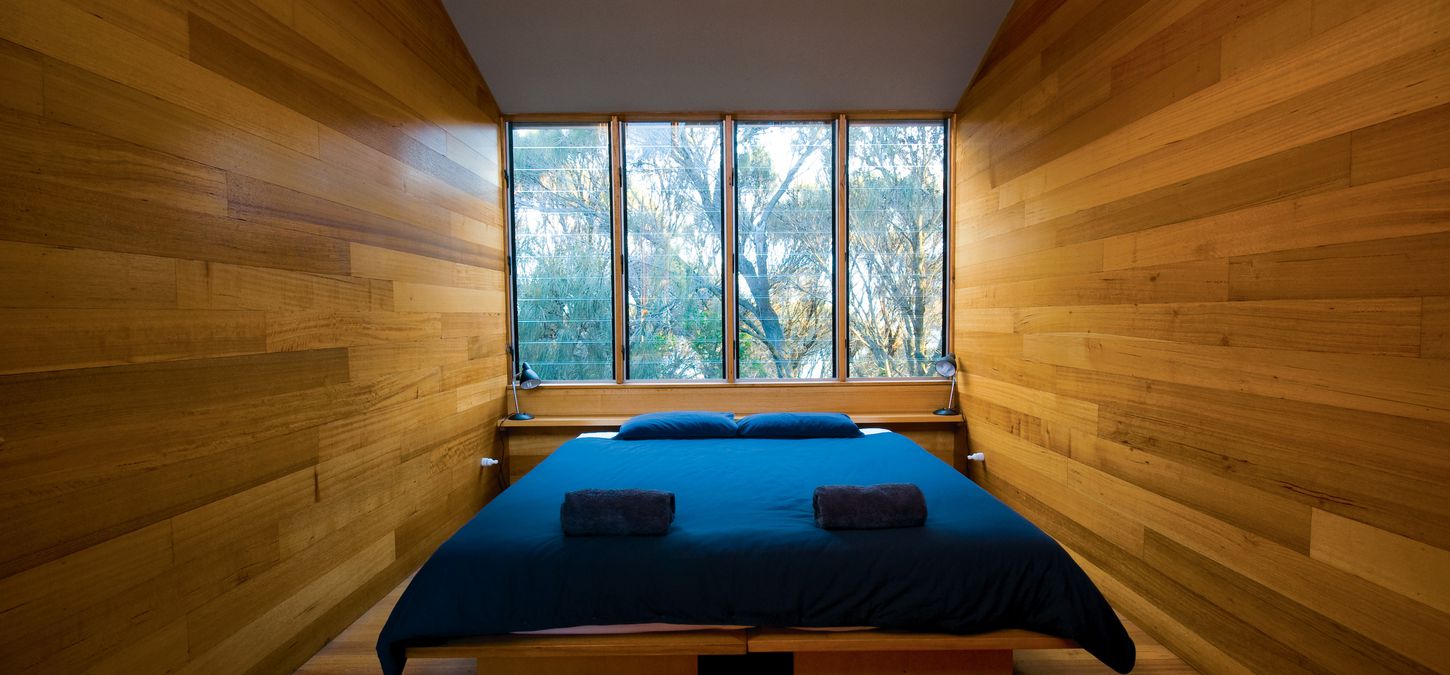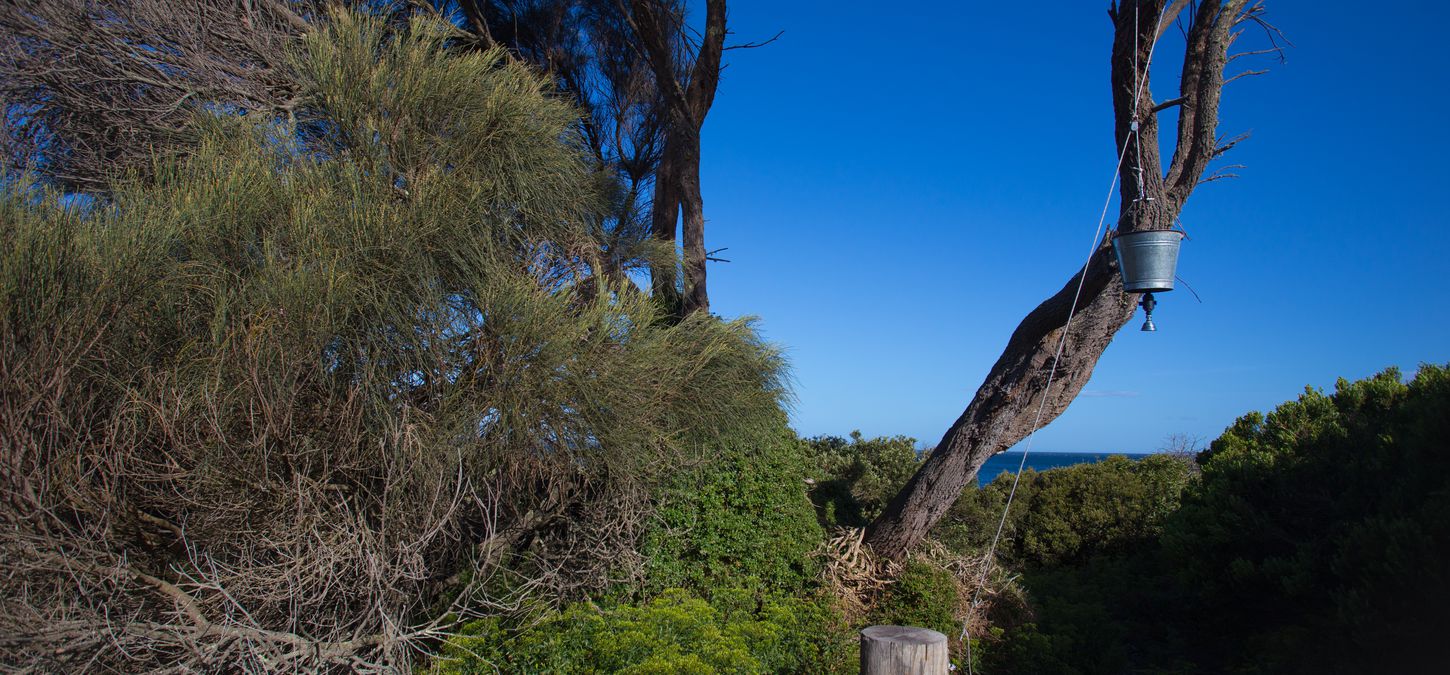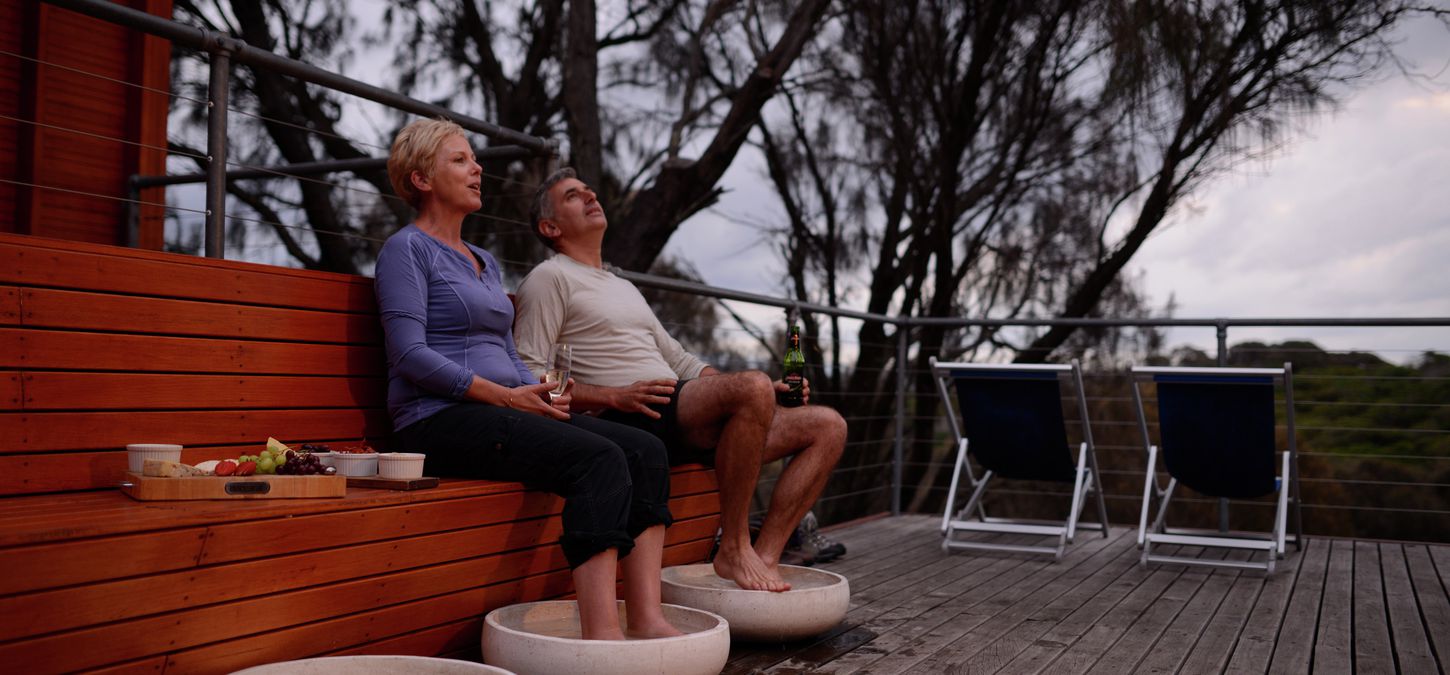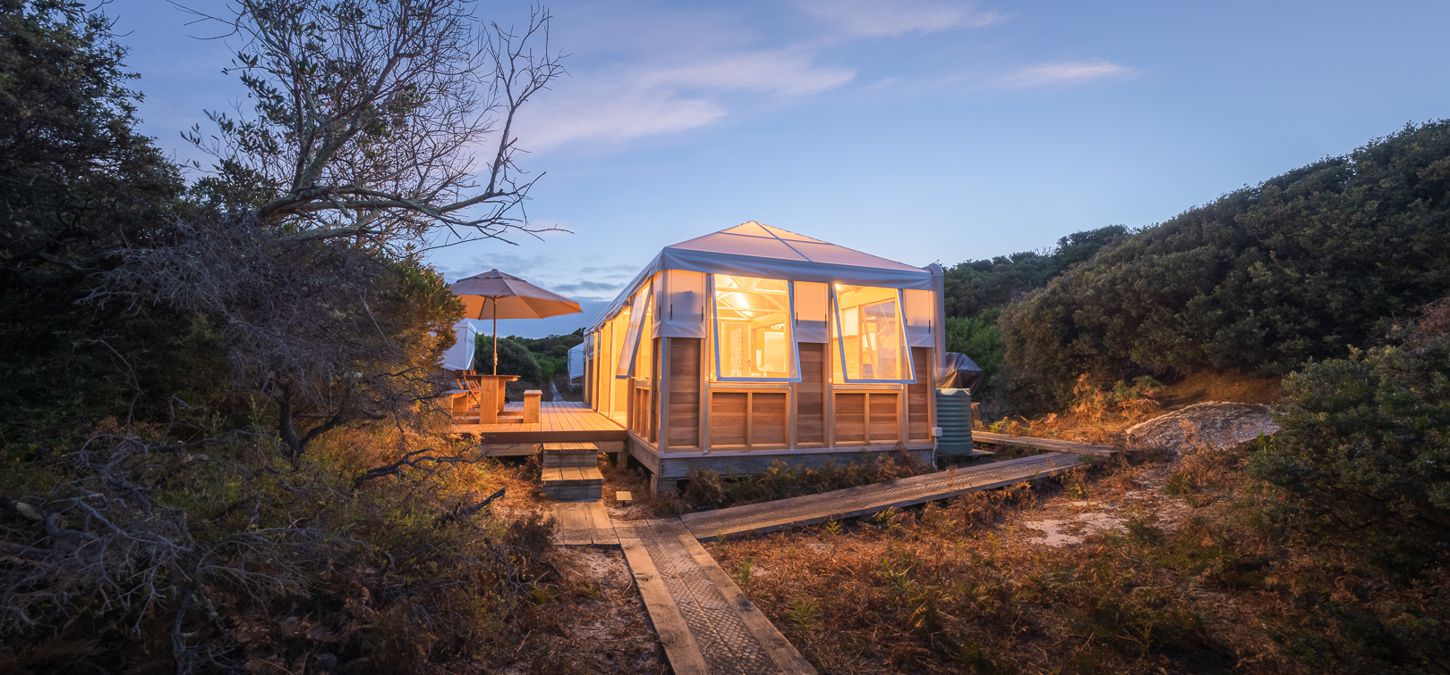 Bay of Fires 'Bird Photography' Long Weekend
with Elaine McDonald and Penny Geard (3-days)
Price per person (inc GST)
Spring walk: October 23-25, 2021
Available by request for private groups | Maximum: 8 guests
From $2,195
Each trip requires a minimum of 8 guests (Twin Share). The maximum is 8.
Minimum numbers must be confirmed before June 23, 2021.
Bookings
Phone: (03) 6392 2211.
Email:  bookings@taswalkingco.com.au
or

 

complete the below enquiry form.
TWC Return Walker discounts do apply.
Single supplements are not available on this walk.
Special Interest Walks - Terms and Conditions 
These are in addition to our standard booking terms and conditions.
All prices are quoted per person in $AUD including GST.
A deposit of $500 per person and the Guest Information Form are due within five days of booking.
The final payment is due 90 days before departure. For reservations made three months or less from the departure date, full payment is due at the time of booking.
Cancellations

more than 90 days from the scheduled departure date, a fee of $350 per person will be charged with the balance payment refunded;
between 90 and 60 days prior to departure, you will be charged 50% of the full trip cost with the balance refunded; or
within 60 days of departure, no refund is available. Bookings are transferable.

Travel and pre and post-trip accommodation expenses are not included.

This walk cannot be booked in conjunction with any other offers and discounts.
After the minimum number of bookings has been achieved, the trip is guaranteed to depart.  If for any reason, the trip cannot go ahead due to restrictions placed upon travel due to Covid-19,  guests will be permitted to reschedule their walk to the new date provided for the departure or receive a full refund with no additional fee or rebook a different Walk within 24 months. Cancellations by guests for other reasons will incur our standard cancellation fees.
Inclusions
Return transfers between Quamby Homestead and the walk base.
2 nights at Bay of Fires Lodge including all meals and non-alcoholic beverages, plus a limited selection of Tasmanian wines.
National Park pass.
Use of a backpack and Gore-tex jacket for the duration of the walk.
Special Birding guides Elaine McDonald and Penny Geard.
Two qualified guides for the duration of the walk.
Need help deciding? Talk to an expert
We're here to help 9am – 5pm Monday to Friday, otherwise, email us anytime and we'll be in touch.