The Storytellers Walk
May 12-15, 2023 | $2,795 | Maximum: 8
May 13-16, 2023 | $2,795 | Maximum: 10
Walk Tasmania's brilliant coastline over four days and join Tasmania's poet laureate Pete Hay and brilliant bard Bert Spinks for a night of storytelling at the stunning Bay of Fires Lodge.
When you arrive at the lodge, you will discover an evening of poems, stories and songs. The intricately woven tales and interpretations, from two of Tasmania's most intriguing voices, and the island's history and ecology take you deep into Tassie's unique character. Beyond the laughter, their performances create an indelible impression of Tasmania. 
Pete Hay grew up on the north-west coast. He is one of Tasmania's finest poets, as well as a significant essayist, philosopher, and activist. Bert Spinks is a prominent Tasmanian storyteller, poet, writer and bushwalking guide, whose childhood years were spent in Beaconsfield.
The Bay of Fires Lodge Walk is a breathtaking four-day walk along the pristine east coast of Tasmania, featuring accommodation at our award-winning Bay of Fires Lodge. 
For all enquiries and bookings please contact Tasmanian Walking Company on (03) 6392 2211 or email bookings@taswalkingco.com.au.
Photo Credit: Tourism Tasmania Pete Harmsen
A night of Storytelling at Bay of Fires Lodge 
Imagine arriving at the Bay of Fires Lodge feeling like you are now a part of this remote paradise. You have walked and become accustomed to the brilliant light, white sands and aquamarine waters. There is a dusting of fine salt on sunned skin and wind-swept hair. Excitement and anticipation are building. Everyone has a couple of sparkling wines. There is a buzz of conversation throughout the long-table dinner. Night descends on the lodge and the fire crackles. Dinner ends, the furniture is re-arranged and guests gather as Bert and Pete take the stage.
Join two of Tassie's finest raconteurs, Pete Hay and Bert Spinks, as they bring their poems and yarns to the Bay of fires for a one-night-only event. Expect a collection of tales from all around the island, told in the inimitable styles of these two larrikins with a special focus on the Bay of Fires.
Introducing Pete Hay and Bert Spinks
Pete Hay is a Tasmanian writer and scholar. He is considered by many pundits to be the island's greatest poet, as well as a serious philosopher and environmentalist. His life has led him to all elements of Tasmanian society, from literary high society to the front bar of every country pub - and it may well be that he has a yarn about every square inch of the island. 
Bert Spinks is a writer, poet, storyteller and bushwalking guide from Launceston, Tasmania. He is at the forefront of the resurrection of Tasmania's storytelling culture and has roamed the world looking for interesting tales. Bert has performed at all sorts of music and arts festivals, and his podcast, 'In a Train Carriage, Going Nowhere' attracts listeners from all around the world.
Bert and Pete are currently touring Tasmania with their storytelling show, filling community halls and small sheds as they weave their craft for locals. We're thrilled to bring their show to our lodge and invite you to join us for a uniquely Tasmanian event.
The Bay of Fires Lodge Walk (4-days)
If squeaky white-sand beaches and wild coastline appeal to you, the Bay of Fires is a spectacular reason to lace up. We begin at Boulder Point in Mt William National Park where we journey four hours to semi-permanent tents in the dunes. At our forester camp there is no roughing it, take an ocean dip and return for pinots poured and your meal underway.
Day two is all about secluded coves, hearing tales of early inhabitants and making our way to the Bay of Fires Lodge. This is home for the next two nights - where foot spas and library time come standard and signature experiences in the outdoor bath tempt. Day three, grab a kayak paddle and glide down the Ansons River or relax into a 'lodge day.'
We take it easy on the final day, serving up a brekkie out on deck followed by a one hour walk to our forest lunch location. It's then onward to Entally Lodge to celebrate our shared four days.
Day 1: Launceston to Mt William National Park
Approximately 4 hours walking
It's time to get your walking boots sandy. Our beach stroll this morning begins at Boulder Point in Mt William National Park. In clear conditions, the Bass Strait islands of Flinders and Cape Barren are visible to the north.
We'll nestle into a protected beach along the coastline for lunch, enjoying the company of native birds, rare shells and marine artefacts. From day one your guides will begin unravelling the Bay of Fires tales; its early inhabitants, visiting explorers and how it came to bear its fiery name.
After about four hours walking, we'll arrive at the Forester Beach Camp, tucked away in secluded dunes. These semi-permanent tents are our home for the night. Relax on the deck with a local wine, take a dip or explore the dune swale location while your guides prepare delicious Tasmanian fare.
Day 2: Exploring the Bay of Fires Coastline
Approximately 7 hours walking
Following a relaxed breakfast at the camp we walk south, absorbing the coastline's bold colours and solitude. Along the ridgelines of sand dunes, views extend across heathlands and out to the ocean. We'll visit marsupial lawns, often encountering quiet native animals and the tracks they leave at nightfall.
Our lunch spot today is a beach sheltered behind the dunes near Eddystone Point Lighthouse. We'll have time to explore the lighthouse and its long-standing story before we trek far-stretching beaches that lead to the celebrated Bay of Fires Lodge.
Afternoon tea will be waiting, along with spa treatments for those who want to indulge. Pre-bookings are best if you're keen to sink into the outdoor tub or settle in for a luxurious few hours at the spa.
Come evening, venture into the library, cast a line off the beach or have your hosts deliver a cold drop while you dip toes into a foot spa on the back deck. Dinner is a Tasmanian long-table affair, featuring produce from the island matched with fine local beer and wine.
Concert for group departing May 11.
Day 3: Kayaking and enjoying the area
Approximately 6 hours kayaking/walking
Today choose your own adventure. Rise early to the native birds accompanying the dawn, waking to the aroma of a hot-cooked breakfast and freshly brewed coffee. If it's a sunny morning, breakfast on the deck can reward you with whale spotting and dolphins surfing the waves.
Later in the morning, choose to kayak down Ansons River and experience the riparian ecology of this winding waterway. Cross the bird-rich waters of Ansons Bay and conclude with a stroll over the dunes of Abbotsbury Peninsula back to the lodge.
Other options for today include a spa treatment, fishing, snorkelling in the marine nursery, exploring shell coves or enjoying the lodge surrounds. After dinner is when the native wildlife wander out - keep an eye out for wombats, wallabies, Forester kangaroos, possums or even a Tasmanian devil. Don't forget to look up! The night sky from this pristine coastline is an awesome spectacle.
Concert for group departing May 12.
Day 4: Return to Launceston rejuvenated
Approximately 1 hour walking
Following a leisurely breakfast at the lodge, there's plenty of time for a morning swim or final spa treatment before we depart the lodge. Unlike our other walking, today we venture through eucalypt forests and coastal heathland. We'll enjoy a forest lunch to the sound of native birds, including the endemic green rosella.
Upon our return to Entally Lodge there will be time to raise a glass to the four wonderful days spent together.
Exclusive Accommodation
The Bay of Fires Lodge Walk features superb exclusive accommodation located within footsteps of the pristine Bay of Fires beaches.
Forester Beach Camp 
Nestled in a protected dune swale behind a glorious white sand beach, Forester Beach Camp has been designed as a demountable seasonal structure.  
Twin-share rooms with timber floors, canvas rooves and full kitchen facilities provide perfect seclusion in a setting of unspoiled beauty. Private wash areas and composting toilets provide comfort without harming the environment.
We've obtained special permission to operate this camp within the National Park, so close to the beach and yet so private. Here, you can swim or snorkel in the shelter of a natural, rock-ringed 'harbour', enjoy your meals on the outdoor decks or picnic on the beach under the biggest starry night skies.
The Bay of Fires Lodge
Set on a hilltop, 40 metres above the pounding of the sea and surrounded by National Park, the Bay of Fires Lodge is the only building on 20km of outstanding coastal wilderness.
Enjoying views up and down the pristine white sandy beaches in an area of great significance to the Aboriginal community, a truly ecologically-aware building has been gently let into the landscape. Two long timber and glass pavilions allow maximum connection to the landscape with minimum impact on the environment: all building materials - Tasmanian hardwood and plantation pine - were lifted in by helicopter or hand carried to the site.
The lodge is autonomous in providing and managing its existence. Here you will experience true communion with nature in accommodation that combines simplicity of design with comfort and warmth. In the magnificent living area with its large timber deck and open fire, you'll enjoy delicious meals prepared with the freshest local produce, accompanied by fine Tasmanian wines. Solar power provides the lighting, while hot showers and comfortable hotel beds add a touch of luxury at the end of each day's activities.
All accommodation at the Lodge is twin or double share, with king size mattresses.
There is a small library which is comfortable and cosy looking out over the ocean. This is a great place to sit back and relax or look through our selection of books and magazines.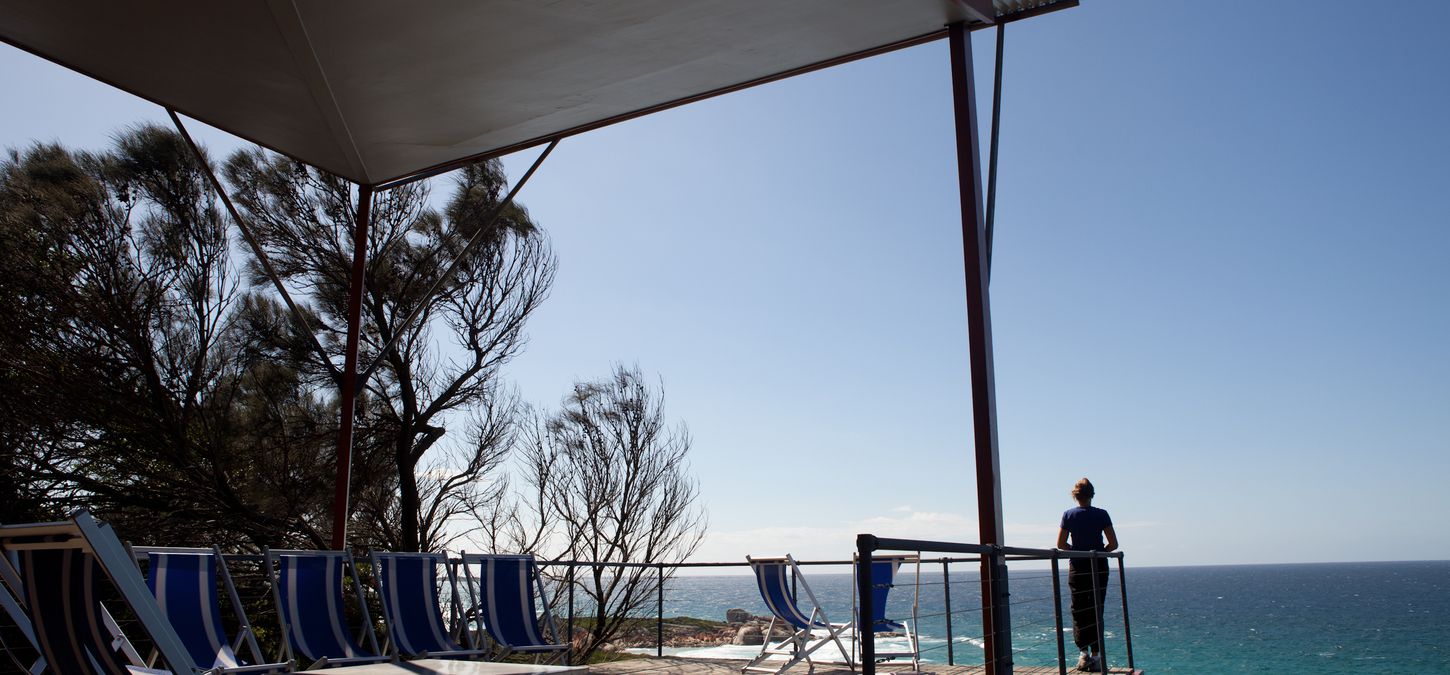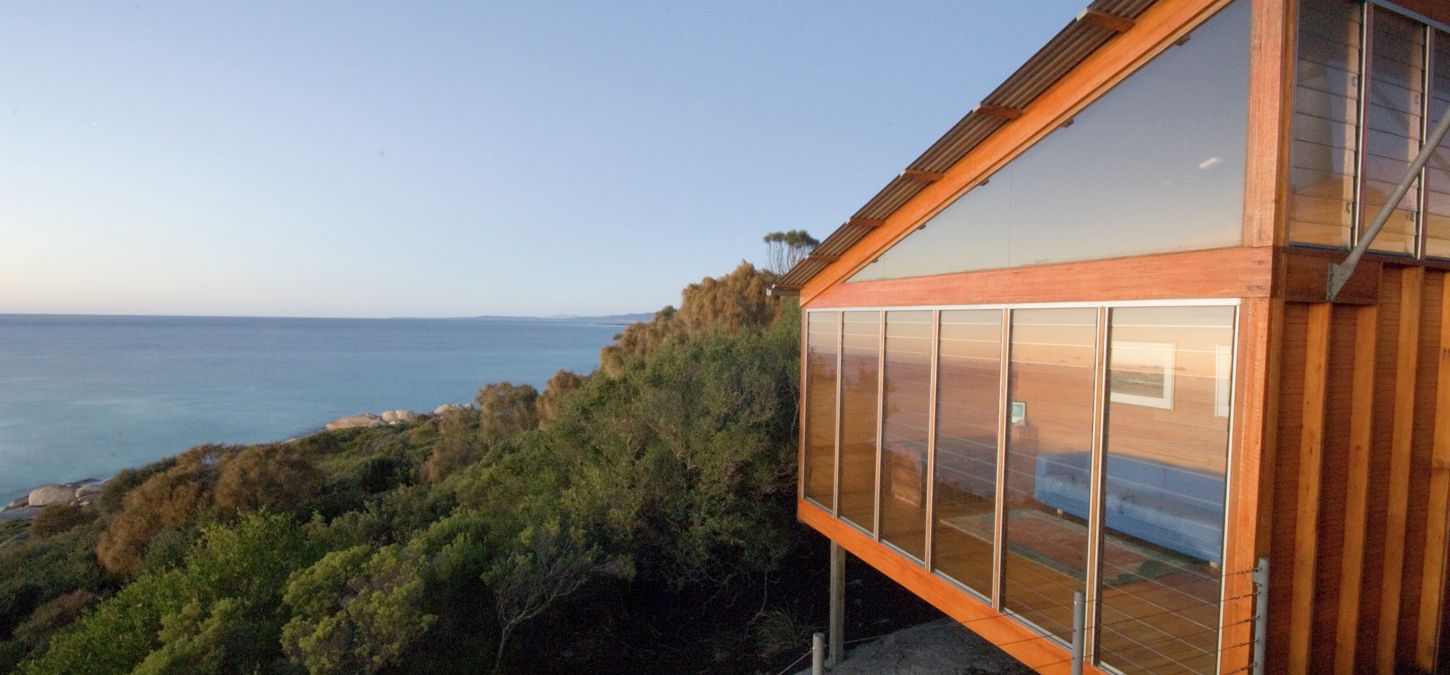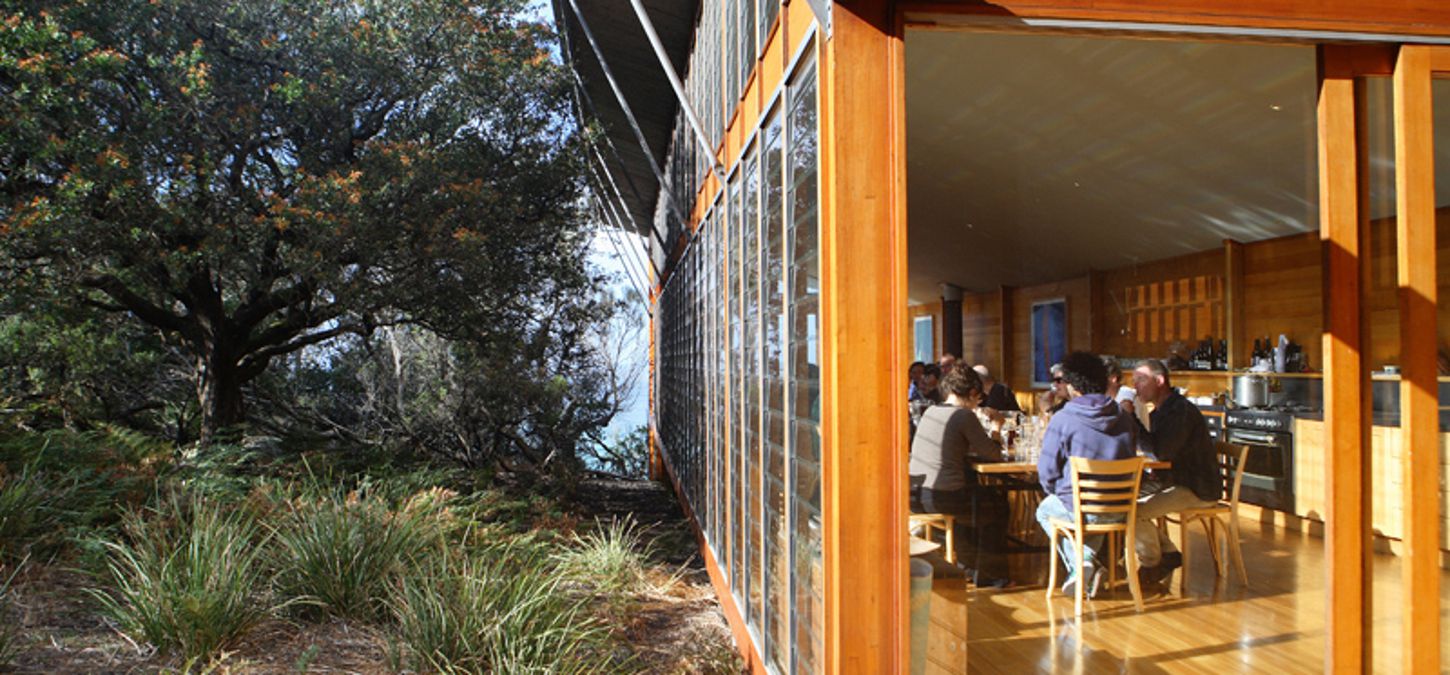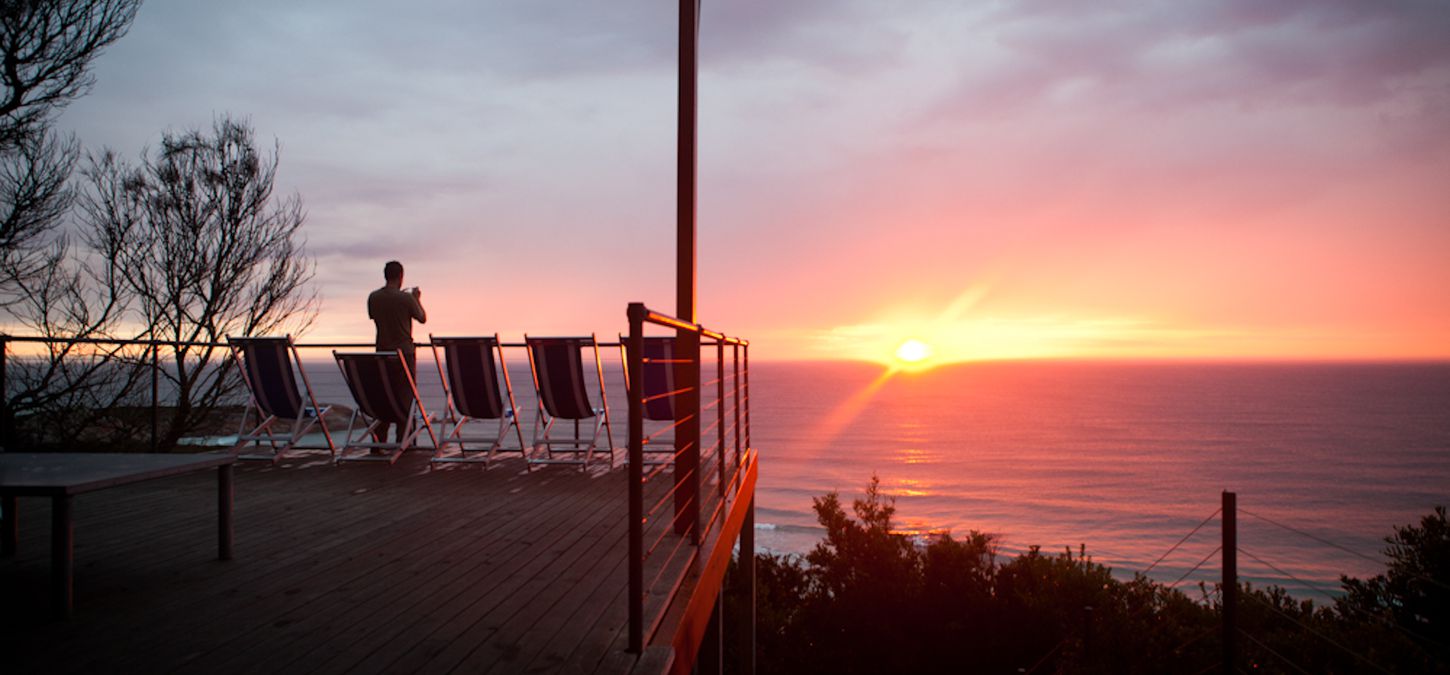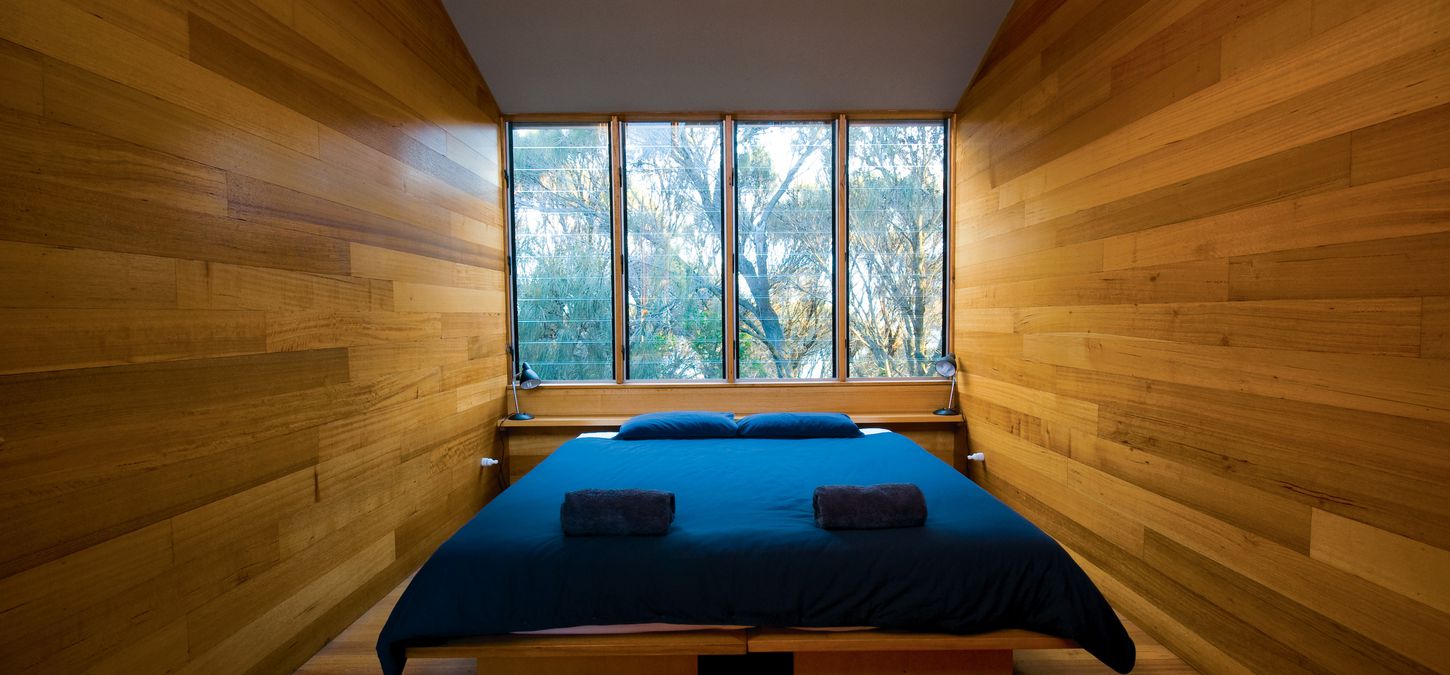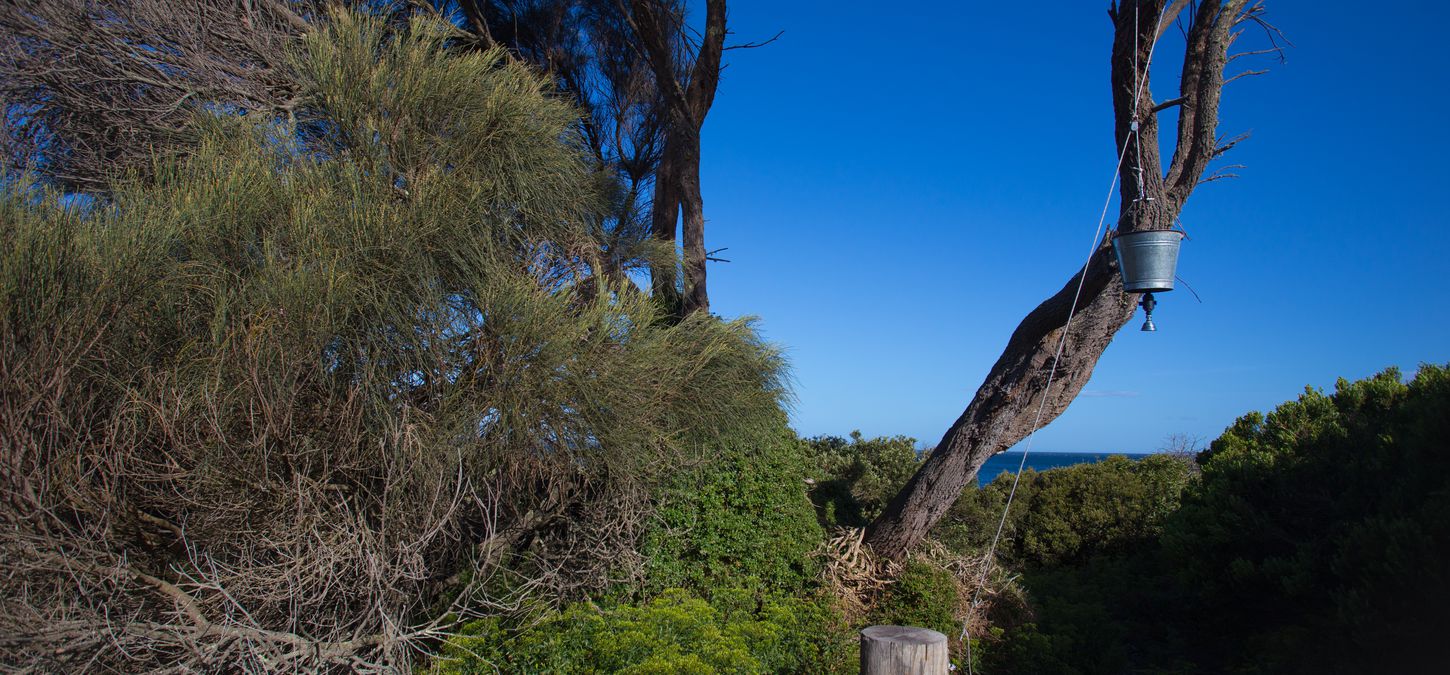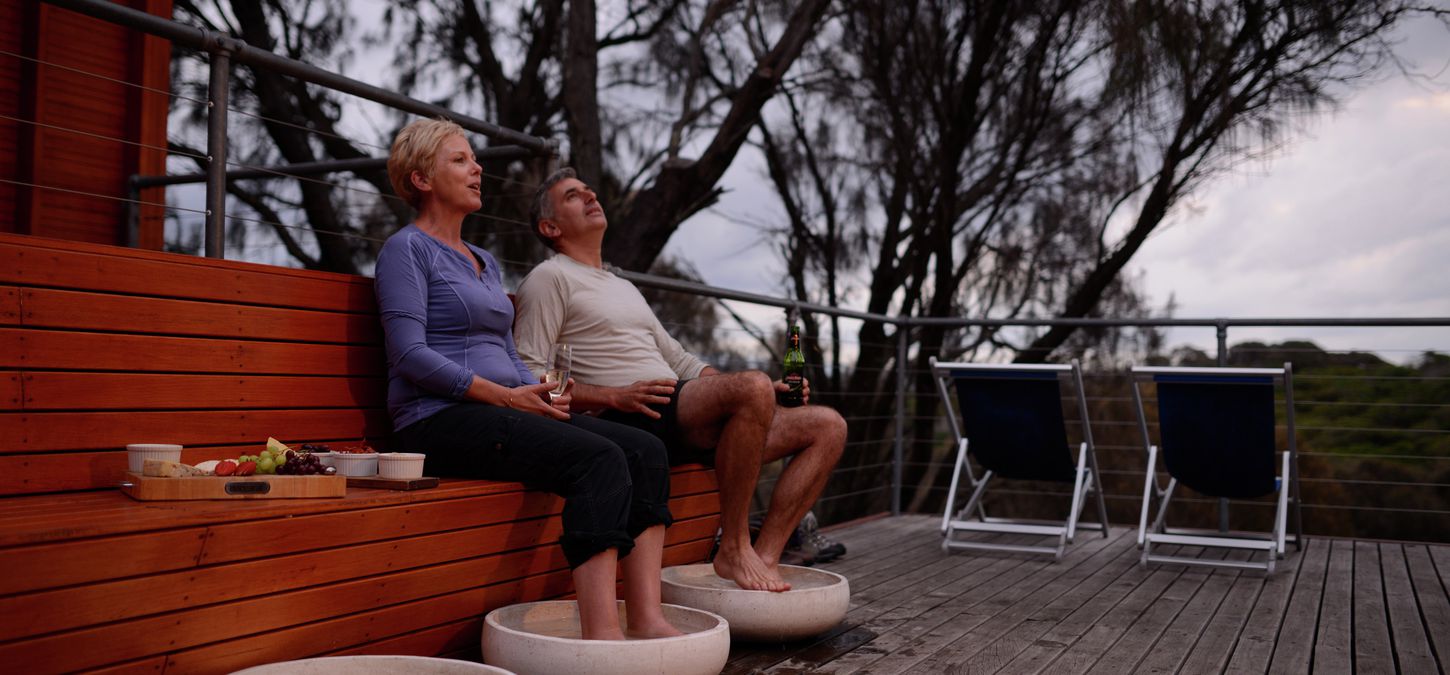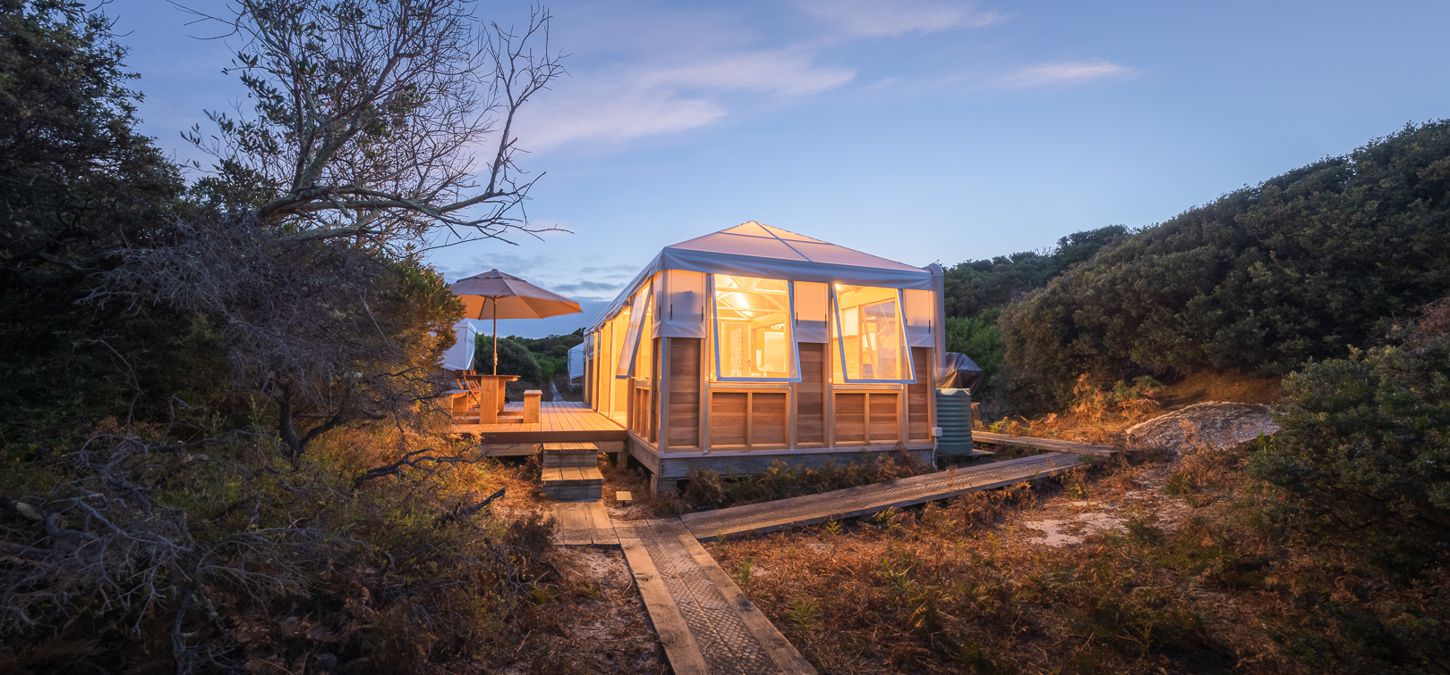 Bay of Fires Storytellers Walk
May 12-15, 2023 | $2,795 | Maximum: 8
May 13-16, 2023 | $2,795 | Maximum: 10
4-Day Guided Walk 
Each trip requires a minimum of 5 guests (Twin Share), three months prior to departure. The maximum is 10.
Bookings
Special Interest Walks - Terms and Conditions 
These are in addition to our standard booking terms and conditions.
All prices are quoted per person in $AUD including GST.
A deposit of $500 per person and the Guest Information Form are due within five days of booking.
The final payment is due 90 days before departure. For reservations made three months or less from the departure date, full payment is due at the time of booking.
Cancellations

more than 90 days from the scheduled departure date, a fee of $350 per person will be charged with the balance payment refunded;
between 90 and 60 days prior to departure, you will be charged 50% of the full trip cost with the balance refunded; or
within 60 days of departure, no refund is available. Bookings are transferable.

Travel and pre and post-trip accommodation expenses are not included.
Return Walker Discounts welcome.

Single supplements are available on this walk.
Inclusions
Return transfers between Launceston and the and the start & finish of the walk.
1 night at Forester Beach Camp and 2 nights at Bay of Fires Lodge twin share (Signature Walk).
All meals and non-alcoholic beverages plus a selection of Tasmanian wines and
beer.
National Park's pass for the duration of the walk.
Use of a backpack and Gore-tex jacket for the duration of the walk.
Two qualified guides for the duration of the walk.
Storytelling performance.
Need help deciding? Talk to an expert
We're here to help 9am – 5pm Monday to Friday, otherwise, email us anytime and we'll be in touch.