Bay of Fires Walk + Barnbougle Golf Links
January 13-18, 2024 | $3,595 
March 16-21, 2024 | $3,595
Combine the stunning Bay of Fires Signature Walk with two nights and days at Barnbougle Golf Links.
The north-east corner of Tasmania is a mecca for walkers and golfers. The Bay of Fires stuns with iridescent white sands, turquoise waters, pink granite headlands swathed in orange and black lichen and our lodge is perched high above it all. Close by, amidst the towering dunes of the north coast, the Sattler family have embedded two world-class golf courses and created a spectacular natural challenge. 
We have secured departures on our Bay of Fires Signature Walk and combined them with dates at Barnbougle Golf Links so you can walk and golf with friends. And we've made it easy by arranging transfers and executive club hire. 
For all enquiries and bookings please contact Tasmanian Walking Company on (03) 6392 2211 or email bookings@taswalkingco.com.au
Inclusions
Bay of Fires Signature Walk (4 days)
Transfers from Bay of Fires Lodge to Barnbougle Golf Links
Two nights accommodation at Lost Farm Lodge
18 holes Barnbougle: The Dunes
18 holes Barnbougle: Lost Farm
Executive Callaway Full Golf Set — Includes a pull cart
Transfers from Barnbougle Golf Links to Launceston (at the specified time listed on the detailed itinerary)
Testimonials
Highlights? Too many to mention. The Bay of Fires Lodge was very comfortable. The food served on the walk was exemplary. The transfers were more than adequate. - Alison B. 2022
Hightlights? The quality of the food was my biggest surprise and highlight! The double offer of a walk and golf. - Leanne H. 2022
The Bay of Fires Signature Walk (4-day)
If squeaky white-sand beaches and wild coastline appeal to you, the Bay of Fires is a spectacular reason to lace up.  We begin at Boulder Point in Mt William National Park where we journey four hours to semi-permanent tents in the dunes.  At our forester camp there is no roughing it, take an ocean dip and return for pinots poured and your meal underway.
Day two is all about secluded coves, hearing tales of early inhabitants and making our way to the Bay of Fires Lodge.  This is home for the next two nights - where foot spas and library time come standard and signature experiences in the outdoor bath tempt. Day three, grab a kayak and glide down the Ansons River or relax into a 'lodge day.'
We take it easy on the final day, serving up a brekkie out on deck followed by a one hour walk to our forest lunch location.
Barnbougle Golf Links Resort
On the North East Coast of Tasmania lies a hidden gem and one of the world's top golf destinations, Barnbougle Links Golf Resort.
Barnbougle consists of three courses - The Dunes, the Lost Farm and Bougle Run. Carved from the natural contours of the coastal land, both courses have been designed to emulate the true links courses of Scotland and Ireland and reduce impact to the surrounding environment.
Accommodation at Lost Farm Lodge allows you to immerse yourself completely in the Barnbougle experience and make the most of early morning course access. And finally, perched atop a coastal dune with spectacular views of the course and coastline, the Lost Farm Restaurant and Lounge promise an unforgettable dining experience.
Walkers are welcome to transfer the golf fees in this package to the Lost Farm Restaurant if they don't play golf. Please inform our reservations team at the time of booking.
Visit Barnbougle Links Golf Resort
Day 1: Launceston to Mt William National Park
Approximately 4 hours walking
Guests meet at Red Feather Inn at 7am. Launceston pick-up is from Chalmers Church, 5a Frederick St, at 6.30am. Quamby Estate shuttle departs at 6.30am.
It's time to get your walking boots sandy. Our beach stroll this morning begins at Boulder Point in Mt William National Park. In clear conditions, the Bass Strait islands of Flinders and Cape Barren are visible to the north.
We'll nestle into a protected beach along the coastline for lunch, enjoying the company of native birds, rare shells and marine artefacts. From day one your guides will begin unravelling the Bay of Fires tales; its early inhabitants, visiting explorers and how it came to bear its fiery name.
After about four hours walking, we'll arrive at the Forester Beach Camp, tucked away in secluded dunes. These semi-permanent tents are our home for the night. Relax on the deck with a local wine, take a dip or explore the dune swale location while your guides prepare delicious Tasmanian fare.
Day 2: Exploring the Bay of Fires Coastline
Approximately 7 hours walking
Following a relaxed breakfast at the camp we walk south, absorbing the coastline's bold colours and solitude. Along the ridgelines of sand dunes, views extend across heathlands and out to the ocean. We'll visit marsupial lawns, often encountering quiet native animals and the tracks they leave at nightfall.
Our lunch spot today is a beach sheltered behind the dunes near Eddystone Point Lighthouse. We'll have time to explore the lighthouse and its long-standing story before we trek far-stretching beaches that lead to the celebrated Bay of Fires Lodge.
Come evening, venture into the library, cast a line off the beach or have your hosts deliver a cold drop while you dip toes into a foot spa on the back deck. Dinner is a Tasmanian long-table affair, featuring produce from the island matched with fine local beer and wine.
Day 3: Kayaking and enjoying the area
Approximately 6 hours kayaking/walking
Today choose your own adventure. Rise early to the native birds accompanying the dawn, waking to the aroma of a hot-cooked breakfast and freshly brewed coffee. If it's a sunny morning, breakfast on the deck can reward you with whale spotting and dolphins surfing the waves.
Later in the morning, choose to kayak down Ansons River and experience the riparian ecology of this winding waterway. Cross the bird-rich waters of Ansons Bay and conclude with a stroll over the dunes of Abbotsbury Peninsula back to the lodge.
Other options for today include a spa treatment, fishing, exploring shell coves or enjoying the lodge surrounds. After dinner is when the native wildlife wander out - keep an eye out for wombats, wallabies, Forester kangaroos, possums or even a Tasmanian devil. Don't forget to look up! The night sky from this pristine coastline is an awesome spectacle.
Day 4: Bay of Fires Lodge to Barnbougle
Approximately 1 hour walking
Following a leisurely breakfast at the lodge, there's plenty of time for a morning swim or final spa treatment before we depart the lodge. Unlike our other walking, today we venture through eucalypt forests and coastal heathland. We'll enjoy a forest lunch to the sound of native birds, including the endemic green rosella.
The transfer to Barnbougle Golf Links takes just over an hour. Here, you will farewell your walking guides.
We'll have you there in time for an afternoon check-in. If you'd like to play a quick game of golf before the following two days, there is time to try the new Bougle Run (at your own expense). You can arrange it upon check-in. Set atop the dramatic sand dunes behind Barnbougle Lost Farm, Bougle Run, the new 14-hole short course opened in late March 2021.
From here on, meals and drinks are at your own expense. You can choose to wine and dine in three venues on the course.
Your accommodation tonight is in Lost Farm Lodge. Lost Farm Lodge enjoys stunning views of the Lost Farm course and surrounding coastline and hinterland.
Bay of Fires Lodge to Barnbougle Transfer Times and Information
Day 5: Barnbougle The Dunes Course
In golf terms, Barnbougle is young. Whilst the rolling fairways of the courses, set amongst the wild and dramatic landscape, look as though they were established long before we could jump on a plane and fly across Bass Strait to Tasmania, it was in just 2004 that the first course - The Dunes - opened for play.
Designed by renowned modern golf architect Tom Doak and Australia ex-European tour pro and course designer Mike Clayton, Barnbougle Dunes was once a strip of land along the coast of a potato farm on Tasmania's north east coast.
Their design philosophy was embraced by golfers far and wide and the Dunes soon earned a position amongst the world's top ranked golf courses. Since opening in December 2004, The Dunes has maintained its position as the number one public access course in Australia. Currently rated #4 course in Australia (by Australian Golf Digest), #34 course in the World (U.S. Golf Magazine) and #11 course in the World (U.S. Golf Digest), The Dunes is a regular on 'must play' lists around the world.
Day 6: Barnbougle Lost Farm. 
With the reputation of Barnbougle Dunes continuing to augment, the idea of a second course at Barnbougle was conceived. In December 2010, Lost Farm, the 20 hole sister to The Dunes opened for play.
Designed and constructed by Coore & Crenshaw on the steeper and more dramatic sand dunes across the river from The Dunes, Lost Farm was developed with similar design principles - that the best links courses compliment the natural topography of the land.
Lost Farm has quickly captured the attention of international golfers of all abilities. Within weeks of opening, Lost Farm was rated the #2 public course in Australia by Golf Australia Magazine, and within 8 months it entered the World Top 100 List (by U.S. Golf Magazine) at #82. Lost Farm now ranks #23 in the World (U.S. Golf Digest).
After your game, it is a 60-minute transfer to Launceston. The transfer will depart at 3 pm and arrive at The Sebel, Launceston(12/14 St John Street, Launceston) at 4:15pm. It is another 30 minutes to Launceston airport and we expect to drop arrive at 4:45 pm.
*Please note that this time is not flexible. If you require a different time, please call one of the operators below to arrange a transfer at your own expense.
Please call Golf Tours of Tasmania on 03 6326 1555 or email to arrange your transfer.
Rates for Barnbougle to Launceston airport: 1-4 pax: $280 | 5-7 pax: $50 pp | 8-10 pax: $45 pp
*Prices subject to change
Experiential Tasmania offers airport transfers and personalised private tours. Phone 0401 028 906 or email. Rates for Barnbougle to LST: 1-4 pax: $280 | Additional pax: $27.50 pp
*Prices subject to change
The Bay of Fires Lodge Accommodation
Set on a hilltop, 40 metres above the pounding of the sea and surrounded by National Park, the Bay of Fires Lodge is the only building on 20km of outstanding coastal wilderness.
Enjoying views up and down the pristine white sandy beaches in an area of great significance to the Aboriginal community, a truly ecologically-aware building has been gently let into the landscape. Two long timber and glass pavilions allow maximum connection to the landscape with minimum impact on the environment: all building materials - Tasmanian hardwood and plantation pine - were lifted in by helicopter or hand carried to the site.
The lodge is autonomous in providing and managing its existence. Here you will experience true communion with nature in accommodation that combines simplicity of design with comfort and warmth. In the magnificent living area with its large timber deck and open fire, you'll enjoy delicious meals prepared with the freshest local produce, accompanied by fine Tasmanian wines. Solar power provides the lighting, while hot showers and comfortable hotel beds add a touch of luxury at the end of each day's activities.
All accommodation at the Lodge is twin or double share, arranged as two king-singles or one king bed.
There is a small library, which is comfortable and cosy, looking out over the ocean. This is a great place to sit back and relax or look through our selection of books and magazines.
Forester Beach Camp Accommodation
Nestled in a protected dune swale behind a glorious white sand beach, Forester Beach Camp has been designed as a demountable seasonal structure.  
Twin-share rooms with timber floors, canvas rooves and full kitchen facilities provide perfect seclusion in a setting of unspoiled beauty. Private wash areas and composting toilets provide comfort without harming the environment.
We've obtained special permission to operate this camp within the National Park, so close to the beach and yet so private. Here, you can swim or snorkel in the shelter of a natural, rock-ringed 'harbour', enjoy your meals on the outdoor decks or picnic on the beach under the biggest starry night skies.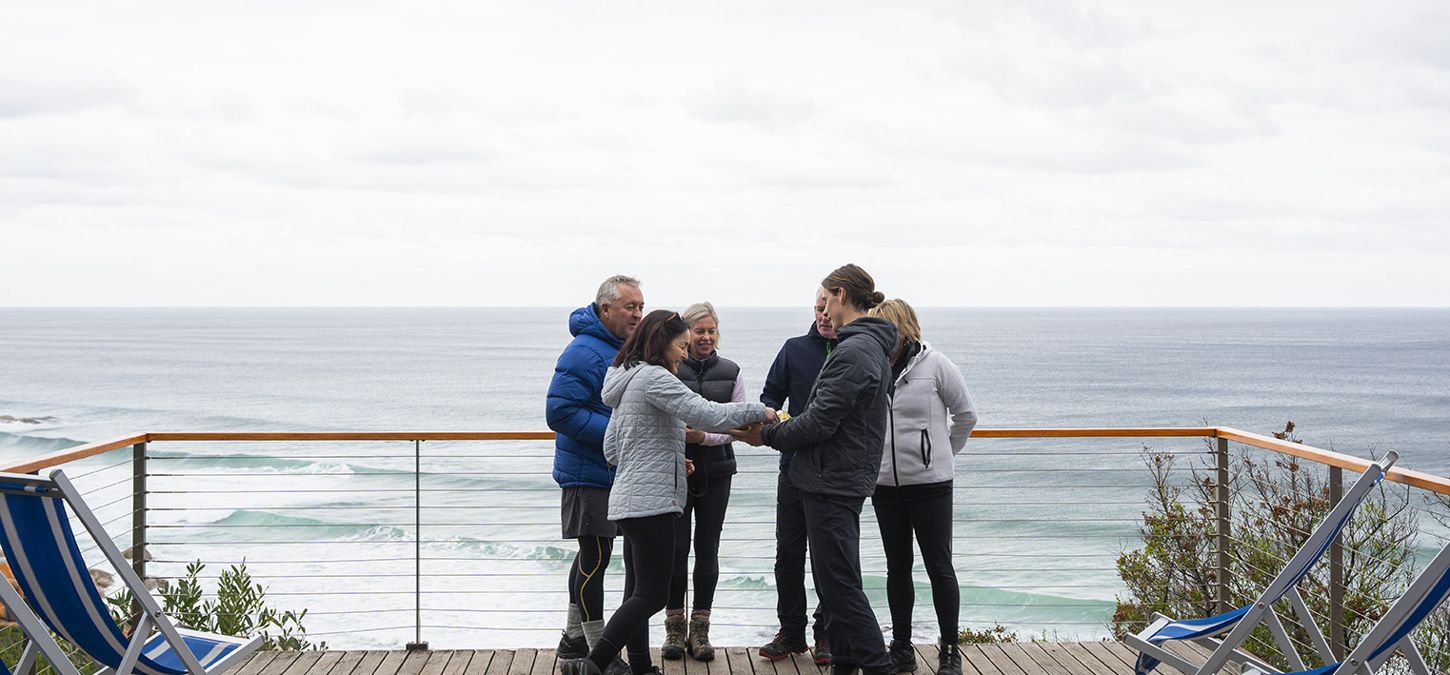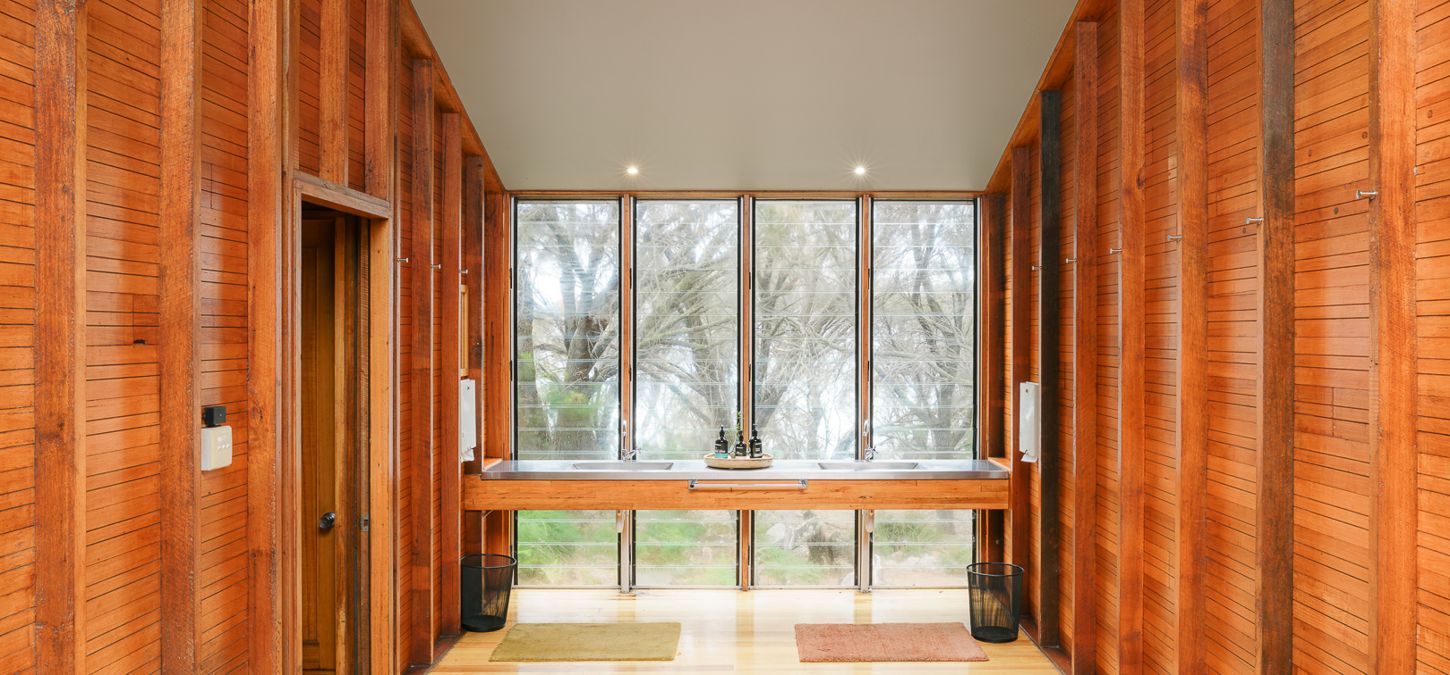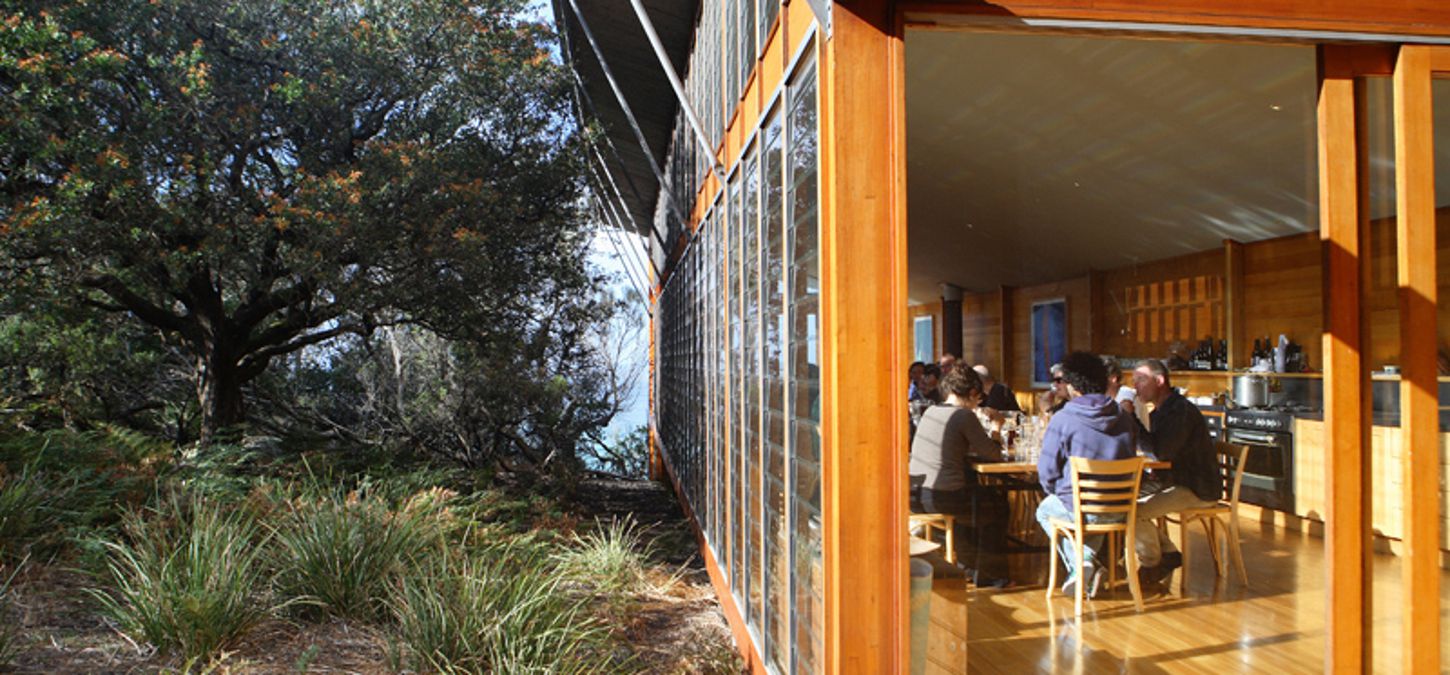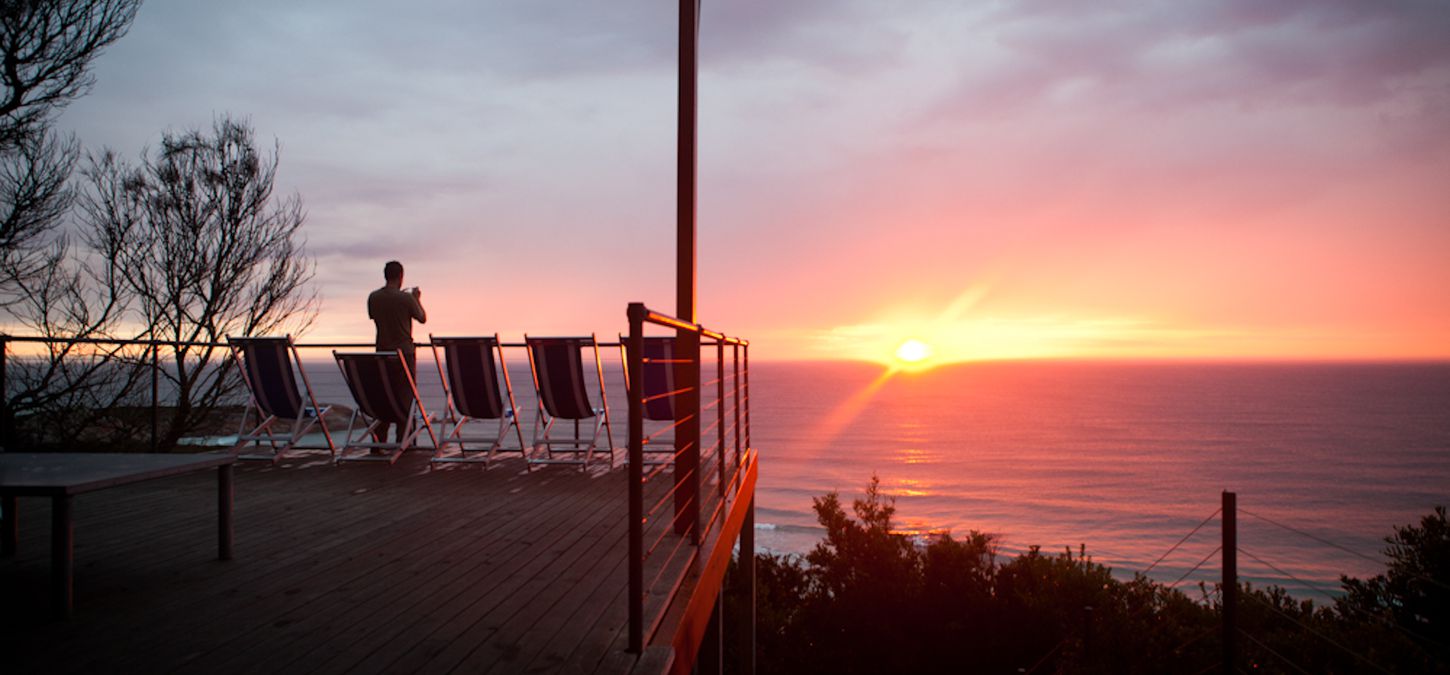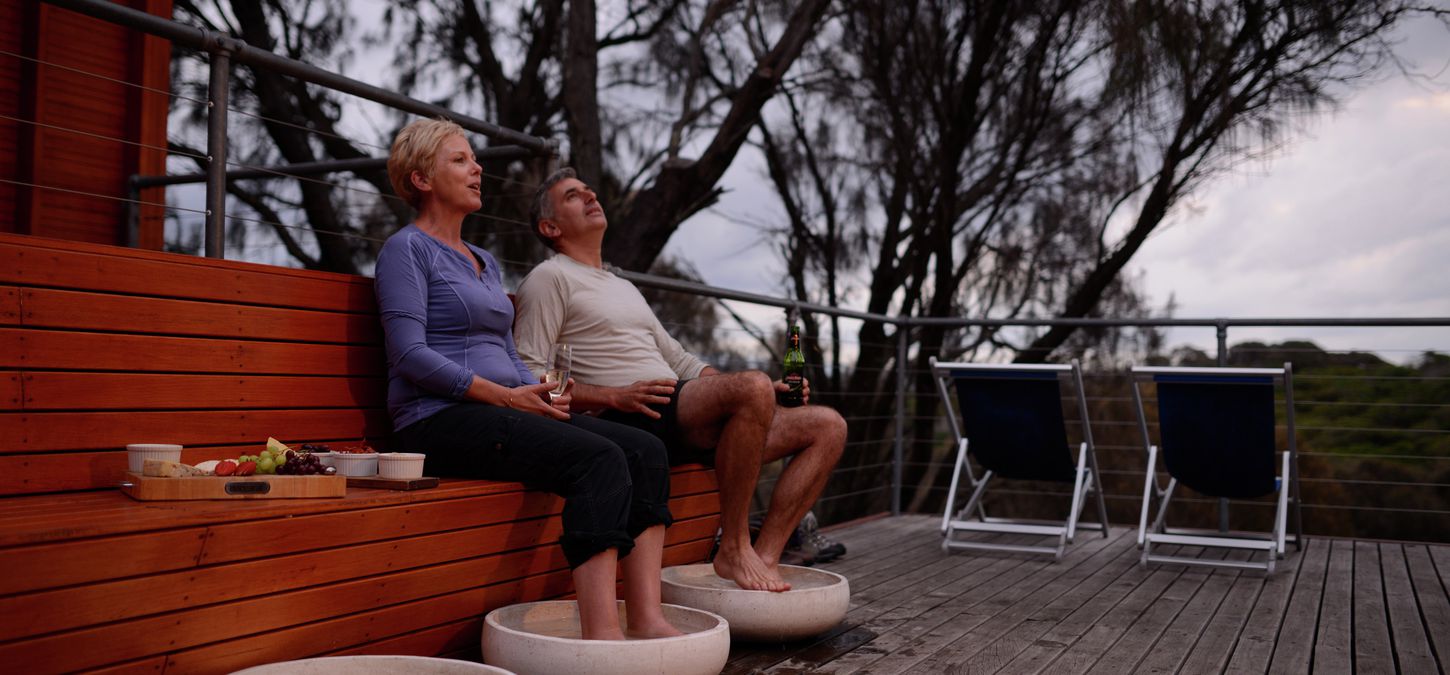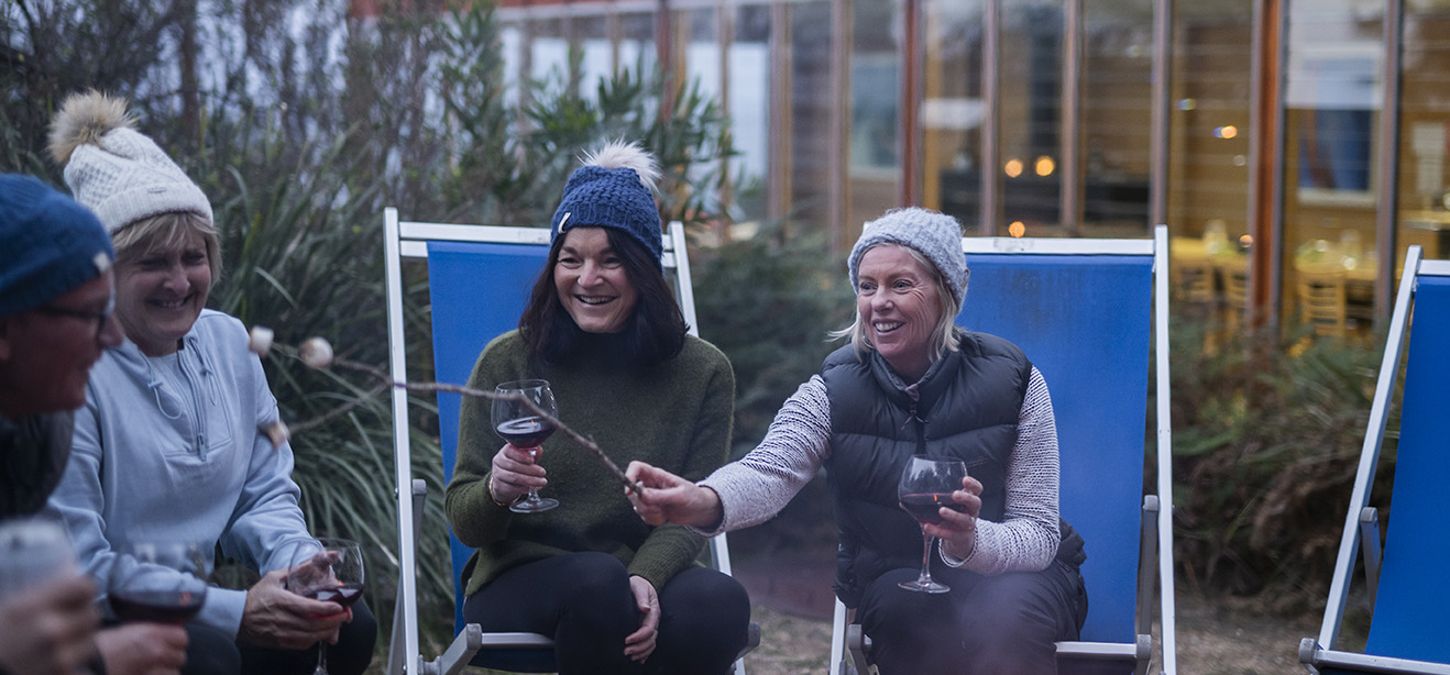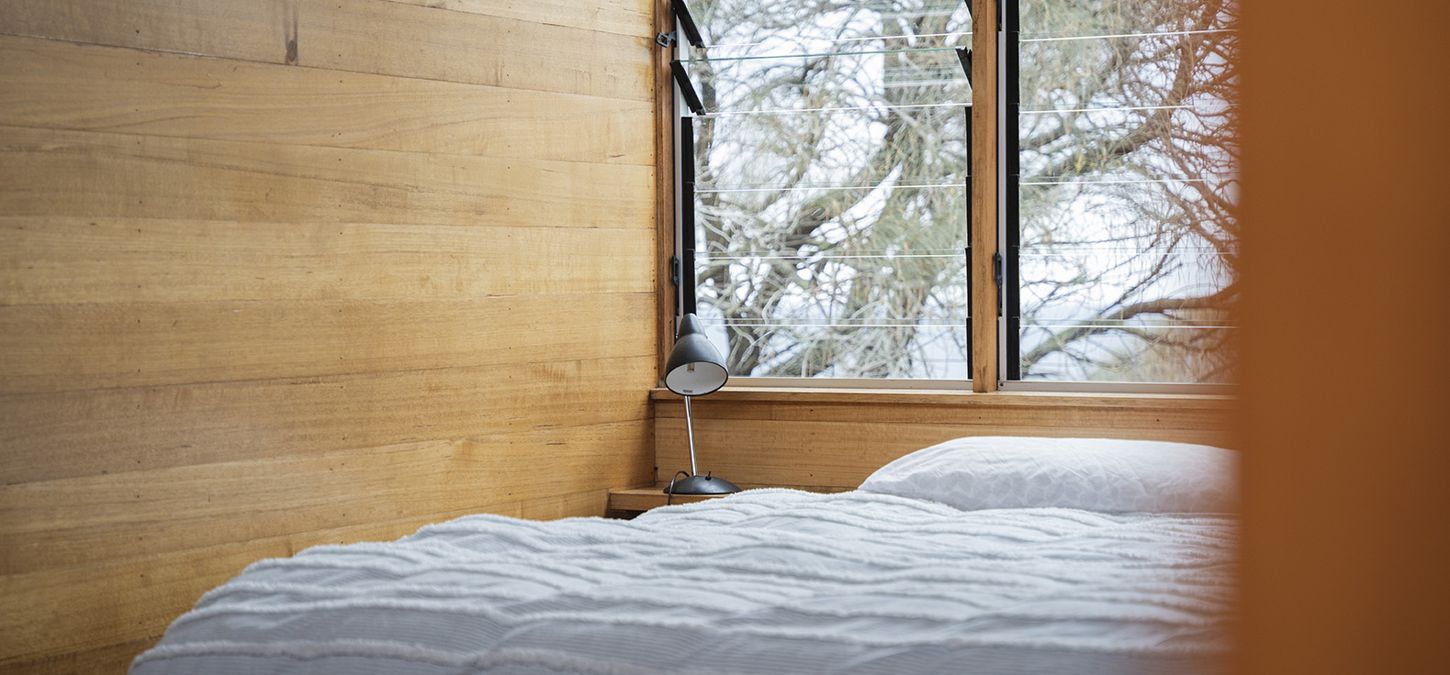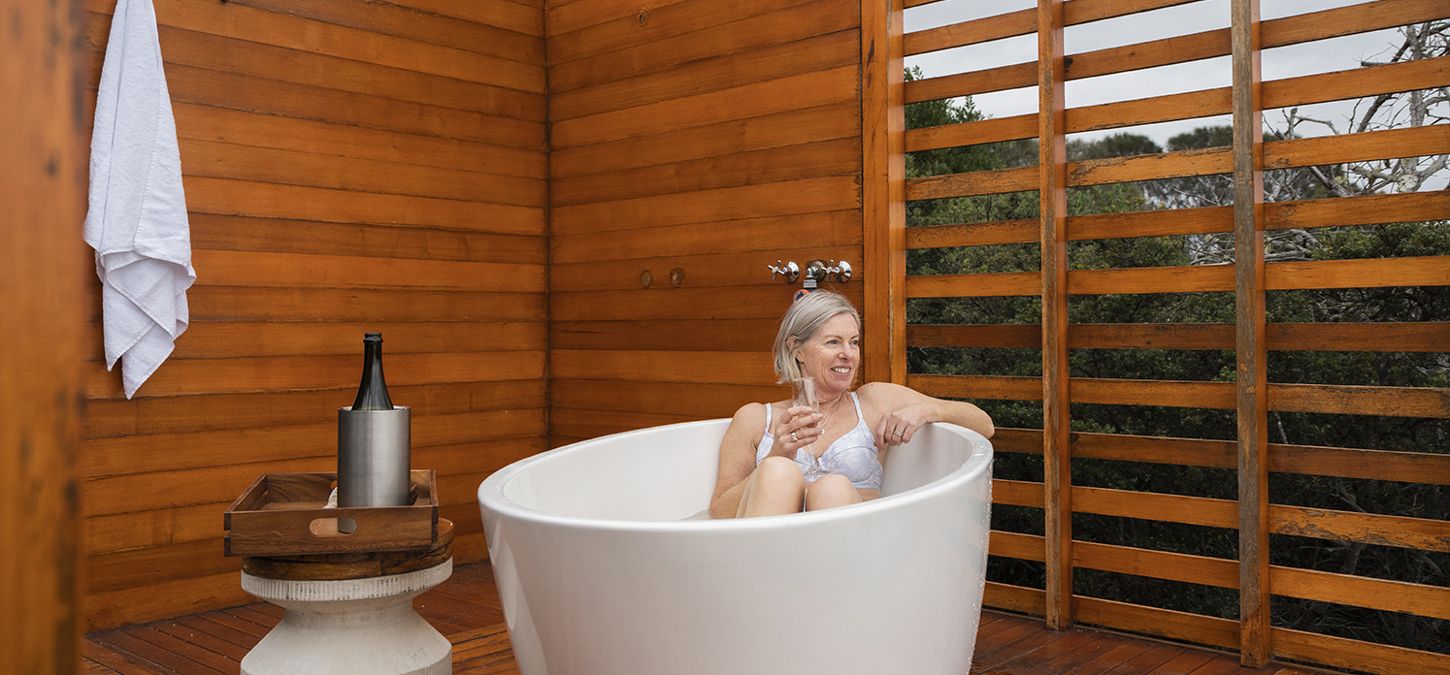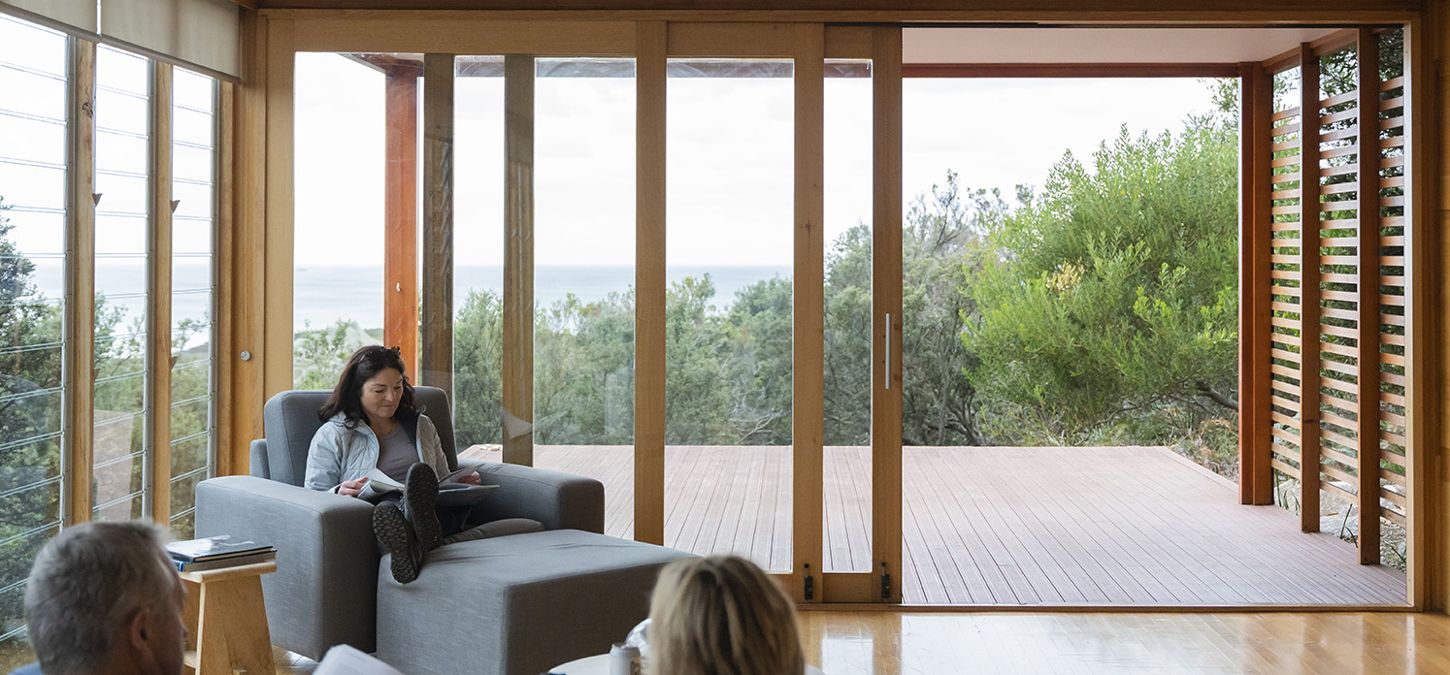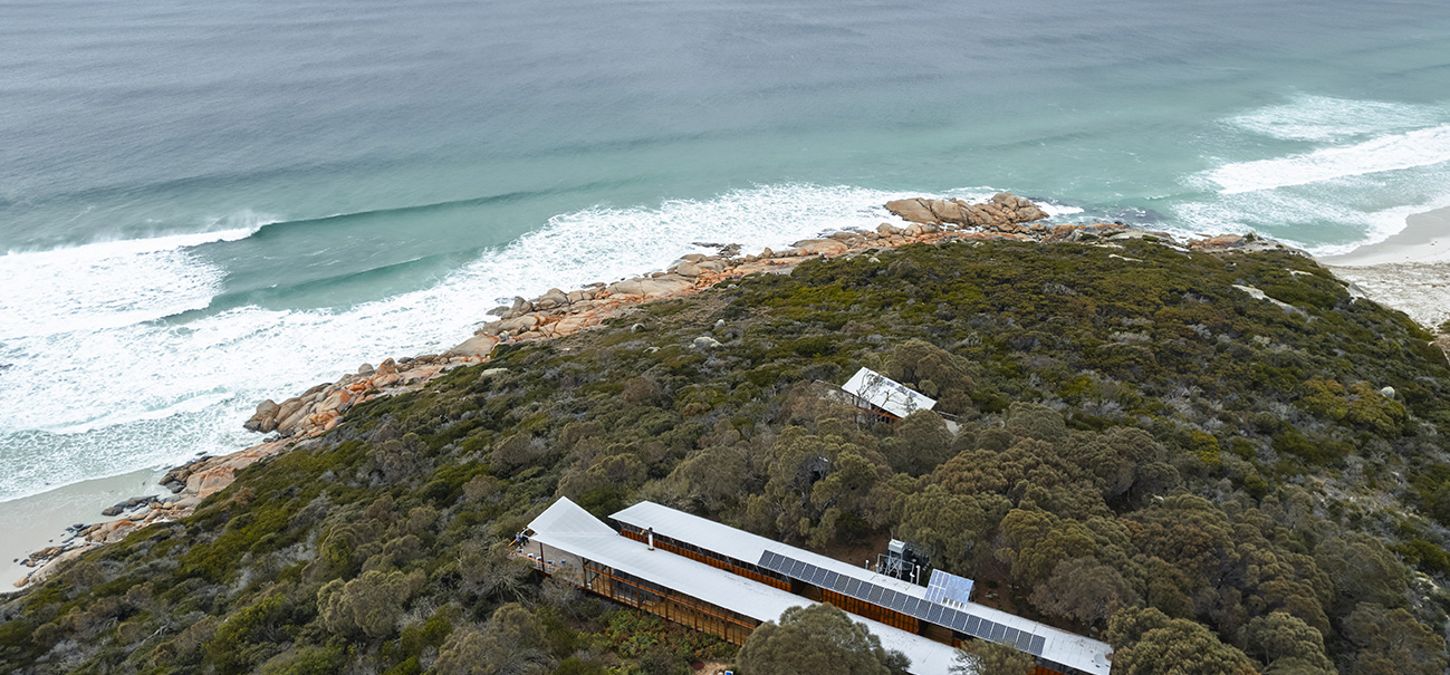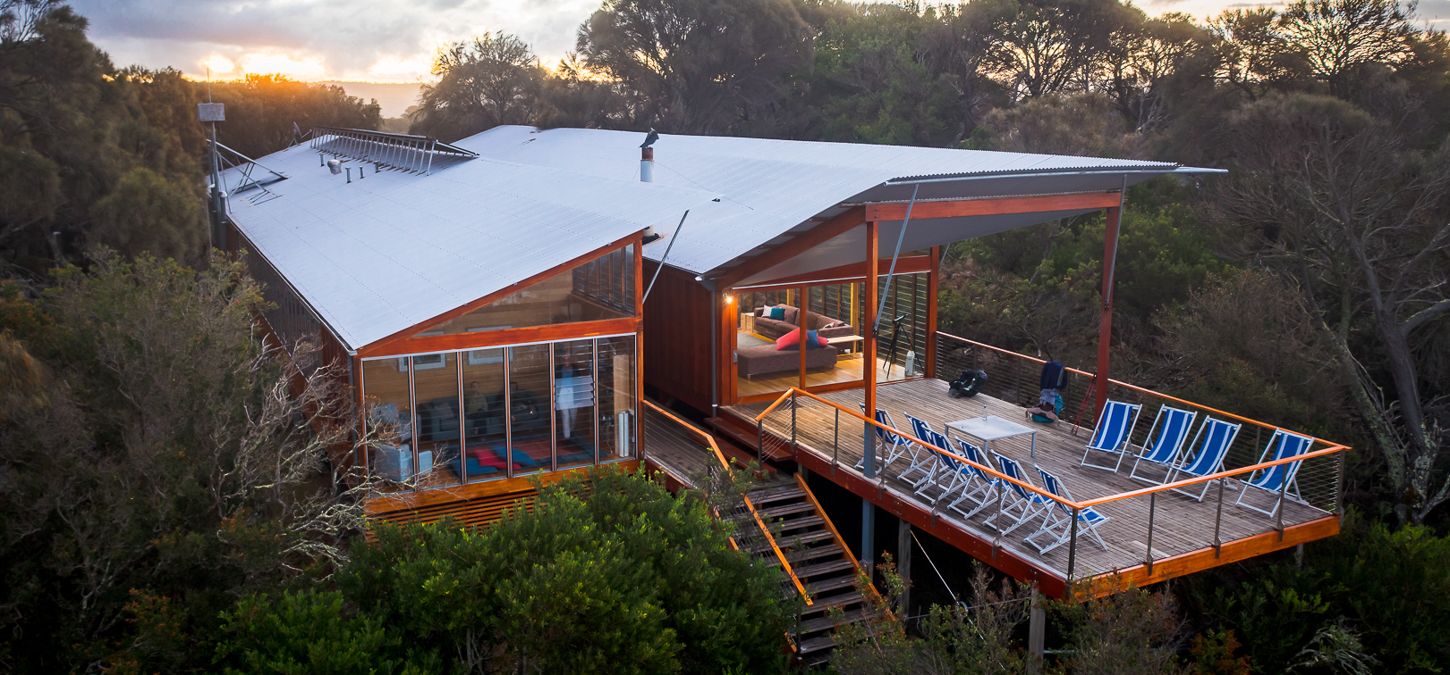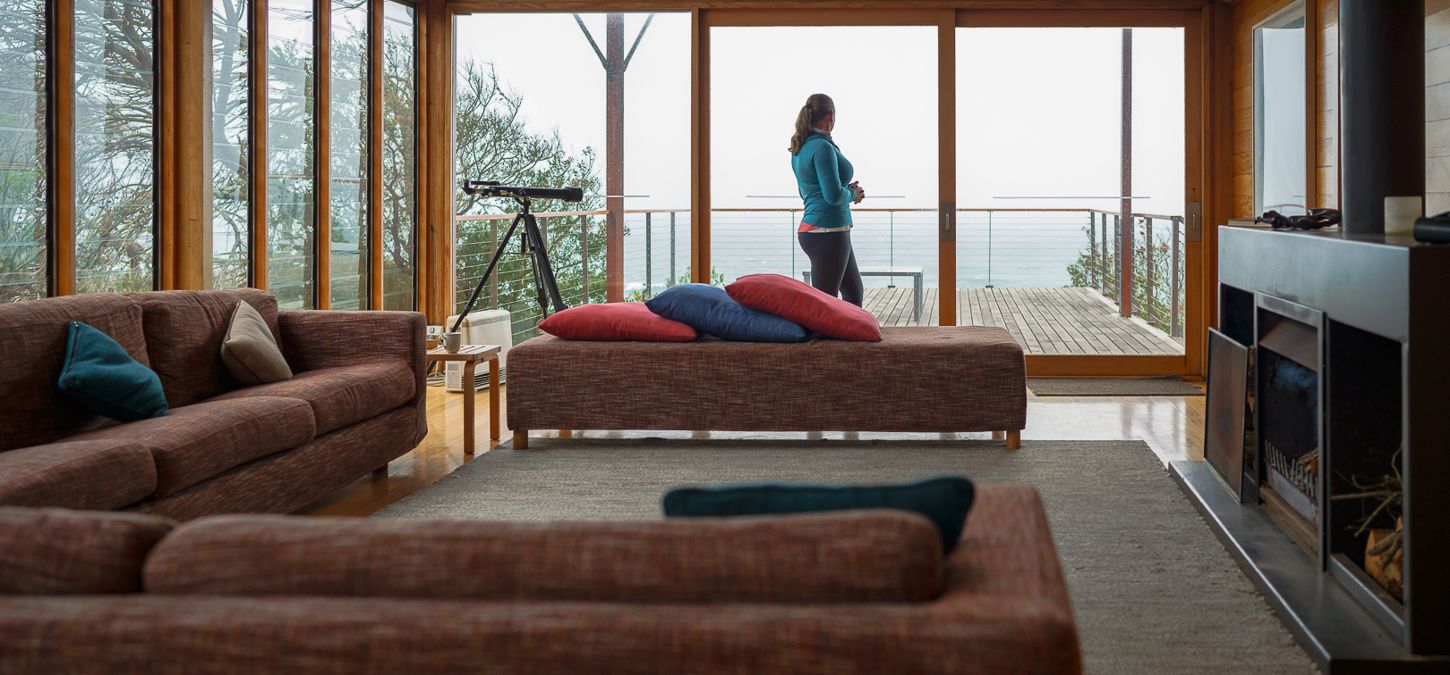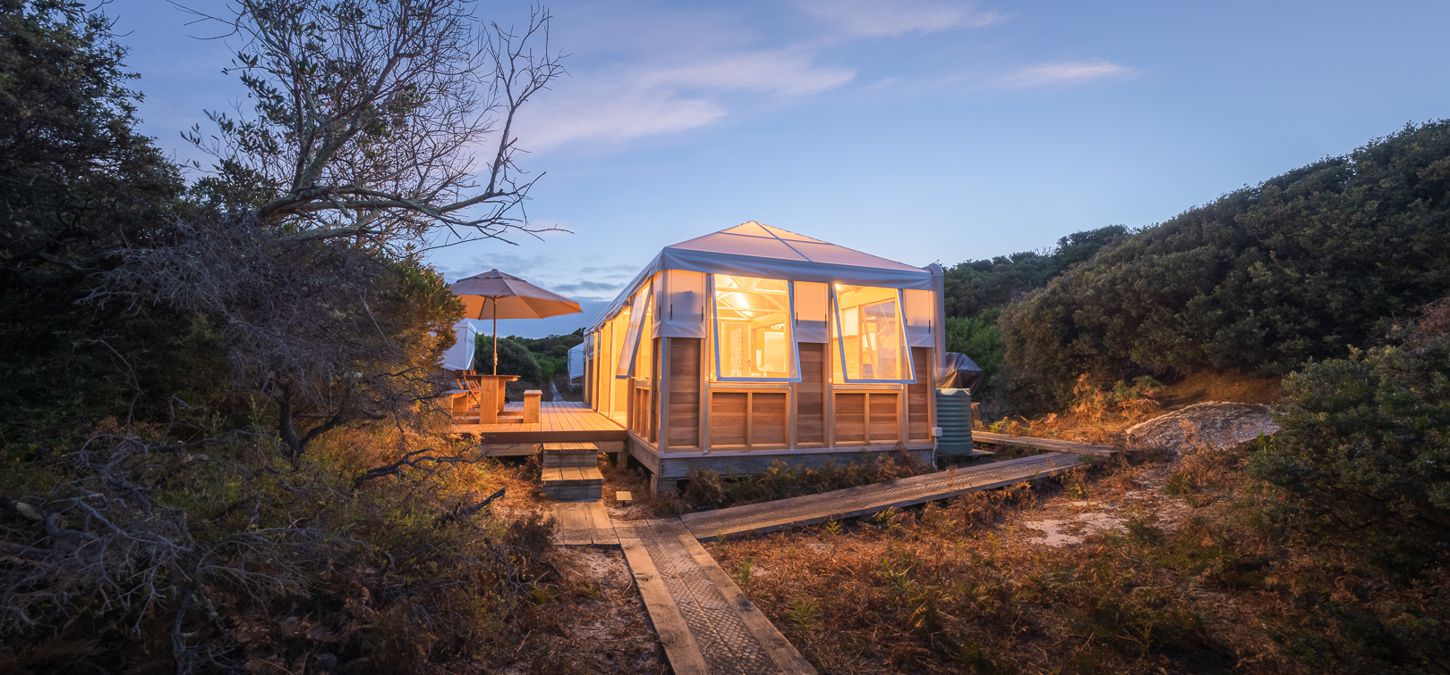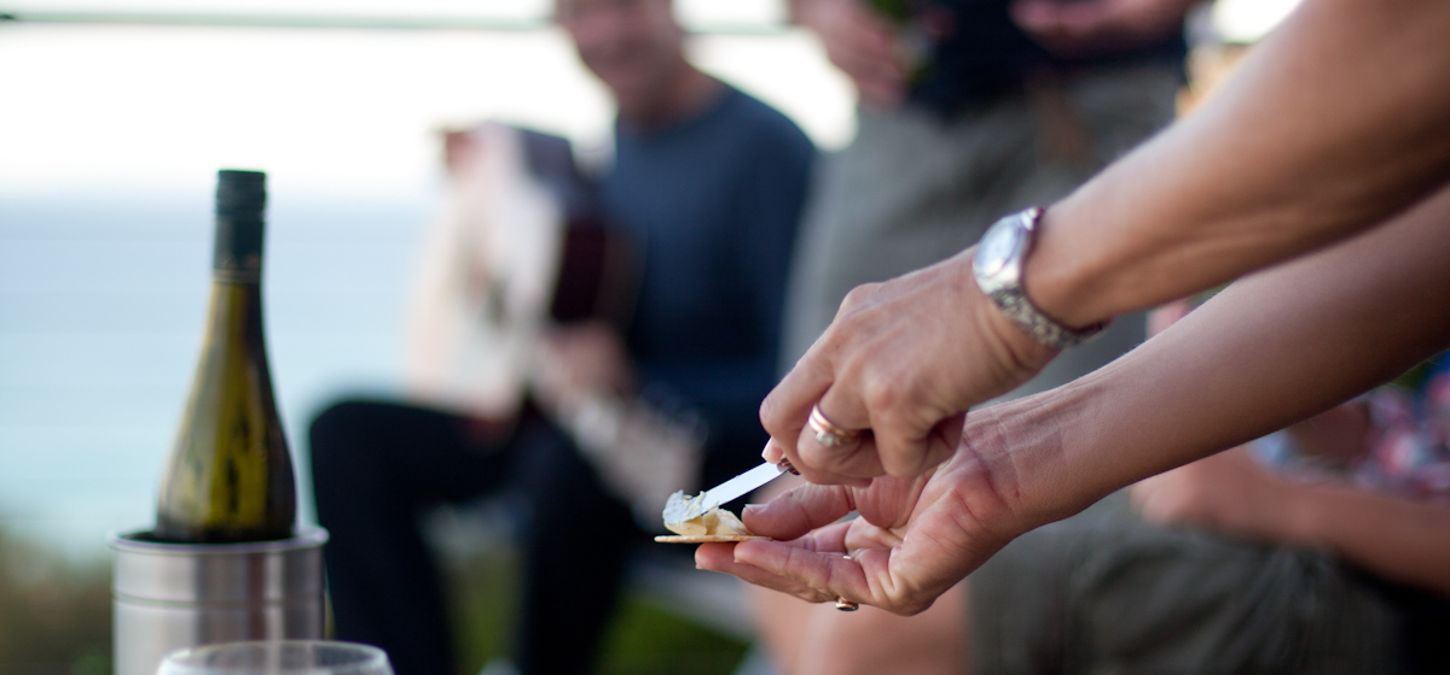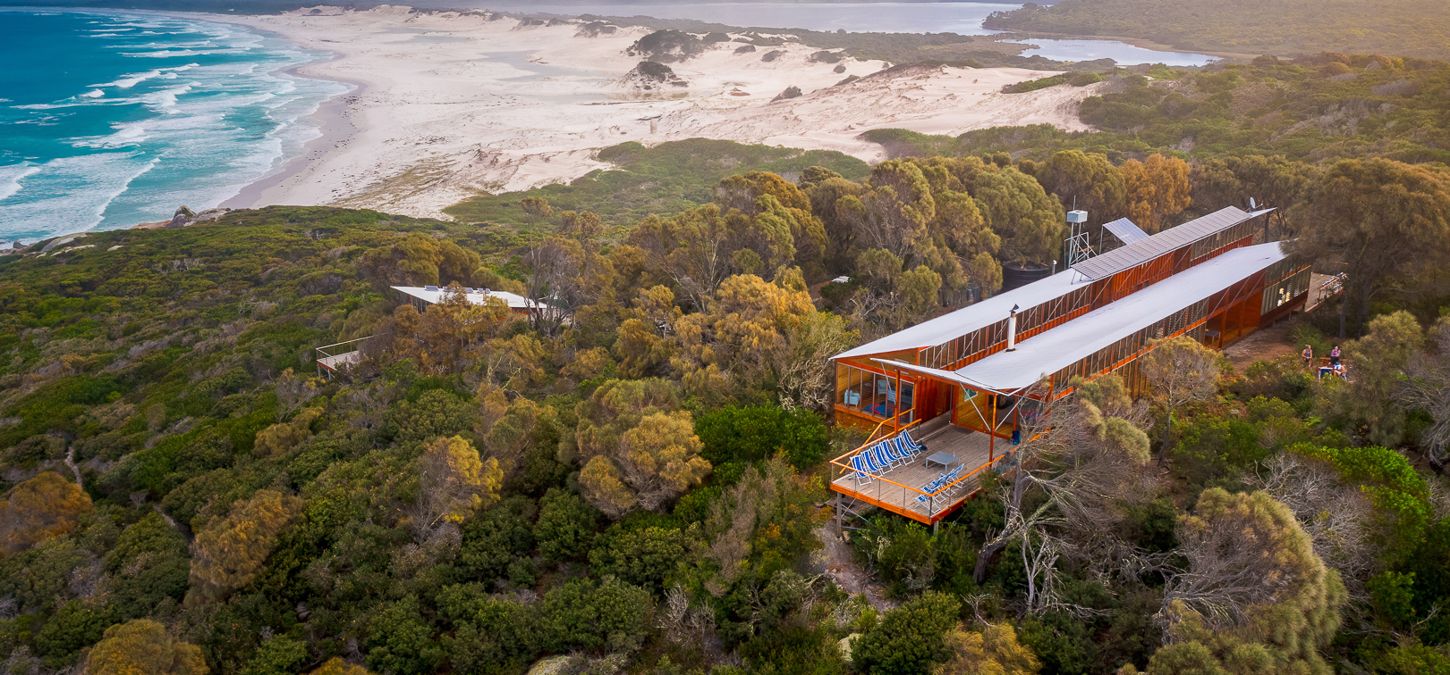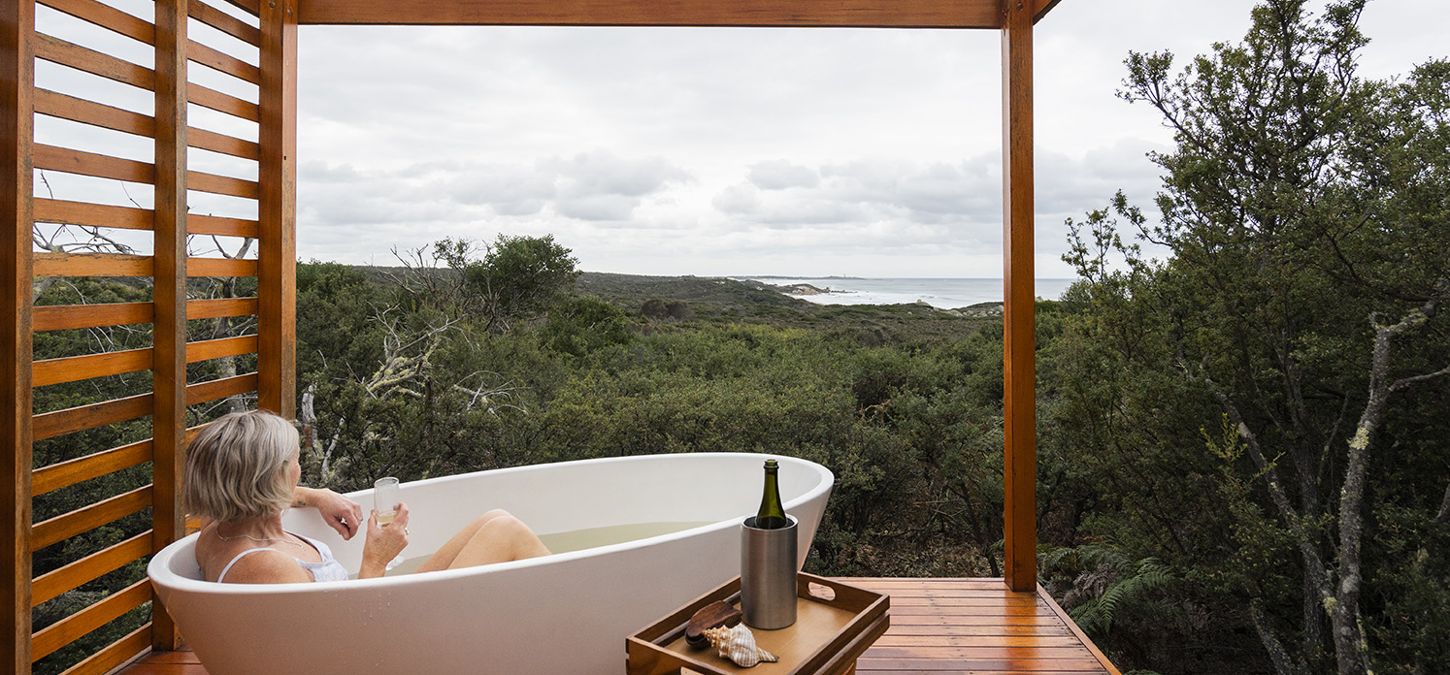 Barnbougle Lost Farm Lodge Accommodation
Wake up on course
Stay on-site at the Lost Farm Lodge and enjoy the stunning views of the Lost Farm course and surrounding coastline and hinterland.
The Lodge provides a stylish accommodation option for those looking to wake up right on course, with each suite only a short stroll to the Lodge Restaurant, Spa, Clubhouse and first tee.
Perched atop a coastal dune with spectacular views of the course and coastline, the Lost Farm Restaurant and Lounge promise an unforgettable dining experience. Open daily for breakfast, lunch and dinner, our chefs pride themselves on using quality, locally sourced Tasmanian products in their cooking. With a generous selection of fine Tasmanian and Australian wines on offer, hand select a glass from our climate controlled red and white wine cellars to accompany your meal.
Single Queen Suite
Perfect for a couple, the Single Queen Suite features:
One queen bed
Two flat screen televisions
Tea and coffee making facilities
Large walk-in shower
iPod speaker dock
Individually controlled air conditioning
Bay of Fires Signature Walk + Barnbougle
Departures: 
January 13-16, 2024 | March 16-21, 2024 | $3,595 per person
Groups of 10 can enquiry about availability for any available date.
Direct Bookings only
4 Day Guided Walk
Each trip requires a minimum of 6 guests (Twin Share). The maximum is 10.
Departures may be made up of one group of ten or be composed of separate bookings.
Phone: (03) 6392 2211
Email:  bookings@taswalkingco.com.au
or

 

complete the below enquiry form
TWC Return Walker discounts do apply
Your name and contact details will be given to Barnbougle Golf Links to commence your reservation process. Please contact Lost Farm Lodge with any questions about your stay and golf.
Solo travellers will be charged an extra $255 or $260 to have their own room at Barnbougle. Solo travellers will share a twin room with a walker of their own gender on the Bay of Fires Walk. A single supplement for the Bay of Fires Walk component can be quoted upon request. It will be 75% of the Bay of Fires Walk price. 
Single supplement prices for single travellers (who do not want to share a room) are available upon request.
Special Interest Walks - Terms and Conditions 
Our standard booking terms and conditions apply to all bookings. In addition:
Cancellations

more than 90 days from the scheduled departure date, a fee of $350 per person will be charged with the balance payment refunded;
within 90 days of departure, no refund is available. Bookings are transferable to another name.

Minimum numbers are required four months before departure.
This walk cannot be booked in conjunction with any other offers and discounts.
Inclusions
Bay of Fires Lodge Walk
Return transfers between Launceston and the walk base
1 night at Forester Beach Camp and 2 nights at Bay of Fires Lodge twin share (Signature Walk)
2 nights at Bay of Fires Lodge (Long Weekend)
All meals and non-alcoholic beverages, plus a limited selection of Tasmanian wines
National Park pass
Use of a backpack and Gore-tex jacket for the duration of the walk
Optional kayaking day
Two qualified guides for the duration of the walk.
Barnbougle Golf Links
Two nights accommodation at Lost Farm Lodge
18 holes Barnbougle The Dunes, Executive Callaway Full Golf Set and pull cart
18 holes Barnbougle Lost Farm, Executive Callaway Full Golf Set and pull cart
*This is an independent stay. Guides will not be present at Barnbougle Golf Links
Transfers
Bay of Fires Lodge to Barnbougle Golf Links
Barnbougle Golf Links to The Sebel, Launceston 

(12/14 St John Street, Launceston)
Bay of Fires Lodge to Barnbougle Transfer Times and Information
Need help deciding? Talk to an expert
We're here to help 9am – 5pm Monday to Saturday, otherwise, email us anytime and we'll be in touch.