A long weekend of birding with Inala
Take a journey by boat to Tasmania's gem, Bruny Island. Walk to beautiful, remote places with Inala's celebrated birding guides, and discover Tasmania's endemic birds.
This collaboration between Inala and Bruny Island Long Weekend offers birdwatching with Inala's expert bird guides in a diverse range of habitats, from the ocean to rocky shores, remote beaches, coastal heath, temperate rainforest, and towering eucalypt forests and includes a private extensive tour of Inala's nature conservation sanctuary.
Each day, carry lightweight packs and then return to the comfort of our private camp with hot showers, an outdoor fire and a cosy bed. You'll partake in Bruny Island's famed produce, including fresh seafood, cheese, wine and beer. 
For all enquiries and bookings please contact Tasmanian Walking Company on (03) 6392 2211 or email bookings@taswalkingco.com.au
Image credits: Forty-spotted Pardalote and
Superb Fairy-wren
, Alfred Schulte, 
Swift Parrot, Chris Tzaros, Beautiful Firetail, Keith Kennedy, Wedge-tailed Eagle and Yellow-tailed Black-cockatoo, Ken & Mary Campbell, and Red-capped Plover, Ramit Singal.
Introducing Inala
For over 27 years, Inala Nature Tours, a family owned and operated company, has been designing and leading birding and wildlife tours across Australia. From their 1,500 acre private reserve at 'Inala' on Bruny Island, Tasmania, their tours extend across Australia from the lush rainforests of Queensland to the rugged landscapes of the Kimberley and beyond.
Their tours are designed and led by Dr. Tonia Cochran and her expert team. Among them exists a diversity of talents, from qualified scientists to travel experts. They are united by their passion for wild Australia.
The Inala conservation reserve is 1,500 acres.  They have all twelve endemic bird species living at Inala amongst the rich and diverse conservation habitats.
The Inala reserve contains

 

bird hides and viewing platforms,

 

it is a reserve for birders run by birders.
You can plan to extend your stay on Bruny after this walk (or return at a future date) by staying in the cottage accommodation within the Inala private reserve. (Exclusive 10% discount for Tas Walking Company Guests for bookings of two nights or more)
Image credit: Spotted Pardalote, Alfred Schulte
Bruny Island Long Weekend (3-days)
Our award-winning Bruny Island Walk takes you by private boat from the waterfront of Tasmania's capital Hobart to Bruny Island. During your visit you will be treated to coastal walks, produce directly from the source, luxury camping and exquisite meals.
What makes this walk so special is access to Bruny's lesser-known gems. After traversing headlands where the next stop is Antarctica, visit a local oyster farm and shuck an oyster as pristine waters swirl about your ankles. Finally, retreat back to camp, built completely off-the-grid, with luxury in mind. Crisp sheets on king-sized beds and an outdoor shower framed by towering Eucalypts await.
The boat trip to Bruny includes the possibility of Australian Gannets, the Black-faced Cormorant, which is the only Australian Cormorant to be confined to coastal marine inshore environments and the cormorant with the most limited distribution in Australia, being confined to the southern Australian coastline. You may also see Australian fur-seals resting on the surface of the water or the occasional Little Penguin swimming by the boat.
Spring
This is peak breeding season and an excellent time to see birds in full breeding plumage with the sound of the spring dawn chorus in the bush. Almost all of our migratory species have also returned to Bruny by this time. There is a terrific selection of birds to see in spring.
Summer 
Warmer temperatures and low rainfall make January a popular time for walking and outdoor activities in Tasmania. October, January and March are all ideal months to watch marine birds and the endangered Swift Parrot. This time of year, we see the results of the breeding season in the number of young birds. See Forty-spotted Pardalotes pair up during the summer breeding season.
March
This is a precious time of the year. The wind is often calmer, that days are still warm and long and it is generally a little less busy. This is the last month to catch many of our migratory species.
Testimonials
Highlights? 'The staff- Briony, Cat, Ochre and Emmy were fabulous. Cat's bird knowledge was excellent. The food and wine wonderful. The camp - bed very comfortable, the kitchen/dining/outdoor area was great. Taking a photo of a Pink Robin which in two days has gone to 21k likes on Australian Native Birds FB page'. - Linda B. 23/10/2022
'Sitting on rocks in the afternoon sun chilling after a full day (oysters a lovely bonus)...loved watching the swift parrots cavort in the trees and the forty-spotted pardalotes.' 10/10 Lesley L. 23/10/2022
Day One: Great Bay
Approximately 5-6 hours walking and birding
This morning you will meet your tour guides and fellow guests (maximum of 10) on the waterfront of Tasmania's capital city, Hobart. Step aboard your private boat and let the adventure begin with a cruise down the Derwent River to Bruny Island. If the birdlife is good then we can stay out and enjoy it. Today our goal is to walk out towards a spectacular cape on the east coast of Bruny Island.
Excellent birding opportunities present in the first kilometre, at the lagoons and on Miles Beach. Our guides will create the right balance between walking and bird watching with a stop for lunch on Miles Beach.
On returning from our walk we will wade out into the crystal clear waters of Great Bay to learn how the famous Bruny Island oysters are farmed and shuck them straight out of the water. The perfect way to cool down after a walk!
Next stop; our camp. After a hot shower, join us in the dining house for a drink and to share stories of the day's adventures as the guides busy themselves preparing your dinner sourced from either on the island or in the waters surrounding it.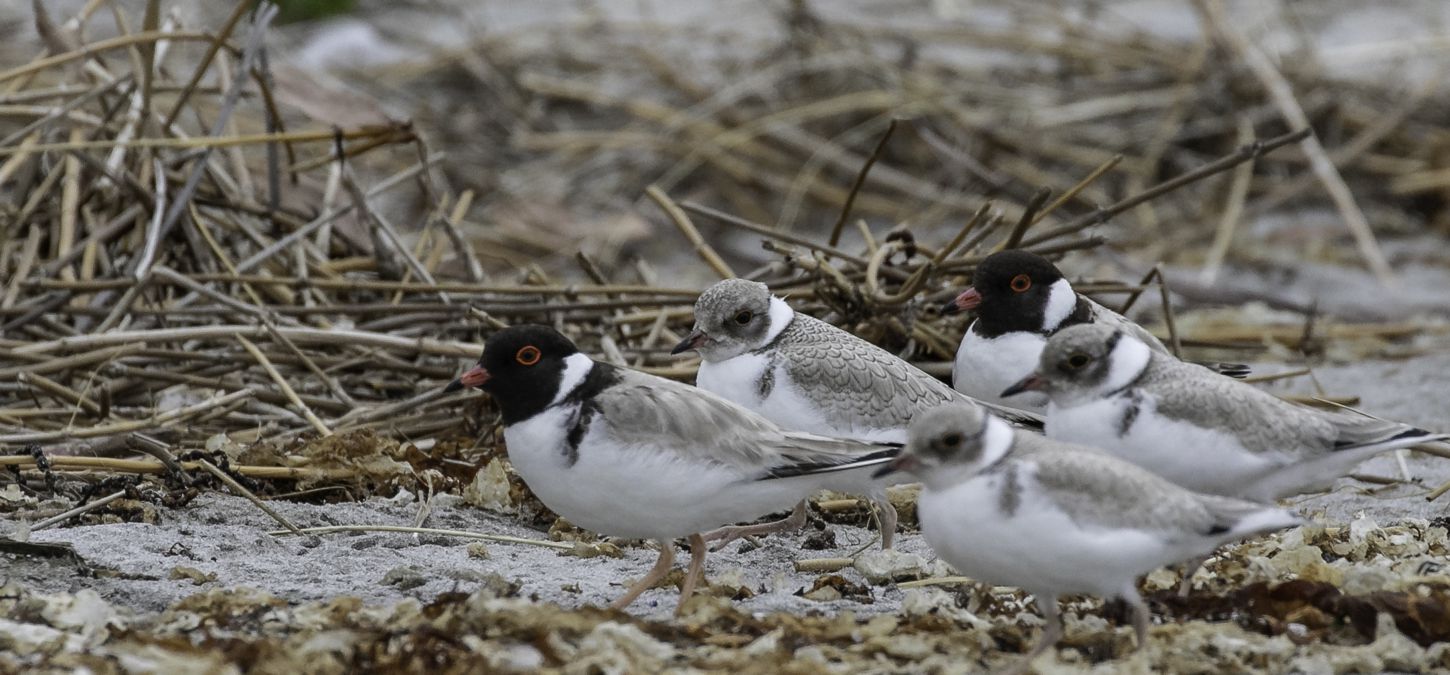 Day Two: Inala
5-6 hours walking and birding
Day two might begin with a gentle thumping past your tent. While the inquisitive wallaby isn't your wake up call, his visit, or the promise of warm croissants might lure you from your crisp sheets to reunite with us at the rustic wooden dining table once more.
Today is devoted to a private guided tour with one of Inala's expert guides around the Inala Private Conservation Reserve, a 1,500 acre Land for Wildlife property which is home to a variety of threatened species and all 12 Tasmanian endemic birds. Observe at close range the Endangered Tasmanian endemic Forty-spotted Pardalote from the purpose-built canopy platform within one of its largest known colonies. View raptors such as the Tasmanian subspecies of the Wedge-tailed Eagle and the white morph of the Grey Goshawk from the raptor hide. Endemics including the Tasmanian Thornbill, Tasmanian Scrubwren, Dusky Robin, Green Rosella, and all four endemic honeyeaters are also commonly seen here. There is also a good chance of spotting Swift Parrots which breed on the property between September and January, as well as Flame, Scarlet and Pink Robins, and Beautiful Firetails.
Learn of the ecosystem in which these birds live, and conservation efforts to protect these species and their habitats. The property is also a great place to see Bennetts Wallaby, Tasmanian Pademelon, enormous eucalypt trees and tree-ferns, a magnificent stand of Blackwood trees, and some native terrestrial orchids that mostly flower between August and March.
After lunch at the Inala lookout which has a beautiful wide vista over Cloudy Bay, afternoon walk options include a drive to the Bruny Island lighthouse and the Luggaboine circuit where we may see Yellow-tailed Black Cockatoo's feasting on Banksias and a great range of coastal and bush birds, or we may take another winding track amongst the Eucalypts up at Benbullen, a range of hills that include Stafford's Hill at Inala.
Back at camp enjoy time to sit on the deck, walk among the ferns, partake in another lavish shower or simply read a book while your guides prepare the evening meal.
Image credits: Swift Parrot, Chris Tzaros. Pied Oystercatcher, Ken & Mary Campbell. Hooded Plover, Alfred Schulte  
Day Three: Mavista to Adventure Bay

2-3 hrs walking and birding
Rise early and explore the 100-acre property and try to spot some of Bruny Island's 150 species of birds (including all 12 Tasmanian endemics).
Once we farewell camp, we will wind our way round the mountain to beautiful Adventure Bay and there we shall take a short walk through ancient towering tree-ferns and lush cool-temperate rainforest species like Nothofagus and Sassafras as we walk the entrancing Mavista rainforest track, hoping to spot along the way some of the most elusive endemics like the Scrubtit as well at the radiantly colourful Pink Robin.
After the shady rainforest we shall contrast that with our final walk along to sunny Grass Point looking out to Penguin Island.  This lovely flat coastline walk takes you through Casuarina forest and past the sites of the ancient whaling stations of Adventure Bay.  Yellow-throated Honeyeaters, Satin Flycatchers and various seasonal Cuckoos may be sighted as we take this walk through history. As we depart Adventure Bay to head north we may be lucky enough to get glimpse of the rare and unique White Wallabies.
To finish the long weekend in style, Ray Jones at The Jetty Café's deck will serve a multi-course lunch of Bruny Island produce as we await the arrival of our private boat on the beach below. There will also be some time to explore the gallery showcasing some of Bruny's 60+ artists.  
The return boat trip to Hobart offers a scenic farewell to your birding adventure. 
Image credits: Pink Robin, Cat Davidson. Above: Wedge-tailed Eagle & Yellow-tailed Black-cockatoo, Ken & Mary Campbell. Green Rosella & Beautiful Firetail, Keith Kennedy.  Superb Fairy-wren, Alfred Schulte. Grey Goshawk White Morph - Andrew Browne. Below: White-bellied Sea-Eagle & Black-headed Honeyeater, Alfred Schulte.
Your Bruny Island Long Weekend guides
What truly defines the professionalism, passion and dedication of our Bruny Island Long Weekend guides is their unparalleled focus on delivering an exemplary guided walking experience for you.  This is reinforced by their passion for Bruny Island, detailed knowledge of the local flora, fauna, geology and history; and their love of cooking using local produce to deliver a diversity of delicious cuisine each evening.
We consider our guides to be highly trained experience artisans, seamlessly bring together all the attributes of a great walking experience to deliver something that is truly unforgettable. 
Your Inala Nature Tours' guides
Dr Tonia Cochran has over 30 years of experience in ecotourism in Australia and she designs most of the birding and wildlife itineraries for Inala Nature Tours' guests. She is a qualified Biologist (Bachelor of Science in Botany and Zoology, with Honors and PhD degrees in Zoology) with a broad knowledge of Australian marine and terrestrial fauna and flora and she draws on her years of field experience and her wide-ranging academic and teaching background to design and lead exceptional birding and wildlife tours throughout Australia.
Tonia's team of Inala guides possess the patience, the experience and the knowledge to craft the right birding or wildlife experience for you. They have a diversity of talents, from qualified scientists to travel experts and are united by our passion for wild Australia.  
An Island Sanctuary 
Our groups have exclusive use of our completely off-grid private accommodation, nestled in amongst tall eucalypts on the foothills of Mt Mangana at the southern end of Bruny Island.
With our days spent walking in wild, powerful, coastal places, our campsite is a sanctuary we can return to each evening. Featuring a gorgeous bespoke designed celery top timber kitchen and dining room, four canvas tents containing split king beds with quality linen, towels and pillows. The highlight for many of our guests is an incredible hot water shower discretely located with spectacular views!
One of the best things about our accommodation being located at the southern end of Bruny Island is the night sky. With no light pollution, the stars are just incredible and occasionally we have been lucky enough to experience the Aurora Australis.
Our Bruny Island Accommodation
Our accommodation is built completely off-grid. We harvest the rain from our roof and pressure feed this water for all of our needs, including the incredible outdoor shower. For our shower and hot water in the kitchen, we use a gas system. A solar panel on the main roof provides the power to run our pumps, small energy efficient lighting in the main structure and just two power points to enable guests to recharge their cameras (they do tend to take a lot of photos!)
The accommodation was architecturally designed to have as little impact on the site as possible. In fact, it has been designed so that it could be easily moved to another site. If this were to happen there would be little evidence of the building's footprint. We built from Celery Top Pine, supplied by Southern Forest Farm Products, just across the channel from Bruny Island at Garden Island Creek. The business has a "no waste policy". This means that all the timber used in the construction of our accommodation was salvaged from the southern forests of Tasmania, essentially the timbers left behind as waste in existing forestry coupes.
Once the accommodation was constructed we began a program to restore the rest of the land to its original state. This involved an eradication program for non-native species on the property, as well as a program to re-introduce endemics. Eucalyptus viminalis (white gums) have been planted around the property to support and encourage the very rare and threatened endemic bird species -Forty Spotted Pardalote. These birds only exist where Eucalyptus viminalis occur and Bruny Island is a stronghold for them.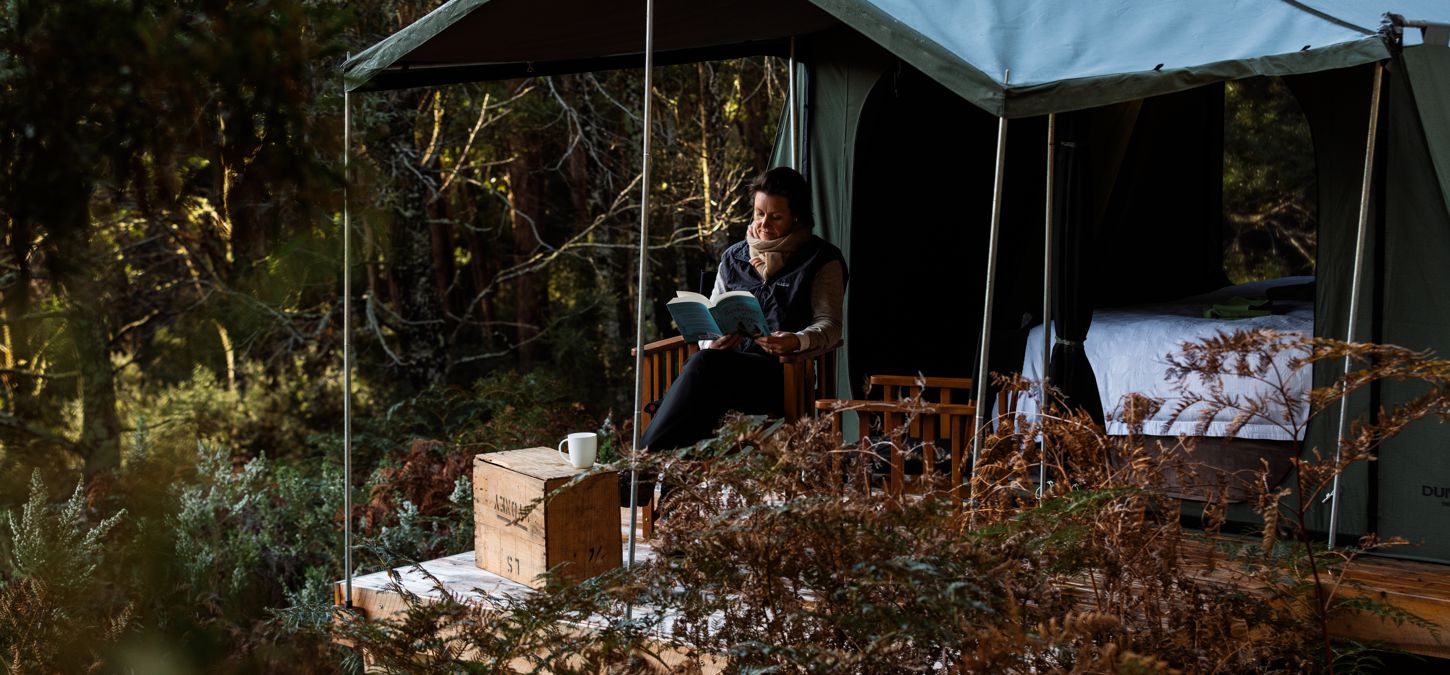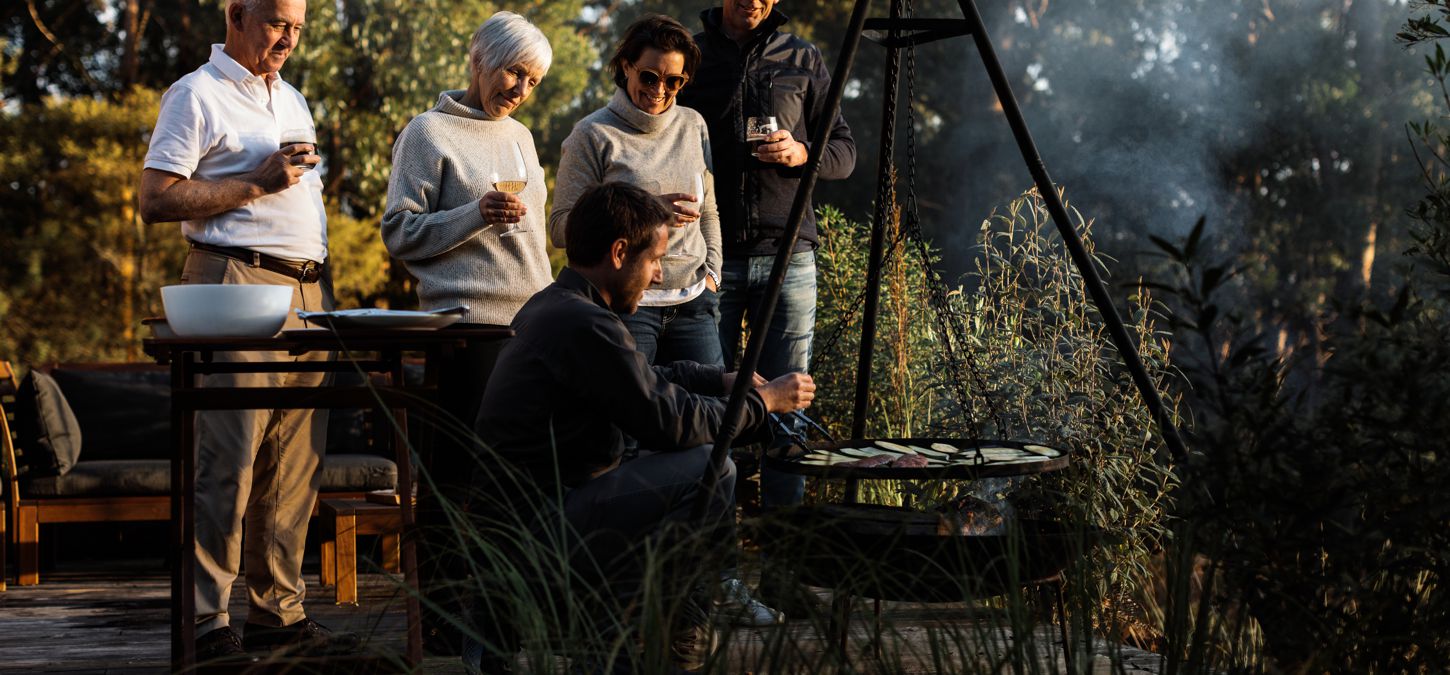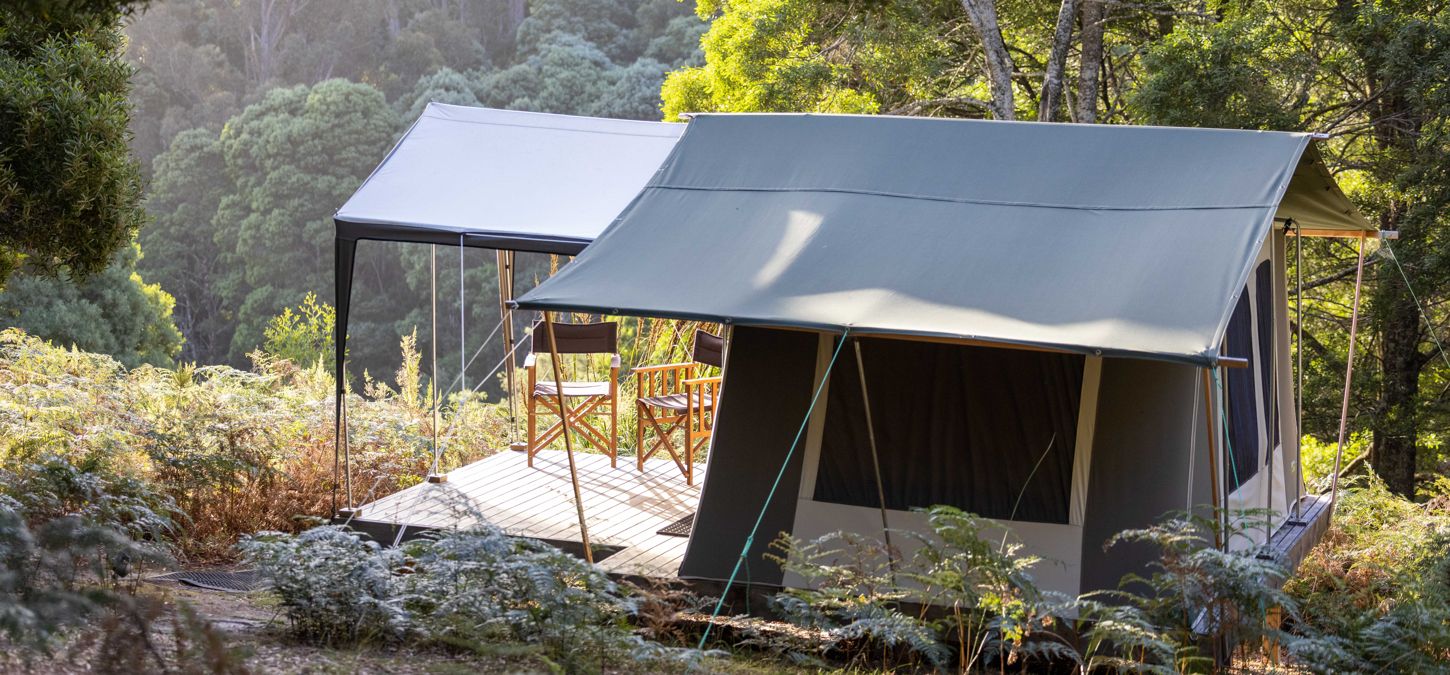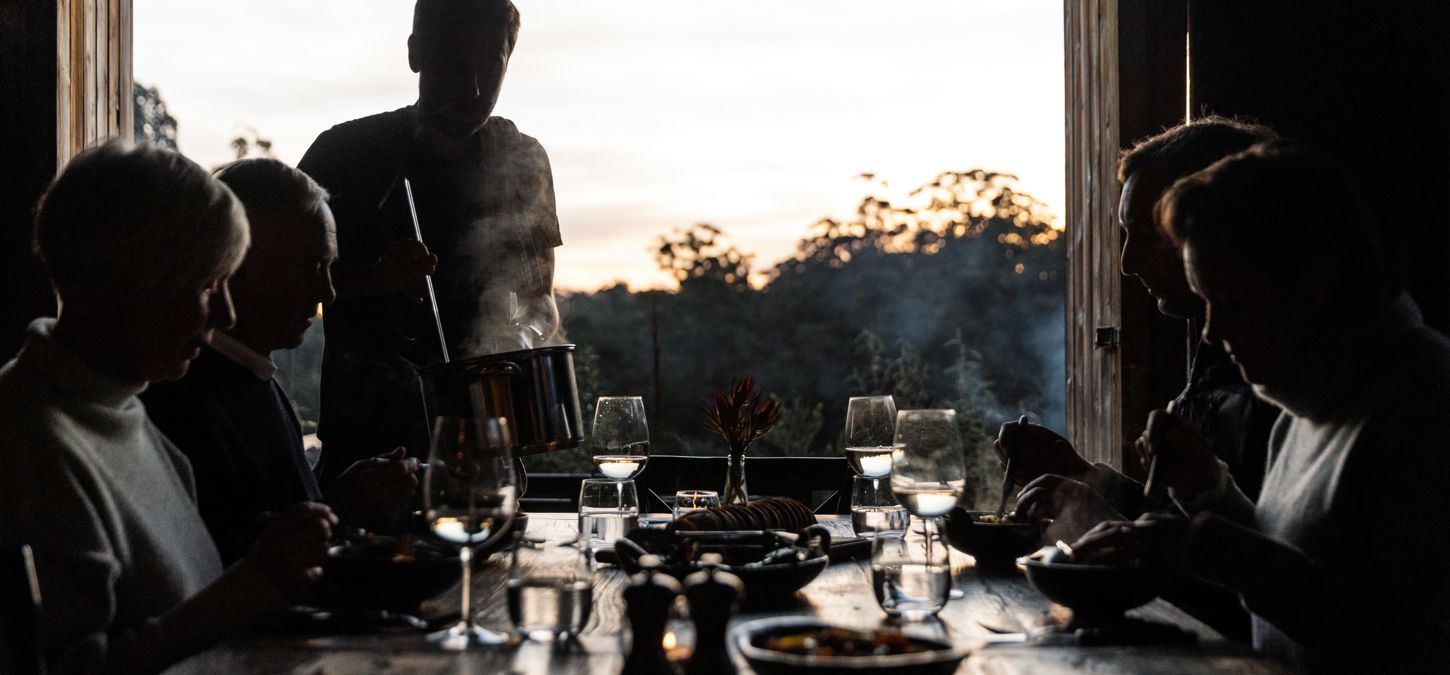 You can extend your stay on Bruny Island at Inala's own accommodation.
Nestled in tall eucalypt forest on Inala's 1,500 acre private reserve at the foot of the South Bruny Ranges on Bruny Island our guests have a choice of a three bedroom Inala cottage, or a one bedroom spa unit, Nairana cottage.
The cottages combine modern conveniences such as TV, VCR/DVD, microwave oven, washing machine, clothes dryer and electric blankets with old-world charm such as slow combustion wood-heaters and timber panelling. When you book a cottage you get the entire cottage, the price includes two adults. 
Staying at Inala cottage places you inside the Inala private nature reserve, you are free to walk the property unaccompanied and use the pardalote platform and bird viewing hides.
For more information about the two on-site cottages, follow the following links, both cottages are the same price.
Lyenna on Mickey's Bay, is a beachfront property in a tranquil and secluded location on South Bruny Island.  The main residence is set on a 100 acres with surrounding eucalypt forest and has easy sheltered beach access.  
Please note: this three-day tour finished in Hobart and guests need to organise their own transport to return to Bruny on the Bruny Island ferry.
Bruny Island 'Birding' Long Weekend with Inala
Price per person for departures (inc. GST) 
Available anytime by request for private groups
Each trip requires a minimum of 8 guests (Twin Share). The maximum is 10.
Bookings
Our standard booking terms and conditions apply to all bookings. In addition:
Cancellations

more than 90 days from the scheduled departure date, a fee of $350 per person will be charged with the balance payment refunded;
within 90 days of departure, no refund is available. Bookings are transferable to another name.
Minimum numbers are required four months before departure.
This walk cannot be booked in conjunction with any other offers and discounts.
After the minimum number of bookings has been achieved, the departure will be confirmed.  Due to the high fixed costs on these trips, guests on our 'Limited Edition Walks' who postpone due to COVID-19 as per our Peace of Mind Booking Guarantee, will incur an amendment fee of $600 to reschedule to another departure date. All cancellations by guests will incur cancellation fees according to our standard terms and conditions. Bookings are transferrable.
Inclusions
Return transfers between Hobart and Bruny Island
Accommodation (twin-share) each evening in one of our five private tents 
All meals and non-alcoholic beverages, plus a limited selection of Tasmanian wines
Two qualified guides including one Inala guide
A full day at Inala Conservation Reserve with an expert guide
A night tour to see Bruny Island's penguins and shearwaters
National Park passes
All bedding and linen
Additional information
Have a burning question?  Check out our

 

FAQ page, and if you need further help please don't hesitate to

 

contact our friendly reservations team
Ready to start planning your next adventure and want to know what to bring.

 

Check out our detailed gear list, including details on what's provided. If your unsure about anything on the gear list please call us or talk to you local outdoor adventure store.
Need help deciding? Talk to an expert
We're here to help 9am – 5pm Monday to Saturday, otherwise, email us anytime and we'll be in touch.