Bruny Island Art Retreat
-an art retreat for travellers-
December 1-3, 2023 | $2,650 
Have you dreamt of travelling the world and sketching or painting the places you see? Join Handmark Gallery's Julie Payne on the remarkable Bruny Island for three days of walks, drawing and painting workshops. Transform how you record the places you visit, wherever in the world you may be — starting with Tasmania's hidden gem, Bruny Island.
Each day, on our Art Retreat for travellers, you'll embark on short walks with light packs to beautiful places and learn the skills to quickly draw, apply watercolour washes and record memories. These new skills can then be easily applied to your ongoing journeys. Taking the time to record a place through drawings is a rewarding way to not only become more observant but it's also a great way to interact with the locals and other travellers, whatever the language. 
Each evening, you'll enjoy the famed food and wines of the island, great company, conversations, kindness and laughs.
This is an wonderful opportunity to learn from Handmark Gallery's Julie Payne. She has decades of experience teaching and making travel journals in places as diverse as Egypt, Italy, Norway, Japan, New Zealand and of course Australia. There will be a variety of examples of journals to inspire you, from detailed realism to the abstract. Learn which materials and colours to take and how to create stunning journals on your travels.
This retreats suits artists of any level interested in drawing and painting. Julie can apply different techniques for different personalities and skills. Partners are welcome but must be supportive of the workshops in the field. The signature three-day itinerary has been re-designed to accommodate shorter walks and time for workshops.
The award-winning Bruny Island Walk takes you by private boat from Tasmania's capital Hobart to Bruny Island. During your three-day walk you will be treated to coastal walks, produce directly from the source, forest glamping and exquisite meals.
For all enquiries and bookings please contact Tasmanian Walking Company on (03) 6392 2211 or email bookings@taswalkingco.com.au
Julie Payne
Julie Payne is a brilliant leader of art retreats for groups with diverse interests including en-plein-air painting and field drawings. She has exhibited in many solo and collaborative exhibitions within Australia. Her interests are wide-ranging which have led to a diverse arts practice incorporating sculpture, site-specific gardens, drawings and installations. Her unique gardens have been commissioned at the Royal Tasmanian Botanic Gardens, Woolmers Historic Site, the Cataract Gorge and at the Queen Victoria Museum and Art Gallery. Julie has lectured within the fields of Architecture, Furniture Design and Sculpture at the University of Tasmania. Here is a link to a video with Julie talking about drawing, sketchbooks, story and travel.
Handmark Gallery
Our lodges, huts and offices feature the work of Handmark's artists. Allanah Dopson and her team are found in Salamanca, Hobart. Allanah curates our Art Walks. The Tasmanian Walking Company and Handmark Gallery are offering a series of 'Art Walks' celebrating Tasmania's unique colour, light, flora, fauna and landscape, hosted by Tasmanian artists. You will be able to walk to different locations, set up in nature, and draw or paint the stunning colours and light of pristine beaches, crystal clear waters, diverse forests and spectacular headlands.
Allanah recommended Julie as her first 'Art' Walk leader because of her teaching experience and her dedication to drawing, both perfect for a walking workshop. 'She has spent a lifetime drawing, around the world, has incredible attention to detail, imparts knowledge with joy and is fascinating. She is the complete package!'
Images in the gallery below are from Julie's sketch book of Bruny Isand and from other sketchbooks from her travels around the world.
Bruny Island Art Retreat - for Travelling Artists (3-days)
Would you like to see and record the amazing places your travel to? With Julie Payne you'll walk to stunning places and learn to draw and paint. You'll learn what goes into the perfect little kit. You'll learn the techniques that help you sketch and paint quickly and how to keep working on your sketches and paintings. Julie is a brilliant, kind, positive and loves to teach. This retreats suits artists of any level interested in travel, drawing and painting. 
Testimonials from previous Julie Payne retreats.
Oh where to start... I really can't begin to tell you how wonderful our trip with the Tasmanian Walking Company has been. From the very start of communication with you to the walk, the people, the food and the place we could not have anticipated that it would be so so good. Julie was all I knew she would be, thoughtful, diligent and highly skilled at helping us all through the creative processes. The food was awesome.  THANK YOU .... you can trust us all to highly recommend the walk/experience  — Corrie
A fantastic and well organised Australian luxury landscape adventure!  Having Molly and Lil as responsible enthusiastic genuine Tassie guides, with the hard working and talented leading hand of Georgie, hugely added to the whole experience. Outstanding meals!  Wonderful to have the lovely Julie guiding our art in the gorgeous breakout space which was perfect for our group.  Could not have been better! — Jodie
Julie fitted in beautifully, which is a credit to her lovely attitude! The whole mood was of a relaxed holiday, no pressure to be anywhere or get anything done. Perfect. — Louise 
Fabulous trip! Julie Payne was an inspiration. She was so knowledgeable and made time to work with all of us as well as having a hugely positive attitude to life in general. — Sandi 
Julie really was inspiring, the balance between walking, activities and eating was perfect and the food was amazing. — Karen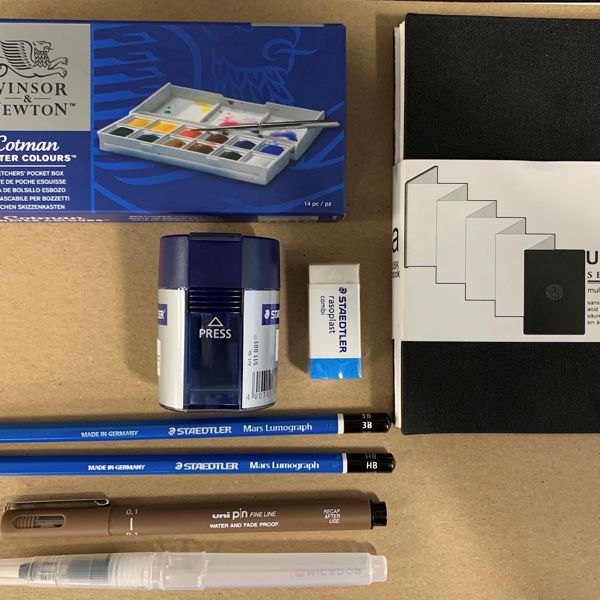 Art Materials - Packing List
Bring your favourite sketchbook, pencils and a few watercolours to capture the essence of Bruny Island. We will be working both en plein air at beautiful locations around Bruny, and from photographs when we are back in camp.  
Essential items: 
Sketchbook suitable for watercolour and minimum of 250gsm, smooth hot pressed paper recommended. Sketch books may be concertina or standard page format but no larger than A5 for the ease of carrying. 
Water Brush 
Watercolours, either a small set or even just one favourite colour. ie Payne's Grey
Waterproof .5 or .2 pen of any colour. Sepia is a more subtle colour.
Optional items:
Staedtler Mars Lumograph pencils 2B and 4B or any other preference. 
Water soluble coloured pencils.
Enclosed Staedtler pencil sharpener. 
Kneadable eraser
Other items and colour as in the photograph or materials that are your favourites. Water-based paints only. 
Bruny Island Long Weekend
Discover the Bruny Island that inspires artists on an experience that takes you by boat from the Hobart waterfront. Upon arrival, the artist's eye is easily drawn to the familiar: farms and holiday houses set in rolling hills and deserted beaches. These make way for the spectacular. Imposing cliffs above expansive ocean vistas and the pure white sands of brilliant beaches hugged by eucalypt forests.
 Try oysters straight from the ocean and a warm Bruny Island baguette with olive oil. Collect wood-fired bread on the way and indulge in scones with jam and cream, and tea in fine china cups on the Cape Queen Elizabeth track. Experience Bruny's blend of wilderness and comfort; plunge into ocean waters then converse with like-minded artists over a glass of wine around the camp fire. 
Day 1: Hobart to Bruny Island
Approximately 5-6 hours walking, drawing and painting.
This morning you will meet your tour guides and fellow guests (maximum of 10) on the waterfront of Tasmania's capital city, Hobart. Step aboard your private boat and let the adventure begin with a cruise down the Derwent River to Bruny Island.
After disembarking at the most northern tip of Bruny Island, our first stop is The Neck, a narrow tract of land that enables us to take a short walk to experience sketch and paint. The east coast of Bruny Island is expansive and the ocean stretches to the horizon. On returning from our walk we will wade out into the crystal clear waters of Great Bay to learn how the famous Bruny Island oysters are farmed and shuck them straight out of the water. It's the perfect way to cool down after a walk.
Next stop; our camp. After a warm shower overlooking a forest glade, join us at the dining house for a drink and to begin our art workshops. The guides will be busy preparing your dinner sourced from on the island or in the waters surrounding it. Evening workshops take place around the rustic dinner table or by the fire under the night sky.
Day Two: Mavista Falls, Grassy Point and Adventure Bay
Approximately 6 hours walking and painting or drawing
Rise early and explore the 100-acre property and try to spot some of Bruny Island's 150 species of birds (including all 12 Tasmanian endemics). Gather at our rustic dining table for coffee and croissants.
Once we farewell camp, we will wind our way up Mt Mangana and take a short walk along the entrancing Mavista Falls track, through ancient towering tree-ferns and lush cool-temperate rainforest with species like Nothofagus and Sassafras.
After the shady rainforest, we shall contrast that with a walk to sunny Grass Point, looking out to Penguin Island and towards Fluted Cape.  This lovely flat coastline walk takes you through Casuarina forest and past the sites of the ancient whaling stations of Adventure Bay. We'll picnic, draw and paint in one of the many sheltered stunning spots.
After the walk, plunge into the stunning waters of Hanssons Beach. A warm shower welcomes you back to camp before we settle in for another evening of fine food and art workshops. These take place around the comunal table while conversations continue around the fire.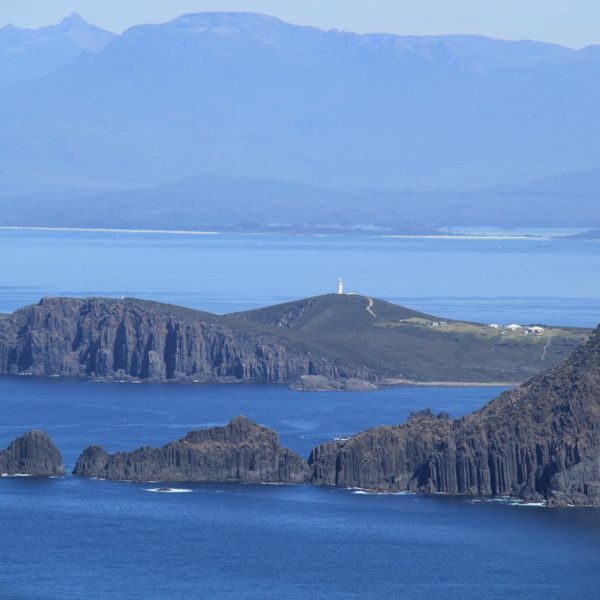 Day 3: Cloudy Bay Lighthouse to Hobart
2-3 hours walking, painting and drawing
A final day of new sights, walking, painting and sketching takes us to the southern most tip of Bruny Island. 
After a few stunning lookouts, we'll wander down to the white sands and eucalyptus-hugged Jetty Beach. We'll pause for morning tea and a break in the shade of tall canopies. We'll learn of the ecosystem in which birds, reptiles and marsupials dwell. Bruny Island is a great place to see Bennetts Wallaby, Tasmanian Pademelon, tree-ferns, and some native terrestrial orchids that mostly flower between August and March. The lighthouse is a few minutes drive up the hill and can be exposed to ferocious winds or gentle sunshine. 
On our final journey north, we'll pause for a final stop and shop at Bruny Island Cheese Co. You can buy the best kind of souvenirs here: a young fresh cheese or wood-fired baguette to be dipped into fresh olive oil or a mature raw milk cheese to take home.
To finish your long weekend in style, Ray Jones at The Jetty Café will serve lunch as we await the arrival of our private boat on the beach below. There will be time to explore the cafe gallery showcasing some of Bruny's 60+ artists. The return boat trip to Hobart offers a scenic farewell to your adventure. 
Your Bruny Island Long Weekend guides
What truly defines the professionalism, passion and dedication of our Bruny Island Long Weekend guides is their unparalleled focus on delivering an exemplary guided walking experience for you.  This is reinforced by their passion for Bruny Island, detailed knowledge of the local flora, fauna, geology and history; and their love of cooking using local produce to deliver a diversity of delicious cuisine each evening.
We consider our guides to be highly trained experience artisans, seamlessly bring together all the attributes of a great walking experience to deliver something that is truly unforgettable. 
An Island Sanctuary 
Our groups have exclusive use of our completely off-grid private accommodation, nestled in amongst tall eucalypts on the foothills of Mt Mangana at the southern end of Bruny Island.
With our days spent walking in wild, powerful, coastal places, our campsite is a sanctuary we can return to each evening. It features a gorgeous bespoke designed celery top timber kitchen and dining room, four canvas tents containing split king beds with quality linen, towels and pillows. The highlight for many of our guests is an incredible hot water shower discretely located with spectacular views!
One of the best things about our accommodation being located at the southern end of Bruny Island is the night sky. With no light pollution, the stars are incredible and occasionally we have been lucky enough to experience the Aurora Australis.
Our Bruny Island Accommodation
Our accommodation is built completely off-grid. We harvest the rain from our roof and pressure feed this water for all of our needs, including the incredible outdoor shower. For our shower and hot water in the kitchen, we use a gas system. A solar panel on the main roof provides the power to run our pumps, small energy efficient lighting in the main structure and just two power points to enable guests to recharge their cameras (they do tend to take a lot of photos!)
The accommodation was architecturally designed to have as little impact on the site as possible. In fact, it has been designed so that it could be easily moved to another site. If this were to happen there would be little evidence of the building's footprint. We built from Celery Top Pine, supplied by Southern Forest Farm Products, just across the channel from Bruny Island at Garden Island Creek. The business has a 'no waste policy'. This means that all the timber used in the construction of our accommodation was salvaged from the southern forests of Tasmania, essentially the timbers left behind as waste in existing forestry coupes.
Once the accommodation was constructed we began a program to restore the rest of the land to its original state. This involved an eradication program for non-native species on the property, as well as a program to re-introduce endemics. Eucalyptus viminalis (white gums) have been planted around the property to support and encourage the very rare and threatened endemic bird species -Forty Spotted Pardalote. These birds only exist where Eucalyptus viminalis occur and Bruny Island is a stronghold for them.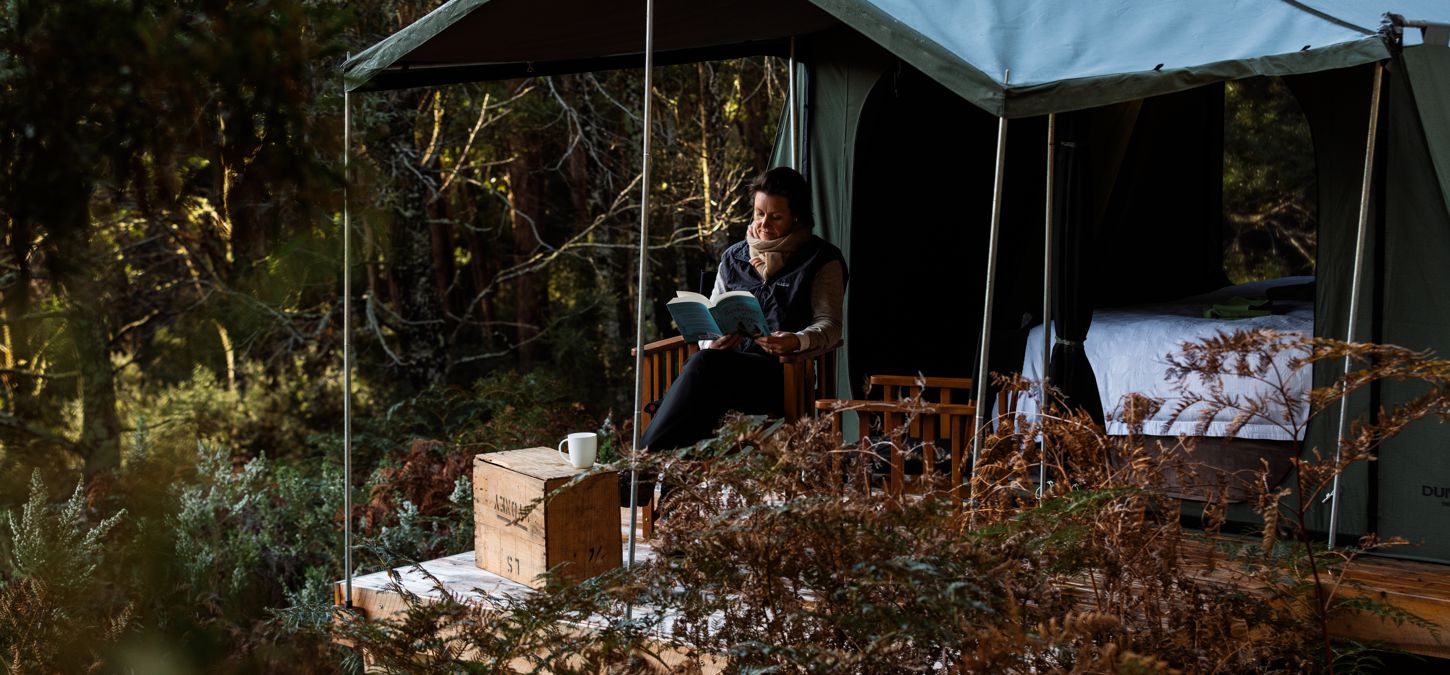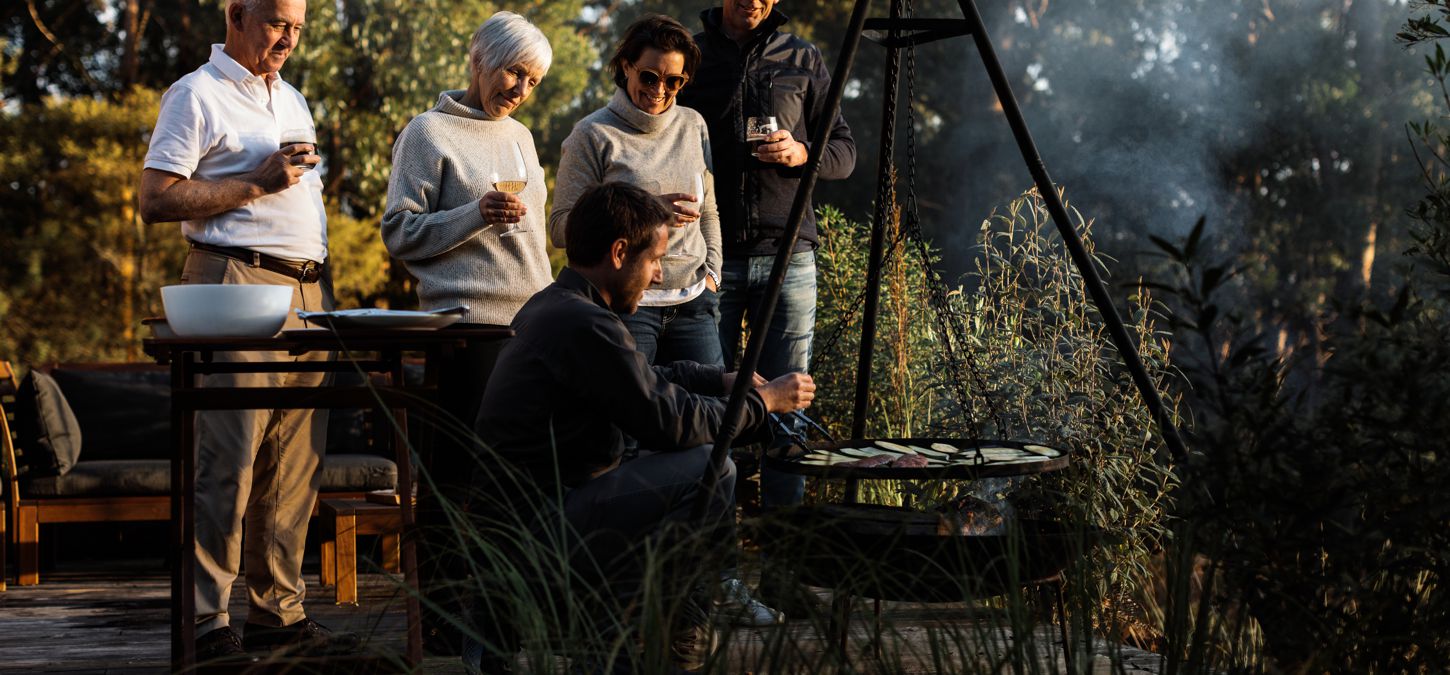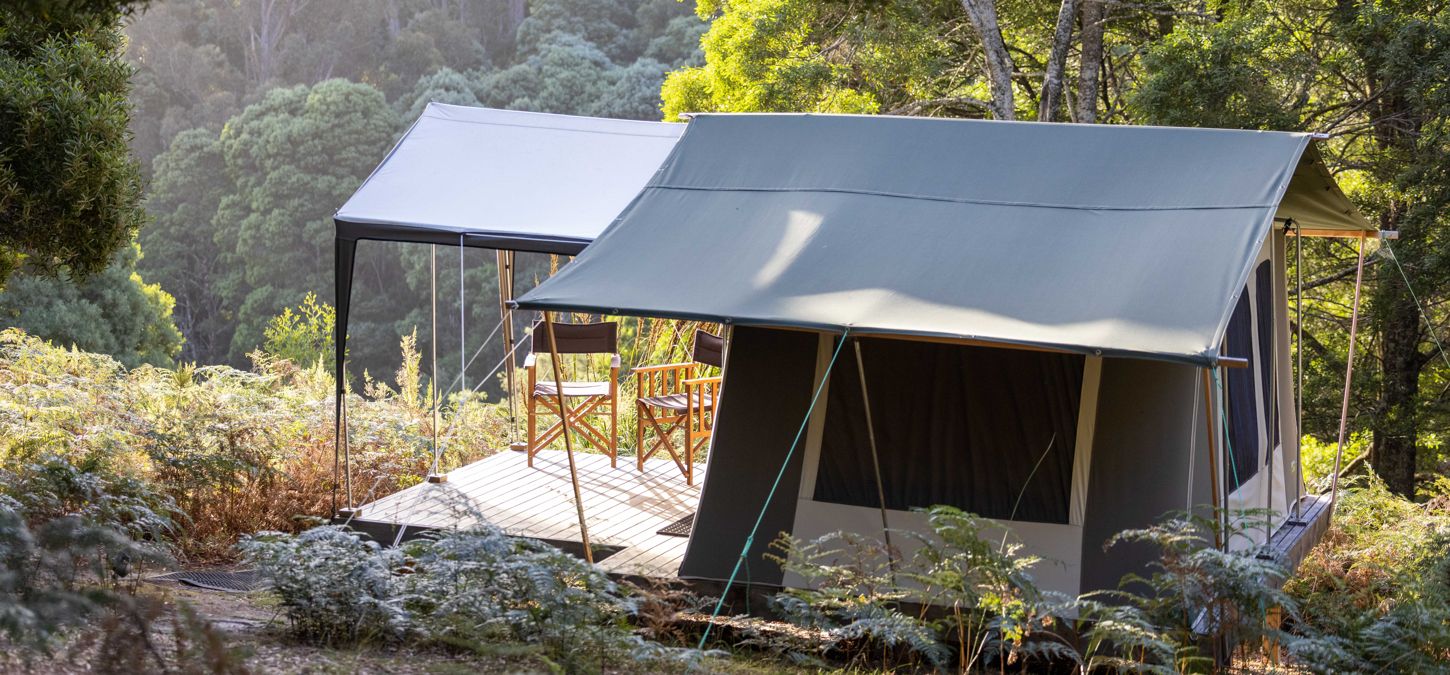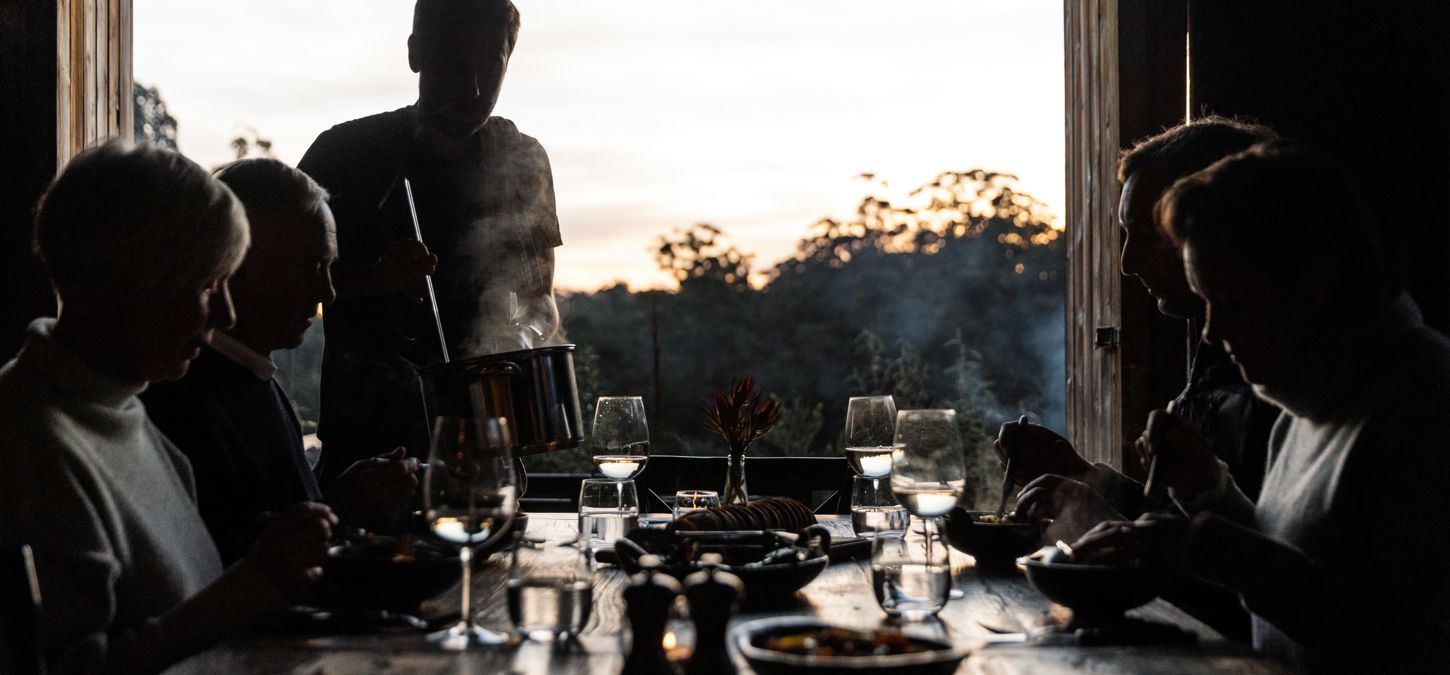 Bruny Island Art Retreat
Price per person for departures (inc. GST) 
December 1-3, 2023 | $2,650 
Each trip requires a minimum of 6 guests (twin-share). The maximum is 9.
Available anytime by request for private groups.
All accommodation is twin share. A single supplement of $842 per person is available upon request to guarantee a private tent.
Bookings
Special Interest Walks — Terms and Conditions 
Our standard booking terms and conditions apply to all bookings. In addition:
Cancellations

more than 90 days from the scheduled departure date, a fee of $350 per person will be charged with the balance payment refunded;
within 90 days of departure, no refund is available. Bookings are transferable to another name.
Minimum numbers are required four months before departure.
This walk cannot be booked in conjunction with any other offers and discounts.
After the minimum number of bookings has been achieved, the departure will be confirmed.  Due to the high fixed costs on these trips, guests on our 'Limited Edition Walks' who postpone due to COVID-19 as per our Peace of Mind Booking Guarantee, will incur an amendment fee of $500 to reschedule to another departure date. All cancellations by guests will incur cancellation fees according to our standard terms and conditions. Bookings are transferrable.
Inclusions
Return transfers between Hobart and Bruny Island.
Accommodation (twin-share) each evening in one of our five private tents.
All meals and non-alcoholic beverages, plus a limited selection of Tasmanian wines.
All bedding and linen.
Workshop sessions with Julie Payne.
Additional information
Have a burning question?  Check out our

 

FAQ page, and if you need further help please don't hesitate to

 

contact our friendly reservations team.
Ready to start planning your next adventure and want to know what to bring?

 

Check out our detailed gear list, including details on what's provided. If you're unsure about anything on the gear list please call us or talk to you local outdoor adventure store.
Need help deciding? Talk to an expert
We're here to help 9am – 5pm Monday to Saturday, otherwise, email us anytime and we'll be in touch.