Bruny Island Men's Retreat
February 17-19, 2023 | $2,295 
Join Asher Packman as we walk one of Australia's most beautiful islands. This is an opportunity for men to step outside their ordinary routine, listen deeply to the land and steep themselves in the brotherhood of ancient ritual and story.
Join a gathering of men as we reconnect to our ecological soul and find true purpose. This journey will help you understand yourself through the lens of mythology and deep relationship with nature - that which you already are. Alongside the practices of meditation and breathwork, we will be accompanied in brotherhood each night by the telling of an ancient story, which we will ritually feed and carry with us throughout the journey, thus allowing its wisdom to soak into our bones and, from there, speak to us directly as men.
The award-winning Bruny Island Walk takes you by private boat from Tasmania's capital Hobart to Bruny Island. During your three-day walk you will be treated to coastal walks, produce directly from the source, forest camping and exquisite meals.
For all enquiries and bookings please contact Tasmanian Walking Company on (03) 6392 2211 or email bookings@taswalkingco.com.au
Asher Packman
After transitioning from a successful corporate career, Asher Packman has become a renowned mentor, meditation teacher, storyteller and scholar of the mythopoetic. He is the current president of Meditation Australia and founder of The Fifth Direction.
Following a series of significant life events, including the diagnosis of a progressive rare blood cancer, Asher shifted gears from his corporate existence to focus on health and wellbeing.
Now holding qualifications in leadership, coaching and mentoring, he is a certified HeartMath and Wim Hof Method instructor, as well as a KRI-certified Kundalini Yoga teacher.
He has further studied in Jungian core concepts, neoshamanism, epigenetics, geobiology, and the social psychology of sport.
Since 2017, Asher has been president of Meditation Australia, the national peak body representing meditation and meditation teachers. In the same year, Asher founded the Fifth Direction.
Asher is a former editor of The Good Men Project, a regular speaker (including TEDx Melbourne) and media contributor.
Please find Asher's full biography here.
Bruny Island Mens Meditative Long Weekend (4-days)
Turn inward to meet the wild and ancient soul hidden beneath the layers of your conditioned conscious. Through contemplative traditions such as meditation and the telling of an ancient story, this journey into your own nature highlights the importance of connecting to your innermost truth, reigniting your imagination, and bringing you into contact with your soul-rooted and ecological self.
Who are you really, wanderer?
Join a gathering of men as we reconnect to our ecological soul and find true purpose. This journey will help you understand yourself through the lens of mythology and deep relationship with nature - that which you already are. Alongside the practices of meditation and breathwork, we will be accompanied in brotherhood each night by the telling of an ancient story, which we will ritually feed and carry with us throughout the journey, thus allowing its wisdom to soak into our bones and, from there, speak to us directly as men. This will make the space required for something bigger and non-ordinary that allows our unique genius to emerge.
Day 1: Hobart  to Bruny Island and Cape Queen Elizabeth
Approximately 5-6 hours walking 
This morning you will meet your tour guides and fellow guests (maximum of 10) on the waterfront of Tasmania's capital city, Hobart. Step aboard your private boat and let the adventure begin with a cruise down the Derwent River to Bruny Island.
Our walk today is out to a cape on the east coast of Bruny Island. The spectacular natural arch is a fine spot for lunch. On returning from our walk we will wade out into the crystal clear waters of Great Bay to learn how the famous Bruny Island oysters are farmed and shuck them straight out of the water. It's the perfect way to cool down after a walk.
Next stop; our camp. After a hot shower, join us at dining house to begin our workshops with Asher. The guides busy themselves preparing your dinner sourced from either on the island or in the waters surrounding it. Evening workshops take place around the fire under the night sky.
Day 2: East Cloudy Head
5-6 hrs walking
Day two might begins with a gentle meditation and breakfast at the rustic wooden dining table.
Today's walk is East Cloudy Head for views of Tasmania's far south and the wild Southern Ocean. The five-hour (14km) journey begins by walking the length of Cloudy Bay Beach. Windswept and beautiful, the walk then leads us into coastal heath and up toward spectacular views of Bruny Island's rugged south coast.
Back at camp there is time to sit on the deck, walk among the ferns or simply read a book while your guides prepare the evening meal. We gather around the fire after dinner for workshops with Asher.
Day 3: Mt Mangana
Approximately 3 hours walking
Our day begins with a meditation and breathwork session guided by Asher. This morning you can choose a leisurely start or have some time to yourself and explore our 100-acre property and try to spot some of Bruny Island's 150 species of birds (including all 12 Tasmanian endemics). Once we farewell camp, our goal is to climb through the ancient Gondwanan rainforest to the highest point of Bruny Island, Mt Mangana (4km, 3 hrs).
To finish your long weekend in style, Ray Jones at The Jetty Café's will serve lunch as we await the arrival of our private boat on the beach below.  There will also be some time to explore the gallery showcasing some of Bruny's 60+ artists. The return boat trip to Hobart offers a scenic farewell to your adventure. 
Your Bruny Island Long Weekend guides
What truly defines the professionalism, passion and dedication of our Bruny Island Long Weekend guides is their unparalleled focus on delivering an exemplary guided walking experience for you.  This is reinforced by their passion for Bruny Island, detailed knowledge of the local flora, fauna, geology and history; and their love of cooking using local produce to deliver a diversity of delicious cuisine each evening.
We consider our guides to be highly trained experience artisans, seamlessly bring together all the attributes of a great walking experience to deliver something that is truly unforgettable. 
An Island Sanctuary 
Our groups have exclusive use of our completely off-grid private accommodation, nestled in amongst tall eucalypts on the foothills of Mt Mangana at the southern end of Bruny Island.
With our days spent walking in wild, powerful, coastal places, our campsite is a sanctuary we can return to each evening. Featuring a gorgeous bespoke designed celery top timber kitchen and dining room, four canvas tents containing split king beds with quality linen, towels and pillows. The highlight for many of our guests is an incredible hot water shower discretely located with spectacular views!
One of the best things about our accommodation being located at the southern end of Bruny Island is the night sky. With no light pollution, the stars are just incredible and occasionally we have been lucky enough to experience the Aurora Australis.
Our Bruny Island Accommodation
Our accommodation is built completely off-grid. We harvest the rain from our roof and pressure feed this water for all of our needs, including the incredible outdoor shower. For our shower and hot water in the kitchen, we use a gas system. A solar panel on the main roof provides the power to run our pumps, small energy efficient lighting in the main structure and just two power points to enable guests to recharge their cameras (they do tend to take a lot of photos!)
The accommodation was architecturally designed to have as little impact on the site as possible. In fact, it has been designed so that it could be easily moved to another site. If this were to happen there would be little evidence of the building's footprint. We built from Celery Top Pine, supplied by Southern Forest Farm Products, just across the channel from Bruny Island at Garden Island Creek. The business has a "no waste policy". This means that all the timber used in the construction of our accommodation was salvaged from the southern forests of Tasmania, essentially the timbers left behind as waste in existing forestry coupes.
Once the accommodation was constructed we began a program to restore the rest of the land to its original state. This involved an eradication program for non-native species on the property, as well as a program to re-introduce endemics. Eucalyptus viminalis (white gums) have been planted around the property to support and encourage the very rare and threatened endemic bird species -Forty Spotted Pardalote. These birds only exist where Eucalyptus viminalis occur and Bruny Island is a stronghold for them.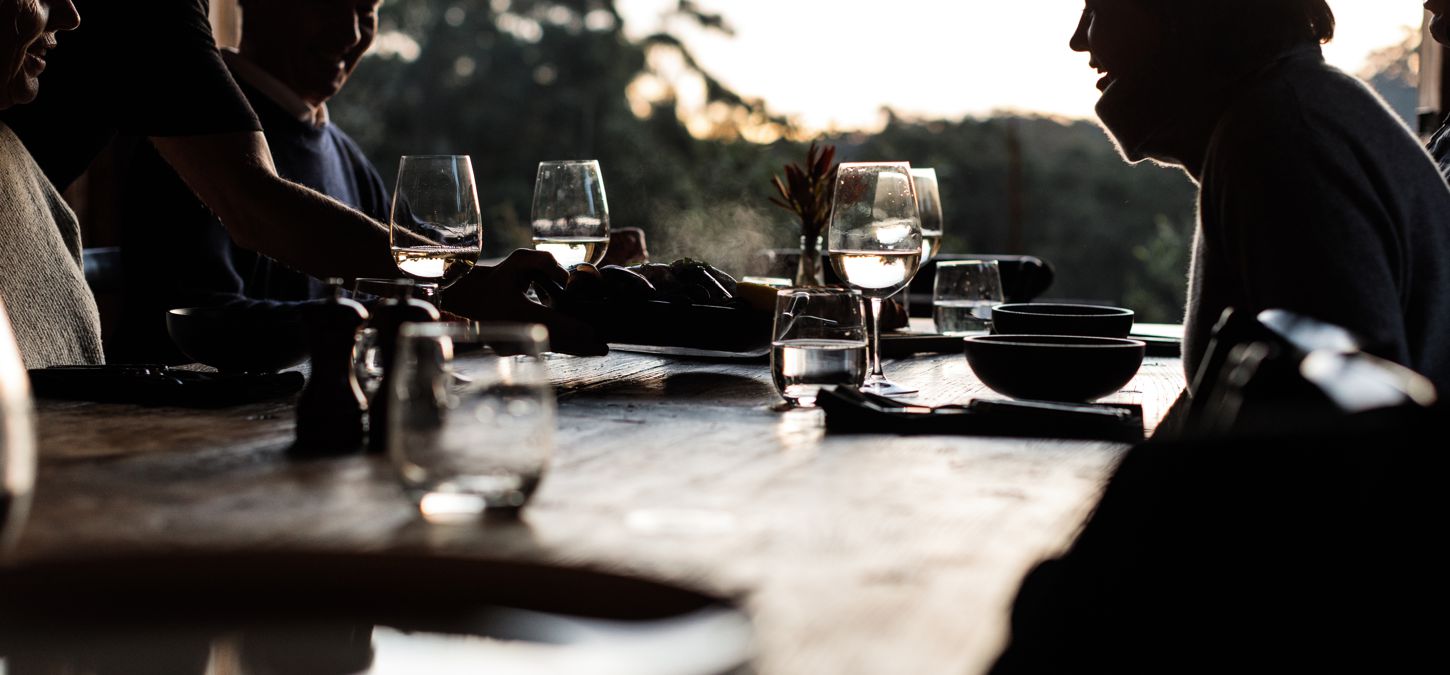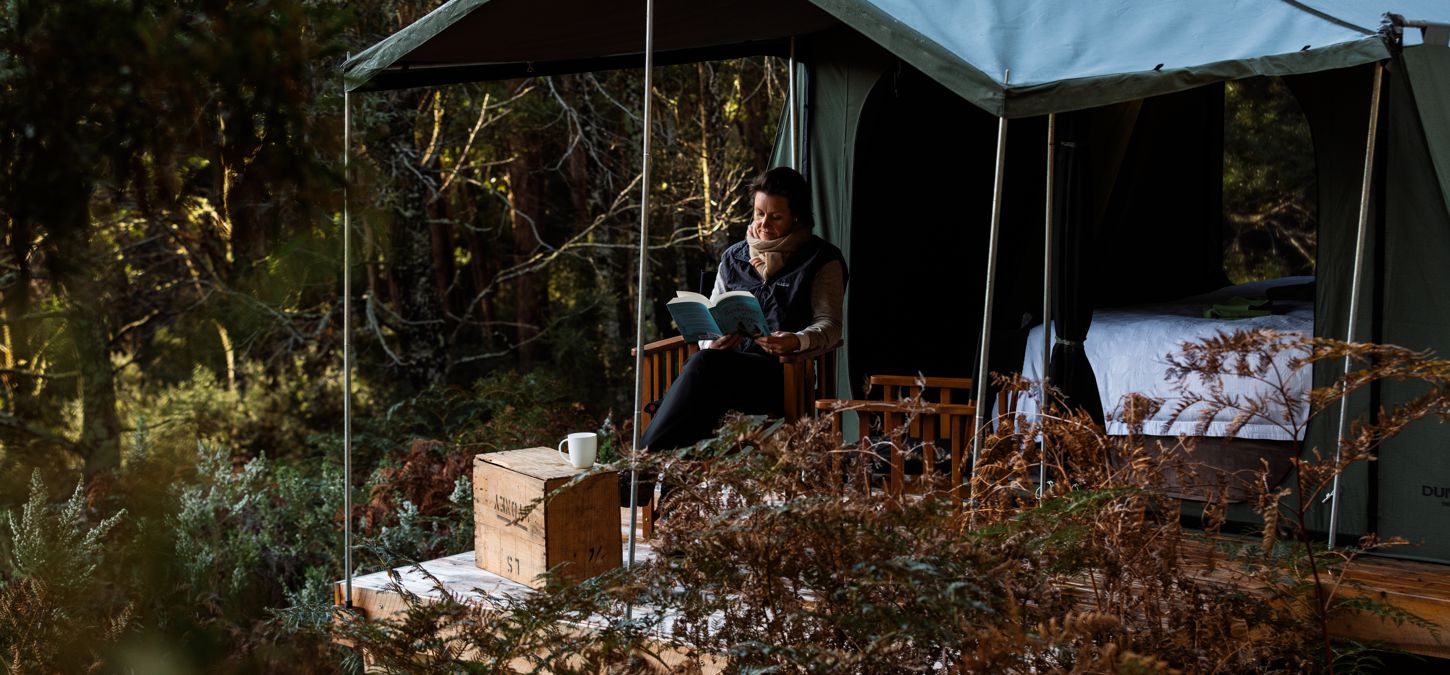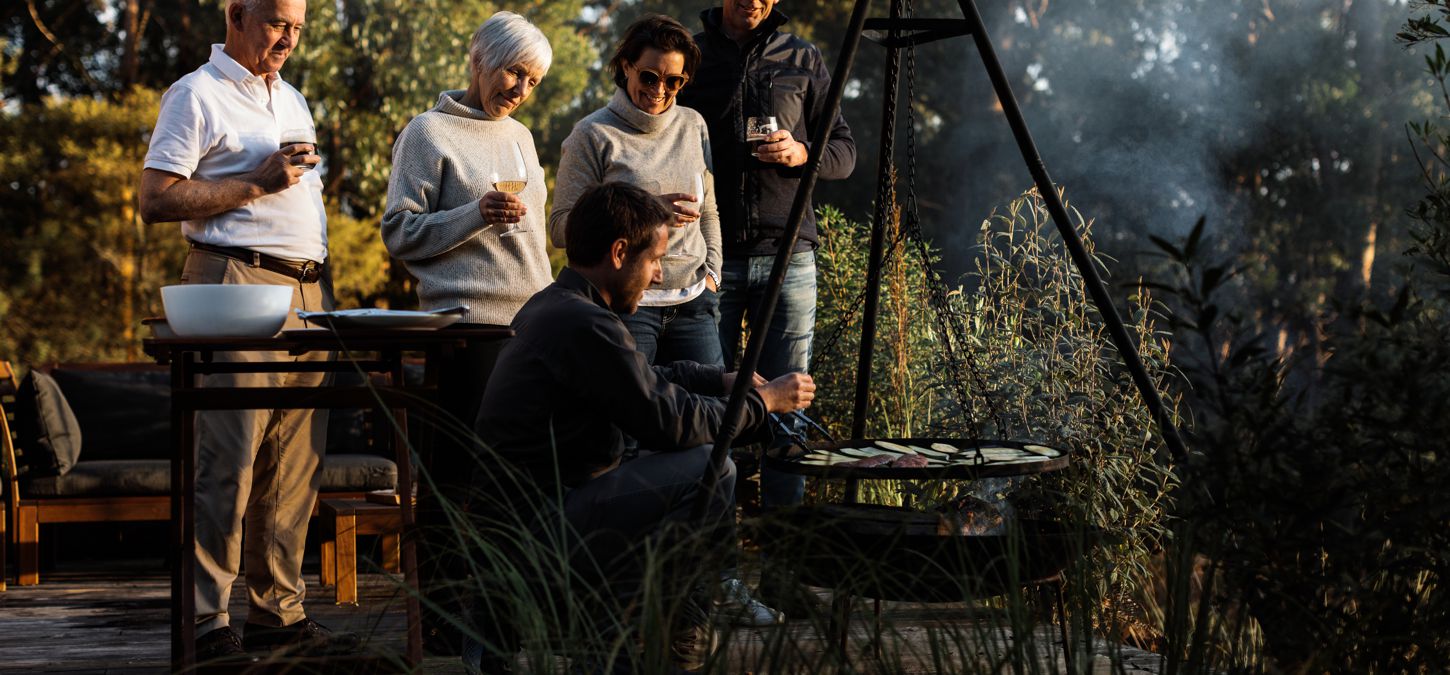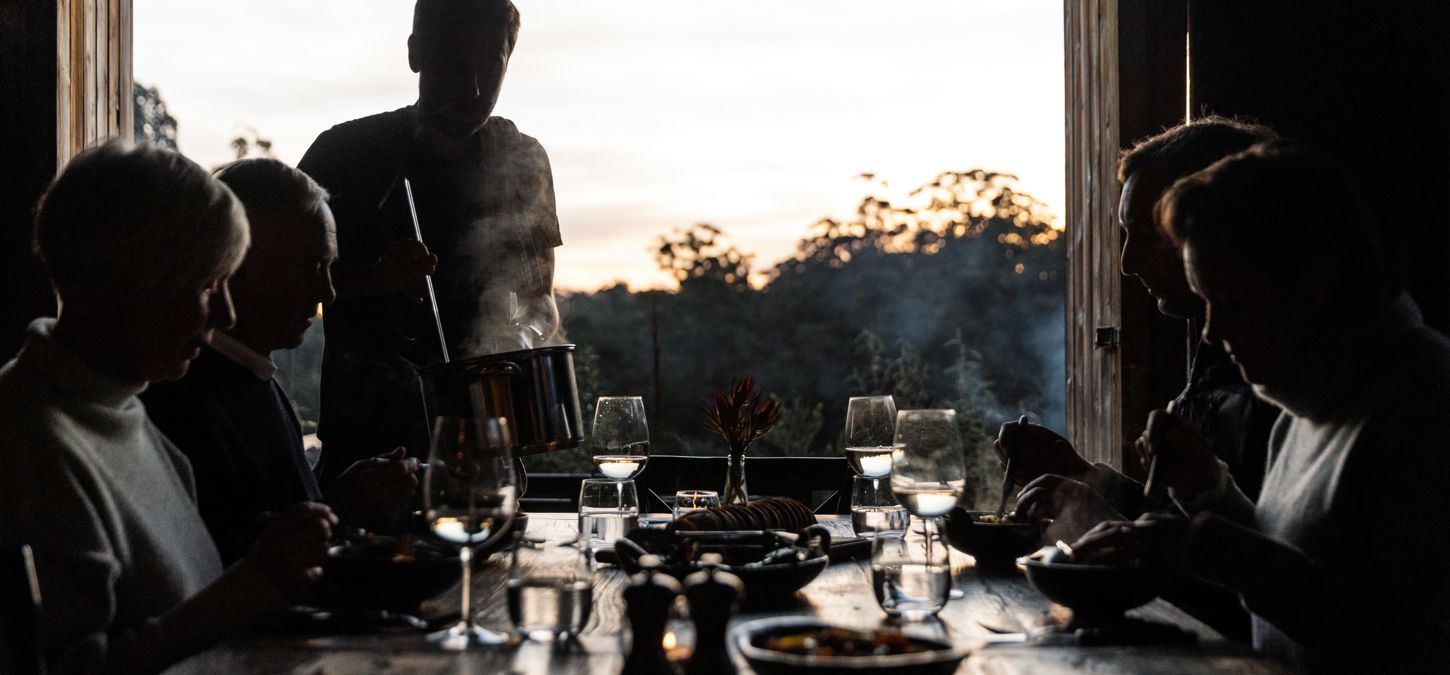 Bruny Island 'Men's ' Long Weekend 
Price per person for departures (inc. GST) 
February 17-19, 2023 | $2,295
Each trip requires a minimum of 6 guests (Twin Share). The maximum is 9.
Bookings
Special Interest Walks - Terms and Conditions 
All prices are quoted per person in $AUD including GST.
A deposit of $500 per person and the Guest Information Form are due within five days of booking.
The final payment is due 90 days before departure. For reservations made three months or less from the departure date, full payment is due at the time of booking.
Cancellations

more than 90 days from the scheduled departure date, a fee of $350 per person will be charged with the balance payment refunded;
between 90 and 60 days prior to departure, you will be charged 50% of the full trip cost with the balance refunded; or
within 60 days of departure, no refund is available. Bookings are transferable.

Travel and pre and post-trip accommodation expenses are not included.

Single supplements are available for an extra fee of $1,780. 
Please view our standard booking terms and conditions 
After the minimum number of bookings has been achieved, the trip is guaranteed to depart.  If for any reason, the trip cannot go ahead due to restrictions placed upon travel due to Covid-19,  guests will be permitted to reschedule their walk to the new date provided for the departure or rebook a different Walk within 24 months for an additional fee of $300 (different to our standard terms and conditions). Cancellations by guests for other reasons will incur our standard cancellation fees.
Inclusions
Return transfers between Hobart and Bruny Island.
Accommodation (twin-share) each evening in one of our five private tents.
All meals and non-alcoholic beverages, plus a limited selection of Tasmanian wines.
All bedding and linen.
Workshop sessions with Asher Packman.
Additional information
Have a burning question?  Check out our

 

FAQ page, and if you need further help please don't hesitate to

 

contact our friendly reservations team
Ready to start planning your next adventure and want to know what to bring.

 

Check out our detailed gear list, including details on what's provided. If your unsure about anything on the gear list please call us or talk to you local outdoor adventure store.
Need help deciding? Talk to an expert
We're here to help 9am – 5pm Monday to Friday, otherwise, email us anytime and we'll be in touch.