- with Guided by Nature - 
31 AUGUST 2024, 09 NOVEMBER 2024 and 23 NOVEMBER 2024 | $9,495 | 9 Days
Magic of Morocco
Embark on an Exhilarating Moroccan Hiking Adventure: Discover a land of breathtaking landscapes, vibrant traditions, and ancient wonders. Walk through ever-changing terrains, from rugged mountains to vast deserts. Immerse in local cultures, savour authentic cuisine, and find tranquillity in luxurious desert camps and boutique hotels. Unleash your inner adventurer in Morocco's captivating embrace.
For all enquiries and bookings please contact our international departures team:
Itinerary details
Fully guided: 9 Days/ 8 nights
Premium hand-picked accommodation
Departures: 31 August 2024, 09 November 2024 and 23 November 2024
Max group size 16, plus 2 experienced guides
Min group size 6
Activity Level Moderate (This is a moderate trip because it involves some sustained hiking on each hiking day and a reasonable level of fitness)
Guided by Nature company support host
Trip Start: Marrakech, Morocco
Trip finish: Casablanca, Morocco
Distance 60kms 
Cost: AUD$9,495 / single supplement: AUD$2,325
Magic of Morocco (9-days)
Day 1: Marhaba to Morocco
Upon arrival in Marrakech, you will receive a VIP Fast Track service - allowing you to skip the queues. Once you have cleared customs and collected your luggage your guide and driver will be waiting to escort you to your hotel. Depending on your arrival time - the rest of the afternoon is at your leisure to freshen up from your travels.
This evening you meet your guide and the rest of your group for your introduction to Morocco. Even before you reach the famous Djemaa el Fna, you can hear the drumbeats and smell the barbecue smoke from the food vendors' grills. Look for the lanterns to lead the way to your hidden and exclusive dining venue. After dinner your vehicles will be there to collect you and transfer you back to your hotel.
Transfer: 30 minutes
Accommodation: Les Jardins De La Medina
Meals included: Dinner.
Day 2: Marrakech
Marrakech walking tour
This morning you will enjoy breakfast at the hotel before you meet your local guide - your key to unlocking Marrakech - and begin exploring the hidden wonders of the Ochre city. From intriguing historical sites to the bustling alleyways of the Medina, Marrakech is sure to mesmerize you with its fascinating history and local culture. Discover the labyrinthine souks, traditionally dominated by the sale of textiles, clothing and Moroccan handicrafts. This maze of colourful alleys and small squares is home to a bewildering array of stalls and ateliers devoted to specific crafts.
Next, explore Jemaa El Fna, the city's main square, which is home to a multitude of street-artists and food stalls. Lunch will be taken at a trendy rooftop restaurant with incredible view of the medina with the hustle and bustle below. Afterwards your chariots await. You take traditional horse-drawn caleches to visit the beautiful Majorelle Gardens, originally designed in 1924 by French artist Jacques Majorelle. After taking up residence in Marrakech, Majorelle transformed the property's existing garden into a tropical paradise, surrounded by vivid cobalt blue buildings with verdant exotic groves, lily-covered pools, and enormous sculptural cactuses.
Immerse yourself further in the creative world of Marrakech with a visit to the Yves Saint Laurent Museum, where precious works by YSL are gathered. It's a testament to the love Yves Saint Laurent and Pierre Bergé had for the vibrant colours of Marrakech during their time here. This evening is at leisure - your guide will be on hand to assist with any dinner arrangements you may wish to make.
Accommodation: Les Jardins De La Medina
Transfers: 30 minutes
Meals included: Breakfast and Lunch
Day 3: Imlil and Toubkal Valleys
Approximately 6 hours of walking (13km)
This morning you are transferred to Imlil where you meet your mountain guide and explore the Imlil and Toubkal Valleys. Walk through slopes of yellow flowers and isolated Berber villages with signs written in the exotic Tifinagh alphabet. With soaring mountains echoing with the call to prayer, and terraces filled with walnut and cherry trees rather than rice, it really is one of the most incredible hiking settings of the world. Arriving to the cool waters of the Sanctuary of Sidi Chamharouch you stop for a picnic lunch by the river, before walking back to Imlil and your accommodation for the night. Dinner this evening will be enjoyed at the lodge.
Accommodation: Kasbah Du Toubkal 
Transfers: Two hours
Meals included: Breakfast, Lunch and Dinner.
Day 4: Aguersiwal south of the Kasbah
Approximately 7 hours of walking (18km)
This morning you trek up to the Tizi 'n' Tamatert col, before descending into the stunning Imane valley. Walk by the village of Tinhourine and around to the village of Aguersiwal, where you follow river courses, cross seguias and rivulets, past terraces and through walnut groves. Picnic on route and walk back to Imlil. Dinner this evening will be enjoyed at the lodge.
Accommodation: Kasbah Du Toubkal
Transfers: 1 hour
Meals included: Breakfast, Lunch and Dinner
Day 5: Tidli Walk
Approximately 5-6 hours walking (12km)
Today we walk to Tamatert village before we head up to the famous forest of Tidli with pine trees and the most incredible 360° views towards Ait Mizane Valley and Toubkal Peak at 4167m - the highest peak in North Africa. We enjoy a picnic en route with amazing views before we walk down to Aremdt and back to the Kasbah where you arrive for an evening of leisure.
Accommodation: Kasbah Du Toubkal
Transfers: 1 hour
Meals included: Breakfast, Lunch and Dinner
Day 6: Imlil Skoura
Approximately 2-3 hours walking
Embark on a scenic journey as we depart from Imlil, winding our way through the majestic High Atlas Mountains via the Tizn Tichka pass. Prepare to be mesmerized by the breathtaking panoramic vistas that unfold before you, offering unbeatable views of the surrounding landscapes. Our first stop takes us to the Telouet kasbah, a historic residence once belonging to the esteemed Pasha Glaoui of Marrakech. Immerse yourself in the rich history and architectural grandeur of this ancestral palace as you explore its intricately designed rooms and corridors. Stop for lunch at the kasbah, savouring traditional Moroccan flavors amidst its captivating ambiance.
Afterward, we continue our journey along the Telouet trail, an ancient trade route that once connected sub-Saharan Africa to Marrakech. Traverse this historical pathway, soaking in the enchanting scenery of red landscapes and olive groves that adorn the Ounila Valley. Our next highlight awaits at the Aït Benhaddou kasbah, a UNESCO World Heritage-listed site and an iconic Hollywood film set that has graced the silver screen in productions like Gladiator and the Game of Thrones series. Wander through the labyrinthine alleys of this 16th-century ksar, marvelling at its well-preserved mudbrick architecture and capturing the essence of a bygone era.
As the day draws to a close, we make our way to the historic mudbrick castles of Skoura, nestled in the heart of Morocco's most exquisite palm grove. Here, surrounded by the tranquil beauty of nature, we settle in for a restful overnight stay at the charming L'Ma Lodge, immersing ourselves in the serene ambiance of this idyllic setting.
Accommodation: L'Ma Lodge, Skoura
Transfers: 5 hours total
Meals included: Breakfast, Lunch and Dinner
Day 7: Todra Gorge and Sahara Desert
Approximately 2-3 hours walking
Get ready for an epic adventure as we head to Todra Gorge, a massive fault in the High Atlas Mountains that towers 300 meters high. We'll walk through the palmery, a lush oasis filled with magnificent date palms—nature's own paradise.
Next up, we hit the legendary 'Road of 1,000 Kasbahs,' winding our way through ancient mountains in vibrant shades of red and mauve. You'll catch glimpses of historic kasbahs and fortified villages that transport you back in time. And then, it's time to open the door to the vast desert dunes of the Sahara.
Prepare to be amazed as we surf across the mesmerizing rose-gold dunes, rising dramatically against the grey desert backdrop. Our destination? A luxury desert camp in Merzouga, where you'll have time to freshen up before embarking on an unforgettable camel ride into the dunes at sunset. As night falls, we'll gather under the stars for a sensational dinner accompanied by local music and captivating stories.
Accommodation: Merzouga Luxury Desert Camp, Merzouga
Transfers: 6 hours total as we head into the remoteness of the Sahara 
Meals included: Breakfast, Lunch and Dinner
Day 8: Exploring the Sahara Desert 
Approximately 2-3 hours walking
Get ready for an exhilarating day of exploration in the Sahara Desert! Begin with a magical sunrise camel ride, ascending the majestic dunes as the sun paints the sky with stunning hues. For the adventurous souls, option to try sand-boarding down the slopes. Return to camp and savour a delightful Berber breakfast that will energize you for the adventures ahead. Embark on a captivating walk into the dunes, where you'll have the opportunity to visit a local Nomad family and share a traditional tea ceremony, immersing yourself in their rich culture.
In the afternoon, channel your inner chef as you participate in a hands-on cooking class with a local expert. Learn the secrets of traditional Saharan cuisine and prepare a delicious meal using authentic ingredients. Sit down and enjoy the fruits of your labour for a satisfying lunch. Afterward, the choice is yours. Take in the tranquillity of the camp and its surroundings, allowing the desert's peaceful aura to envelop you.
Enjoy your final meal together looking up at the starts of the Moroccan sky as you remember an amazing trip!
Accommodation: Merzouga Luxury Desert Camp
Transfers: 1 hour
Meals included: Breakfast, Lunch and Dinner
Day 9: Casablanca
This morning you have an early start with a drive to Errachidia for your short flight to Casablanca. On arrival you will be escorted to the international terminal where your tour comes to an end.
Meals included: Breakfast
Transfers: 3 hours driving in private vehicle and 45 minute commercial flight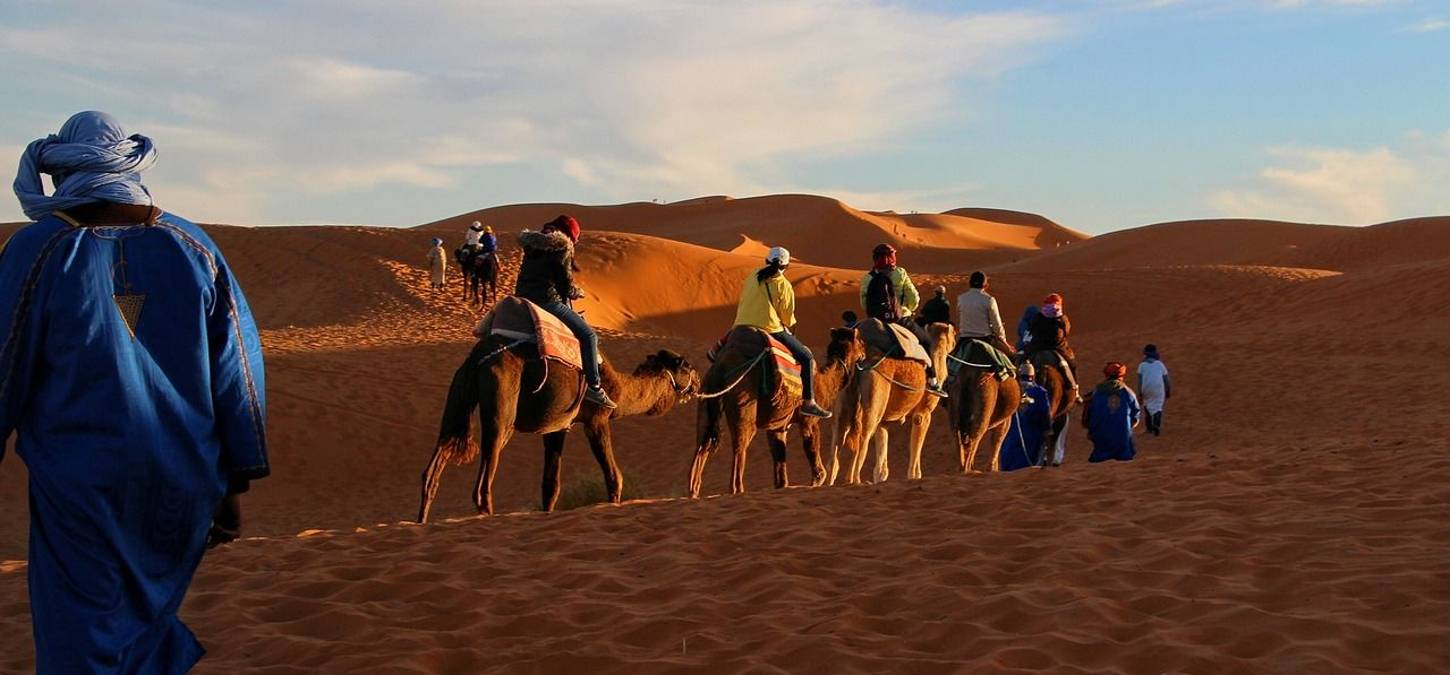 Accommodation
Day 1 - Les Jardins De La Medina
Day 2 - Les Jardins De La Medina
Day 3 - Kasbah Du Toubkal, Imlil
Day 4 - Kasbah Du Toubkal, Imlil
Day 5 - Kasbah Du Toubkal, Imlil
Day 6 - L'Ma Lodge, Skoura
Day 7 - Merzouga Luxury Desert Camp, Merzouga
Day 8 - Merzouga Luxury Desert Camp, Merzouga
Magic of Morocco
31 August 2024, 09 November 2024 and 23 November 2024 | AUD$9,495 per person twin share - Single Supplement AUD$2,325
9-Day fully guided Walk
Each trip requires a minimum of 6 guests, three months prior to departure. The maximum group size is 16 guests (plus guides).
Inclusions
Small group
Fully hosted walking journey with experienced guides
Most meals (except where indicated, so you can experience local cuisine independently!)
Wine, beer and non-alcholic beverage included in evening meals
Twin share accommodation at carefully selected premimum properties
Picnic, hiking lunches & unique destination walking provisions
Specially curated surprise moments throughout tour
All activities described in trip itinerary
All transportation from the beginning until the end of trip
All gratuities for hotels, restaurants, and activities
All park and entry fees
Domestic flight to Casablanca
Please Note: Whilst every effort will be made to secure the accommodation as detailed in the intinerary, there may be circumstances where Guided by Nature provides a similar accommodation standard.
Exclusions
Transportation to the start and end of tour
Travel insurance
Gratuities to guides
Meals and drinks not listed in itinerary
Any visa requirements
International and additional domestic airfares