Torres del Paine, Patagonia
- with Tasmanian Walking Company- 
October 31 2023 | February 21 2024 | $9,895 | 10 Days
An invitation for our closest friends. Walk with us on an international adventure in partnership with Guided by Nature!
Located between southern Chile and Argentina, Patagonia is a truly legendary destination for hikers. Torres Del Paine National Park is world-renowned for breathtaking beauty and exhilarating treks. From towering mountain peaks to gushing waterfalls to stunning glaciers and fjords, our Patagonia tour offers an unparalleled hiking and kayaking adventure of this most unique region.
Torres del Paine's most famous hiking route is a 74 km (46 miles) hike done over 4 or 5 days. The main highlights include hiking to the base of the Towers, the French Valley and its hanging glacier, and Lago Grey.
Our local operator's vast knowledge of the area allows us to take you to discover paths off the beaten track, where you will be able to see the park from different perspectives and observe its flora and fauna at its best while staying at beautifully appointed lodgings and a boutique hotel stay in Santiago.
For all enquiries and bookings please contact our international departures team:
Itinerary details
10 Days/ 9 nights
Departure: 31 October 2023, 21st February 2024
Max group size 12 plus 1 guide and 1 TWC Host
Min group size 8
Activity Level 3-4 moderate
Trip Start: Santiago
Trip finish: Santiago
Distance 74kms
Includes return domestic flights Santiago - Puerto Natales
Cost: AUD$9895 / single supplement on request
Flight suggestions (October 2023): 
Qantas and LATAM fly direct Sydney to Santiago on 30 October 2023.
LATAM Airlines Santiago to Puerto Natales direct departure 2 November 5.43am to 9.08am arrival. This domestic flight is included in the journey.
Torres del Paine, Patagonia (10-days)
Day 1: Arrive in Santiago
On arrival in Santiago a private transfer will meet you and take you to your hotel.
Afternoon free to check into hotel and take a short walk around neighbourhood.
Check into your boutique Santiago hotel in a convenient neighbourhood located near cultural, historic and artistic attractions, with a variety of activities and entertainment close by. With appealing restaurants, pubs and independent design shops creating one the most attractive and visited sections of Santiago.
Welcome dinner at local restaurant tonight.
Meals included: Dinner.
Day 2: Santiago
Start your day with a delightful buffet breakfast served in the hotel's cozy first-floor restaurant. At 9 AM, our friendly local guide and driver will be ready to take you on a captivating tour of Santiago. We'll explore the historic downtown district, visit colourful stalls at Mercado Central, admire the city's architecture, and learn about Chile's history.
We will visit the impressive Santiago Stock Exchange neighbourhood and a beautiful mural in a Metro subway station. Then, we'll ascend San Cristóbal Hill via the teleférico for a stunning view of Santiago and the Andes. Finally, we'll descend via the funicular to the charming Barrio Bellavista for a delicious lunch at Peumayén Restaurant.Afterward, you can rest or explore at your own pace. Enjoy the rest of your day and have a comfortable overnight stay at the hotel.
Meals included: Breakfast, Dinner.
Day 3: Fly from Santiago - Puerto Natales
Early private transfer to Santiago Airport for flight to Puerto Natales.
Flight LA1 Latam Airlines Santiago to Puerto Natales direct departure 5.43am to 9.08am arrival.
Our guide will meet you at Puerto Natales airport. Transfer to Simple Patagonia Hotel in Puerto Natales. In the afternoon walk alongside the Puerto Natales Bay. Welcome dinner and meeting to discuss the trip program.
Meals included: Lunch, Dinner.
Day 4: Torre Base
Approximately 6 hours walking
After breakfast transfer by van to Torres del Paine National Park eastern end. This is a two-hour journey crossing the Patagonian pampa. Upon arrival, you will start the 2hr trek up and into the Ascencio Valley, stopping off at Refugio Chileno. After a short stop here, the trek will continue for an hour, through a forest of the native Lenga (Beech) trees until reaching the glacial moraine. From this point, it is another hour to the top where the high, three vertical towers can be seen at close range. The return trek is a little easier and takes about 4hrs to get back down to the trail end. We then travel back to our Torres del Paine base beside the Serrano River for dinner.
Meals included: Breakfast, Lunch, Dinner.
Day 5: French Valley
Option 1: Approximately 7-8 hours of walking
Option 2: Approximately 5-6 hours of walking
After breakfast you will be transferred to Pudeto to board the catamaran that takes passengers on a 25-minute trip across Pehoe lake to Refugio Paine Grande. From here it is a 2.5hrs trek to the entrance of the French Valley where there are hanging glaciers and an amphitheatre of granite walls and spires. There are amazing views throughout this trek and the further you trek into the valley the better they become. For this day there are two hiking options: 
Option A: consists in getting to the end of the trail, to where the British Camp is located, this is all the way to the end of this natural congregation of mountains. If you reach this point, you will have completed 24km and 7-8 hours of hiking. 
Option B: Involves reaching the French Valley main viewpoint, from where you can appreciate the natural amphitheatre created by glaciers millions of years ago, it is an absolutely breath-taking view. Should you select for Option B, you will have hiked for 5-6 hours and completed 16km. The options will depend on fitness level, timing, and weather conditions. Once you get back to Refugio Paine Grande, you will board the catamaran to cross Pehoe lake back to Pudeto and from here there will be a transfer back to our base beside the River Serrano for dinner.
Meals included: Breakfast, Lunch, Dinner.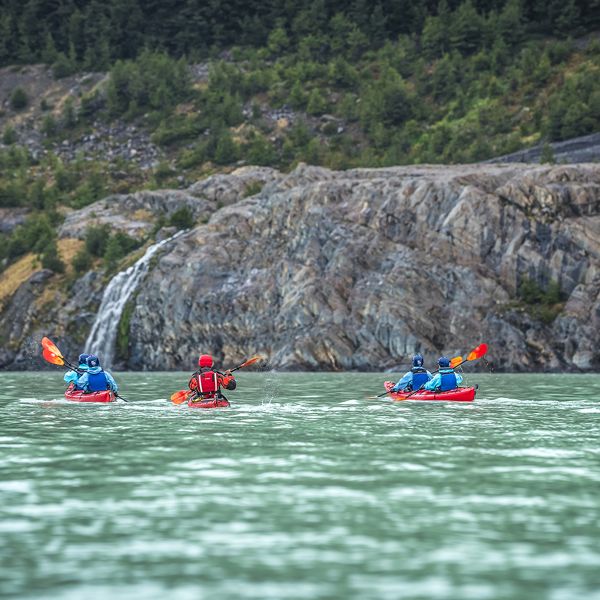 Day 6: Grey Glacier, Ice Hiking and Kayaking
Approximately 3-4 hours walking
Transfer to Pudeto, crossing Pehoe lake by catamaran. Trek along enchanting Lake Grey (11 kms) with magnificent views of Glacier Grey and floating icebergs. Visit the glacier lookout point and walk to the lakeshore for close-up views of vibrant-blue icebergs (Paine is a Tehuelche Indian word for "blue").
Kayaking.
Short walk to Bigfoot Patagonia basecamp, located on the northeast coast of Lake Grey. Here our guides introduce us to the equipment needed for the tour and we will have a safety briefing. After this, we will carry the kayaks approximately 20 meters to the lakes' edge. We will be paddling around icebergs that are floating in the lake and paddle towards the eastern side of the Grey Glacier to wonder at the spectacular scenery in this special place. If conditions permit, we can paddle closer to the glacier to get a really good view. After this, we will paddle back to the start point.
Meals included: Breakfast, Lunch, Dinner.
Day 7: Grey Glacier and Ice Hiking
Approximately 5 hours walking
After breakfast, the guides will have an introductory chat about Ice Hiking, and explain the route, the time the tour will take and also test the equipment, and adjust it correctly for each passenger. Then, we go in a zodiac boat for 15 minutes until we reach the west side of the Grey Glacier. On arrival, we will disembark on the island at the glacier (nunatak) and we will walk on it for about an hour until we reach the ice. Before walking onto the glacier, the guide will talk to us about the safety aspects, and they will explain the techniques of displacement in the ice and the correct use of the equipment. Once the safety briefing is complete we will begin our exploration of the Grey Glacier which will last approximately 3 hours. During this time we will be able to observe cracks, rivers, lagoons and tunnels with their different tones of blue. After 3 hours on the glacier, we return to the zodiac boat and ride back to the base camp.
After lunch navigate in Grey III catamaran. We navigate the magic lake surrounded by ice bergs where the boat does a circuit right up to the front of the glacier whilst you stand on deck sipping your pisco sour served with glacial ice! We then hop on a transfer from Grey lake to Kau Rio Serrano lodge.
Meals included: Breakfast, Lunch, Dinner.
Day 8: Cuernos and Condores
Approximately 5 hours walking
Transfer to Puente Weber, from here we hike through La Feria creek. During this trek, the trail goes through lenga forests, lagoons populated by small birds and it is possible to observe wildlife closely. After three hours we will to reach Los Condores, one of the most beautiful viewpoints in Torres del Paine, as it offers a spectacular panoramic view of the whole Paine mountain range, Laguna Honda, Sarmiento and Verde. (3 hours hike). Lunch will be served in the restaurant of the Pehoe camp, in front of the Paine massif.
During the afternoon we will hike to Salto Grande continuing to the main look out of the Paine horns (2 hours). After our hike, we will transfer to Puerto Natales.
Meals included: Breakfast, Lunch.
Day 9: Milodon Cave
Approximately 4 hours walking
After breakfast we head to the Milodon Cave, 25 kilometers from Puerto Natales. Surrounded by magnificent snow capped mountains and glacier coloured fjords. Here we start our quest to follow the traces of the early beginning of the Holocene time (12.500 years B.P.), where the 1st human settlers starting to leave remains of their presence. We follow the coast of the paleo-lake of Last Hope Fjord, where you will visit various caves and learn about how the settlers lived and survived in this area.
Optional extra - US$195
Travel to "Pingo Salvaje" ranch located in Sofia lake, 25 kilometers from Puerto Natales. We start our day at the estancia meeting our horses, checking our saddles and getting everything packed to begin our ride to La Olla, famous formation located in Sierra Señoret with an altitude of 1350 meters. During the ride we will pass through beech forest, waterfall, rivers and rock formations. Once we get to the highest and safest point we will let the horses rest. From this point we will have a panoramic view of Laguna Sofia and surroundings. At lunch time, typical Patagonian barbecue "Asado al Palo" will be served. Return to Puerto Natales.
Meals included: Breakfast, Dinner.
Day 10: Final Day
Breakfast and transfer to Puerto Natales airport.
Flight LATAM LA2 Puerto Natales to Santiago direct departure 10.43am arrival 1.45pm.
Meals included: Breakfast.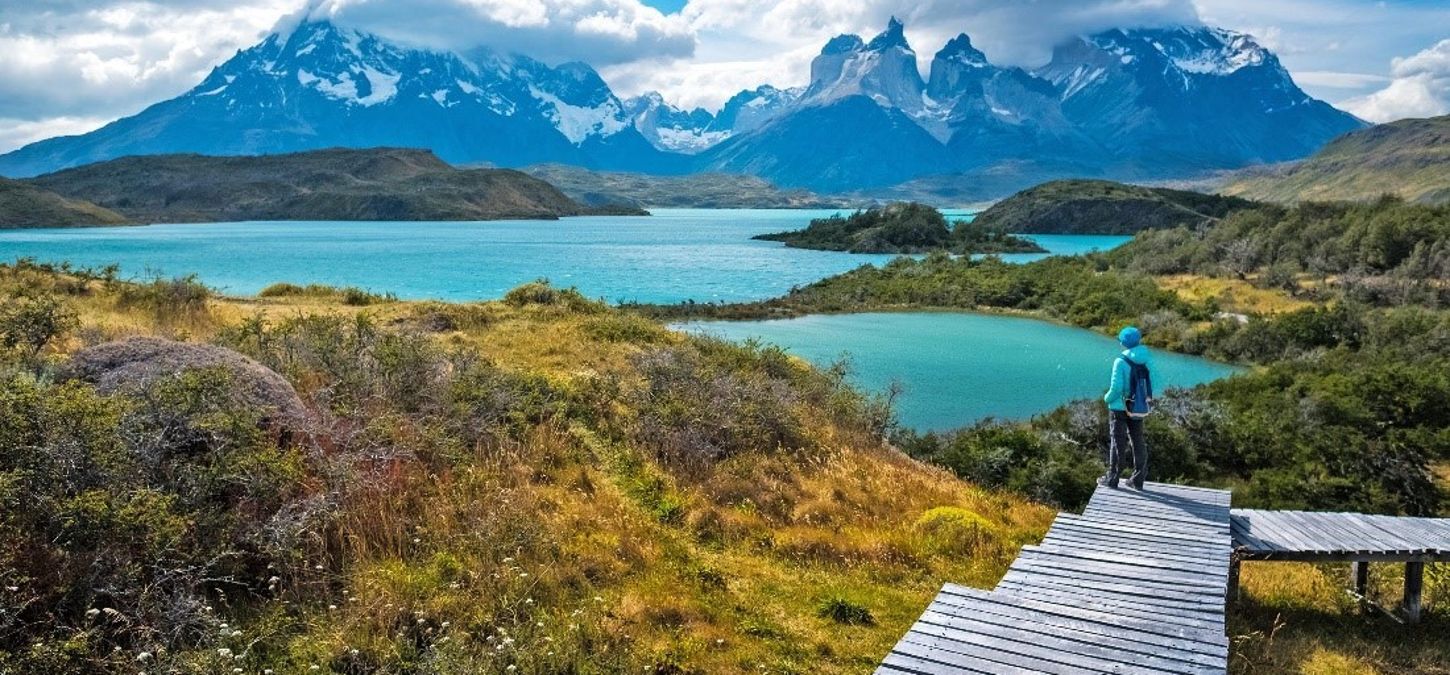 Accommodation
Day 1 - Hotel Bidasoa
Day 2 - Hotel Bidasoa
Day 3 - Simple Patagonia Hotel
Day 4 -Kau Rio Serrano.
Day 5 - Kau Rio Serrano.
Day 6 - Grey Refugio.
Day 7 - Kau Rio Serrano.
Day 8 - Simple Patagonia Hotel
Day 9 - Simple Patagonia Hotel
Torres del Paine, Patagonia
October 31 2023 | February 21 2024 | $9,895
10-Day Guided Walk 
Each trip requires a minimum of 8 guests, three months prior to departure. The maximum is 12.
Inclusions
Fully guided by 2 expert guides
Return airport transfers
9 nights accommodation as per itinerary
All meals and non alcoholic beverages as per itinerary
Glass of wine per night when staying at Kia Rio Serrano
Domestic flight return Santiago to Puerto Natales
Kayaking & Ice Hiking equipment
All porterage
All permits and entrance fees to National Parks.
Exclusions
International Flights
Visa where required
Travel insurance
Gratuities