Our Guides and Hosts
Our guides and hosts are often thought of as our most outstanding asset.  They are passionate, educated, great interpreters and cooks all rolled into one.  Feedback regarding our guides and hosts is invariably positive.  They will enhance the journey with their knowledge and understanding of the flora, fauna, geology and history and the wonders of our World Heritage Areas.
Our Guides
In the words of one traveller "...their love of the wilderness was obvious in the gentle way they encouraged us to care for it as much as they did themselves. Their leadership was superb - the trip would always have been memorable, with the extra input by the guides it became fantastic."
Molly Gardner
Molly grew up in the middle of Tassie on a dairy farm. From childhood, she has loved the island's wide-open space. 
Molly loves nothing more than to help people relax and unwind in Tasmania's landscape. Having grown up spending many summers on the Freycinet Peninsula, she has a soft spot for the east coast. As an adventurous, fun-loving sort, don't be surprised if Molly joins you for an ocean dip. Few things make her happier than beach time with a good book or swimming at the Bay of Fires. 
With a degree in Business and currently studying her Masters of Tourism, Molly is particularly passionate about giving guests the ultimate experience while treading lightly. When she's not out on the trails with us, you'll find her running, bushwalking or casting a line with her family. Ask her about her latest love of playing AFL footy. 
Mikael Smigielski
Did someone say mountains? Mikael loves mountains! He loves climbing them, guiding people over them and interacting with nature. 
The way Mikael describes his favourite Overland Track is enough to make anyone want to lace up their boots. He talks of huge open vistas of glacial tarns and moss-covered cool temperate rainforests brimming with brooks. He then describes alpine terrain dotted with cushion plants and fields of snow. His passion is palpable. 
He loves mountains. Craggy, high mountains. He also loves reading a good book, playing chess and learning foreign languages. In fact, he's fascinated by foreign cultures. He enjoys deep conversations about fields he knows little of. He's a forever student; always learning. That means he's full of fascinating convo and an interesting pair of boots to follow.  
When he's not guiding, he's typically hiking, climbing, bike riding or trail running. Indoors, he's reading, cooking and likely cornering some unsuspecting opponent into check mate.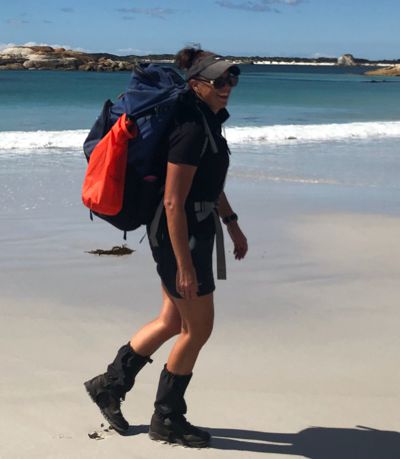 Sheree Kemp
Born and raised in the Bay of Fires area, guiding on the East Coast is like coming home for Sheree. 
The mother of two grown boys, Sheree and her husband own a Financial Planning business. While hubby is semi-retired, Sheree just can't help but hit the trails regularly for her fix of the great outdoors. 
Having grown up on the coast, she's our Bay of Fires go-to. Her father was a professional fisherman so Sheree has a lifetime of knowledge and lesser-known regional secrets. She loves seeing guests walk away loving the Bay of Fires as much as she does. Her ability to read a group and adapt on the fly ensures Sheree is great company. Like most of our guides, on her days off she's often out walking herself and loves a good dinner out with friends. Oh, and Far North Queensland often calls for a warm escape. 
Gus Goodwolf
After travelling and working through Europe, Canada and South America the past three years, this Tassie-born outdoor enthusiast is even more delighted to call the island 'home.' 
Like many Tasmanians, Gus took off to the see the world. He spent three years travelling and working his way across continents and distant cities. Returning home, he now has an even deeper appreciation and respect for Tasmania. He can't wait to share this passion with others and feels grateful he grew up in a family that instilled a love of nature within him. 
He has a soft spot for the Three Capes Lodge Walk, describing the energy from its cliffs and neighbouring forests as incomparable to anything else in Australia. Seeing others moved by Tasmania's wild places gives Gus all the good feels. 
When he's not guiding, Gus is heading outdoors anyway. He loves climbing, surfing, going on amazing adventures, and of course, more walking! 
Lillian Lyall
Lill has been exploring Tassie's bush and mountains for as long as she can remember. She's totally in love with the island's wilds. 
Lill grew up in a tiny country town in Northern Tassie. Along with her twin and other siblings, Lill has been exploring the wilderness from as far back as her memory goes. She just loves being out in nature and sharing this passion with others. 
Her favourite walk of ours is the Cradle Mountain Huts Walk for its diverse landscape and immersive experience. According to Lill, "six days out in the bush … What more could you want?" For her, wandering through the mountains and bringing peace along with a good dose of fun into people's often hectic lives is a wonderful feeling. 
In her spare time Lill gets up to all manner of adventure shenanigans from running to climbing and in her downtime enjoys reading and drawing. 
Maggie Williams
Maggie is an outdoor enthusiast - skiing, kayaking, snorkelling, rock climbing - but for her nothing beats a good old-fashioned bushwalk. 
Before Maggie came to join us in Tasmania, she studied an outdoor education degree on Dja Dja Wurrung Country (Bendigo) and grew up on busy Wurundjeri Country (Melbourne). When she's not guiding, she's introducing our younger generation to Australia's outdoor playground through working with school groups. 
She's very grateful that the Tasmanian Walking Co. have delivered her 'so many cool friends on a platter.' Equally, these new friends likely appreciate Maggie's love of 'cooking up a storm while having a cheeky boogie in the kitchen.' Simply put, Maggie is wonderful company. 
Maggie is a mountain girl, so the Cradle Mountain Huts Walk is her favourite. She also loves that everyone spends six days together and really gets to know one another. Outside of guiding and her many outdoor pursuits, you'll find Maggie reading, crafting, cooking, gardening, dancing … the list goes on. 
Finnian Wrigley
A scuba dive guide who enjoys making pottery and canoe paddles, Finnian is a guide with varied talents. 
Finnian isn't your average guide. Outdoor educator by trade, he's also learnt AUSLAN, the majority sign language for Australia's deaf community. He finds peace in the wilderness no matter whether the sun is out or it's hailing. 
Along the 12 Apostles Lodge Walk, ask Finnian about reptiles and amphibious creatures - he finds them intriguing and beautiful. He loves a good chat with guests and feels he often learns as much as he imparts. When he's not guiding, he enjoys bike touring, pottery, making canoe paddles and fixing things. Oh, and he loves snapping up a good bargain on Facebook Marketplace! 
Braden Cresswell
A science background, a fierce passion for Tassie's wild places and a penchant for creating mixtapes … meet Bradan. 
Ask Braden about his home state and you'll understand his love for the place. As a guide he feels it's a privilege to be a custodian of the land, inspire admiration for our wilderness and help others find their happy place. As for guiding, he feels as though he's simply working with a group of his best friends. 
Bradan's favourite is our Cradle Huts Walk. He's drawn to the mountain energy, rich history, clean fresh waters and the hardy people who called it home. The haunting sound of a black currawong calling through the misty rainforest keeps him coming back - perhaps it'll call you to return also. 
A strong science background has Bradan seeing our wilds through an insightful lens and when he's not checking out cafes and wine bars, you'll likely find him buried in an educational book. He loves surfing, mountain biking, climbing and spearfishing. An aspiring DJ, he promises not to bring his mixtapes on the trail! 
Kira Marie Sirois
Once out on trail, ask Kira about her time as a kayak tour guide, wind dolphin swimmer and night mantra ray snorkel guide. 
Kira is originally from the United States but has been in Tassie since 2016. After studying Marine Science in Hawai'i her career has been colourful and varied. From kayak guiding to heading out in darkness to the manta rays, Kira has also worked as a wild land firefighter and geological surveyor. 
Tassie has stolen Kira's heart and between guiding, she hopes to continue her education in biochemistry or biophysics. Cradle Mountain Huts Walk is her favourite walk for its isolation and immersion - allowing for a sense of disconnection from the outside world. Fiercely environmentally conscious, Kira is proactive in preserving and spreading awareness for our vulnerable and rare wilderness. 
When she's not outdoors she loves reading epic fantasies like The Wheel of Time, catching up with mates and watching movies with her cat. 
Jesse Tenzin Rain Holden
Jesse has a self-confessed romantic attraction to rocks. Ask him anything about them.  
Jessie is a young man that gets excited by the natural world and is ever hopeful for humanity. Just ask and he'll enthusiastically share how it's all connected, indulge in the fundamentals of existence and, likely, not get you lost along the way. 
This passionate Tasmanian will gently set boundaries of environmental care while reconnecting guests with the natural world. Jesse thrives on people, place and conversations. He's a deep thinker whose knowledge bank is as varied as his past times. When he's not climbing, he's mountain biking. When he's not making music, he's carving something from wood. Then again, he might be cooking or studying. 
Lara Winchester-Scott
Lara is a lover of wild places and enriching spaces. 
Get Lara out in the wild and she's in her happy place. Guiding is therefore her perfect match. She values becoming immersed in the environment whether that be Tasmania's open button plains, mountain ranges or lush rainforests. That said, her heart rests by the coastline. The Bay of Fires Lodge Walk is a favourite. Lara is drawn to the comfort and colours of this coast and loves nothing more than to share it with others. 
When Lara isn't out walking with us, she's outdoors and adventuring herself. Like many of our guides, her past times are well aligned to her 'work office.' A creative and connective type, Lara loves hearing other's stories as she journeys with you. For her, it's all about people and place. 
James Burt
A passionate mountain biker, this expat from the UK loves calling Tassie home.
James emigrated from the UK to Sydney in 2011 where he worked in outdoor education. This prepared him well for a move to Tasmania in 2018 and a transition into guiding. James is happiest when he's in the outdoors. For him, it's therapy, both physically and mentally.
The Three Capes Lodge Walk is his pick of our walks for its dramatic changes in vegetation, stunning sea cliff views and deep history. He loves seeing guests become passionate and really absorb their wilderness surrounds.
When James isn't guiding, he's hitting the trails on two wheels, tearing down a mountain. He's spoiled for choice with so many trail networks now weaving across Tassie. Little wonder the island has a growing reputation as an international mountain biking mecca!
Jimmy Dennett 
Jimmy left the Gold Coast for Tassie, chasing uncrowded surf breaks, friendly humans and wide-open landscape. 
It turns out Jimmy has found his three wishes here in Tasmania. Chat to him a little more and you'll discover that he worked as a Civil Engineer before downing tools to become a professional guide with us. These days he feels so much more at home doing what he loves in Tasmania's outdoors. 
He's current favourite is the Three Capes Lodge Walk - a journey that changes every time he gets out there. On the trail, Jimmy loves meeting people from all walks of life. He enjoys hearing stories that have shaped the lives of guests and also watching nature melt away work stresses. In his spare time, you'll find him out catching one of those uncrowded surf breaks or rock climbing with mates. 
Holly Schorta
Yoga Teacher Holly grew up by the sea and has spent a lifetime bushwalking, camping and playing by the beach.   
Holly grew up at Clifton Beach, just outside Hobart. She's spent her life frolicking in Tasmania's outdoors so when she left school, it was only natural to venture into a role that mirrored this. Once completing The Adventure Tour Guiding Course back in 2016, she's been guiding ever since. 
With her strong connection to the coast, the Bay of Fires Lodge Walk is Holly's pick of our walks. She loves the white beaches, granite boulders and orange lichen. She also loves that it can offer up blue skies one trip and wild storms the next. It's an ever-changing feast of colour and surprise. 
Holly enjoys taking guests out of their comfort zone. She knows this allows for growth and change as well as reconnecting people with the natural world. Outside of guiding, Holly is a yoga teacher, loves traveling and has aspirations of becoming a nurse. 
David Lennon
Dave loves the great outdoors and feels pretty chuffed it's his work office. 
When Dave is in the wide outdoors, he feels free, connected and safe. It's a good chance he'll have you feeling exactly the same. He loves a good challenge both mentally and physically, while disconnecting from the rest of the world out in Tassie's wild places. 
His favourite walk is the Bay of Fires for its white sand beaches, indigenous living sites dating back tens of thousands of years, the ever-changing landscape carved by sea, orange lichen coated rocks and the clear turquoise waves crashing by your side as you walk. Has he got you tempted? 
When he's not on the trail with us, he's usually running along one, carving along a mountain bike trail, hiking, honing his photography skills or enjoying a local beer with mates. 
Our Hosts
Our hosts greet you and take care of you at our lodges. From the warm welcome to the meals prepared by hand, our dedicated team goes to extraordinary lengths to make sure you enjoy a hospitable experience no matter how remote you may be. 
Georgie Cameron
Georgie is a special hybrid, raised between Melbourne and a sheep farm in Northern Tasmania. 
Georgie simply bursts with personality as your Bay of Fires Lodge Host. She'll tell you this is her favourite walk for the swims and the chats. According to Georgie there are so many out-of-this-world swim spots and wide beaches for body surfing that there's no better place to get salty. She'll go on to say that the chats are superb, because vast beaches allow for great convos versus narrow bush tracks between only the person in front or behind. 
As a Lodge Host, Georgie loves to see the transformation in guests from the first to the last day. She still pinches herself how wonderful the guests are - whether by endorphin high or by virtue they are all natural legends. Get her chatting and Georgie will tell you she finds 'above normal' joy in fresh flowers, tingly skin after a cold ocean swim, a really good boiled egg and the smell of horse sweat. Keep chatting and she might tell you she and partner Jock have a Kelpie named Joe that resembles a dingo. Joe has a pet lamb, Damo. But that's another story. 
Cain Adam Vella
Chef by trade, sky diver by past time. Meet your Three Capes Lodge host, Cain. 
Arrive at the Three Capes Lodge and Cain will be there to welcome you with delicious fare. A chef by trade, hailing from Far North Queensland, he has more than 17 years of experience in hospitality so he sure knows how to look after you. 
His creations wouldn't look out of place in a hip city restaurant, yet he delivers in a lodge beside some of Australia's highest sea cliffs. It's remote out there and not easy to duck out for a carton of milk! He loves being part of a like-minded crew and plating up Tasmanian goodness to those who have walked many kilometres to reach his table. 
When he's not in the kitchen you'll find him foraging, fishing, hiking and camping. He also enjoys his leather craft and did we mention his passion for sky diving? That's worthy of a chat over dinner. 
Kai Brooks
Growing up in the area, Kai has been hiking the Tasman Peninsula capes since a young child. Kai is both guide and host!
Kai is as local as they come. Growing up in the area, she feels particularly chuffed to now call the Three Capes her 'office.' Moving between Lodge Host and Guide fits well for this Tasmanian who has been traveling and working overseas for 7 years pre-COVID. 
Step into the lodge after many kilometres and you'll be met by a local who loves people, preparing delicious food and a good old adventure! She loves working out in the wilderness on a coastline she's walked since being a youngster and describes as 'a very special place.'   
When she's not serving up beautiful meals or guiding along a trail, you'll find Kai spending time with her beautiful friends and fam. As for that adventure side - Kai gets her kicks from snowboarding, hiking, kayaking and generally anything outdoors. 
Jarrod French
Jarrod doesn't hold back - he believes he has the best office in the world. 
Jarrod is your lodge host out on the Three Capes Lodge Walk. He doesn't believe there is another job like it, where he gets to be out in a spectacular place cooking and entertaining guests. For him, the 48 kilometres of stunning views, rugged coastline, steep sea cliffs, lush rainforest and wildlife make it unlike any other walk in the country. 
Jarrod loves welcoming guests into the lodge after a day out on the trail and hearing their stories. When he's not busy in the lodge kitchen he's out catching surf breaks. Most likely though, you will find him in his own kitchen. A passionate baker, he's just as likely to be at home baking delicious cakes. 
Walk and work with us!
Discover available guiding and hosting opportunities here.
Is this the best office in the World?
Most people's office is defined by limited space and 4 walls.  If you're lucky, you have a window with a view. Guide Lauren McDermott from Tasmanian Walking Company is different.  Her office on the Wineglass Bay Sail Walk is constantly changing... from a beautiful sandy beach, a mountain top, a yacht surrounded by dolphins, amazing people and a forever changing view. See for yourself... does Lauren have the best office in the world? Read more here.