South Island Escape
8 Days | South Island | AU$6,899 | Multi-activity
Christchurch to Queenstown
Short on time? On this adventure, you'll hike, bike, kayak, cruise and jet boat in some extraordinary parts of the South Island. 
A scenic flight, a wilderness hike and an unforgettable jetboat ride...
This is an action-packed adventure where you'll explore some of New Zealand's most iconic and remote wilderness.
Contact Tasmanian Walking Company on (03) 6392 2211 or email bookings@taswalkingco.com.au
Here's What's Included; We've Got You Covered.
✓  All guiding services
    Two experienced New Zealand guides per trip. Having two guides allows for much greater flexibility, meaning you're able to go at your own pace.
✓  All accommodations
    A range of hotels, lodges, chalets, inns, sheep stations and backcountry huts. 
✓  All meals
    Breakfast, lunch and dinner on all days, except where indicated on the itinerary (usually 1 day per trip is a free day, allowing you to choose your own dining location).
✓  All activities
    Hiking, kayaking, biking, scenic flights, jet boating and more, all packed into 8 days. Discover the South Island in true Active fashion!
✓  All transport
    Airport transfers on the first & last days. When you're not travelling under your own steam, there will be comfortable air-conditioned vans to stretch your legs.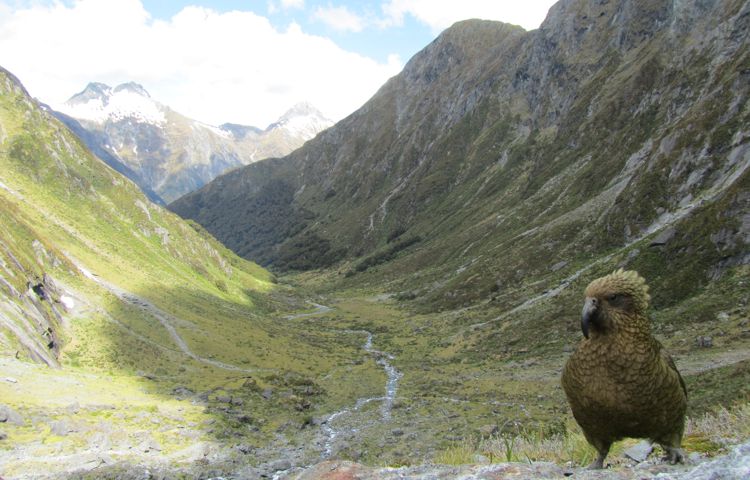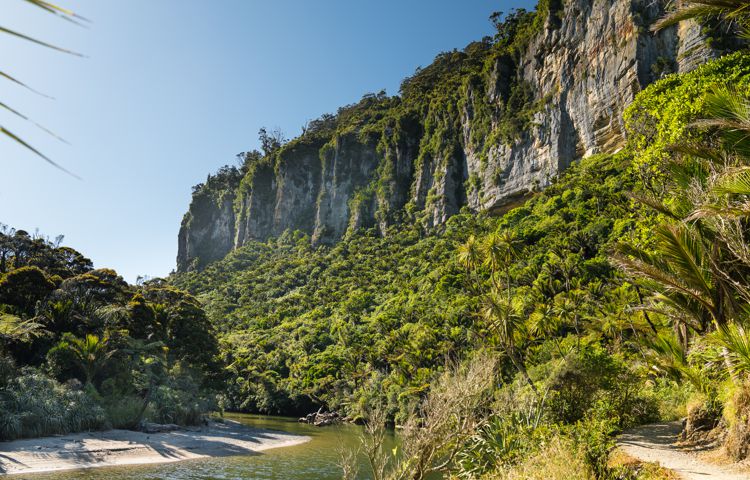 DAY 1
Arrive, hike in Arthur's Pass
It's a short flight from Auckland to Christchurch on the South Island. We'll meet you in Christchurch or if you arrive in the morning, we'll meet you at the airport. We'll then travel into the Southern Alps to hike Devil's Punchbowl in Arthur's Pass. The walk will take you through native beech forest to an awesome 131 metre (430 feet) waterfall, so make sure you have your camera handy! From there, we'll head down the coast to Franz Josef where we'll stay the night. Nestled in the rainforest-clad foothills of the Southern Alps, Franz Josef is the heart of New Zealand glacier country.
Rainforest Retreat, Franz Josef (Lunch, Dinner)
Hiking Distance: 2 kilometres (1.2 miles), 0.5-1 hour
Elevation Gain: 100 metres (330 feet)
Elevation Loss: 100 metres (330 feet)
DAY 2 
Hike near Franz Josef Glacier
With some 140 glaciers making their way down from the Southern Alps, this area is fittingly known as glacier country. Few sights equal the spectacle of two of these giant frozen rivers (Franz Josef and Fox Glaciers) imperceptibly grinding their way down through temperate rainforest to just 250 metres (820 feet) above sea level. We'll spend most of the day near Franz Josef Glacier hiking up through the forest to either Alex Knob or Roberts Point, both of which give incredible views of the ice.
Optional Heli-hike (extra fee applies)
A less strenuous, but outrageously scenic alternative to today's hike is to heli-hike on Franz Josef Glacier itself. After being fitted with crampons, ice axes and so on, you'll board a turbine helicopter and fly towards the highest peaks of the Southern Alps, landing on the glacier at 1300 metres (4265 feet) above sea level. Led by specialist glacier guides, you'll hike through the grand ice formations of the glacier, checking out its crevasses, seracs and tunnels - no previous experience is required! The constant movement of the glacier means every day is different, so your guides will cut steps in the ice to make the most of the conditions. At the end of your hike on the ice, you'll take another helicopter ride out of the mountains and back to civilisation.
The heli-hike is extremely popular, so we offer advance reservations with the helicopter operators and guiding company. At the time of booking, or up until one month before your trip, we can reserve a space for you, or you can leave your decision until the start of your trip and your guides will get you a spot if it's available
From Franz Josef, we'll travel down the coast through lush forest, and over the divide to a small mountain village called Makarora, where we'll enjoy some local fare.
Makarora Lodgings, Makarora (All meals)
Hiking Distance: 8 kilometres (5 miles), 5-6 hours
Elevation Gain: 1,100 metres (3,610 miles)
Elevation Loss: 1,100 metres (3,610 miles)
DAYS 3 AND 4
Mt Aspiring National Park options
This morning we'll make our final preparations for our incredible flight into Mount Aspiring National Park and true wilderness.
DAYS 3 TO 4
Option A, Siberia Valley Wilderness in Mt Aspiring National Park
Day 3 (afternoon) - Scenic flight, hike Lake Crucible
If you like the idea of staying in one of New Zealand's most isolated mountain huts, then this option is for you (but let us know early as space is limited!) We'll start with a stunning scenic flight alongside the snowy Southern Alps to the Siberia Valley airstrip, a short hike from the hut where we'll spend the night. After lightening your packs at the hut, we will hike up the trail to Lake Crucible, a cauldron-like glacial lake with fantastic views of the valley below. The hike follows the Siberia river upstream for a short while before crossing the river to make our way up into the Crucible Valley. This section of the trail is steep and forested and is where the majority of the 550m (1800 feet) in elevation gain will be tackled. The path will ease eventually, and you'll cross the Crucible stream, making your way toward the moraine wall and the impressive backdrop of the valley, Mount Alba. The hike at times is strenuous, though the Lake Crucible Valley has exceptional scenic diversity, so it provides a great reward for the efforts you put in. We'll be there to encourage you the whole way. Tonight, you'll enjoy a true Kiwi experience at a small mountain hut, tucked within the Siberia Valley, our home for the night!
Siberia Hut, Mt Aspiring National Park (All meals)
Hiking Distance: 7 kilometres (4.3 miles), 6-8 hours
Elevation Gain: 550 metres (1,800 feet)
Elevation Loss: 550 metres (1,800 feet)
Day 4 (morning) - Hike Siberia Valley, jet boat Wilkin River
After an early start, we spend the morning hiking to Kerin Forks, at the head of the Wilkin River, where we'll be met by a jet boat for an exhilarating ride back to Makarora to meet up with the rest of the group for lunch. Your load will be little more than a day pack - our guides will carry the lion's share. You'll be carrying a backpack with a sleeping bag, a few spare clothes and some food - no need for any more than that, although if you opt to camp out under the stars the night before, you will be carrying your tent out.
Hiking Distance: 6.6 kilometres (4.1 miles), 2-3 hours
Elevation Gain: 140 metres (460 feet)
Elevation Loss: 320 metres (1,050 feet)
DAYS 3 TO 4
Option B, Makarora Adventure in Mt Aspiring National Park
Day 3 (afternoon) - Scenic flight, hike Siberia Valley, jet boat Wilkin River
If you prefer accommodation with modern amenities instead of a mountain hut for the night, then this is the option for you. You'll head out for a mind-blowing scenic flight into Mt Aspiring National Park, with a bird's eye view of the lower Southern Alps, landing in the remote Siberia Valley. From here, you'll hike downstream along the Wilkin River, through beautiful silver beech (Nothofagus menziesii) forests to a jet boat rendezvous. Then it's a thrilling ride back to Makarora for dinner and perhaps a well-earned drink at the local pub.
Makarora Lodgings, Makarora (All meals)
Hiking Distance: 6.6 kilometres (4.1 miles), 2-3 hours
Elevation Gain: 140 metres (460 feet)
Elevation Loss: 320 metres (1,050 feet)
Day 4 (morning) - Hike Haast Pass Lookout and Blue Pools
This morning we'll head back toward the West Coast and stop off at the top of Haast Pass to walk up to the Haast Pass Lookout. The trail has a steady incline and doesn't let off until you reached the top, though the views from above the tree-line are well worth the climb! On our way back to Makarora, we'll check out the iconic Blue Pools, nestled among mature beech and podocarp forest, these pools of deep, clear water flowing into the Makarora River offer a moment of tranquillity. Alternatively, you can have a relaxing sleep in and spend your morning soaking up the mountain views.
Haast Pass Hiking Distance: 3.5 kilometres (2.2 miles), 1 hour return
Elevation Gain: 107 metres (351 feet)
Elevation Loss: 107 metres (351 feet)
Blue Pools Hiking Distance: 1.5 kilometres (0.9 miles), 1 hour return
Elevation Gain: 54 metres (177 feet)
Elevation Loss: 54 metres (177 feet)
DAY 4 (AFTERNOON)
Finish Mt Aspiring National Park options, bike Queenstown Trail
After regrouping in Makarora, we'll have a picnic lunch before taking a beautiful drive through spectacular glacier-carved valleys. The landscape changes rapidly from dense beech forests to semi-arid mountainous terrain. We'll take a quick stop in Wanaka before a short but dramatic journey over the Cardrona Saddle towards Queenstown, where we'll hop on bikes to ride a portion of the Queenstown Bike Trail. The trail is well packed and winds along beside the Arrow River to Arrowtown, a small historic gold mining village established in the 1800s. After our ride we'll check out the charming town before heading on to Queenstown and Lake Wakatipu. You'll sleep sweetly tonight at a lakefront hotel located in the heart of this alpine town.
Crowne Plaza Hotel, Queenstown (Breakfast, Lunch)
Biking Distance: 6.1 kilometres (3.8 miles), 1 hour
Elevation Gain: 127 metres (416 feet)
Elevation Loss: 100 metres (328 feet)
DAY 5
Gondola ride, hike Ben Lomond or free day in Queenstown
Today you have two options - a full day hike or a free day to yourself. For those keen for an alpine hike, you'll meet your guide at reception at 9am, ready to head up the Ben Lomond Track. To save our legs a little, we'll take a short gondola ride up to Bob's Peak, which is 450 metres (1476 feet) above Queenstown. From there, we'll head out along the trail through alpine tussock-land towards the summit of Ben Lomond. From this vantage point, you'll find yourself immersed in amazing views over Queenstown and Lake Wakatipu, which are themselves dwarfed by the surrounding mountains including Mt Aspiring. As an alternative, you can have a free day to explore on your own. Queenstown is the adventure capital of New Zealand (if not the world!) and all the comforts of civilisation are packed into this tiny resort town: restaurants galore, sidewalk cafés, stylish lounge bars, day spas, and boutiques. You'll also find incredible optional activities here including horse trekking, kayaking, fishing, winery tours, hang gliding, mountain biking, bungy jumping, jet boating and skydiving. Or you can just soak up the atmosphere or lounge about reading a book. Your guides will happily share their favourite haunts and point you in the right direction if you choose to have a free day today.
Crowne Plaza Hotel, Queenstown (No meals included)
Ben Lomond Hiking Distance (from the gondola): 8 kilometres (5 miles), 4-5 hours
Elevation Gain: 978 metres (3,208 feet)
Elevation Loss: 978 metres (3,208 feet)
.
DAY 6
Hike Fiordland National Park
This morning, we set off for our largest and perhaps most spectacular national park, Fiordland. Once within the park we'll stop to stretch our legs at regular intervals, to explore some of the highlights of this World Heritage Area, including the Eglinton Valley, Mirror Lakes, Marian Gantry and The Chasm. The waterfalls viewed from the gantry will take your breath away! Once through the Homer Tunnel we'll emerge at the top of a spectacular glacier-carved valley for a memorable descent to the shore of Milford Sound. Rudyard Kipling rated this fiord as the eighth natural wonder of the world and it is truly breathtaking, with steep granite walls plunging over a thousand metres to the Tasman Sea and waterfalls cascading into deep inky water. Tonight you're in for an extra-special experience, as we'll board the Milford Wanderer for an overnight cruise in the sheltered fiord. For those who're keen, there's time to explore the shoreline by kayak or small boat before rejoining the Mariner in time for a sumptuous dinner!
Milford Mariner Overnight Cruise, Milford Sound (All meals)

Hiking Time: few easy walks to nice views to choose from
DAY 7
Sea kayak Milford Sound, hike Routeburn Track
Having seen Milford Sound from the deck of a ship there's one more unique activity we've got lined up for you, to experience the eighth natural wonder 'Active Style', gliding along in sea kayaks. You'll cause very little disturbance to the water, being in kayaks, providing an excellent chance of meeting friendly fur seals and dolphins that are sometimes in the area. This trip is run by specialist kayak guides, and the paddling here is equally suitable for beginners and experts. After lunch, we'll explore the Fiordland wilderness on foot again, with a hike to Key Summit on the famous Routeburn Track. The panoramic views are incredible from this vantage point and you'll probably get to meet New Zealand's notoriously cheeky and intelligent alpine parrot, the kea (Nestor notabilis). Tonight we'll enjoy a celebratory dinner for the last night of our trip.
Lake Manapouri Inn, Manapouri (All meals)
Kayaking Time: 2-3 hours
Hiking Distance: 3.4 kilometres (2 miles), 3-4 hours
Elevation Gain: 380 metres (1,246 feet)
Elevation Loss: 380 metres (1,246 feet)
DAY 8
Depart for home
After breakfast, we'll return to Queenstown. This is the end of your Escapade and you'll have had an exhilarating week. We'll leave you buzzing with excitement, but feeling relaxed and refreshed as well! For a great way to see the North Island too, where you'll experience Maori culture, pristine beaches and geothermal areas, you can combine this trip with our 11-day 'North Island Adventure' (5-day 'North Island Adventure' options available).
(Breakfast)
Departure Dates
Trips depart regularly between November and April each year. 
Direct bookings only
After the minimum number of bookings has been achieved, the trip is guaranteed to depart.  If for any reason, the trip cannot go ahead due to restrictions placed upon travel due to Covid-19,  guests will be permitted to reschedule their walk to a new date with no additional fee within 24 months. Cancellations for other reasons will incur our standard cancellation fees.
Single supplement
All accommodation is twin share. Single travellers may be required to share a twin room with another walker of the same gender if the departure fills to capacity. To guarantee a single room for the duration of the walk a supplementary fee will apply. Please request this at the time of booking.
Group Size
This trip has a maximum of 14 guests, plus two experienced naturalist guides.
Trip Start
On the first day of the trip we can either pick you up from the Rydges Latimer Square in Christchurch at 9.30am, or at Christchurch airport in front of the Travel and Information desk at 10am.
Trip End
On the last day of the trip we can drop you off at the Queenstown airport in time for the flights below, or anywhere in central Queenstown about 12pm.
Arrival: If you're flying in on the first day of the trip, we recommend arriving in Christchurch before 9am on Monday.
Departure: Flying out on the last day of the trip, we recommend departing from Queenstown after after 12pm for domestic or 1pm for international flights. If you are considering alternative flight times please check with us. International flights from Auckland usually leave early evening.
Fitness
South Island Escapade is an adventurous trip and has options to suit a wide range of fitness levels and outdoor experience. If you keep reasonably active and like to give things a go, you're likely to enjoy the trip much more. If you're used to pushing yourself, we'll keep you challenged as well. Typically, hikes range between two and five hours to complete, more, or less hiking is available depending on your multi-day option. 
Need help deciding? Talk to an expert
We're here to help 9am – 5pm Monday to Friday, otherwise, email us anytime and we'll be in touch.