Recherche Bay Sail Walk
Hobart - Peppermint Bay - Recherche Bay - Hobart
From $375.00 per person | One-day sail/walk
There are few places in Australia where the chapters of human history spanning thousands of years are condensed into one small location. A location surrounded by amazing beauty and wilderness that is literally 'at the end of the road' as you drive south in Australia.
Join us for a full day out as we explore the remote far south of Tasmania in the luxurious comfort of a 75-foot yacht.
Limited to a maximum of just 10 guests on board, your skipper and guide will share the cultural and natural history of the area as you sail for the far south!
For all enquiries and bookings, click on this link. It will open a new window.
Itinerary
Meet in Hobart

7.00am- Meet at Tasmanian Walking Company Walkers Base located at 164 Murray Street, Hobart and board bus for Peppermint Bay. 
Here you will meet your guides and have a briefing. We travel by bus to Peppermint Bay where our 23-metre (75-ft) ketch, Lady Eugenie is waiting.
8.00am- At Peppermint Bay, we board the Lady Eugenie and set sail for Tasmania's remote south-east coast through the protected D'Entrecasteaux Channel. 
Sail to Deephole Bay
Approximately 2.5 hours sailing Sail to Deephole Bay for a picnic lunch
8.30am- Following a leisurely morning tea on board Lady Eugenie we set sail, leaving Peppermint Bay and sail south on a 2.5-hour journey, through the D'Entrecasteaux Channel toward the south coast of Tasmania and the quiet cove of Deep Hole. Bruny Island shelters the Channel and will be visible to the east. To the west, mountains rise high above the rocky forest-clad coast and picturesque villages.
11.00am- After arriving at Deephole Bay and dropping anchor, we disembark at the secluded Elliots Beach and disembark for a picnic lunch.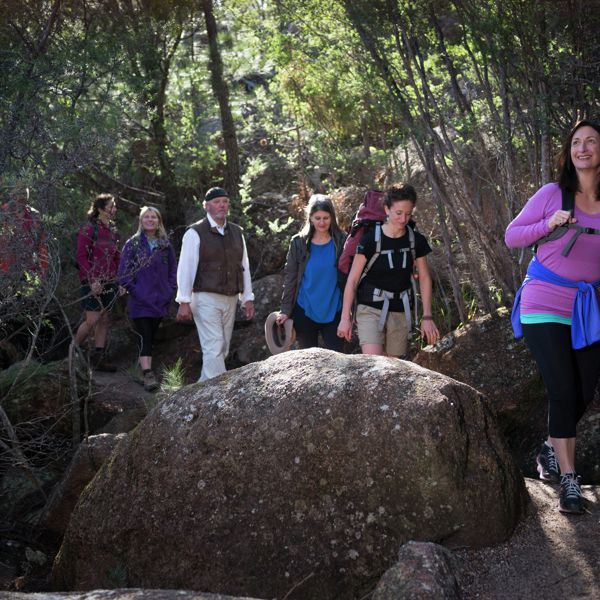 Walk into Southport Lagoon 
Approximately 1-2 hours walking (6km return)
The Iday Bay railway finishes at Deephole Bay. This area is steeped in mining history but is infrequently visited today. You have the option to walk to Southport Lagoon along Southport Bluff track.  From Elliott Beach, The track weaves through coastal dry sclerophyll forest, across sandy buttongrass heathland and towards the distant coast. A gentle and consistent climb takes you to the highest point of the heathland. The trail descends to Southport Lagoon.
Sail to Recherche Bay
Approximately 2 hours sailing
1:00pm Depart Deep Hole for Recherche Bay. Recherche Bay is listed on the National Heritage Register as it is a place of significant historical importance.  It is located on the extreme south-eastern corner of Tasmania, Australia. It was a landing place of the d'Entrecasteaux expedition that sought to find missing explorer La Pérouse. It is named in honour of the Recherche, one of the expedition's ships. The Lyluequonny name for the bay is Leillateah.
It will be difficult to describe my feelings at the sight of this solitary harbour situated at the extremeties of the globe, so perfectly enclosed that one feels separated from the rest of the universe. Everything is influenced by the wilderness of the rugged landscape. With each step, one encounters the beauties of unspoilt nature, with signs of decrepitude, trees reaching a very great height, and of corresponding diameter, are devoid of branches along the trunk, but crowned with an everlasting green foliage. Some of these trees seem as ancient as the world, and are so tightly interlaced that they are impenetrable.
— Bruni d'Entrecasteaux, Recherche Bay, January 1793.
3:00pm- Recherche Bay is the final destination of this day-long walk and voyage. At Recherche Bay we leave behind the Lady Eugenie, meet our driver and bus and return travelling past the orchards and farms that of the Huon Valley to Hobart.
The Lady Eugenie
Our group will have exclusive use of Lady Eugenie - whilst travelling with us she becomes your home. We believe traveling in style is fundamental in making a good walking holiday a great walking holiday. Your accommodation should be enjoyed not endured!
Lady Eugenie is a luxurious, 23-metre (75-ft) ketch rigged yacht. She is five metres wide, which makes her stable, safe and comfortable for both novices and sailing enthusiasts.
Her clipper bow, complete with a bowsprit you can walk on, is perfect for watching dolphins and other marine life. There's nothing more exhilarating than turning off her engine, relaxing and harnessing the power of the wind in her sails.
With beautifully maintained teak decks and classical, varnished hand rails, Lady Eugenie's spacious decks are the perfect setting for relaxing whilst taking in the stunning scenery of Tasmania's east coast. The central cockpit provides plenty of comfortable seating, with a picturesque alfresco dining setting: a magical place to take in the sunset.
During the day, you can relax in the delightful and spacious saloon with dining table and comfortable lounge. Her professionally equipped, separate galley for the crew guarantees delicious meals made from local produce. 
Lady Eugenie has just four comfortable cabins on board, all with, bathrooms and showers. 
Recherche Bay Sail Walk (One day) 
Minimum guests - 5 
Maximum guests - 10
| | |
| --- | --- |
| Price per person for departures (inc GST) | $375 per person |
Inclusions
Return transfers between Hobart and the start and finish of the sail/walk 
All meals and non-alcoholic beverages
Direct bookings only:
Gear List
Lightweight, lace-up walking boots with ankle support and treaded sole (preferred) or walking shoes with treaded sole (acceptable). Sandshoes, elastic-sided boots, street shoes and similar are not acceptable.
Rain Jacket
Clear soled shoes suitable for the yacht (Dunlop Volleys or similar)
Polar fleece jacket (preferred) or woollen jumper
Sun hat and sunscreen
Water bottle(s) 
Any personal medication, including anti-inflammatories and EpiPens
A small bottle of hand sanitiser to use whilst on track.
Optional

Camera (with spare batteries or charger - limited charging capacity available on

 

Lady Eugenie)
Waterproof overpants (November, December, January, February, March)
Walking poles
Swimming costume
Binoculars
Drawing or painting supplies
Notebook and pen/pencil
Swimming costume and travel towel or body chamois (body size for swimming; light and quick to dry)
Waterproof overpants 
Need help deciding? Talk to an expert
We're here to help 9am – 5pm Monday to Friday, otherwise, email us anytime and we'll be in touch.