Sail, Walk and Stay - An Indulgent Immersion
April 10-15, 2023 | $4,695
May 5-10, 2023 | $4,295
Experience an extended and unique voyage to Wineglass Bay on the Freycinet Peninsula. Sail between national parks. Walk stunning trails. Discover remote beaches and spectacular mountain-top views. Celebrate with Clover Hill's sparklings and superb three-course dinners in remarkable locations. And finally, stay within Freycinet National Park in Freycinet Lodge's beautiful Coastal Pavilions.
We will guide you on the best of Tasmania's coastal day walks and serve delicious meals, local wines and beer. Our skipper will navigate the Lady Eugenie, a beautiful 23-metre (75-ft) ketch to distant and calm bays. Each evening, celebrate with Clover Hill's sparkling wines; rosés, blanc de blancs, late-disgorged and vintage wines. 
At Freycinet National Park, we have a two-night Freycinet Lodge Coastal Pavilion package. We finish our trip with a journey by bus along the Great Eastern Drive back to Hobart.
For all enquiries and bookings please contact Tasmanian Walking Company on (03) 6392 2211 or email bookings@taswalkingco.com.au
Wineglass Bay Sail Walk
Wineglass Bay Sail Walk is a journey bringing together the very best of Tasmania's coastal day walks, gourmet food and wine and the surreal magic of sailing aboard the beautiful Lady Eugenie. Between island hopping, Lady Eugenie is your floating home for saloon dinners and alfresco breakfasts. 
Six-day Itinerary
We whisk you away from Hobart to Orford, where the Lady Eugenie awaits with 23-metres (75-feet) of onboard comfort and set sail across to Maria Island.  Summiting Bishop & Clerk delivers views out to the Freycinet Peninsula, your sailing path ahead. Our next stop is remote Schouten Island, which we explore before sharing a barefoot long table dinner (weather permitting). We complete our voyage with two days navigating the coast and trails of the Freycinet Peninsula. Your sailing voyage will be followed by two nights in a Freycinet Lodge Coastal Pavilion: see details below.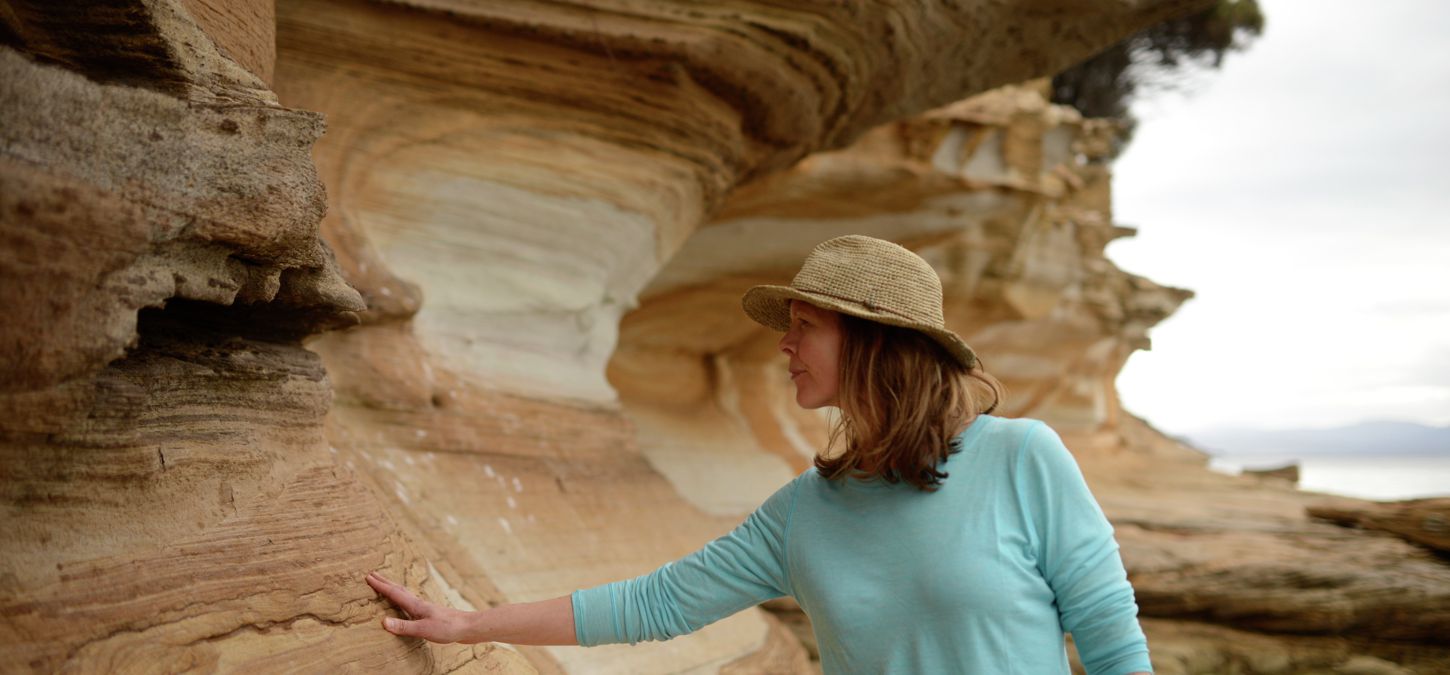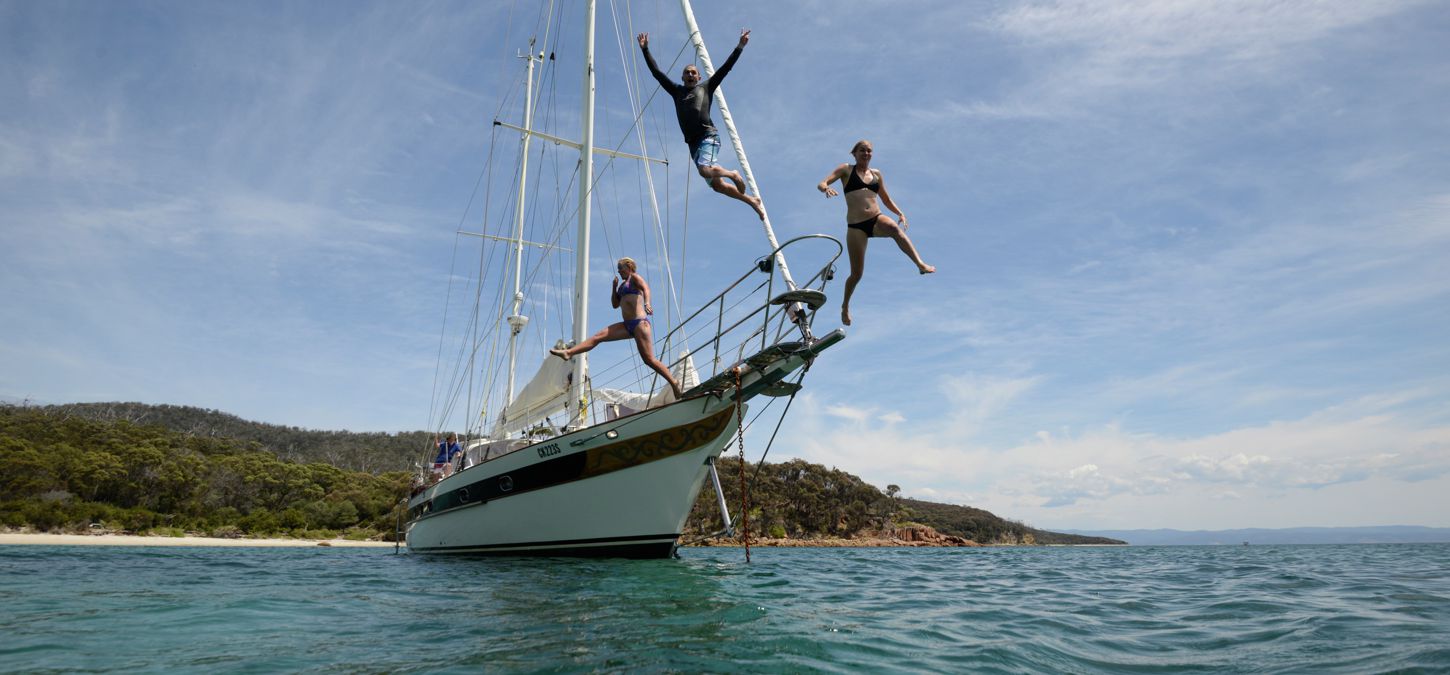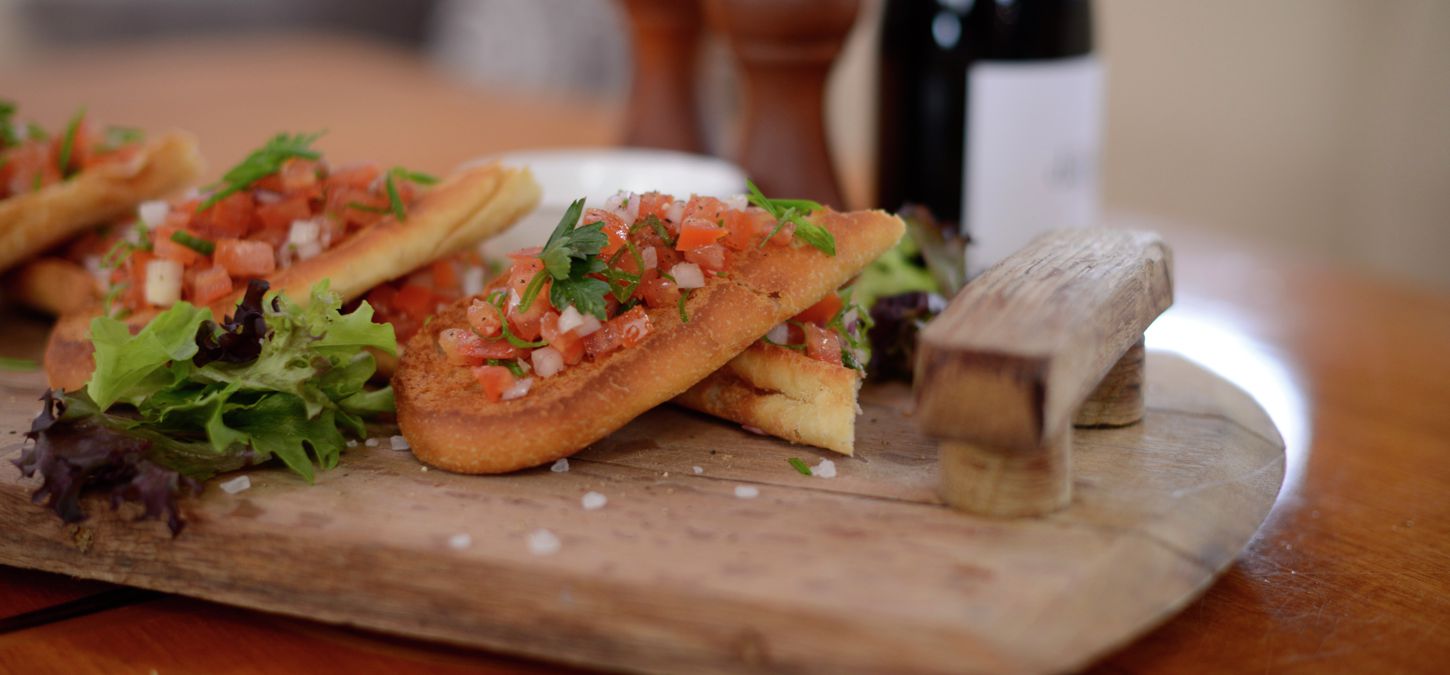 Freycinet Lodge Coastal Pavilions
An immersive accommodation experience within Freycinet National Park. Freycinet Lodge's Coastal Pavilion offers a superb blend of natural simplicity and ultimate comfort. Boasting a king bed configuration, outdoor bathtub, separate living area and expansive deck, the room itself is perfect for a romantic getaway to Tasmania's spectacular east coast. You'll enjoy an elegant, yet grounded experience in Freycinet Lodge's Coastal Pavilions, with an unrivalled setting among the coastal bush of Freycinet National Park. Please note that our Coastal Pavilions are nestled among the trees and we don't promise water views. 
Each of the pavilions face the coastline but offer unique views and orientations. Click here and here to take a 360° virtual tour of two pavilions.
Included treats:
Arrive and indulge. A Tasmanian cheese platter and a bottle of wine will be waiting in your room. You can settle in and continue your food and wine experience. Stay and soak in your surroundings. An Artemis Rose package featuring massage oil, room spray and a bath soak will help you massage out muscle soreness from your walks and make your outdoor bath on the deck, one you will never forget! Breakfast is included daily.
Optional extras:
You can do as little or as much as you like. Take a self-guided wine or whiskey flight in the Lodge Lounge. Walk along Richardson's Beach to the local village of Coles Bay for coffee, ice cream, or a serve of fish and chips. Email Freycinet Lodge to organise an e-bike and ride the extensive local trails to Bluestone Bay or Friendly Beaches. Or make a booking in advance for a blissful recovery with a 60 or 90-minute massage in your room.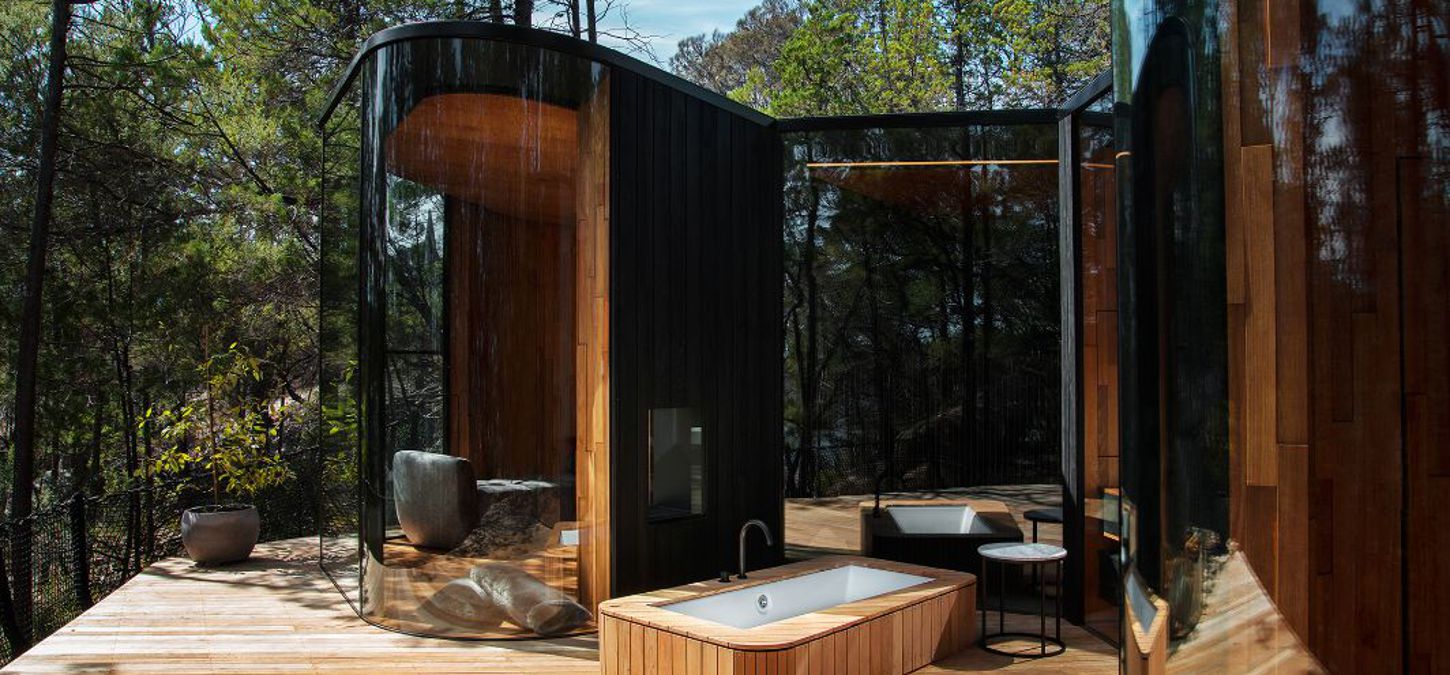 Clover Hill Sparkling Wines
Each evening on the Lady Eugenie, we'll pair Clover Hill's sparkling wines, as well as our traditional selection of local beers, white and red wines, with superb three-course dinners in remarkable locations.  
With the intention to produce a refined sparkling wine to rival that of great Champagne houses, Clover Hill was established in 1986 on the site of an old dairy farm in north-eastern Tasmania. Clover Hill is able to craft wines of pedigree due to its ideal location, the superior quality of its cool-climate fruit and the intimate attention to detail given by its dedicated winemakers. Clover Hill's commitment to excellence has been recognised with numerous awards which include being inducted into the Australian Sparkling Hall of Honour in 2017 and being twice awarded Tasmanian Vineyard of the Year. Clover Hill has now become synonymous with elegance and refinement, gaining a reputation for uncompromising quality.
Six-day Itinerary Details
Our April 25-30, 2022 and May 1-6, 2022 departures include our 4-day Classic Sail Walk Itinerary.
Our itinerary is flexible and changes according to wind and weather conditions. Walk duration and length depends on the capacity of the group.
Day 1: Hobart - Maria Island 
Approximately 4-5 hours walking (including Bishop & Clerk)
Day 2: Maria Island - Schouten Island
Approximately 3-4 walking (including Bear Hill)
Day 3: Schouten Island - Wineglass Bay
Up to 5-7 hours walking (via Cooks Beach and either Hazards Beach or Mt Graham)
Day 4: Wineglass Bay - Freycinet Lodge Coastal Pavilion
Approximately 3 hours walking
Day 5: Freycinet Lodge Coastal Pavilion
Relax, recover and indulge
Day 6: Freycinet Lodge Coastal Pavilion - Hobart
Rise to the surrounds and sounds of nature before checking out and returning to Hobart
Luggage and Transfers
We have made plans to make your walk and stay as comfortable as possible. They require you to have two separate sets of gear for the two different experiences. We will drive you from Hobart to The Lady Eugenie, to begin your voyage. We will drive you from Freycinet Lodge to Hobart, on the final day. Please prepare to have separate luggage for your Wineglass Bay Sail Walk and Freycinet Lodge stay.
Wineglass Bay Sail Walk Gear
The items listed here will be packed into a duffel bag which we provide and will be stowed on Lady Eugenie. You will only need to carry a day pack with your personal belongings, lunch and water for each day's walk. We will store other luggage at our office in Hobart. On the final day of your walk, you will walk to Freycinet Lodge with a day pack only. You can include your toiletries, phone and charger if desired. Your Lady Eugenie items will not come to Freycinet Lodge. They will return to Hobart and we will reunite you with these items when we collect you from Freycinet Lodge for the transfer to Hobart. These arrangements save you from having to carry a final pack on the final day of the walk.
Freycinet Lodge Luggage
We will bring your suitcases, bags and other luggage to Freycinet Lodge. They will be there when you check-in. Please include in this luggage, clothes and items you will need for your stay at Freycinet Lodge. 
When we pick you up, we will bring your duffel bags from The Lady Eugenie.
What time does the trip end?
Check out time is 10am. You can leave your bags in storage and enjoy the last hours of your holiday in Freycinet National Park. We will meet you at the Lodge at 1pm. Your trip will return to Hobart via the airport. We have an airport drop off at approximately 5pm followed by a drop off at your accommodation in the Hobart CBD between 5.15pm -5.30pm.
The Lady Eugenie
Our group will have exclusive use of Lady Eugenie - whilst travelling with us she becomes your home. We believe a sound night's sleep is fundamental in making a good walking holiday a great walking holiday. Your accommodation should be enjoyed not endured!
Lady Eugenie is a beautiful, 23-metre (75-ft) ketch rigged yacht. She is five metres wide, which makes her stable, safe and comfortable for both novices and sailing enthusiasts.
Her clipper bow, complete with a bowsprit you can walk on, is perfect for watching dolphins and other marine life. There's nothing more exhilarating than turning off her engine, relaxing and harnessing the power of the wind in her sails.
With beautifully maintained teak decks and classical, varnished hand rails, Lady Eugenie's spacious decks are the perfect setting for relaxing whilst taking in the stunning scenery of Tasmania's east coast. The central cockpit provides plenty of comfortable seating, with a picturesque alfresco dining setting: a magical place to take in the sunset.
During the evening, you can relax in the delightful and spacious saloon with dining table and comfortable lounge. Her professionally equipped, separate galley for the crew guarantees delicious meals made from local produce. 
Lady Eugenie has just four comfortable cabins on board, all with air conditioning, bathrooms and showers.  There are two rooms with one double bed each and two with two twin beds each. Room allocations are first-come-first-served; we will do our best to provide you with your preferred room type, but this will depend on existing reservations at your time of booking. 
Wineglass Bay Sail Walk + Freycinet Lodge Coastal Pavilions
April 10-15, 2023 | $4,695 | Six-day Itinerary: Four-day voyage + two night stay
May 5-10, 2023 | $4,295 | Six-day Itinerary: Four-day voyage + two night stay
Each trip requires a minimum of 6 guests. The maximum is 8 guests.
Also available by request for private groups.
Nov 10-15, 2022 | $4,695 | Six-day Itinerary: Four-day voyage + two night stay - Sold Out - Wait list available
Bookings
Phone: (03) 6392 2211.
Email:  bookings@taswalkingco.com.au.
or

 

complete the below enquiry form.
Your name and contact details will be given to Freycinet Lodge to commence your reservation process. Please contact Freycinet Lodge with any questions about your stay at the lodge.
Guests will provide their credit card details to Freycinet Lodge when checking in.
Special Interest Walks - Terms and Conditions 
These are in addition to our standard booking terms and conditions.
All prices are quoted per person in $AUD including GST.
A deposit of $500 per person and the Guest Information Form are due within five days of booking.
The final payment is due 90 days before departure. For reservations made three months or less from the departure date, full payment is due at the time of booking.
Cancellations

more than 90 days from the scheduled departure date, a fee of $350 per person will be charged with the balance payment refunded;
between 90 and 60 days prior to departure, you will be charged 50% of the full trip cost with the balance refunded; or
within 60 days of departure, no refund is available. Bookings are transferable.

Travel and pre and post-trip accommodation expenses are not included.

This walk cannot be booked in conjunction with any other offers and discounts.

Single supplement prices for single travellers are available upon request.
Please note the room arrangements at Freycinet Lodge include King beds only. Guests staying in a twin-share cabin on the Lady Eugenie will move to a king bed arrangement at Freycinet Lodge. A second room at Freycinet can be requested at the time of booking and if available will incur an extra cost.
After the minimum number of bookings has been achieved, the trip is guaranteed to depart.  If for any reason, the trip cannot go ahead due to restrictions placed upon travel due to Covid-19,  guests will be permitted to reschedule their walk to the new date provided for the departure or receive a full refund with no additional fee or rebook a different Walk within 24 months. Cancellations by guests for other reasons will incur our standard cancellation fees.
Inclusions
Return transfers between Hobart and the start of the Voyage and Freycinet Lodge and Hobart
Wineglass Bay Sail Walk
Accommodation each evening on our

beautiful

ketch, the Lady Eugenie; there are two cabins with one double bed each and two with two single beds each (1 x bunk each). 
All meals and non-alcoholic beverages, plus a limited selection of Tasmanian wines.
A carefully chosen offering of Clover Hill Sparklings, selected from Clover Hill's own cellar.
National Park passes.
Use of a daypack and rain jacket for the duration of the walk.
All bedding and linen.
+ Freycinet Lodge 
Two nights in a Freycinet Lodge Coastal Pavilion including breakfast and king bed.
A Tasmanian cheese platter and a bottle of wine per couple.

Artemis Rose room package.
Need help deciding? Talk to an expert
We're here to help 9am – 5pm Monday to Friday, otherwise, email us anytime and we'll be in touch.