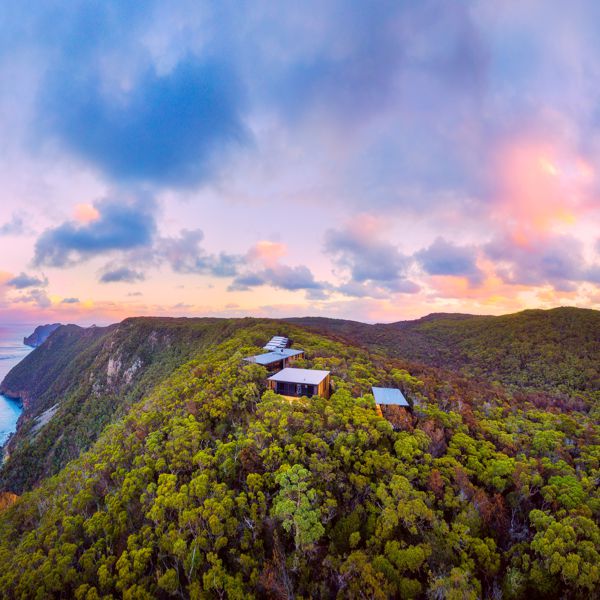 INTRODUCTION
Dates: To be confirmed: Early June 2020
The Tasmanian Walking Company is thrilled to announce a special winter walk and trail running experience. In collaboration with Find Your Feet and with special permission from Tas Parks and Wildlife Service, we have a rare opportunity to hike, run and stay on the celebrated Three Capes Track in The Tasman National Park. Be guided through heath and woodland eco-systems to stunning coastal cliffs. Spend three nights in our discrete and beautiful Crescent and Cape Pillar Lodges. Venture out with lightweight trail running vest packs with Hanny Allston and Graham Hammond of Find Your Feet to be wilder, play wilder and perform wilder. Your running guides will deliver a plethora of tips and tricks to help you with your trail running and share trails with others. Your naturalist guides will offer insights into this inspiring national park. At the end of each day, our recovery includes Tasmania's delicious local produce, wine and beer and the comfort and warmth of private lodges.
Highlights of Tasman Peninsula National Park & the Three Capes Track
The Tasman National Park protrudes prominently from Tasmania's south-eastern coastline. Here the Southern Ocean meets the towering sea cliffs of the Tasman Peninsula, where dolerite spires and 37,000 years of history unfold as you run along the superbly built Three Capes Track to Cape Pillar and Cape Hauy. The Park also includes Cape Raoul, another jagged protrusion to the south of Cape Pillar.
QUICK FACTS
Cost: $3,495 (non-commissionable)
Tour Duration: 3 nights & 4 days
Departs: Find Your Feet, 107 Elizabeth Street, Hobart @ 8am on Day 1
Returns: Find Your Feet, 107 Elizabeth Street, Hobart @ 6 pm on Day 4 (5:30 pm Airport drop-offs are possible upon request.)
Maximum Group Size: 12 guests
Guides and hosts: two Find Your Feet running guides and two experienced Tas Walking company naturalist guides. One lodge host.
Accommodation: Crescent & Cape Pillar Lodges -Tas Walking Company's private accommodation on the Three Capes Track
Meals: Meals are lovingly prepared, showcasing wholesome Tasmanian cuisine. All Tasmanian wines and beers are also included.
Transport: All on-ground transport ex. Hobart and boat transfers at Tasman Peninsula are provided
RUN DETAILS**
Maximum Run Duration: 18km/150min
Technical Difficulty: Beginner - Moderate (some trail experience required)
Steepness: Coastal to steeper mountain slopes
* Find Your Feet tours are a holiday involving trail running. Their guides will craft each days' runs to meet your individual needs and en route will frequently stop to soak up the ambience and to take plenty of photos. Therefore, running distances noted in this itinerary can vary to differentiate between guest abilities and make your Find Your Feet Tour a rich experience.
* Tas Walking Company walks are guided experiences that safely immerse guests into their natural surrounds. Our purpose is to experience a fresh, profound perspective of humanity, the environment and the possibilities they embody. We respect the time given to interpretation, conversation, and contemplation that leads to connecting with nature and our companions.
FIND YOUR FEET TRAIL RUNNING GUIDES
Hanny Allston and Graham Hammond
If you were to ask the Tasmanian trail running community, who would be the best coach, you'll most likely be given Hanny's name. If you were to ask for a guide, Graham's name would appear. They have both guided for Tas Walking Company before venturing off to start Find Your Feet. TWC is ecstatic to be working with them again.
Hanny Allston is a peak performance coach with an elite background in sport. She specialises in assisting trail runners to reach the pinnacle of their potential. Hanny is the founding director of Find Your Feet (est. '09), a published author, host of The Find Your Feet Podcast, and in 2019 was nominated for the Australian of the Year Awards. In 2006, Hanny was the first non-European to win a World Orienteering Championships and the only junior athlete to win the senior and junior titles in the same year. Further to this, she is a past winner of both the Melbourne & New Zealand Marathon Championships and podium finisher in the World Skyrunning Series. She is truly a creature of the wild and Hanny's feet are at their happiest in a pair of trail shoes… exploring. In July 2019 Hanny ran solo for over 700km across the French Pyrenees from the Atlantic to the Mediterranean Oceans… in just 19-days. Hanny's personal philosophy stems strongly from her rich life experiences: BE WILDER. PLAY WILDER. PERFORM WILDER
Graham Hammond is the co-director of Find Your Feet Australia, a trail running tour and outdoor retail company. Educated in science and education, a background as an elite trainer, examiner, coach and guide in telemark & Nordic skiing, and a Tasmanian hiking and international trail running guide for over twenty years, Graham brings a wealth of experience to his clients and customers. Graham's work with Find Your Feet Tours, has taken him to the corners of the globe. His motivation is to help individuals to explore wilder, connect deeper and to foster a strong appreciation for the natural world. Whilst he himself loves to explore further afield, often using trail running as his transport through landscapes, he proudly calls Tasmania home and finds his greatest mojo when he is playing wilder on a trail in the Tasmanian mountains.
ITINERARY
DAY ZERO:
On arrival into Hobart Airport, please make your way to your selected accommodation in Hobart and settle in. Whilst this accommodation IS NOT included in your tour, it is important for you to arrive this day so that we can meet at 8 am sharp on Day 1 at Find Your Feet. If you arrive before 5 pm, feel free to drop in and see us at 107 Elizabeth Street, Hobart. So, rest up and get ready for the trip to begin tomorrow! Please mention "Tasmanian Walking Company" for special offers at The Old Woolstore Apartment Hotel, The Henry Jones Art Hotel and MACq01.
Day 1: 'FIND YOUR FEET'
Meet at Find Your Feet @ 107 Elizabeth Street, Hobart at 8 am to be introduced to your guides and the group. We pick up from The Henry Jones Art Hotel at 7:30 am and Old Woolstore at 7:45.
Depart for the Tasman Peninsula National Park, stopping en route to soak up the views of the Peninsula from Eagle Hawk Neck. Whilst breakfast is not included on this day, a hearty morning tea will be provided to help fuel us on our upcoming run!
After another short drive we will begin a leisurely 14km trail run to the tip of Cape Raoul, the first of our three capes. On this run we will explore being wilder - learning to slow our minds down, to absorb the natural beauty around us and shed the hustle & bustle of life back home. We'll introduce our etiquette tips and techniques that enable us to share trails with walkers and celebrate being in National Parks together.
After the run we will drive to Port Arthur and a short exploration we will meet our private boat which will transfer us to the beginning of the Three Capes Track at 12:30 pm. We pause on the beach for lunch. From here we have a two-hour 6 km walk to our evening's accommodation at Crescent Lodge.
This evening we can watch the sunset from our private residence nestled into the forest then relax over an evening meal prepared by our lodge coordinators, embedding new friendships and today's learning with a glass of wine or beer on the deck.
Day 2: 'BE WILDER'
Watch the light change in Crescent Bay and upon Cape Raoul at sun rise then enjoy a fresh breakfast prepared by our hosts.
After breakfast we will host a run education session discussing tips and tricks for 'playing wilder' with our trail running, before embarking on the day's hike. We climb Artur's Peak and skirt the edge of Tornado Ridge walking where eagles fly, feeling the thermals rise off the Southern Ocean which draws our gaze towards Antarctica. After five hours and 11 km of walking, a massage, facial treatment or relaxation bath are on offer at Cape Pillar Lodge, our base for the next two nights. Reservations are recommended:
https://www.taswalkingco.com.au/three-capes-lodge-walk/relaxation-pavilion/
As the sun sets on another amazing day on the trails, dinner will be prepared by our hosts.
Day 3: 'PLAY WILDER'
Today our run will follow the Three Capes Track through silver gum forest to The Blade, the eastern-most trip of Cape Pillar where sweeping views of the Southern Ocean and Tasman Island will literally steal your heart. There's little wonder Cape Pillar has been afforded other names - Hurricane Heath and Desolation Gully.
After taking in the sights we will jog back to our evening accommodation at Cape Pillar Lodge, tucked out of sight from the trail and with views back to the ocean. The total distance of this run will be approximately 15km and will incorporate plenty of trail running coaching.
The afternoon offers a chance to unlace boots and shoes, read a book with the sea breeze on your toe, or enjoy one of our relaxing spa treatments ranging from 45 minutes to a splendid three hours and immerse yourself in the enchanting surrounds. Three-course goodness with ocean views will follow.
Day 4: 'PERFORM WILDER'
An optional dawn run back to Cape Pillar will be on offer for those who'd like to rise to meet the challenge.
 It is then time to farewell our stunning safe forest haven. Our hike takes us to Retakunna Creek (local indigenous dialect for creaking trees) en-route to a patch of rainforest. Breathe it in - lush mosses, ferns and vibrant greens. Next mission is the peninsula's highest peak, Mount Fortescue, climbing some 490 metres above sea level. This section, up and over Mt Fortescue, is serene country that we'll quietly enjoy, meandering through old coastal rainforest dripping with lichen. There are also spectacular views back to Cape Pillar! We'll leave our packs at the junction and run to the majesty of Cape Hauy and complete our third cape. From here we have a relatively gentle hike to the finish of the Three Capes Track at Fortescue Bay. The total distance of this day will be approximately 18km.
After a swim at Fortescue Bay we will be met by our vehicle transport for a transfer back to Hobart via the airport.  We finish in Hobart close to 6 pm with a glass of celebratory bubbles.
More information
FAQ's and more details about the accommodation and gear can be found at https://www.taswalkingco.com.au/three-capes-lodge-walk/
Accommodation: Three nights in Tas Walking Company's private lodges. Twin-share boutique eco-accommodation nestled into the surrounding native bushland on the Three Capes Track.
Meals: All meals on this tour will be provided by our two hosts at Crescent & Cape Pillar Lodges. We have selected the finest Tasmanian Cuisine and would like to showcase nutritious, wholesome meals, with a few treats such as local wines & cheeses thrown in for good measure!
COST: $3,495
DATE: (TO BE CONFIRMED): early June 2021.
TOUR INCLUSIONS: 3 nights on the Three Capes Track in Private Lodges; all meals including Tasmanian wines & produce; all on-ground transport; ferry transfer; expert coaching & guiding; National Park entries; discounts to premium brands at Find Your Feet.
TOUR EXCLUSIONS: Airfares; travel insurance; Day Zero's accommodation in Hobart.
PLEASE NOTE: this trip is limited to two departures per year and is strictly limited to 12 guests. It will fill quickly.
RESERVATIONS: individual reservations will first be taken by Find Your Feet. This is due to the need to assess capability. Follow up reservations and all payments will be taken by The Tasmanian Walking Company.