Ange Boxall Live Music Walk
April 27-29, 2024 | $2,695 per person
This three-day all-inclusive Tasman Long Weekend Walk includes a performance at the stunning Tasman Camp. Concert night begins with gin cocktails from Tasmania's Splendid Gin. Then it's a very special, intimate acoustic performance by Tasmanian Ange Boxall celebrating women of folk music. 
"Our very fave acoustic singer by a country mile!" — MONA, Museum of Old and New Art (TAS).
Ange Boxall embodies the spirit of the modern Americana star — with a 1970s singer-songwriter heart. Her very own style of country-folk-pop is commercial, crystal clear, and wickedly catchy. 
The Splendid Gin is a premium Tasmanian gin featuring purity and obscurity in equal measure. It is made by Ange, her partner Mike and a few friends on the east coast of Tasmania with the purest of Tasmanian spring water.
For all enquiries and bookings please contact Tasmanian Walking Company on (03) 6392 2211 or email bookings@taswalkingco.com.au.
Photo Credit: Chris Crerar Photography.
The Performance by Ange Boxall
Imagine arriving at the stunning Tasman Camp feeling like you are now a part of this wild and remote paradise. You have walked and become accustomed to the expansive oceans and towering sea cliffs. Cape Pillar and Tasman Island loom in the distance. There is a dusting of fine salt on sunned skin and wind-swept hair. Excitement and anticipation are building. Everyone has a couple of Splendid Gin cocktails and the festive air is crackling. There is a buzz of conversation throughout the long-table dinner. Tasman Camp could have the only people left on earth. Dinner ends, the furniture is re-arranged and guests gather.
Ange begins singing and playing with an ocean sunset as the backdrop.
Ange Boxall will perform songs inspired by nature, in the heart of nature for a maximum of 12 people. Ange's pop-folk style and pristine voice will resonate with music from Joni Mitchell, Fleetwood Mac, Dolly Parton and Carole King as well as her own songs.
Introducing Ange Boxall
"She's kind of 1 part English Rose, 1 part Tasmanian Devil and 1 part gin-soaked Southern Belle" — Lachlan Bryan (AUS)
​Performing Country/Pop  Songwriter, Ange Boxall, hails from the serene but wild beaches of eastern Tasmania. It's here that Ange resides in a big old country house built in the early 1800s and where she also co-owns Tasmanian gin company, The Splendid Gin.  Ange is the Founder and Creative Director of ECHO Festival — East Coast Harvest Odyssey. Life is good ... it's full of music, art, nature and fun.
​Signing to Checked Label Services/Sony Music Australia in late 2016, the physical release of Ange's album Into The Wind debuted at #11 on the Official ARIA Australian Albums Chart across all genres, as well as #27 on the albums chart for releases from all over the world!
​Youtube Videos | Music video 1 | Music video 2
Ange Boxall website | Echo Festival | Splendid Gin | Riversdale Mill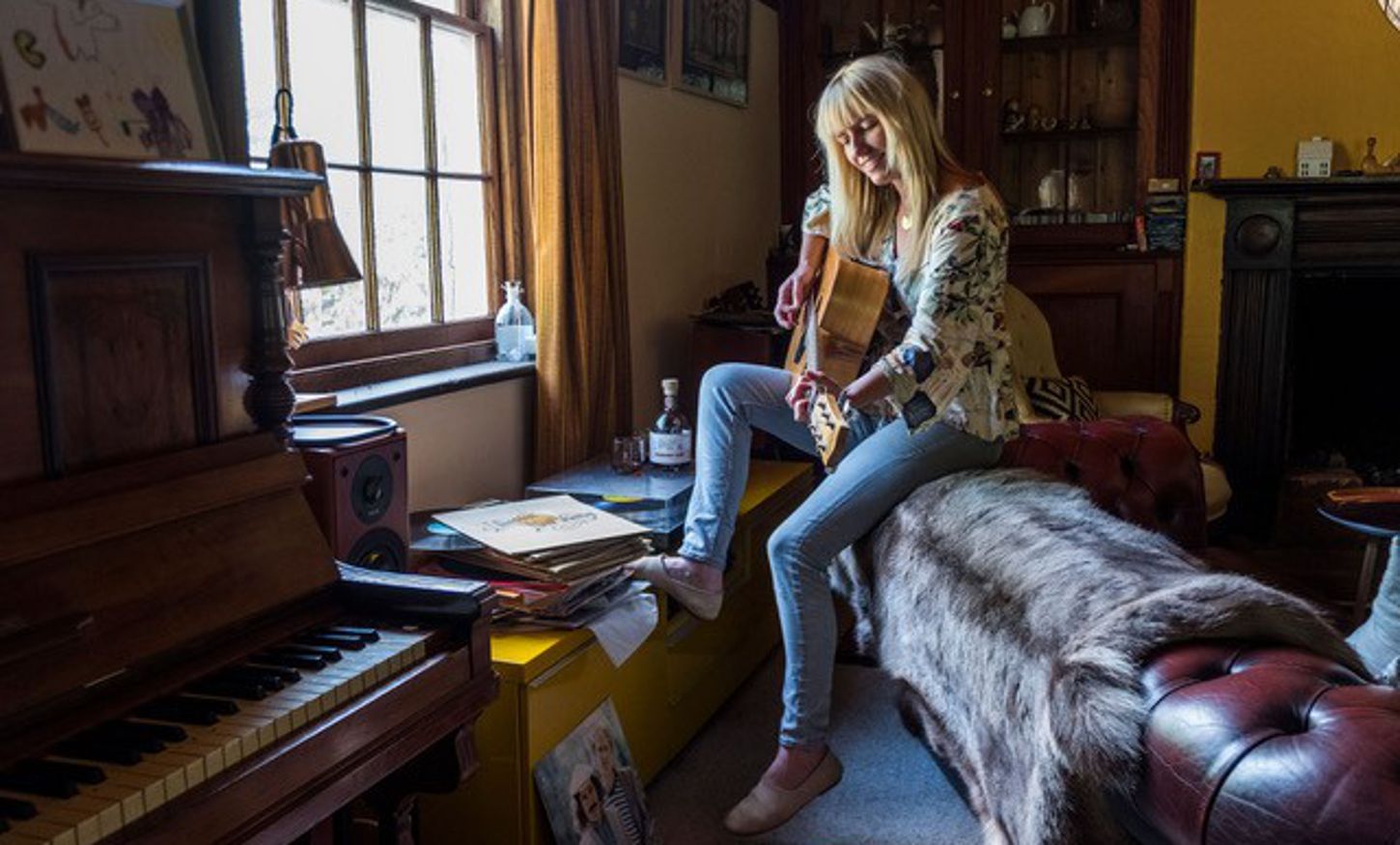 Introducing The Splendid Gin Company
Begin concert night at the lodge with a few cocktails featuring Splendid Gin. It's made by Ange!
The Splendid Gin was born when two couples met on the east coast of Tasmania, both living in historical properties once inhabited by the famous English writer, Louisa Ann Meredith, there was a feeling this was more than coincidence. Their aim is to produce exceptional gins of the highest quality and delightful flavours. Tasmania is their home and they want to showcase that beauty, in a bottle.
Presenting exceptional drinking as a stand alone sip for the connoisseur, or a splendid mixer with your favourite tonic and citrus, the Splendid Gin conjures a romantic past with a twist of contemporary decadence. It is a uniquely Tasmanian gin with a nod to its English heritage, we are delighted to share something quite special indeed.
It's simply Splendid. 
Tasman Long Weekend Walk (3 days)
Join us for three unforgettable days on the Tasman Peninsula
Come spend the long weekend with us. You'll begin in downtown Hobart, whisked from the city on our private vessel Wild Thing, to the peninsula wilds. In the days to follow, you'll walk out to Cape Raoul and explore hidden pockets of wilderness on the trails of the Tasman Peninsula. Your only task is to sit back with a Tasmanian wine and enjoy the views from our new off-the-grid beach camp. Each evening, our knowledgeable guides transition to lodge hosts, preparing chef-designed meals brimming with local ingredients. Wake to views stretching out to Tasman Island from your door and by day we'll guide you along Tasman's epic coastline. The flora, unexpected native animal meetings and long table dinners with new and old friends set this long weekend apart. We top it off with a wine tasting and lunch at an award-winning vineyard on the way home. 
Day 1: Hobart to Tasman Camp
Approximately 3-4 hours walking
A few minutes into the journey we'll arrive at Brooke Street Pier. Here we have two options, If weather permits, we'll board our private boat, Wild Thing. The 90-minute cruise down to Nubeena is packed with spectacular coastal sites and some cracking stories to share en route. For those who are yet to find their sea legs, or in the case of bad weather, we also have the option of travelling to Nubeena by bus. From Nubeena, we will all meet back up and head to the Remarkable Caves trailhead by bus. There's no need to carry anything other than a lightweight day pack for this 3-4 hour walk. Larger packs can stay behind.
As its name suggest, this is a truly remarkable place, with ancient sandstone tunnel carved by the sea. Walking through sand dunes covered in coastal heath, we continue onto Mt Brown where the climb is well worth every step. On a clear day, sweeping views take in Cape Raoul, Cape Pillar and Tasman Island. From here we walk down to Crescent Bay before joining up with our private track and continuing through to Tasman Camp.

Back at camp, enjoy a hot rainwater shower followed by relaxing deck time with a Tasmanian wine or cool drink while the guides get busy preparing your meal. Then settle into our dining room for delicious fare and to celebrate the shared journey of day one. On a clear night, don't forget to look up. The stars here are glorious. Then, rest your head in our comfy private tents.
Day 2: Cape Raoul
Approximately 5-6 hours walking
Wake to the blissful silence of the Tasmanian wilderness and the aroma of freshly brewed coffee. We enjoy a relaxed morning before lacing our boots for the 5-6 hour Cape Raoul return walk.

We'll be transported to the trail head with lunch in our daypacks to begin the walk. The walk begins with a gentle climb through eucalypt forest. Then gradually, with each step the grand Tasman Sea begins to reveal itself. It feels like the edge of the world! We'll then descend down to Cape Raoul lookout. Listen carefully and you might hear the seals way down below.
On a clear day, we'll settle in for lunch here but if the weather isn't so kind, we have tranquil locations along the track that are sheltered. The return walk is equally special with its varied perspective. There are plenty of chances for photo stops along the way.

A short transfer will return us to camp, where you can enjoy a couple of restful hours taking in the views or pulling out a good book to read in the fresh Tasmanian air. After time on your private deck, we'll gather for another hearty dinner in the dining room to share tall Cape Raoul stories.
Concert night.
Day 3: Tasman Arch - Waterfall Bluff
Approximately 3 hours walking
Wake to another hot breakfast prepared by your guides - fuelling for your final day on the Tasman Peninsula.
We start today's walk at Tasman Arch, gently climbing around coastal tracks with sedimentary rock formations and stunning views out to the ocean. After 2.3kms, we get to the Waterfall Bay, where we see a waterfall cascading over the seacliffs into the ocean. Here the group has to option to turn around or continue to Waterfall Bluff (an additional 4kms).
By 1pm, we'll be back on the bus heading to a well-known vineyard for our all-inclusive celebratory lunch and wine tasting.
After this, it's an easy drive back to the city for hotel transfers. We can drop guests at the airport between 5:00pm - 5.30pm and then we'll arrive into Hobart at approximately 6:15pm.
Then again, you may enjoy the Tasman Long Weekend so much you don't hop on the bus back to Hobart! There is plenty more to discover from cosy oceanside stays to whiskies, lavender, uncrowded beaches and more.
Exclusive Accommodation
Our groups have exclusive use of our new Tasman Camp, that boasts all of the creature comforts on private coastal land. Sitting between Crescent Bay and Safety Cove, the prime location offers unique views of Tasman Island, stunning seacliffs and Mount Brown.
Tasman Camp
Tasman Camp is secluded accommodation on private coastal land. Our camp represents the perfect place to retreat. Although the camp has been built completely off the grid, we are not without our creature comforts including hot showers, which is well appreciated after a long day of walking. With most of our days spent in wild, powerful, coastal places, our camp is a sanctuary we can return to at the end of day one and two, gathering in the dining room and sharing food and stories from the day.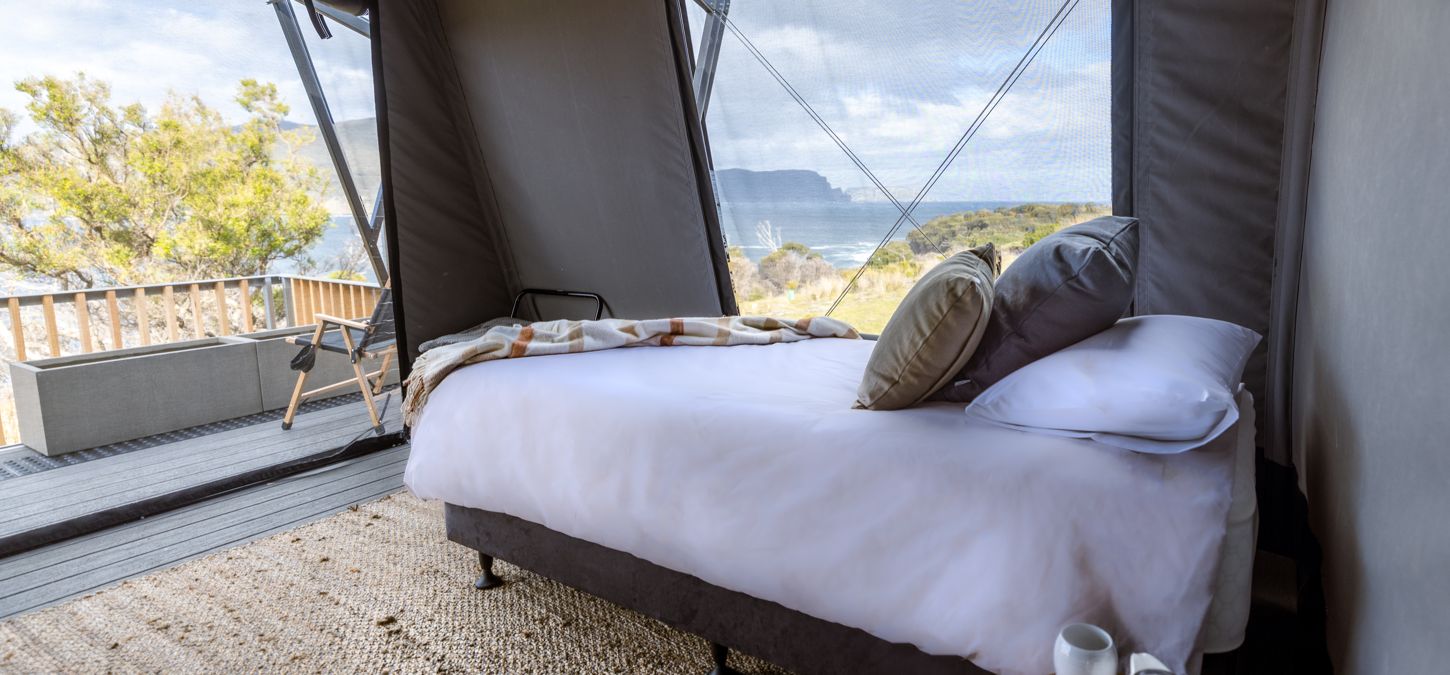 Tasman Long Weekend Walk with Ange Boxall
April 27-29, 2024 | $2,695 per person
3-Day Guided Walk 
Each trip requires a minimum of 10 guests (Twin Share), three months prior to departure. The maximum is 12.
Bookings
Special Interest Walks — Terms and Conditions 
Single supplements are available on this walk. Cost $2,125

.
Our standard booking terms and conditions apply to all bookings. In addition:
Cancellations

more than 90 days from the scheduled departure date, a fee of $350 per person will be charged with the balance payment refunded;
within 90 days of departure, no refund is available. Bookings are transferable to another name.
Minimum numbers are required four months before departure.
This walk cannot be booked in conjunction with any other offers and discounts.
After the minimum number of bookings has been achieved, the departure will be confirmed.  Due to the high fixed costs on these trips, guests on our 'Limited Edition Walks' who postpone due to COVID-19 as per our Peace of Mind Booking Guarantee, will incur an amendment fee of $500 to reschedule to another departure date. All cancellations by guests will incur cancellation fees according to our standard terms and conditions. Bookings are transferrable to another name.
Price Includes
Return transfers from Hobart
Accommodation
All meals, non-alcoholic beverages and a selection of Tasmanian beer and wines
National Park Pass
Boat transfer from Hobart to Nubeena
Use of a backpack and weather-proof jacket for the duration of the walk
Linen and comfortable beds
Two qualified guides for the duration of the walk
Need help deciding? Talk to an expert
We're here to help 9am – 5pm Monday to Saturday, otherwise, email us anytime and we'll be in touch.