Wild Wellness
With Alice Hansen and Leah Scott
July 2-5, 2021 | Price $3,695 pp | Available for groups anytime by request 
Spend four life-shifting days on the Three Capes Track deep diving into nature, writing, walking and Wim Hof plunging.
We've hand-picked Wim Hof's best known Australian instructor, Snowy Mountains-based Leah Scott, to guide us through the power of breathwork and cold-water submersion. Prepare for long table dinners, journal writing with author Alice Hansen, fireside chats and connecting to nature. This winter, join Leah and Alice for a wild trek along the Southern Hemisphere's highest sea cliffs, to the world's edge.
 Our Peace of Mind booking assurance applies to this departure. Direct bookings only.  For all enquiries and bookings please contact Tasmanian Walking Company on (03) 6392 2211 or email bookings@taswalkingco.com.au
Is Wild Wellness for me?
What is the Wild Wellness Method?
This blueprint for wellness is an Australian first; taking years of science-backed knowledge and condensing it into days. It's a simple, wholesome wellness script. There is no better place on the planet to experience Wild Wellness than Tasmania.
Australia's Productivity Commission Report estimates mental illness is costing Australia $220 billion a year. Our burdened health system cannot cope. We believe there's another way ... a wilder way. No matter what your wellness goals might be, this method is about returning to you; listening in.
The method is based on three core pillars: connection, care and commitment. Think invigorating cold dips, silent walking beneath towering rainforest, nourishing Tassie fare and fireside journal writing. You'll discover a blueprint to lasting wellness featuring insights from Director of East Sydney Doctors, Dr. Chris Davis. We take the best of the traditional model and bring it into nature's office.
Is Wild Wellness for you?
Feeling the overwhelm of life's stress and hectic pace? Not living congruently with your true self, but too busy to notice? Lost touch with your identity and who you present to the world? Wild Wellness is about hopping off life's highway, examining limiting beliefs and tapping into what matters. Plus, we'll have fun in the process. This isn't a four-day fix but a lasting recalibration because we know life is waiting after. We're about tooling up for lifelong wellness.
Reclaim control and author your own life.
This retreat is for you if you feel:
your wellness is secondary to your to-do-list
life is happening to you at hurtling pace
limiting beliefs interrupt your flow
What is the Wim Hof Method?
It's a combination of breathing, cold therapy and commitment, offering a range of benefits. The power of the Wim Hof Method can help unlock a range of well-researched and documented health benefits including:
Rebalancing your immune system
Reducing inflammation
Improving focus, mood and cognitive function
Improving cardiovascular health
Balancing the body's stress response
Alice Hansen 
Alice is a professional travel writer and author. As the founder of the Wild Wellness Method, she has cultivated relationships spanning 20+ years with experts across the wellness field. On her quest to seek answers for her own struggles, she has connected with medical experts, international thought leaders and tapped into decades of experience to formulate a proven blueprint. Writing is a key element and she'll guide you through a journaling process tailored to your wellness journey.
When she's not at the laptop, you'll find her on wild Tasmanian trails.
Leah Scott Wild Things Cold Exposure
Leah Scott 
Leah is a certified Level 2 Wim Hof Method Instructor, breathwork specialist, extreme cold tolerance practitioner, mountain guide, motivational speaker and mother of two.
Having conquered her own battle of anxiety, stress, depression and sleeping problems, her mission is to help people improve their health and wellbeing by reconnecting them to nature, empowering them to do more than they think they can and offering tools to create peace, love and freedom within the mind. Her philosophy on cold exposure training is that it's best experienced in nature.
https://www.leahscott.net/about
We were all 'wild things' once upon a time. As humans we're born with powerful, innate abilities to survive and thrive in our environment. This enabled us to live, learn and love side-by-side with nature. However, over time, through our lifestyle and life choices, we've lost touch with these abilities. We've insulated ourselves. From nature. From those around us. From our inner wild selves.
Leah's mission is to change that.
The name Wild Things Anatomy combines two of Leah's passions; spending time in nature and understanding the science behind how reconnecting to nature can improve our health.
For Leah, the combination of breath, ice (cold exposure training) and nature, are the gateway to greater self-awareness, improved physical health and a more resilient mind. It's these three elements that form the foundation of her approach to teaching.
Workshop elements: Journalling and contemplative walking
The power of hitting pen to paper. It's not new. Leonardo da Vinci's journals spanned some 5,000 pages. But the therapeutic wonders of reflective writing didn't emerge until the 1960s, when a New York psychologist devised what he coined the Intensive Journal Method. On this walk, we won't pen thousands of pages but we will invite self-discovery through the written word. Our Wild Wellness Journaling will cross the three foundational pillars of this method.
We combine journal writing with contemplative walking. In a noisy world it's rare to hear nature's silence. But in this Tasmanian stillness, it's possible to reconnect with you. Nature has a way of casting its healing spell. In Japan, it's known as forest bathing (shinrin-yoku), and literally translates to bathing in the forest atmosphere. It doesn't require anything of you but to tap into the senses and soak it in - the crunch of leaves underfoot, the sound of Southern Ocean waves, the eucalypt scents …
This is your walk, your words and your Tasmanian journey.
Workshop elements: Breath 
Our systems can be influenced, trained, strengthened and understood thanks to conscious breathing. We cultivate peace, presence and awareness with a daily breath practice. Breathwork is a powerful way to become acquainted with your Nervous System, your internal workings and to take control.
Lastly, our breath is a gateway to an altered state of consciousness that can enable you to release emotion and trauma from the nervous system, connect to the higher self, open the third eye and release DMT (N-dimethyltryptamine), which can lead to lasting emotional and spiritual healing.
Workshop elements: Nature
As humans we seem to know instinctively that spending time in nature is a good thing. Which makes sense, given that, nature, our environment, is what led to us evolving and adapting as a species. The aim with nature therapy is to just reconnect with the Earth. This can be done in a variety of ways including walking (barefoot is optional!), swimming in a river or ocean, hiking in the bush or even getting a little muddy!
Studies have shown that these activities can have important benefits for our health including the prevention and treatment of chronic inflammatory and autoimmune diseases, improving sleep, increases heart rate variability and even helping to positively change the composition of our microbiome - the genetic material that lives on and inside the human body.
Being in Mother Nature brings an element of play to any activity and studies have shown that being in nature's presence in this way, greatly enhances our mental health.
Workshop elements: Cold
Thanks to scientific research we understand that cold exposure has a tremendous benefit on reducing inflammation in our body including muscle recovery, healing sore joints, helping RSI and arthritis and improving athletic performance.
Another benefit we hear less about is the incredible amount of focus, concentration, clarity and presence it offers us in our daily life. Exposure to cold stimulates a short term, hormetic stress, which creates beneficial adaptations that creates resilience to long term chronic stress also a stronger, more flexible and resilient nervous system, leading to greater control and understanding of our mind.
Cold exposure should be practiced gradually. You can start by simply turning your shower to cold for 15 seconds at the end. Other methods of cold exposure that Leah trains people in include freshwater rivers & lakes, ice baths, chest freezers and hiking snow covered mountains in shorts.
Workshop inclusions
Using the tools of breathwork and cold exposure, and in the company of other beautiful like-minded souls, you'll go deep into nature and deep within yourself. No matter if you're new to breathwork and cold exposure, or an advanced practitioner, you'll come away with in-depth, practical knowledge. During these events you'll be challenged physically & mentally, but with expert guidance & support, you'll come away having experienced the power that lies within!
LEAH'S WORKSHOPS:
Day 1: Stewarts Bay/Denmans Cove (swim + intro session to Wim Hof?)
Day 2: Cold plunge (breathwork + plunge)
Day 3: Cold plunge (breathwork + plunge)
Day 4: Fortescue Bay (breathwork + plunge)
ALICE'S WORKSHOPS:
Evening 1: Tonight, we meet our hand-crafted Tasmanian journals. Around the fire or tucked up in the lodge looking across the vast Southern Ocean we begin our writing. Alice introduces you to Wild Wellness and it's three pillars; connection, care and commitment. Of the 'three C's' this evening the sun sets as we contemplate connection.
Evening 2: It's journal time. Tonight, we explore care, namely self/soul care and care for others. Do you care for you as you would a dear friend? We ask questions and we let answers flow.
Evening 3: Our final night is about commitment. Wellness doesn't just happen in four days. It's not about escaping life - your retreat is lifelong with Wild Wellness. We make our commitments in writing and ensure we have plenty of fun, nature, walking and joy weaved in.
Day 1: Hobart - Crescent Lodge
Approximately 2 hours walking
Upon arrival at Stewarts Bay, we will make our way down to the jetty where a private boat will be waiting to depart for our short trip across to Denman's Cove at 1.15 pm. Cruising with views back to Port Arthur, aside from the possible seal and dolphin spotting, some of the highest dolerite cliffs in the Southern Hemisphere come into view, an indication of the drama to come.
In Denman's Cove, we'll fuel you with local produce for lunch, in preparation for a gentle walk through coastal woodland to the rocky refuge of Surveyors Cove. At this point, if the Southern Ocean begs, head for a dip before a gradual incline up to the lodge.
Crescent Lodge is perched high, with far stretching views across Crescent Bay to Cape Raoul, with guest rooms spilling into the gully. Settle in with a warm shower as your guides-come-chefs prepare a three-course feast of local fare. Post dinner, take your Tassie pinot to a quiet deck for your own private sunset.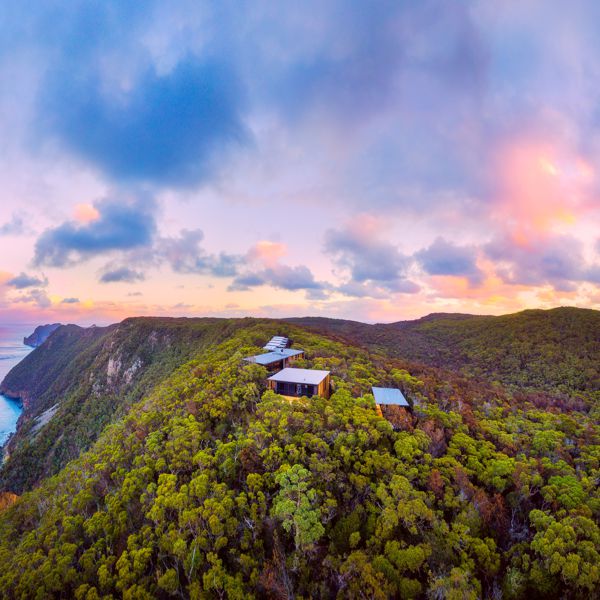 Day 2: Crescent Lodge - Cape Pillar Lodge
Approximately 5 hours walking
Wake to the silence of Crescent Lodge and wander down to the stunning dining room for a hearty breakfast to start the day. From here, head due south with views across Safety Cove and Maingon Bay to Bruny Island. Climbing Arthurs Peak, 300 metres above sea level, is worth the oceanic vista. In these parts, White Bellied Sea Eagles soar in the thermal currents, so be sure to look skyward. Lunch isn't far away, an easy downhill descent to south-facing cliffs where pelagic seabirds are plenty - albatross, petrels and gannets. Here, there's nothing between you and Antarctica.
Following lunch, skirt the edge of Tornado Ridge before heading south toward Cape Pillar Lodge, your base for the next two nights. Your pace might quicken in the knowledge there is a massage, facial or relaxation bath on offer at Cape Pillar Lodge.
Day 3: Cape Pillar Lodge return
Approximately 6 hours walking (optional)
This is the most adventurous day of your journey. Today you'll walk through silver gum forest (Eucalyptus Tenuiramis), a species endemic to the area, out to the highest sea cliffs in the Southern Hemisphere. There's little wonder Cape Pillar has been afforded other names - Hurricane Heath and Desolation Gully. A side trip to The Blade is a must, with staggering views across to Tasman Island.
Lunch is served at Chasm Lookout - with Tasman Island's weathered lighthouse in sight. It's then a direct return journey home to Cape Pillar Lodge where the relaxation pavilion, three-course goodness and ocean views await. By now, walking strangers might just have become firm friends. Unlace the boots, read a book with sea breeze in your toes.
Those with a penchant for pampering can forego today's walk and spend the day at Cape Pillar Lodge. Enjoy one of our relaxing treatments ranging from 30 to 60 minutes and immerse yourself in the enchanting surrounds.
Day 4: Cape Pillar Lodge - Fortescue Bay
Approximately 6 hours walking (Cape Hauy side trip optional)
Time to farewell Cape Pillar's safe forest haven. From here you'll cross Retakunna Creek (local indigenous dialect for creaking trees) en route to a patch of rainforest. Breathe it in - lush mosses, ferns and vibrant greens. Next mission is the peninsula's highest peak, Mount Fortescue, climbing some 490 metres above sea level. Enjoy lunch with leafy-framed ocean views overlooking The Monument.
Take the side trip and enjoy the majesty of Cape Hauy - or simply remain with the group for a final cliff-walk descent onto the cool white sands of Fortescue Bay. This is your chance to drop the pack and sink your toes in pristine sands or perhaps take a celebratory dive into the crystal clear waves. We will then travel back to Hobart via the airport. We will finish in Hobart with a glass of celebratory bubbles.
Our Private Lodges
Each evening, settle into the only private accommodation within the Tasman National Park. Our lodges offer true shelter - a place of protection and refuge. They are simple yet sustainable. Comfortable and inviting.
Walkers have exclusive use of our two lodges along the Three Capes Track. Both are discreetly positioned along the trail, their design responding to contours of the land. Hot showers, generous lounge areas and plush pillows await.
YOUR EXPERIENCE
The final steps of each day's walk lead to your lodge accommodation where afternoon tea is served. Free time allows you to explore the lodge, settling on a suitable perch for a glass of Tasmanian wine while your guides prepare the evening meal. As night falls, outdoor decking entices for star gazing on clear southern nights.
Large sliding doors in the living and communal spaces invite the outdoors in, encouraging connection with your surrounds. Each lodge features a dining and kitchen area, expansive views and sleeping quarters with crisp linen. On your final two nights, a generous bath tub brims with restorative goodness.
OUR ENVIRONMENTAL COMMITMENT
We consider it a great privilege to provide the only private lodging along this trail, and have taken every environmental consideration during the design and build process. Our lodges rest lightly within the natural environment. Sustainability features include water minimisation features and the latest solar power technology. Bird-friendly Archimedes wind turbines bolster our renewable energy resources.
We've also worked closely with the topography of the land - each lodge aligning to contours of the existing landscape. This not only has minimised impact on the surrounding vegetation, but allows our accommodation to blend into nature's setting.
We trust you'll enjoy your days and restful nights with us.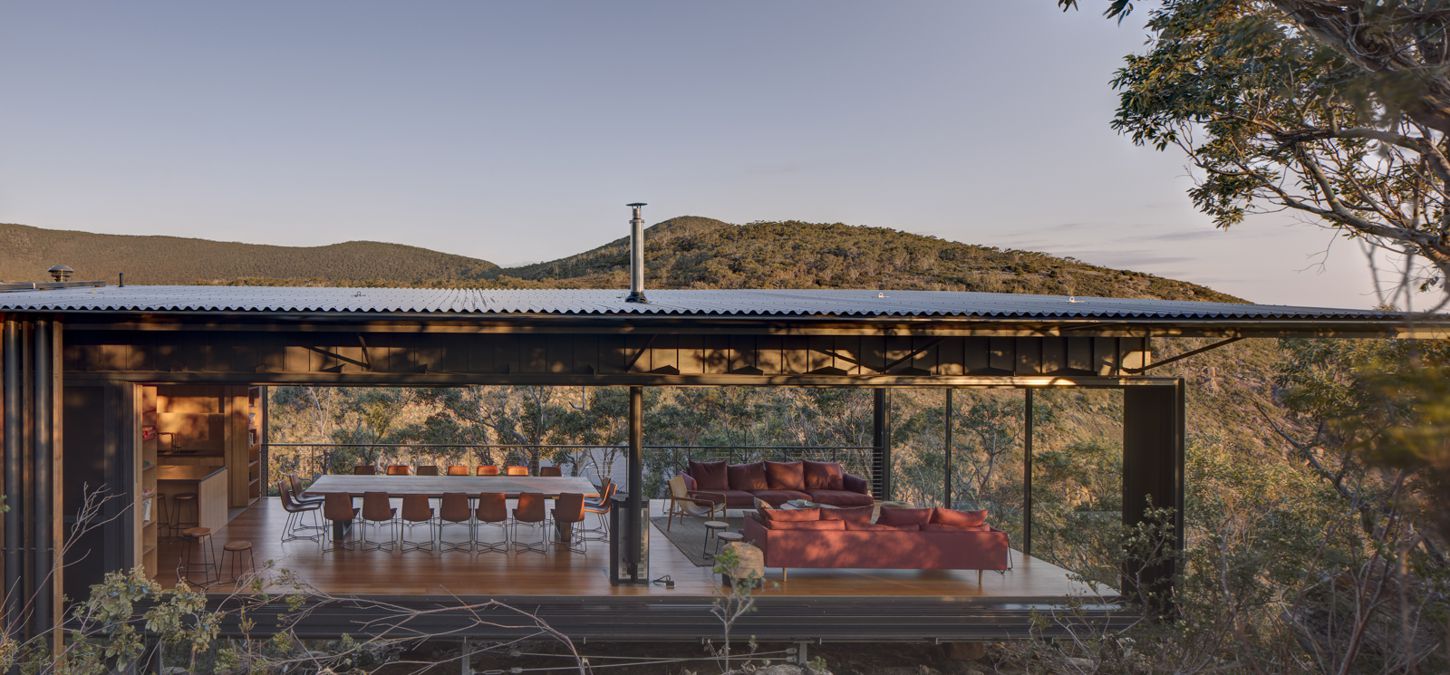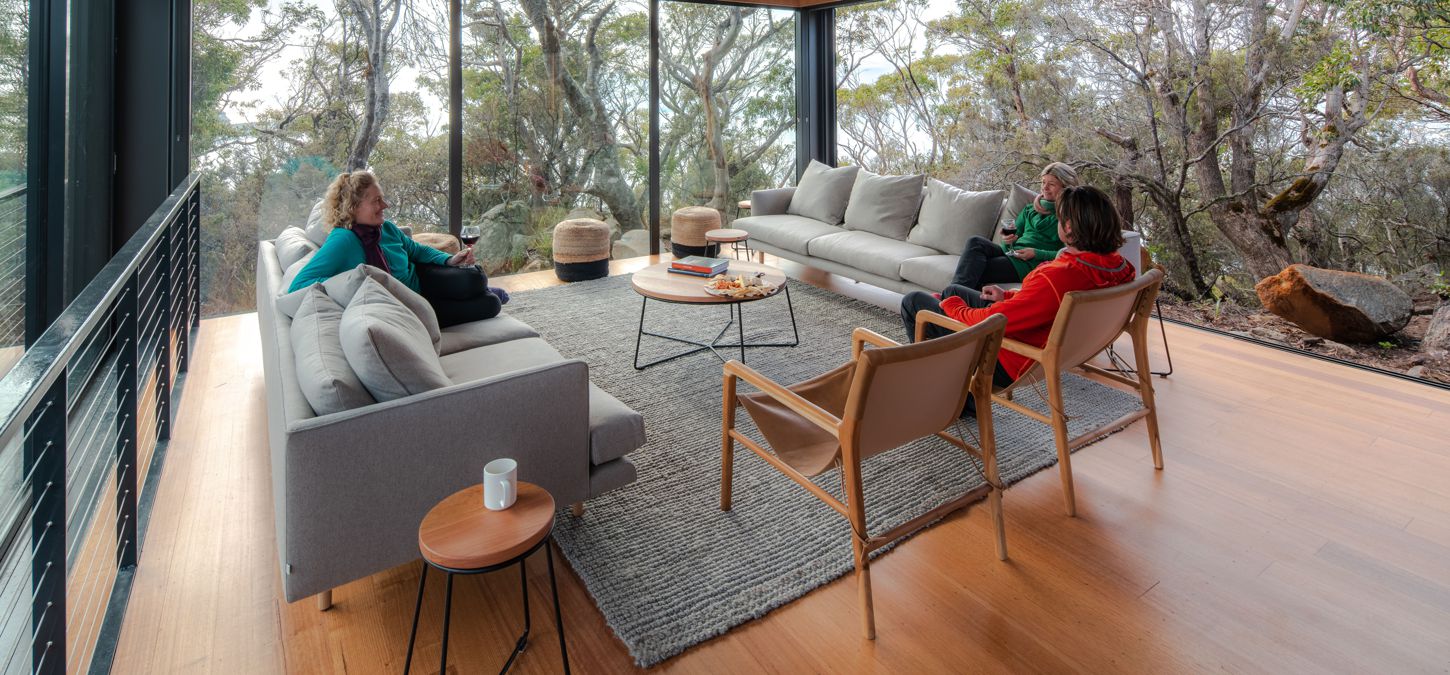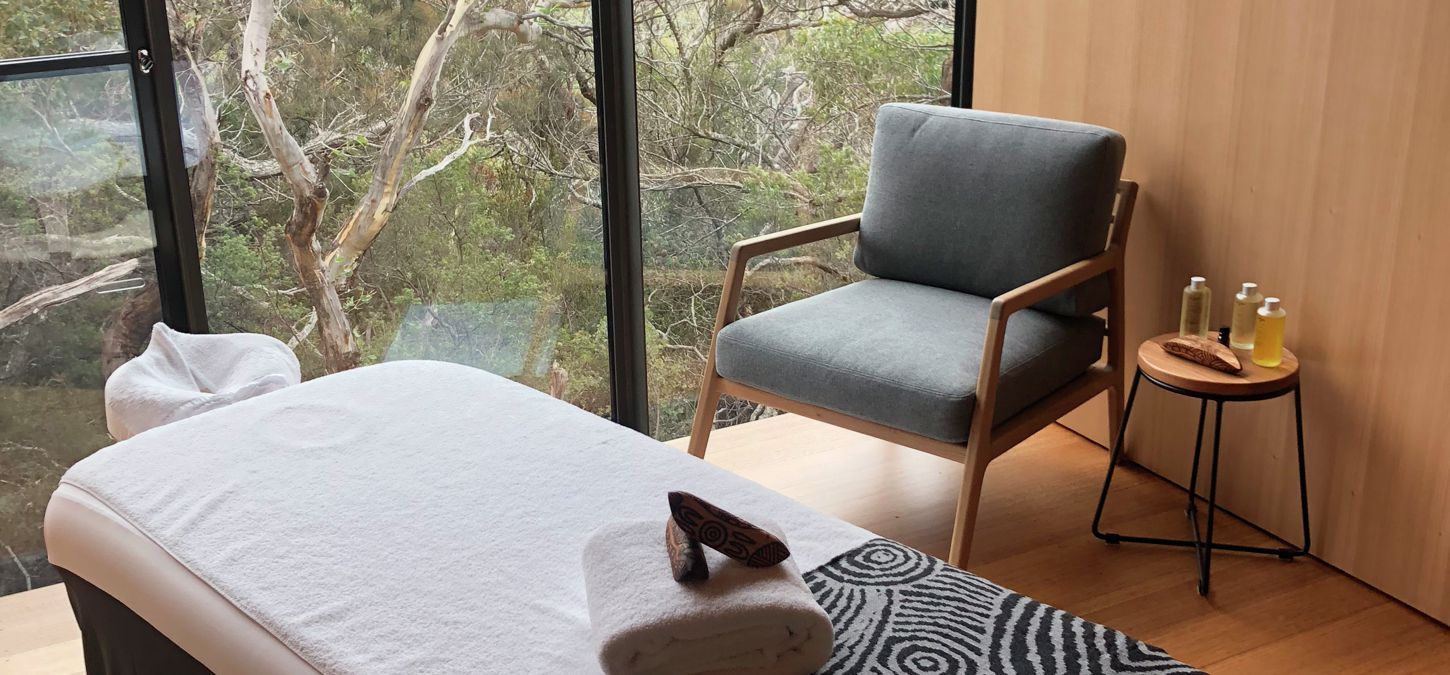 Three Capes Lodge 'Wild Wellness' Walk with Alice Hansen and Leah Scott
July 2-5, 2021 
| | |
| --- | --- |
| Price per person for departures (inc GST) | $3,695.00 |
4 Day Guided Walk 
Minimum guests - 12 
Maximum guests - 14 (Twin Share)
Direct bookings only:
Single supplement
Single supplements are not available for this experience. Single travellers will be accommodated in twin-shared tents (of the same gender) that afford the required social distancing.
Special Interest Walks - Terms and Conditions 
All prices are quoted per person in $AUD including GST 

You can book now at no cost, with no deposit due until 31 July 2020

After July 31, a deposit of $500 per person and the Guest Information Form are due within five days of booking

Minimum numbers are required six months prior to departure. 

The final payment is due three months before departure. For reservations made three months or less from departure date, full payment is due at time of booking. 
Prices are subject to change without notice
Travel and pre and post-trip accommodation expenses are not included.
No discounts or special offers apply to our Special Interest Walks.
Please view our traditional booking terms and conditions 
After the minimum number of bookings has been achieved, the trip is guaranteed to depart.  If for any reason, the trip cannot go ahead due to restrictions placed upon travel due to Covid-19,  guests will be permitted to reschedule their walk to the new date provided for the yoga departure or cancel with no additional fee. Guests can transfer to a traditional Three Capes Lodge Walk itinerary and have the difference in price refunded. Cancellations for other reasons will incur our standard cancellation fees.
Inclusions
Return transfers from Hobart
Lodge accommodation 
All meals,  non-alcoholic beverages and a selection of Tasmanian wines
National Park Pass
Boat transfer from Port Arthur to Denman's Cove
Use of a backpack and weather-proof jacket for the duration of the walk
Linen and comfortable beds
Two qualified guides for the duration of the walk
Tasmanian hand-crafted timber journal
Wild Wellness 1 litre drink bottle
Oh... and finally don't forget to bring comfortable athletic wear for breathwork, cosy layers for fireside journaling and bathers for cold water plunging
Additional information
Looking for a little extra rejuvenation and healing?  Discover the Relaxation Pavilion at Cape Pillar Lodge and its range of Li'Tya treatments
Have a burning question?  Check out our FAQ page, and if you need further help please don't hesitate to contact our friendly reservations team
Ready to start planning your next adventure and want to know what to bring. Check out our detailed gear list, including details on what's provided. If your unsure about anything on the gear list please call us or talk to you local outdoor adventure store
Oh... and finally don't forget to bring comfortable athletic wear for yoga and meditation practices!
Need help deciding? Talk to an expert
We're here to help 9am – 5pm Monday to Friday, otherwise, email us anytime and we'll be in touch.