WALK FOR WILD TO REGENERATE AUSTRALIA
Friday, Oct 8 - Sunday, Oct 10, 2021 | Three days | $1,995
World Wildlife Fund and Tasmanian Walking Company Foundation have partnered in an exciting new initiative to raise funds for the largest and most innovative wildlife and landscape regeneration program in Australia's history - Regenerate Australia.
This is your chance to be part of a defining moment for the future helping to restore wildlife and habitats, rejuvenate communities impacted by the bushfires, boost sustainable agriculture and future-proof our country.
The Three Capes Long Weekend is a unique experience bringing together the majesty of Tasmania's renowned wilderness, colonial history and contemporary art and culture. Discover the rich, layered culture and history of Tasmania, get up close to native animals in the wild and immerse yourself in the rare beauty of the Tasman National Park.
100% OF ALL WALK FOR WILD WALKS ARE DONATED
Tasmanian Walking Company will be donating 100% of Walk for Wild sales to WWF's Regenerate Australia.
Our 2021 target is to raise $150,000 for WWF-Australia.
Guests who join one of our Walk for Wild trips are encouraged to use the trek as a challenge to also raise their own funds in support of WWF-Australia. We'll provide an online event fundraising page, a guide of helpful tips and a special merchandise pack to thank walkers who join us in supporting WWF-Australia and set up a personal fundraising page and target.
For all enquiries and bookings please contact Tasmanian Walking Company on (03) 6392 2211 or email bookings@taswalkingco.com.au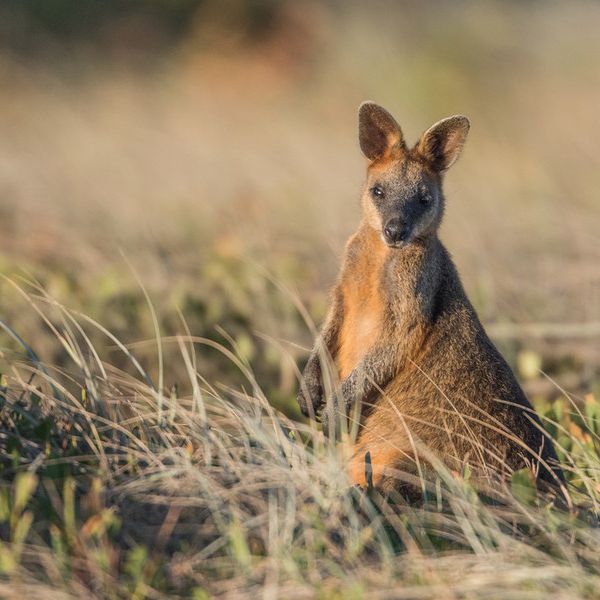 WWF-Australia
Regenerate Australia is one of the largest and most innovative wildlife recovery and landscape regeneration programs in Australia's history. Launched by WWF-Australia, the multi-year program will help rehabilitate, repopulate and restore wildlife and habitats affected by the 2019-2020 bushfires, boost sustainable agriculture and help to future-proof Australia against climate disasters. But we can't achieve this alone. To regenerate needs the support of all Australians. Our Australian Nature needs our Australian Nature.
Day 1: Hobart - Crescent Lodge
Approximately 2 hours walking
Upon arrival at Stewarts Bay, we will make our way down to the jetty where a private boat will be waiting to depart for our short trip across to Denman's Cove at 1.15 pm. Cruising with views back to Port Arthur, aside from the possible seal and dolphin spotting, some of the highest dolerite cliffs in the Southern Hemisphere come into view, an indication of the drama to come.
In Denman's Cove, we'll fuel you with local produce for lunch, in preparation for a gentle walk through coastal woodland to the rocky refuge of Surveyors Cove. At this point, if the Southern Ocean begs, head for a dip before a gradual incline up to the lodge.
Crescent Lodge is perched high, with far stretching views across Crescent Bay to Cape Raoul, with guest rooms spilling into the gully. Settle in with a warm shower as your guides-come-chefs prepare a three-course feast of local fare. Post dinner, take your Tassie pinot to a quiet deck for your own private sunset.
Workshop sessions
*Pre-Walk Body and Breath awareness and a Mindful Moment
*Evening Body Scan with a Meditation or Journaling Ritual.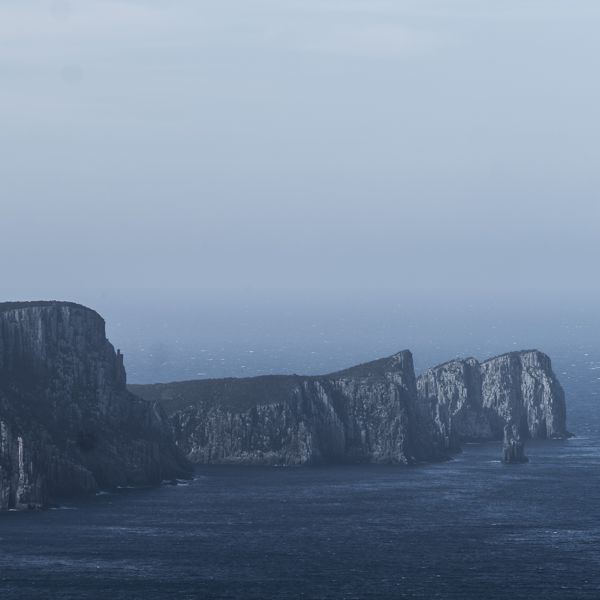 Day 2: Crescent Lodge - Fortescue Bay - Hobart
Approximately 7 hours walking
Wake to the silence of Crescent Lodge and wander down to the dining room for a hearty breakfast served with stunning views. Today, we'll be walking through diverse ecosystems including exposed coastal heathlands and surprise pockets of rainforest. We'll summit Mount Fortescue, the peninsula's highest peak at 490 metres above sea level, enjoying lunch with leafy-framed ocean views overlooking The Monument. By mid-afternoon, we'll step onto the white sands of Fortescue Bay. This usually calls for dropping your pack, kicking off boots and taking a celebratory dive!
We then return to Hobart and raise glasses of sparkling over canapes to mark our shared experience. Tonight, the evening is yours to discover the cultural, heritage and culinary delights of Hobart, before settling in for a well-earned sleep at Hadley's Orient Hotel.
Day 3: Explore MONA
In the morning, head down to meet your guide and enjoy a relaxed breakfast in your hotel. At 10:15am, you will travel independently in style on the MONA ferry, departing from Brooke Street Pier. Your ticket includes entry to the Posh Pit, where drinks and nibbles are included. Cruise the River Derwent with commanding views of the imposing massif, kunanyi/Mount Wellington. Continue on beneath the infamous Tasman Bridge straddled between the Royal Botanical Gardens and Bellerive foreshore, before stepping off at MONA. Explore the mysterious and subversive MONA at your own curious leisure.
You'll return by boat at 3:00pm, again in the Posh Pit, where you can enjoy a final glass of Tasmanian wine or beer. The trip ends at 3:30 at Brooke St Pier.
Our Private Lodges
Each evening, settle into the only private accommodation within the Tasman National Park. Our lodges offer true shelter - a place of protection and refuge. They are simple yet sustainable. Comfortable and inviting.
Walkers have exclusive use of our two lodges along the Three Capes Track. Both are discreetly positioned along the trail, their design responding to contours of the land. Hot showers, generous lounge areas and plush pillows await.
YOUR EXPERIENCE
The final steps of each day's walk lead to your lodge accommodation where afternoon tea is served. Free time allows you to explore the lodge, settling on a suitable perch for a glass of Tasmanian wine while your guides prepare the evening meal. As night falls, outdoor decking entices for star gazing on clear southern nights.
Large sliding doors in the living and communal spaces invite the outdoors in, encouraging connection with your surrounds. Each lodge features a dining and kitchen area, expansive views and sleeping quarters with crisp linen. On your final two nights, a generous bath tub brims with restorative goodness.
OUR ENVIRONMENTAL COMMITMENT
We consider it a great privilege to provide the only private lodging along this trail, and have taken every environmental consideration during the design and build process. Our lodges rest lightly within the natural environment. Sustainability features include water minimisation features and the latest solar power technology. Bird-friendly Archimedes wind turbines bolster our renewable energy resources.
We've also worked closely with the topography of the land - each lodge aligning to contours of the existing landscape. This not only has minimised impact on the surrounding vegetation, but allows our accommodation to blend into nature's setting.
We trust you'll enjoy your days and restful nights with us.
Three Capes Lodge Long Weekend Walk for Wild
October 8-10, 2021
| | |
| --- | --- |
| Price per person for departures (inc. GST) | $1,995 |
2 Day Guided Walk + Independent day at Mona (Twin Share)
Maximum guests - 14 (Twin Share)
Bookings:
Single supplement
Single supplements are not available for this experience.
Terms and Conditions 
All prices are quoted per person in $AUD including GST 
A deposit of $500 per person and the Guest Information Form are due within five days of booking
Minimum numbers are required prior to departure. 
The final payment is due three months before departure. For reservations made three months or less from departure date, full payment is due at time of booking. 
Prices are subject to change without notice
Travel and pre and post-trip accommodation expenses are not included.
Our standard booking terms and conditions apply, subject to the following temporary exception:
If you have a booking on a Walk for Wild departure on 8th October 2021 and COVID-19 directly impacts your capacity to travel, you may postpone your booking or receive a full refund subject to the following booking guarantee terms and conditions:
The guarantee is only valid for Walk for Wild walk departures on 8 October 2021; 
The guarantee only applies for guests with bookings directly impacted COVID-19, as per the following: 

If you are diagnosed with COVID-19 prior to your departure date;
If you are directed by a Government official or medical practitioner to self-isolate for any reason associated with COVID-19; or
If Government COVID-19 policy (domestic or foreign) relevant to your residential address or travel circumstances directly impacts your capacity to travel (i.e. State border closure)

Guests can change or postpone their walk booking within 14 days of the 8 October 2021 departure date, subject to the guest being directly impacted by COVID-19 as per conditions 2;
Guests making booking changes under the guarantee will be reimbursed in the form of a booking voucher (valid for 24 months) to the value of the original booking, with no additional charges (all change fees are waived);
Guests must use the booking voucher for a walk departure on the same walk itinerary within 24 months of the voucher being issued;
Booking vouchers are not redeemable for cash; 
Guests may request a full refund

 

prior to 8 October 2021

 

otherwise they will automatically receive a booking voucher as outlined in points 4 - 6 above;
Tasmanian Walking Company reserves the right to request supporting evidence to determine your eligibility prior to approving the postponement of your booking.
Tasmanian Walking Company reserves the right to amend or withdraw the offer at any time.
Return transfers from Hobart
Lodge accommodation 
All meals,  non-alcoholic beverages and a selection of Tasmanian wines
National Park Pass
Boat transfer from Port Arthur to Denman's Cove
Use of a backpack and weather-proof jacket for the duration of the walk
Linen and comfortable beds
Two qualified guides for the duration of the walk
Walk for Wild T-shirt
Drink bottle 

and coffee cup

Your own donation page to raise or donate to and thank you merchandise pack if you choose to fundraise.
To make a donation click here and add WWF to the message box: https://www.twcfoundation.com.au/donate/
With your help, together we can raise $150,000 for WWF-Australia!
Additional information
Have a burning question?  Check out our FAQ page, and if you need further help please don't hesitate to contact our friendly reservations team
Ready to start planning your next adventure and want to know what to bring. Check out our detailed gear list, including details on what's provided. If you are unsure about anything on the gear list please call us or talk to your local outdoor adventure store
Need help deciding? Talk to an expert
We're here to help 9am – 5pm Monday to Friday, otherwise, email us anytime and we'll be in touch.