Matilda Wand's Executives and Leaders' Retreat
Available by request for groups | From $3,940 per person
Behavioural Strategist and Life Coach Matilda Wand presents a truly unique Wineglass Bay Sail Walk tailored to Executives & Leaders. You're invited to take a break, relax and refresh. Discover how experiencing joy and freedom, letting go, and being in the moment is infectious. It keeps teams calm and enhances efficient and effective leadership.
On this four day experience, we will have the magnificent Lady Eugenie, a 23-metre (75-ft) luxury classic ketch as our home base. Lady Eugenie has just four comfortable cabins on board, all with ensuites.  With beautifully maintained teak decks and classical, varnished handrails, Lady Eugenie's spacious decks are the perfect setting for learning to let go and experience pure joy whilst taking in the stunning scenery of Tasmania's east coast.
Imagine taking in the sunset and watching dolphins play whilst enjoying wine and delicious meals made from local produce, in the picturesque alfresco dining area. Or, if weather permits, a luxury barefoot beach dinner on the remote shores of Schouten Island. Have you ever finished a bush-walk to have a linen-topped table waiting with oysters and Tasmanian sparkling? You will!
Partners are welcome.
Direct bookings only.  For all enquiries and bookings please contact Tasmanian Walking Company on (03) 6392 2211 or email bookings@taswalkingco.com.au
Introducing Matilda Wand
Matilda is the Founding Director of Coaching Corporate, where she works with executives, directors and people in high level leadership positions. She explores, then reprograms leaders conscious and subconscious beliefs and behaviours. By receiving her powerful coaching you'll experience freedom, contentment and joy as you've never experienced before.
Matilda is a member of the International Coaching Federation and the Australian Board of Neuro Linguistic Programming so you know she has been trained and has accreditation with the best coaching organisations on the planet.
Matilda is not only a behavioural strategist and life coach but also a professional firefighter working in Sydney Australia. She also represented Australia as a gridiron athlete in the 2017 World Cup and has been facilitating national and international retreats.
Matilda is a strong and powerful woman who will lead you into a version of yourself you've never imagined possible by integrating her experience with various coaching modalities such as neuro linguistic programming, hypnosis, multiple brain integration techniques, behavioural analysis and matrix therapies.
www.coach.freedomiswithin.com.au | matilda@freedomiswithincom.au
What to expect in a retreat with Matilda Wand
A life coach can help you…
*Identify what's holding you back and causing you to get unwanted results
*Visualise something amazing in yourself that you may not currently see
*Get the results you want by refocusing your thinking
*Increase emotional intelligence and help understand behaviours of ourselves and others
The coach/client relationship will…
*Guide and encourage client self-discovery by using powerful questioning techniques
*Identify, clarify and create a vision for what the client truly wants
*Encourage the client to set worthwhile goals that align with their purpose and vision
*Stimulate client accountability
What coaching is…
*Coaching assists professionals/people on reaching higher levels of excellence and satisfaction in life
*Goal-oriented and solution-focused
*Works with people on practicalities to improve their circumstances
*Learning to channel emotions positively
*Enjoyable and empowering with progress being rapid
*Future-focused
New clients
For new clients and groups, Matilda Wand also offers a tailored program that takes place before and after this experience allowing you to focus and maximise the positive benefits of this retreat. Please email Matilda Wand for more information
Wineglass Bay Sail Walk (4 days)
This four-day experience effortlessly blends both. We'll whisk you away from Hobart to Orford, where the Lady Eugenie awaits with 23-metres (75-feet) of onboard comfort.
Set sail across to Maria Island where summiting Bishop & Clerk delivers views out to the Freycinet Peninsula, your sailing path ahead. Between island hopping, Lady Eugenie is your floating home for saloon dinners and alfresco brekkies. On Schouten Island, barefoot long table dining might be on the menu, too.  Sand between your toes, wind in the sails and four days of walking bliss. Hop aboard.
Room configurations are limited on this voyage. There are two rooms with one double bed each and two with two twin bunks each. Room allocations are first-come-first-served; we will do our best to provide you with your preferred room type, but this will depend on existing reservations at your time of booking.
Day 1: Hobart - Maria Island 
Approximately 4-5 hours walking (including Bishop & Clerk)
Not many walks begin this way. Arrive at Orford where our 23-metre (75-ft) ketch, Lady Eugenie is waiting. We hop aboard our tender from the beach, before setting sail across the Mercury Passage for Maria Island. This short morning sail brings us to the World Heritage listed convict site of Darlington. Once populated with prisoners, it is now home to an array of architectural relics and abundant wildlife.
Today we venture 630m above sea level to the pinnacle of Bishop & Clerk, our highest climb. As we traverse the high cliff edge of Fossil Bay, we are afforded sweeping views toward Schouten Island and Freycinet Peninsula, a glimpse of the magnificent journey to come. Perched high atop the dolerite columns of the summit, we enjoy lunch, with time to ponder the beauty and isolation of this landscape. In the late afternoon, we retire to the comfort of our luxury yacht for pre-dinner nibbles and a delicious meal prepared by your guides.
Day 2: Maria Island - Schouten Island 
Approximately 3-4 walking (including Bear Hill)
Following a leisurely breakfast on board Lady Eugenie we set sail, leaving Maria Island and heading north on a 4-hour journey toward the spectacular Schouten Passage. Sailing past the large sedimentary deposits of Fossil Bay and the towering dolerite columns of Bishop & Clerk, we head towards a geological beauty - the pink granite boulders and mountains of the Freycinet Peninsula. Along the way, we get an up-close view of an Australian fur seal colony that makes its home on the rocky outcrop of Isle du Phoques.
After dropping anchor, we disembark on the secluded Schouten Island for a scenic 3-hour walk, climbing to the top of Bear Hill. We can also opt for a more leisurely afternoon relaxing on-board or at the beach, with opportunities for snorkelling and swimming.
Tonight we enjoy a luxury barefoot beach dinner on the private shores of Schouten Island. Ever finished a bushwalk to have a linen-topped table waiting with oysters and Tasmanian sparkling?
Day 3: Schouten Island - Wineglass Bay
Approximately 5-7 hours walking (via Cooks Beach and either Hazards Beach or Mt Graham)
Over breakfast we decide whether we ascend Mt Graham and take the high route to Wineglass Bay or opt for the less challenging but equally stunning coastal section of the Freycinet Peninsula circuit track. The former sees us head inland from the shores of Cooks Beach and ascend through tall Tasmanian Blue Gum forests before traversing the button grass fields of the East Freycinet Saddle, dotted with seasonal wildflowers. The trail descending from Mt Graham and Mt Freycinet takes in spectacular coastal views including iconic Wineglass Bay.
The coastal track heads north from Cooks Beach following the shores of enticingly-named Promise Bay while The Hazards mountain range gradually reveal to dominate the northern vistas over the peninsula's isthmus.  An hour's walk along Hazards Beach will bring us to the Isthmus Track where we'll enjoy a close up view of wildlife at the lagoon before setting foot on the white sands of Wineglass Bay. After our day of walking, there's time for a refreshing swim before boarding Lady Eugenie.
Day 4: Wineglass Bay - Hobart
Approximately 3 hours walking 
Our final day begins with breakfast on board Lady Eugenie. We can observe the busy shorebirds and towering forms of The Hazards mountain range above. We ascend gently between pink granite boulders and, taking our lunch trackside, we overlook the white sands and turquoise waters of Wineglass Bay below.
A steep descent on a well-constructed track brings us back to meet our bus, ready to take us to Hobart. Our return trip travels down Tasmania's east coast. The journey is not over yet, though. We visit a Coal River Valley vineyard for canapés and celebratory drinks, easing us back into life off the track and the comforts of Lady Eugenie. We then return to Hobart via the Hobart Airport.
The Lady Eugenie
Our group will have exclusive use of Lady Eugenie - whilst travelling with us she becomes your home. We believe a sound night's sleep is fundamental in making a good walking holiday a great walking holiday. Your accommodation should be enjoyed not endured!
Lady Eugenie is a luxurious, 23-metre (75-ft) ketch rigged yacht. She is five metres wide, which makes her stable, safe and comfortable for both novices and sailing enthusiasts.
Her clipper bow, complete with a bowsprit you can walk on, is perfect for watching dolphins and other marine life. There's nothing more exhilarating than turning off her engine, relaxing and harnessing the power of the wind in her sails.
With beautifully maintained teak decks and classical, varnished hand rails, Lady Eugenie's spacious decks are the perfect setting for relaxing whilst taking in the stunning scenery of Tasmania's east coast. The central cockpit provides plenty of comfortable seating, with a picturesque alfresco dining setting: a magical place to take in the sunset.
During the evening, you can relax in the delightful and spacious saloon with dining table and comfortable lounge. Her professionally equipped, separate galley for the crew guarantees delicious meals made from local produce. 
Lady Eugenie has just four comfortable cabins on board, all with air conditioning, bathrooms and showers.  There are two rooms with one double bed each and two with two beds each (one bunk). Room allocations are first-come-first-served; we will do our best to provide you with your preferred room type, but this will depend on existing reservations at your time of booking.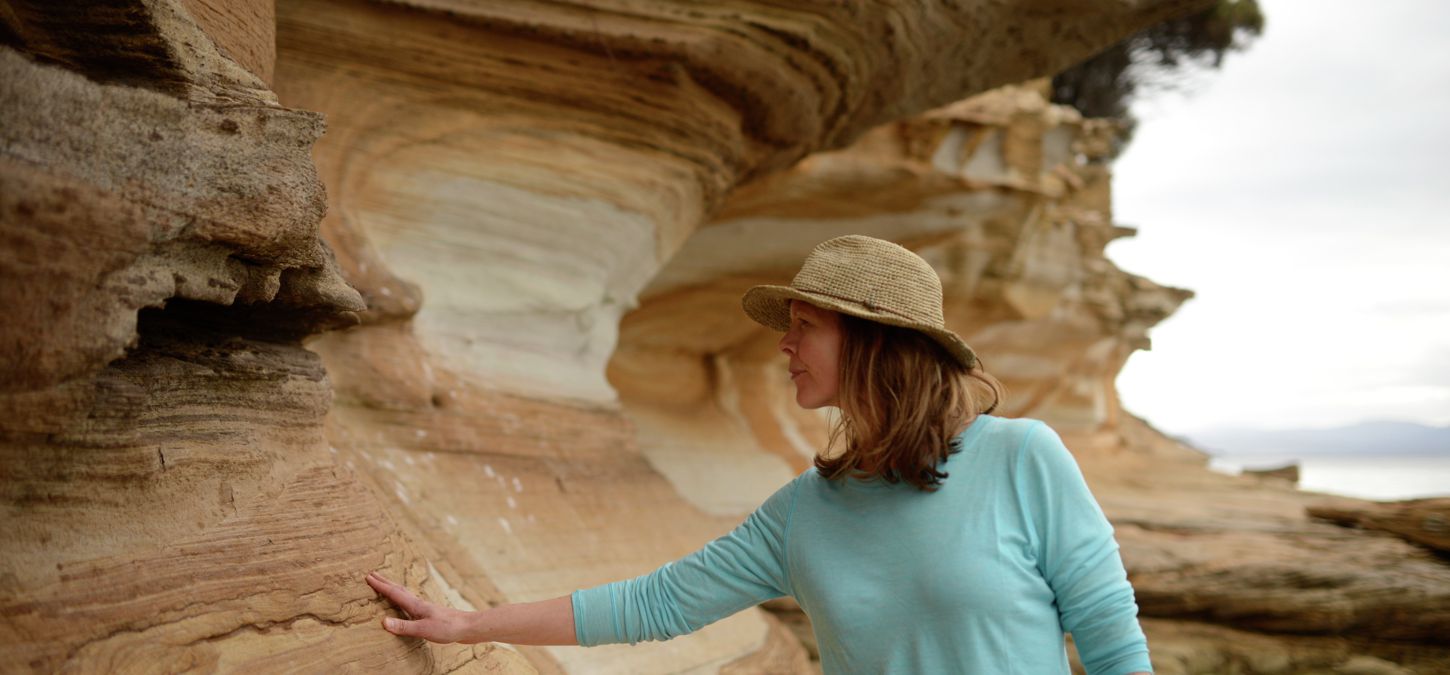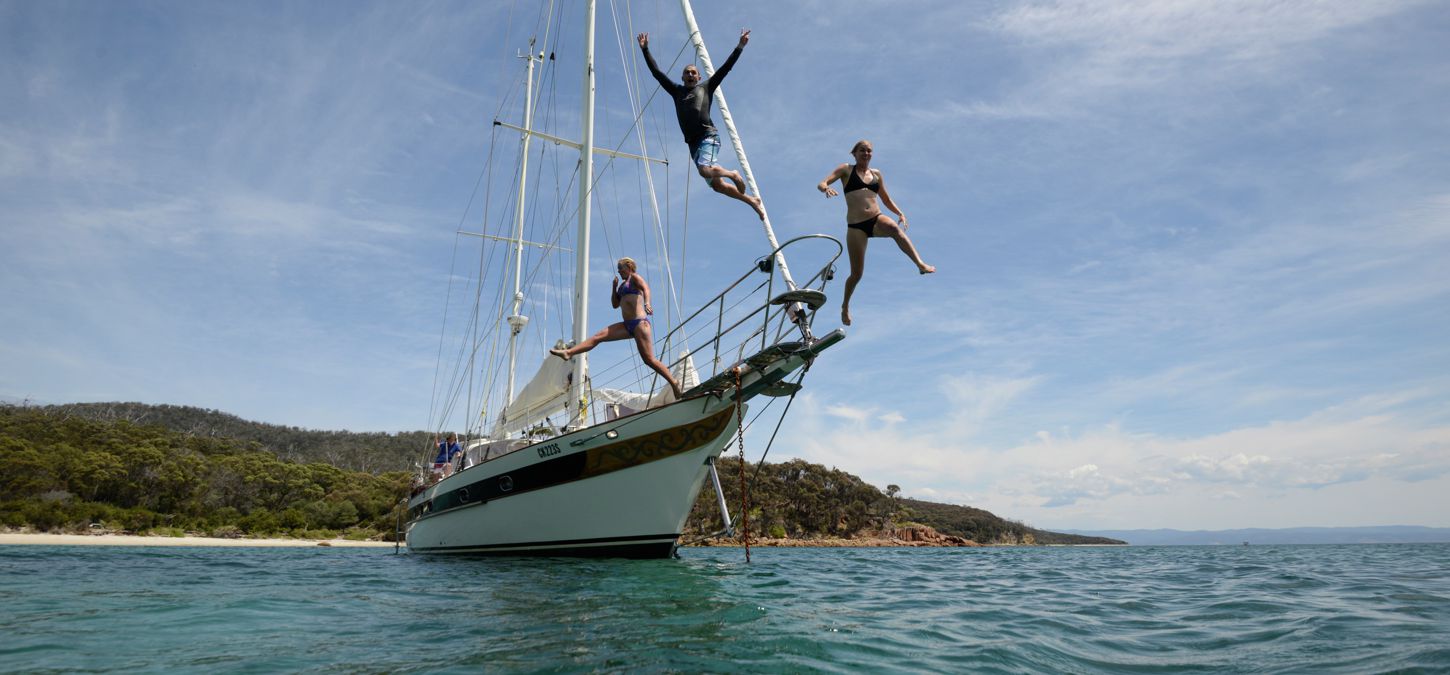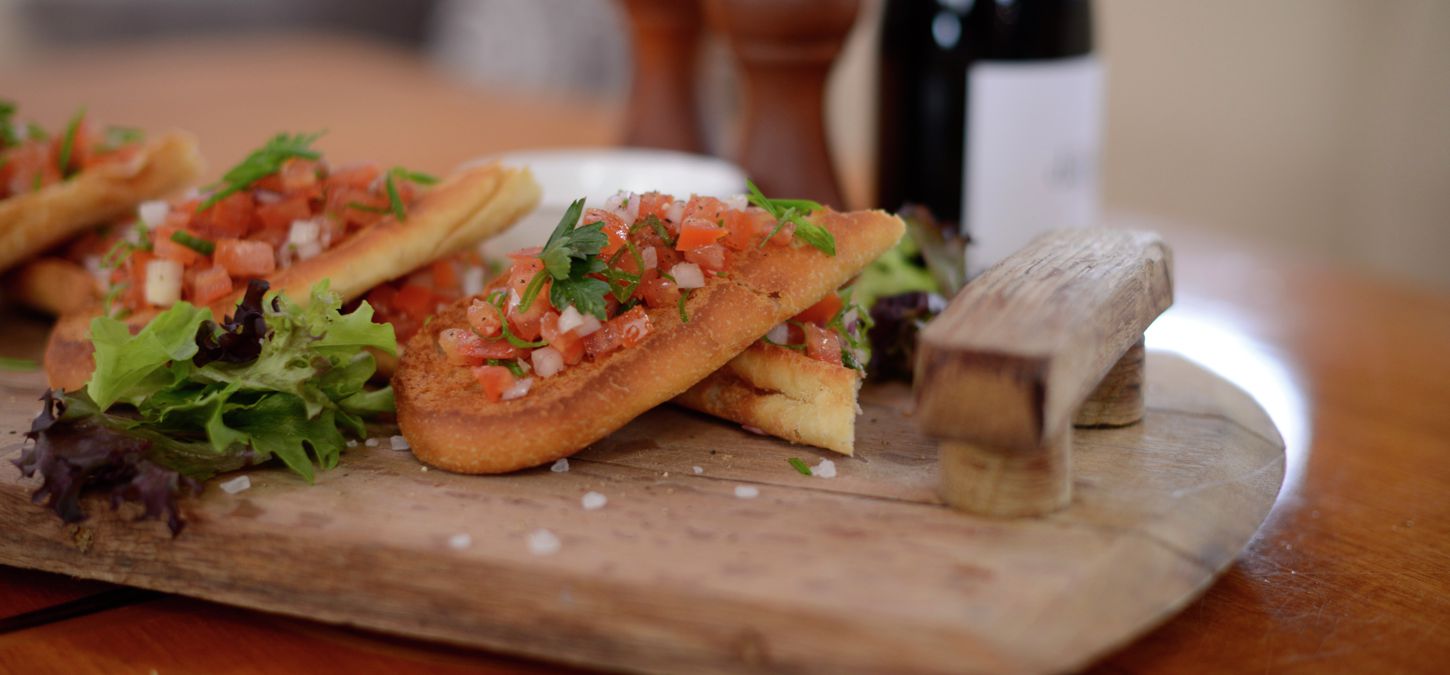 Wineglass Bay Sail Walk (4 days) - with Matilda Wand
Available by request for private groups
Minimum guests - 6 
Maximum guests - 6
| | |
| --- | --- |
| Price per person for departures (inc GST) | From $3,940 |
Direct bookings only:
Special Interest Walks - Terms and Conditions 
All prices are quoted per person in $AUD including GST 
A deposit of $500 per person and the Guest Information Form are due within five days of booking

Minimum numbers are required three months prior to departure. 

The final payment is due three months before departure. For reservations made three months or less from departure date, full payment is due at time of booking. 
Prices are subject to change without notice
Travel and pre and post-trip accommodation expenses are not included.
Singles supplements are not available on this departure.

This walk cannot be booked in conjunction with any other offers and discounts.
Please view our standard booking terms and conditions 
After the minimum number of bookings has been achieved, the trip is guaranteed to depart.  If for any reason, the trip cannot go ahead due to restrictions placed upon travel due to Covid-19,  guests will be permitted to reschedule their walk to the new date provided for Matilda's walk with no additional fee or rebook a traditional Wineglass Bay Sail Walk within 24 months. Guests can transfer to a traditional Wineglass Bay Sail Walk itinerary and have the difference in price refunded. Cancellations for other reasons will incur our standard cancellation fees.
Inclusions
Return transfers between Hobart and the start and finish of the walk 
Accommodation each evening on our luxury ketch Lady Eugenie; there are two cabins with one double bed each and two with two single beds each (1 x bunk)
All meals and non-alcoholic beverages, plus a limited selection of Tasmanian wines
National Park passes
Use of a daypack and rain jacket for the duration of the walk 
All bedding and linen
Additional information
Have a burning question?  Check out our

 

 

FAQ page, and if you need further help please don't hesitate to

 

contact our friendly reservations team
Ready to start planning your next adventure and want to know what to bring.

 

Check out our detailed gear list, including details on what's provided. If your unsure about anything on the gear list please call us or talk to you local outdoor adventure store.
Need help deciding? Talk to an expert
We're here to help 9am – 5pm Monday to Friday, otherwise, email us anytime and we'll be in touch.