WALK FOR WILD TO REGENERATE AUSTRALIA
All Walks depart October 10, 2023
Bay of Fires Signature Walk - Four days $2,695 - BOOK NOW
Cradle Mountain Signature Walk - Six days $4,195 - BOOK NOW
Twelve Apostles Signature Walk - Four days $2,695 - BOOK NOW
Three Capes Signature Walk - Four days $3,595 - BOOK NOW
World Wide Fund for Nature Australia and Tasmanian Walking Company Foundation have partnered to raise funds for the largest and most innovative wildlife and landscape regeneration program in Australia's history - WWF's Regenerate Australia.
Join the Tasmanian Walking Company on a wilderness adventure, knowing that your full ticket price will support WWF-Australia to restore wildlife and habitats, rejuvenate communities impacted by the bushfires, boost sustainable agriculture and future-proof our country.
WWF is one of Australia's most trusted conservation organisations. WWF-Australia works to protect endangered species and build a world where people live in harmony with nature.
100% OF ALL WALK FOR WILD WALKS ARE DONATED
Our 2023 target is to raise $150,000 for WWF-Australia.
Guests who join one of our Walk for Wild trips are encouraged to use the trek as a challenge to also raise their own funds in support of WWF-Australia. We'll provide an online event fundraising page, a guide of helpful tips and a special merchandise pack to thank walkers who join us in supporting WWF-Australia and set up a personal fundraising page and target.
For all enquiries and bookings please contact Tasmanian Walking Company on (03) 6392 2211 or email bookings@taswalkingco.com.au
Bay of Fires Signature Walk
If squeaky white-sand beaches and wild coastline appeal to you, the Bay of Fires is a spectacular reason to lace up.  We begin at Boulder Point in Mt William National Park where we journey four hours to semi-permanent tents in the dunes.  At our forester camp there is no roughing it, take an ocean dip and return for pinots poured and your meal underway.
Day two is all about secluded coves, hearing tales of early inhabitants and making our way to the Bay of Fires Lodge.  This is home for the next two nights - where foot spas and library time come standard and signature experiences in the outdoor bath tempt. Day three, grab a kayak paddle and glide down the Ansons River or relax into a 'lodge day.'
We take it easy on the final day, serving up a brekkie out on deck followed by a one hour walk to our forest lunch location. It's then onward to Entally Lodge to celebrate our shared four days.
Departure Date: Oct 10, 2023. Return Date: Oct 13, 2023.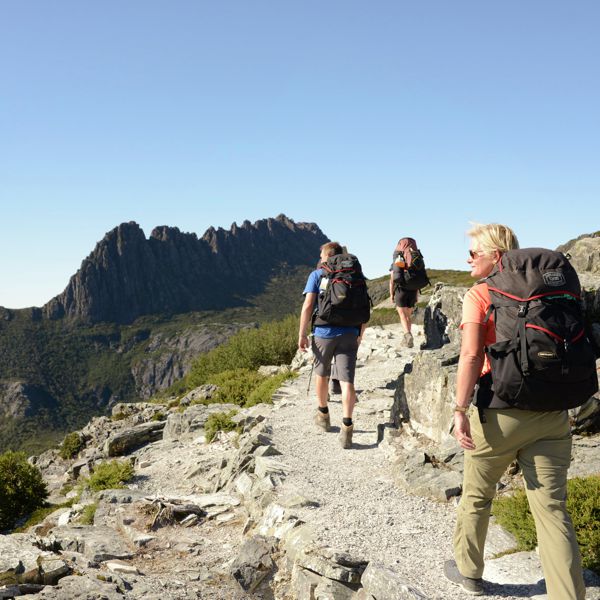 Cradle Mountain Signature Walk
Join us on the iconic Overland Track, retreating each evening to the only private accommodation along the trail. Discover the rare beauty and diversity of Tasmania's World Heritage-listed Cradle Mountain-Lake St Clair National Park.
Expert guides take the lead across this ancient landscape, converting to chefs come evening. They'll also take the heavy load, leaving you with a lightweight pack. At the end of each day, retreat to a hot shower, sumptuous meals, freshly baked bread, a glass of Tasmanian wine and a comfortable bed.
Cradle Mountain Signature Walk is a six-day walk along the iconic Overland Track, retreating each evening to the comfort of the only private accommodation along the trail. The fully guided walk begins at Waldheim in Cradle Valley and journeys some 65 kilometres through to Lake St Clair, Australia's deepest natural lake. 
Departure Date: Oct 10, 2023. Return Date: Oct 15, 2023.
Twelve Apostles Signature Walk
It doesn't take long for the city sounds to fade on our four-day Twelve Apostles escape. In no time, find yourself sipping tea in our eco-lodge. We then hit the trail at Castle Cove, weaving through grass tree forest before dropping down to Johanna Beach. Bare feet are encouraged!
Each eve we retreat for chatter around the fire and sumptuous meals. Day two is the most challenging; Milanesia Track to Moonlight Head. Raw and wild, we venture through remote areas of the Great Ocean Walk, knowing a foot spa awaits at the day's end. By day three, you'll know shipwrecks by name. The final day is all about those glorious Apostles - walk beneath them and fly above them by chopper. You've made it!
Departure Date:  Oct 10, 2023. Return Date: Oct 13, 2023.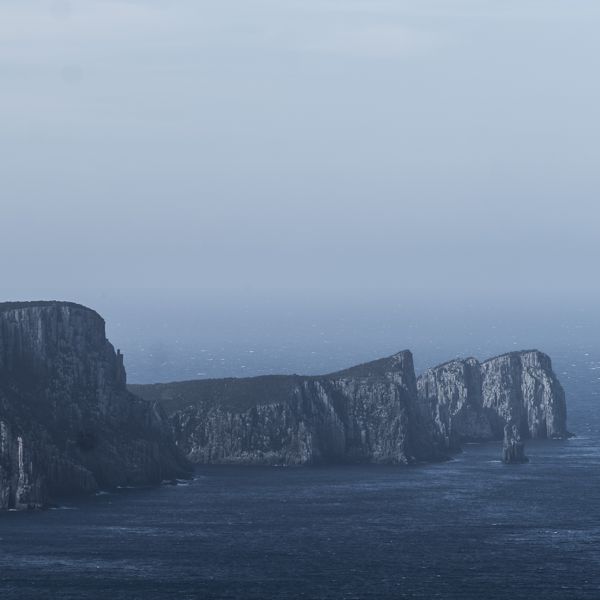 Three Capes Signature Walk
Ready to walk the world's edge? Journey along some of the world's highest sea cliffs with The Three Capes Signature Walk, the only fully guided Three Capes Track experience with accommodation inside the National Park.  The experience begins with salty wind in your hair - a boat cruise across to Denman's Cove. It's then onward to Crescent Bay Lodge, sitting loftily with views across to Cape Raoul.
Day two includes summiting Arthurs Peak (keep an eye out for sea eagles), making our way to Cape Pillar Lodge, home for the next two nights.  Perhaps a massage or invigorating outdoor bath while dinner is being prepared? Your pick for day three - an adventure through silver gum forest out to Cape Pillar and the infamous Blade or lazing the day away at the lodge.  We must say, the views out to Tasman Island from the Blade are something else.
Those with plenty of kilometres left in the legs can take a side trip on the final day out to Cape Hauy while others can choose a direct route to Fortescue Bay. From here, we'll take you back to Hobart where we'll raise a glass to our four days well spent!
Departure Date: Oct 10, 2023. Return Date: Oct 13, 2023.
Walk for Wild Inclusions:
Return transfers between the walk's local base and the national park
Private in-park accommodation
All meals and beverages
National Park pass
Use of a backpack and Gore-tex jacket for the duration of the walk
Two qualified guides for the duration of the walk.
Walk for Wild T-shirt
A fundraising guide, online donation page to fundraise or donate to and a thank you merchandise pack if you choose to fundraise and set up a personal fundraising page and target.
With your help, together we can raise $150,000 for WWF-Australia!
Donate at: https://www.taswalkingcofoundation.com.au/donate/ and add WWF to the comments box.
All donations over $2 are tax deductible.
Together we can make a difference.
Need help deciding? Talk to an expert
We're here to help 9am – 5pm Monday to Saturday, otherwise, email us anytime and we'll be in touch.