Kangaroo Island Nature and Night Photography Walk
 Price $3,395 per person | Available for Private groups only - next available departure is 9-12 April, 2024
When night skies are at their best, journey to remote Kangaroo Island for an extraordinary photography workshop. Walk this wild and raw landscape with celebrated landscape, nature, and aurora photographer, Luke Tscharke and discover the Island's spectacular sights. 
This all-inclusive four-day guided experience is for small groups, featuring architect-designed private accommodation with sumptuous meals prepared by your naturalist guides. Each day and evening, you will venture out with Luke to a diverse range of habitats, from rocky shores to remote beaches and coastal heath, and improve your photographic techniques. The dates for this trip provide an ideal window for astrophotography. 
Kangaroo Island is located 20 kilometres off the South Australian coast and is home to an abundance of native wildlife. You'll be sharing the Island with koalas, sea lions, diverse bird species and, of course, kangaroos. Immerse yourself in the unique landscape of wild and raw beauty featuring towering sea cliffs and sweeping sunsets. You'll feel completely at peace in the remote wilderness of Kangaroo Island. 
The minimum is eight guests. The maximum groups size is 11.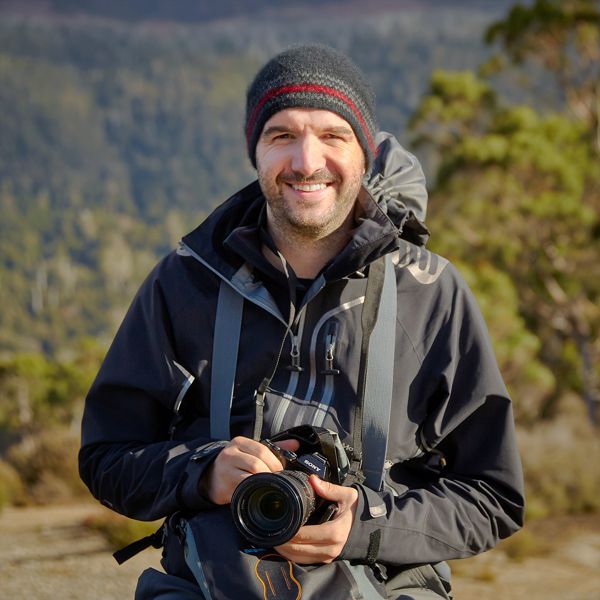 Introducing Luke Tscharke
Luke is an award-winning Australian landscape, nature, and travel photographer based in Hobart, Tasmania. His major passion is inspiring people to respect and connect with the natural beauty in the world around them.

Previously working as a biologist, Luke began photography as a hobby. It soon became a full-time career and lifestyle, exploring nature, rain, hail or shine, and experimenting with the latest equipment and processing software. He has merged his passion for photography with his love of bushwalking, creating memorable natural landscape images from locations across his beloved Tasmania, wider Australia and other parts of the world.
The quality of Luke's work has been recognised by awards in many photography competitions; publications in books, calendars and magazines; and work with corporations and charities. Recent collaborations include Australian Geographic, Tourism Tasmania and Sony Australia.
Nature and Night Photography Experience
Day One
Today is primarily devoted to logistics as we drive, boat and walk into the wild. Packing, transfers to the trailhead, a ferry trip, pack fitting, walking and settling into the cottages take up our daylight hours.
Approximately 3 hours walking through coastal woodland. Birdlife, kangaroos, wallabies, geese, echidnas and goannas are regularly seen on this walk.
Sunset at 7.42pm — shoot the sunset from Cape de Couedic Lighthouse.
After dinner — night sky and/or light painting photography workshop. 
Night photography — Milky Way with the lighthouse from 9.30pm to 11pm for those that are game. It is suggested that those who do stay up forego sunrise.
Day Two
Sunrise 6.28am — optional sunrise shoot from 6 am. 
Approximately 7-8 hours walking along the spectacular coastline of south-west Kangaroo Island.
Photography opportunities include:

Photography from the coastal cliffs towards the Cape du Couedic lighthouse. 
A sunset shoot from 7.15pm with sunset at 7.43pm from Admirals Arch or Remarkable Rocks.
Nighttime options again include stars and Milky Way photography, aurora where possible and light painting. If cloudy or rainy, Luke will provide an indoor masterclass on aurora and night photography tips.
Day Three
Sunrise 6.27am — optional sunrise shoot from 6am. Approximately 7 hours walking with daypacks through silver gum forest to the highest sea cliffs in the Southern Hemisphere.
Photographic opportunities include Remarkable Rocks, shooting long exposures at the lookouts, expansive horizons towards Sanderson Bay and dramatic early-spring skies and wildflowers and wildlife where encountered.
A sunset shoot from 7.15pm with sunset at 7.44pm.
Nighttime options include a session at the Remarkable Rocks — weather permitting, stars and Milky Way photography, aurora where possible and light painting. If cloudy or rainy, Luke will provide an indoor night-sky photography workshop.
Day Four
Sunrise 6.26am — optional sunrise shoot from 6am. 
Photography and walk at Hanson Bay — weather and time permitting.
*The experience is a combination of walking and photography. Opportunities to take photos in remote locations are scheduled around walk logistics which are given first priority.
Recommended Photography Gear List
*This gear is to be carried in addition to your other gear. Please see our Gear List for details.
Wide-angle lens — For landscapes and night photography (ideally 16-35mm or similar).
Mid-zoom lens — For wildlife, nature, and distant landscapes (24-105mm or similar).
Long-zoom lens — For distant landscapes (70-300mm or similar) (optional).
Macro lens — For flowers and insects (optional).
Tripod — Lightweight tripod suitable for carrying in a backpack when walking.

ACCESSORIES
Batteries x 3 — Fully charged. There are limited opportunities to recharge batteries at the solar-powered lodges.
Battery charger.
SD card x2 — Empty cards.
Photo Credits: Milky Way photos by Luke Tsharke, Admirals Arch by Michael Waterhouse Photography, Remarkable Rocks by Isaac Forman, Cape du Couedic Lighthouse by Gab Rivera.
Day 1: Adelaide to
Cape du Couedic (Black Swamp Hike)
Approximately 3 hours walking | Distance: 8km
Make sure you come fuelled up, dressed and ready to walk on the morning of day one. Guests will be picked up in Adelaide, ready to travel to Kangaroo Island on the SeaLink ferry and onto the Flinders Chase National Park Visitor Centre. Shortly after arriving on the Island, you will start a 3-hour hike with your lightweight day pack along the Black Swamp Hiking Trail connecting to the Platypus Waterholes Walking Trail. Learn the history of Gondwana and its mega-fauna from our knowledgeable guides as you pass through a mixture of scrubland and low-lying country that follows the Rocky River. Passing through forest and woodland offers excellent chances to observe birds and spring orchids. Take a break mid-venture and enjoy a secluded lunch on the trail, prepared by your guides.  
The destination for the day is your accommodation for the next three nights, the Cape du Couedic Cottages. Take some time to settle into the former Lightkeeper residence, built from hand-carved limestone back in 1907.  Thoughtfully restored, these historic quarters feature twin-share rooms and newly renovated bathrooms for a very comfortable stay. After some time to relax and explore, dinner will be served. Our communal pavilion — The Commons — is where we'll share good wine and a barbeque featuring locally sourced produce. 
Watch the sun sink over the sea while you enjoy fireside chats with a glass of wine. 
The evening finishes with an optional sunset photography session at the lighthouse.
Day 2: Snake Lagoon to Cape du Couedic
Approximately 7 hours walking and birding | Distance: up to 14km
Breakfast and coffee prepared by your hosts launches day two to a great start! Then it's time to lace up your boots. We will be carrying lightweight photographic gear today. You'll be shuttled one hour to the start of our walk from Snake Lagoon where you will follow the Snake Lagoon Trail along the Rocky River, through eucalypt forest, followed by a 5km walk along Maupertuis Bay beach, a southwest-facing stretch of stunning coastline. Learn about Loch Sloy, wrecked in 1899 when it crashed en route to Adelaide, along with other historic stories. Soak up the views of crashing waves and breathe in the crispy salt air before a brief climb that will take you along the edge of some spectacular limestone cliffs. With the lighthouse coming in and out of view, home base is within your sights.  
Upon arrival at Cape du Couedic, explore the historic lighthouse, Admirals Arch and the nearby Fur Seal colony. Alternatively, have a warm shower and put your feet up and enjoy a tipple before dinner.  
After dinner, Luke will lead a nighttime photography session. This includes a sunset shoot at 7.43pm at Admirals Arch or Remarkable Rocks. Nighttime options include stars and Milky Way photography, aurora where possible and light painting. If cloudy or rainy, Luke will provide an indoor masterclass on aurora and night photography tips. The dates for this trip provide an ideal window for astrophotography. 
Day 3: Remarkable Rocks to Sanderson Bay
Approximately 7 hours birding and walking | Distance: 7km
The day begins early with an optional 6am sunrise photo shoot. Sunrise is at 6.27am. After a late-night, you can choose to sleep in, have a relaxed morning and have a late breakfast. For those who'd like a morning walk, there are independent options close by.
Take a short stroll from the cottage, down the headland to reveal Admirals Arch, a significant geological formation. View the pounding waves of the Southern Ocean. As you walk down, watch out for long-nosed fur seals basking in the sun on the rocks. The boardwalk descends stairs down into a bay before emerging in Admirals Arch, where viewing platforms allow you to watch the seals. There is a short hike is to Weirs Cove where fresh supplies were offloaded by boat for the lighthouse keepers and their families. Walking out you can catch glimpses of Remarkable Rocks, and on your return, you will see the Cape du Couedic lighthouse on the horizon.
Our guided hike begins at the iconic granite formations of Remarkable Rocks. Shaped by the forces of wild weather over millions of years, it's the perfect spot to capture your iconic Kangaroo Island photo in front of the orange lichen-covered rocks. We walk the cliff-hugging trail ahead, delivering unobstructed views along the southern coast of Kangaroo Island. The day's walking concludes at Sanderson Bay where the Southern Ocean dumps huge waves across the shore. Birds today include Scarlet Robin, Yellow-tailed Black-cockatoo, Striated Thornbill, Red & Little Wattlebirds, Brown-headed Honeyeater and Grey Currawong.
After a day of epic coastline vistas, we'll retire to the cottages for another evening shared with like-minded naturalists, local wine, beer, cheese and seafood. The evening's optional sessions include a sunset shoot from 7.15pm with sunset at 7.44pm. Nighttime options include stars and Milky Way photography, aurora where possible and light painting. If cloudy or rainy, Luke will provide an indoor night-sky photography workshop.
Day 4: Cape du Couedic Cottages to Hanson Bay and Adelaide
Approximately 3 hours of photography and walking | Distance: up to 4km
The day begins early with a final optional 6am sunrise photoshoot. Sunrise is at 6.26am.
After breakfast and pack-up, we drive to a small, secluded bay that sits along the south coast of Kangaroo Island just west of the famous Kelly Hill Conservation Park. It is accessible via West River Road, off South Coast Road. West River Road is an unsealed road, but like many places the harder it is to get to the more beautiful it is. The views east are expansive and stunning. This last morning is a final chance to witness the incredible combination of landscape, colour and light that is Kangaroo Island.
The return morning walk is flexible and depends upon the photographic opportunities and speed of the group. It travels through coastal heathland and low lying forest, possibly as far as an inland large lagoon system that holds water permanently with abundant opportunities for viewing waterbird species.
Guests are treated to a celebratory drink before and nibbles as we debrief at Kangaroo Island Spirits before being collected for the return bus and ferry journey back to Adelaide.  A scheduled stop at a local distillery provides the opportunity for guests to freshen up, share a celebratory drink and purchase local produce prior to their departure.    
Cape du Couedic Lighthouse Keeper's Cottages
We have exclusive access to the newly renovated heritage-listed Cape du Couedic Cottages, during our walks. Located within the Flinders Chase National Park and dating back to 1907, each cottage is made from locally sourced hand-carved limestone. All the houses are identical in design with three bedrooms, a kitchen, and a lounge (kept to original condition) with modern converted bathrooms. These beautifully renovated buildings provide a unique heritage accommodation experience for our guests, who can fully immerse themselves in the history and narrative of the area. The twin-share rooms are a welcome retreat atop the headland and are appointed with Kangaroo Island artisans' work.
At this location, we have
The Commons
 —
 a communal space for unwinding and dining around the shared table.  This open pavilion is the heart of tonight's Village Square locale, where your guides and host busy themselves preparing a barbeque banquet.  Later, retire to your cosy Cape du Couedic lighthouse keeper's cottage.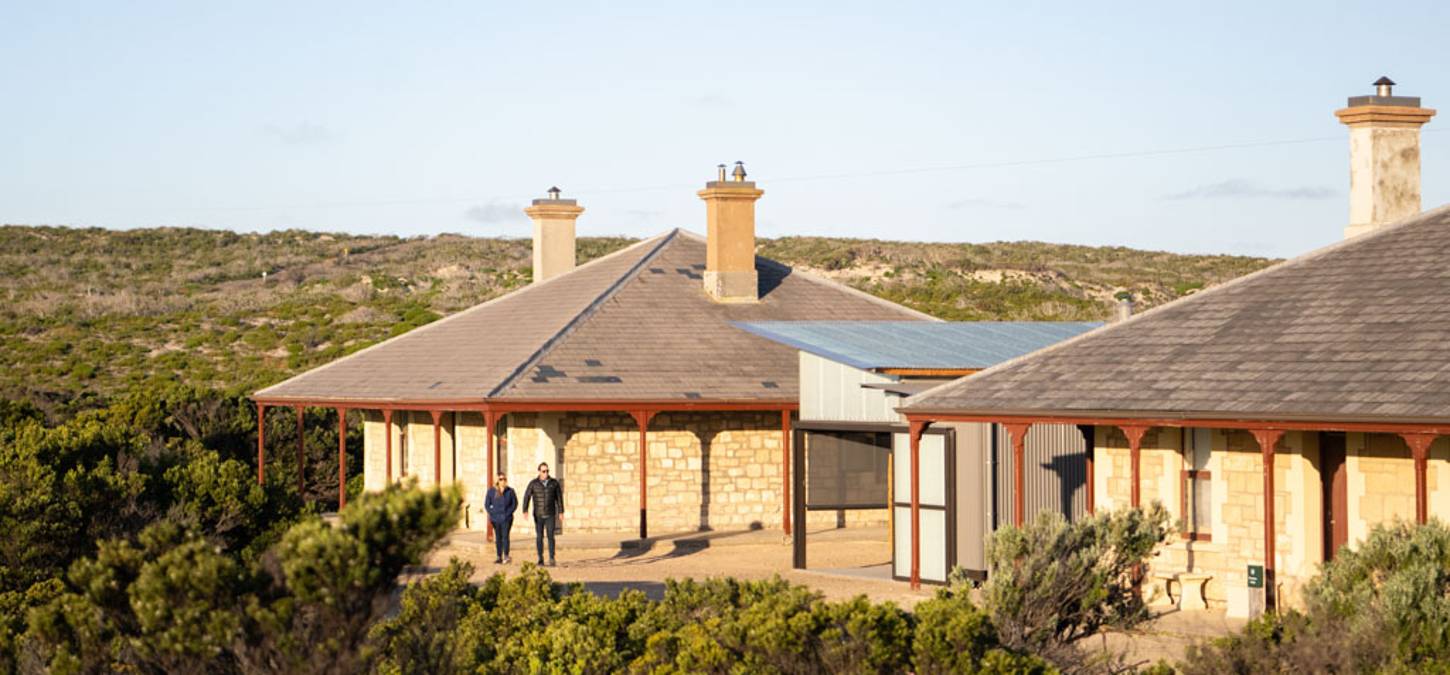 Kangaroo Island Photography Walk
Price per person for departures (inc. GST) (Non-commissionable)
 Price $3,395 per person | Available for Private groups only - next available departure is 9-12 April, 2024
Each trip requires a minimum of 8 guests (Twin Share). The maximum is 11.
or

 

complete the below enquiry form
Single supplement
All accommodation is twin share.  Single travellers may be required to share a twin room with another walker of the same gender if departure fills to capacity.  To guarantee a single room for the duration of the walk a supplementary price will apply.  This must be requested at the time of booking.
Special Interest Walks - Terms and Conditions 
Our standard booking terms and conditions apply to all bookings. In addition:
Cancellations

more than 90 days from the scheduled departure date, a fee of $350 per person will be charged with the balance payment refunded;
within 90 days of departure, no refund is available. Bookings are transferable to another name.

Minimum numbers are required four months before departure.
Price Includes
Return transfers from Adelaide walker base to Kangaroo Island.
3 nights accommodation, all linen and towels.
3 nights' accommodation in the Cape du Couedic Cottages with linen and towels
Daily morning and afternoon tea.
Non-alcoholic drinks and a selection of house wines and beer (oh... and we may have a secret stash of Kangaroo Island Gin!).
Use of daypack, waterproof jacket, poles, ankle gaiters and water bottles.
Daily guided walks, with two qualified guides for the duration of the walk.
Trip host at each night's accommodation.
All entrance & national park fees.
Nature and Night Photography Workshops with Luke Tscharke.
Need help deciding? Talk to an expert
We're here to help 9am – 5pm Monday to Saturday, otherwise, email us anytime and we'll be in touch.