Treading lightly for over 35 years
Have peace of mind that when you walk with us, your footprint will only go as far as the track.
We are 100% carbon neutral!
Discover our commitment to making a difference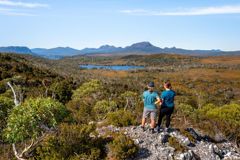 Our Purpose & Mission
We strive to connect people with place, by providing unique high-quality guided walks that focus on delivering an exemplary guest experience, whilst continuously reflecting the values of cultural and socially sustainable practices and environmentally responsible operations.  Through slow journeying on foot, we provide the opportunity for guests to step out of the everyday and embark upon superb journeys into wild land and sea scapes.
We actively care for the places we operate in and endeavour to instil our values of environmental and cultural integrity on our guests and across every level of our company.  Our philosophy of belonging, fostering simplicity, environmental and cultural integrity, passionate leadership, genuine fun and "wow''-ing our guests, speaks to our commitment to care for both people and the environment. 
Tasmanian Walking Company Foundation
In 2018, the decision was made to centralise our large-scale not-for-profit efforts through the formation of the Tasmanian Walking Company Foundation (TWCF). The Foundation was officially launched in June 2020 with a commitment to donating $1 million to community and environmental causes. In its first few years, The TWCF has already contributed to some great causes such as donating $210,000 to WWF-Australia's Conservation projects and raising over $15,000 for Bonorong Wildlife Rescue Hospital.
10 years of ECO certification
In August 2023, we were certified among a handful of Australian Tourism operators as a 'Green Travel Leader' from Ecotourism Australia. For a business to become a 'Green Travel Leader', they need to maintain ECO certification for over 10 years. We pride ourselves as leaders in the eco-tourism space, giving our guests the best possible experience while keeping sustainability top-of-mind. This certification milestone showcases that we are continuously improving our products while keeping them in line with our long-term sustainability goals. Something that we know means a lot to our team, guests, community and the environment!
Climate Emergency Declaration
We have joined over 422 tourism professionals and organisations in committing to delivering a Climate Action Plan, to cut emissions in half by 2030. 
Tasmanian Walking Company and Australian Walking Company believe strongly in the good that comes from connecting people with place, and the power this connection has to create positive change. By signing the Glasgow Declaration on Climate Action in Tourism, we recognise the responsibilities and obligations we have to lutruwita Tasmania, and Earth as a whole, to take climate action.
We commit to fostering climate action within our business and the wider community, and to working collaboratively to bring about positive, meaningful, and much-needed climate action.
Community Projects
We support community projects that are driven by the Tasmanian Walking Company Foundation and our passionate Community, Environment and Sustainability team. 
Read more about our current projects below
.
Larapuna Community Weekend
Every year,  a large group of our staff join the larapuna Community Weekend at Bay of Fires. The event provides an opportunity to meet and get to know the various community groups who have connection to larapuna, learn from each other, and get our hands dirty working on a range of conservation projects within the Mount William National Park.
Tasmanian Aboriginal Guide Training Program 
Tasmanian Walking Company and the Aboriginal Land Council of Tasmania partnered in 2015 to support an Aboriginal Guide Training Program. The program to date has enabled 10 participants to gain a recognised guide qualification at Drysdale TAFE in Tasmania and work placements at our Bay of Fires and Cradle Mountain Walks.  Participants attain the necessary skills to provide interpretive and educational activities for visitors and share knowledge of Tasmanian Aboriginal heritage ensuring it is in line with Tasmanian Aboriginal community protocols.
Dates for new intake coming soon.
Bonorong Animal Rescue and Guide Training
Bonorong operates Tasmania's largest 24-hour wildlife rescue service providing safety and care to thousands of animals every year with the assistance of trained community rescuers and devoted wildlife carers. Our partnership with Bonorong includes wildlife rescue drives where our staff volunteer to rescue and transfer injured animals to the wildlife hospital, and our staff take part in educational activities and wildlife rescue training opportunities.
The Raptor Refuge 
Tasmanian Walking Company's support of The Raptor Refuge helps provide care and rehabilitation for sick and injured raptors and awareness of the plight of raptors in Australia.
With a shared philosophy toward education and environmental protection, our partnership with Raptor Refuge extends to our guide training programs providing a valuable resource to help further our knowledge and share these stories with our guests.
Wild Futures weeding program
Tasmanian Blue Gums were planted on Kangaroo Island for timber production. After the bushfires in 2020 they spread rapidly undermining the natural recovery process of the regeneration of native plants. In partnership with Conservation Volunteers Australia, our Wild Futures Program invested in 108 hours of Tasmanian Blue Gum control on Kangaroo Island by highly skilled weed control practitioners.
Seed Collection Walks
Behind the scenes at the Royal Tasmanian Botanical Gardens lies the Tasmanian Seed Conservation Centre. Seed banking is a conservation measure that provides additional insurance against the extinction of many species in the wild. It was opened in 2005 as part of the International Millennium Seed Bank Project. Our 'Seed Collection' walks depart yearly to allow experts and guests to continue on this important task
Fundraising Walks
We work with different charities to run special fundraising departures.  All proceeds from these walks have gone straight into projects that the charities support. In the past, we have worked with charities such as WWF, Alannah and Madeline Foundation, Breast Cancer Network Australia and Royal Hobart Hospital.
Want to learn more?
You might like these pages