Meet our team
At Tasmanian Walking Company, we have a talented bunch of passionate individuals who work on-track and behind the scenes. From guides, all the way through to our leadership team we share the same values and goals in bringing our guests life-changing wilderness experiences while caring for the places we are in.
Watch the video or read the profiles below to learn more about our team.
Imogen
Lead Guide, Tasmanian Walking Company  
"It's really special to get to be the person who gets to share these amazing places and share my connection to these amazing places with the people that come on our trips" 
This season will be Imogen's fifth year as a wilderness guide and she still couldn't think of a better job! Working on the Bay of Fires, Imogen loves teaching guests about the flora and fauna of the area, getting to know new people and convincing everyone to end the day with a swim in the crystal clear waters on Tasmania's East Coast.
Dean
Lead Guide, Tasmanian Walking Company  
"Facilitating such a special and profound experience... It's the best part about the job!"
After guiding with us for a number of seasons, Dean is one of our most versatile guides, spending time guiding and learning on a variety of trails and landscapes. Over the years Dean has worked on our Wineglass Bay, Larapinta and Bay of Fires walks and loves to connect with the diversity of these landscapes and help guests do the same. Dean has a passion for wildlife and has experience in wildlife rescue. In 2022, he helped rescue an injured Tasmanian Devil at the Bay of Fires, working with Bonorong Wildlife Hospital to ensure it made a full recovery.
Kieran
Lead Guide, Tasmanian Walking Company 
With a degree in Ecology and a deep understanding of first-nations history, Kieran has found his passions combined as a wilderness guide. Originally from Western Australia, Kieran now guides with us on the Three Capes Track and Overland Track. He feels very lucky to have formed such great insights into the history and science that lay beneath the surface and holds a great responsibility in sharing these insights with others. If you have walked with Kieran before you will know why he is often referred to as a walking encyclopedia!
Harry
Lead Guide, Tasmanian Walking Company  
"Getting to be there with people who have never seen it before, every time I go out is really really special"
Getting into guiding was a no-brainer for Harry, as he was already spending all of his time outdoors walking, mountain biking and snowboarding, so he thought he would make a career showing people his favourite places. Harry's favourite part about guiding is the connections he makes with people from all walks of life, seeing them open up into the place they are in and teaching them about the wildlife and history of the area they are in.  This season, you will find Harry and his infectious energy guiding on the Overland Track and on the Bay of Fires.
Sam
Field Experience Manager & Lead Guide, Tasmanian Walking Company 
"The simplicity of your life is wake up and walk...let's go"
Sam has been guiding with us on the Overland Track for over six years. His passion for the Tasmanian wilderness started when his dad took him on the Overland Track when he was five years old. After that Sam and his dad kept on walking, setting the foundations for his dream career of guiding people into the wilderness and sharing his love of Gondwanan plant kingdoms. Sam has recently made the transition to Field Experience Manager on the Overland Track, so this season you will find him passing on his wealth of knowledge to new guides on the Overland Track.
Hanna 
Lead Guide, Tasmanian Walking Company  
"I don't think it could be any one trip, they have all had their special moments"
Working on the Bay of Fires for the last six years, Hanna loves being by the coast and spending time in nature. Her favourite things to do on the track is spotting whales from the shoreline - Her favourite species is the humpback whale.  In addition to guiding, Hanna is a professional painter. Most of her work is inspired by her time out in the Tasmanian Wilderness. A jack-of-all-trades, Hanna also has a side hustle in remedial massage. In her spare time (if she has any!) Hanna is a keen yogi, loves reading, snorkelling and spending time with her two dogs.   
More expert guides and hosts!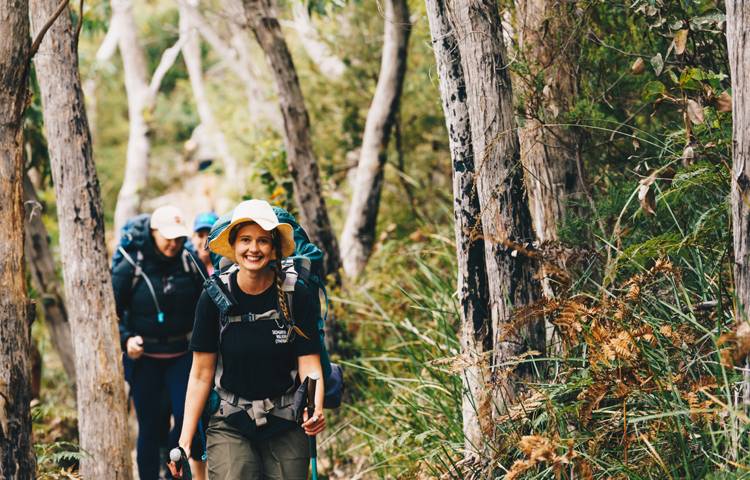 Meet our team behind the scenes
Our office staff have a wealth of experience creating the perfect wilderness experience for you. A lot of our office-based team started with Tasmanian Walking Company out on the track as guides, so have first-hand experience in all areas of our business.
Featured profiles
Rose
Sales and Reservations Manager
If you have called us recently, odds are you have found Rose on the other end of the phone.

Joining our team in 2021, Rose brought along 15 years of expertise from the travel industry to our team. With her passion for nature, the outdoors, and connecting people to extraordinary destinations, Rose is the perfect person to help you in finding your dream walk. In contrast to her weekdays, on her days off you'll find Rose far away from the ringing phones, enjoying the sun on one of Tasmania's secluded beaches.
James
Three Capes Team Leader
James emigrated from the UK to Sydney in 2011 where he worked in outdoor education. This prepared him well for a move to Tasmania in 2018 and a transition into guiding. James is happiest when he's in the outdoors. For him, it's therapy, both physically and mentally. After guiding for a number of years, James and his on-track experience made the move to our behind-the-scenes team on the Three Capes Track. As Team Leader, he is now responsible for training new guides and overseeing all operational tasks on our Three Capes walks. 
Shelley
Guest Experience Specialist
"Climbing a mountain. Diving into a river. Leaping into the ocean. Wandering through the forest. Anything outdoors and I'm there"
Originally from the mountains of Victoria, Shelley has spent her life immersed in the wild heart of the outdoors. Being with us for the last three years, she finds great pride in knowing that she has connected thousands of guests with the wild places she knows and loves. Shelley's role is to listen to and collate all of our valuable feedback to ensure we are continually creating life-changing experiences for our guests while caring for the wild places that we walk through.
Heath Garratt
General Manager, Tasmanian Walking Company 
Heath is a passionate Tasmanian who started out as a bushwalking guide in 1998 on the Overland Track and throughout the early years of our walk at the Bay of Fires. Heath has overseen the suite of walks grow from a single product to a collective of experiential wilderness-based tourism offerings while maintaining its status as the leader in the field. He is passionate about the environmental and personal benefits of walking in the priceless wilderness areas Australia has to offer.
Scott Malcolm
Co-owner, Tasmanian Walking Company
Scott Malcolm is the executive chairman of Greenstone Partners, a corporate advisory firm based in Sydney that he founded in 2003. Alongside his business pursuits, Scott is also a co-owner of several tourism companies, including the Australian Walking Company, Tasmanian Walking Company, and Active Adventures, all of which reflect his passion for immersive nature-based experiences. Scott's love for hiking was ignited when he joined the Wellington Tramping Club in New Zealand in his teens, and he has since completed numerous walks in Australia and New Zealand, as well as some impressive overseas treks such as the Inca Trail and Kilimanjaro.
Read more


Beyond his travel endeavours, Scott is an avid golfer and a dedicated supporter of the All Blacks Rugby team. He and his wife, Jane Taylor, are also actively involved in various charitable and community-based organisations, including the CatWalk Spinal Cord Injury Research Trust (where Scott served as chairman from 2011 to 2018), MacMasters Beach Surf Lifesaving Club (as the principal surf boat sponsor), the Byron Writers Festival (as a major partner), and the recently established Sydney Harbour Rugby Club (as a principal sponsor).
Brett Godfrey
Co-owner, Tasmanian Walking Company
Brett has a ubiquitous passion for all things adventure, alongside a love for immersive, nature-based experiences. Brett's aviation and travel background culminated in the conceptualising, establishing and leading Virgin Airlines in Australia.  His passion, vision and leadership skills in the industry have been widely recognised with many awards, including the Australian Centenary Medal for his services to aviation, and tourism and Australian Chief Executive Officer of the Year.  
Read more


Brett is one of the owners of Tasmanian Walking Co and Australian Walking Co, the only operator entrusted to date to build and operate its own lodges in Australia's National Parks/ World Heritage Areas. This ties in with Brett's passion for exploration and nature-based, sustainable and regenerative tourism, Brett advocates the wellness benefits of taking time away from the grey jungle and noise of life and reconnecting with oneself in nature. These international walks are the culmination of that very mission to bring that unique way to see the world and invite travellers to experience soothing, immersive, guided journeys in select remote, beautiful and wild places, away from the daily noise of life.
More faces from our Leadership Team
Want to work for us?
Find out more about the current roles through our careers portal.