Larapinta En Plein Air Painting Walk
September 11-15, 2024 | $3,995 per person
Embark on a five-day painting workshop with renowned En plein air painter Jock Young on the magnificent Larapinta Trail. This experience combines walking and painting as you journey through the stunning landscapes of Australia's Red Centre. With a focus on improving your skills and knowledge, you'll have the opportunity to capture the beauty of the Larapinta Trail and its changing light and colors, all while enjoying shorter walks and like-minded company.
Our all-inclusive adventure departs from Alice Springs. You will stay at our private campsite, located within the National Park, Tjoritja / West MacDonnell Ranges. It is the perfect base to explore with day packs or an easel, and to return to each day for sundowners and to reflect upon the day. Every evening, our world class guides transform into exceptional cooks and hospitality experts to serve a delicious three course meal paired with wine and local beer. Be completely immersed in the river valleys, gorges and red mountain ranges that the Larapinta Trail has to offer.
Artists and partners are welcome. For all enquiries please contact bookings@taswalkingco.com.au. 
Jock Young
Jock Young, an en plein air artist, has a deep-rooted passion for capturing the beauty of nature through his artwork. Growing up in northern Sydney and later settling in Tasmania, Jock's artistic journey has been shaped by his surroundings. From the vibrant beaches of northern Sydney to the diverse landscapes of Tasmania, Jock has found inspiration in the natural world. 
As a teenager, Jock began exploring his artistic talents by spending time in the outdoors. These experiences, coupled with his studies in marine biology, instilled in him a curiosity and appreciation for the intricate connections between the environment and art. Jock's paintings reflect his deep connection with nature and his desire to capture the essence of each landscape. Through his en plein air technique, he brings a sense of immediacy and authenticity to his work, capturing the play of light, colors, and textures that make each scene unique.
Join Jock on an artistic journey as he shares his knowledge and passion for en plein air painting. In partnership with the insights of our naturalist guides, you'll have the opportunity to explore and appreciate majestic landscapes. Discover the joy of capturing the natural world on canvas and engage in meaningful conversations about the art of painting.
Jock's work can be discovered by video here or on Instagram. Please find a link to his latest exhibition here and the exhibition video here.
Handmark Gallery
Our lodges, huts and offices feature the work of Handmark's artists. Allanah Dopson and her team are found in Salamanca, Hobart. 
Allanah was quick to recommend Jock to lead an art retreat. "The outdoors is his canvas. He is humble and draws us beautifully into his habitat to share his love of the landscape. His background as a marine biologist and en plein air painter make him the perfect leader. To have a group painting and celebrating together on the Larapinta, a place of vibrant colour, will be wonderful.'
Equipment list
Water-based gouache paints are preferred in this environment. We will be painting in a National Park. Non-toxic mediums and solvents, such as non-toxic pastels will be welcome. Jock recommends 
Paper around 40 to 50 cm wide and a weight of 300. 

 

Arche

 

makes good all-around paper. If you bring loose paper, you will need a board and some tape.
A few wide brushes 1 to 2 cm
Some charcoal. 
An easel as it can get uncomfortable on the ground (some people like to work that way). He recommends participants bring a Jullian Easel or a pochade box. A French box easel and paints can be ordered in advance for delivery from Artery in Hobart. Please call 03 6234 3788.
Please include the following colours in gouache or watercolour or pastel colours: Lemon yellow, Cad yellow, Alizarin crimson, Cad red, Cobalt blue, Cerulean blue, Viridian, and White, and Raw sienna.
Closer to the trip departure, we will set up a private email group so Jock can answer any questions you may have. 
Chapman + Bailey in Alice Springs can help with the equipment above excluding the easels. Please call 08 8952 8751 or email alicesprings@chapmanbailey.com.au for help. Website: www.chapmanbailey.com.au.
Itinerary
At a glance
| | | | | |
| --- | --- | --- | --- | --- |
| DAY | WALK & PAINTING SECTIONS | DISTANCE (TIME) | STAY | MEALS |
| One | Simpsons Gap - Ellery Creek | 3.5kms (7hrs) | Camp | -/L/D |
| Two | Ormiston Gorge  | 2.5kms (7hrs) | Camp | B/L/D |
| Three | Eagles Landing - Glen Helen Gorge | 7kms (7hrs) | Camp | B/L/D |
| Four | Rwetyepme / Mount Sonder- Finke River | 7kms (8hrs) | Camp | B/L/D |
| Five | Ochre Pits - Standley Chasm - Araluen Art Centre | 2.5kms (4hrs) | Camp | B/L/- |
Please note this itinerary is subject to change depending on weather conditions. We will endeavour to remain as close to the written itinerary as is practicably possible. Our guides will keep you up to date and informed along the way. Should you have any questions, please feel free to call us on 03 5237 4276 or email bookings@auswalkingco.com.au.
*PLEASE NOTE THAT DISTANCES MAY VARY ON TRACKING DEVICES
Day 1: Simpsons Gap & Ellery Creek
Distance: Approximately 7 hours walking and painting | 4km 
After a briefing in Alice Springs on the first morning, we head out towards the red ridges of Tjoritja / West MacDonnell Ranges. Our first destination is Simpsons Gap for a Welcome to Country. Our guides will then take you to Simpsons Gap for a walking and painting session.
After a visit to the peaceful narrow gorges, it's time to go to Ellery Creek for a cooling swim and another painting session. 
Our private and exclusive campsite awaits your arrival. It is home for the next four nights.  Each evening you have the chance to settle in, rest and refresh before sundowners. During the beautiful sunset light, as dinner is prepared, artists and Jock will engage in a range of exercises or conversations tailored to the interests of the group. Dinner follows — a delicious three courses.
After the evening briefing, the skies light up with millions of stars.
The workshop begins with a briefing in Alice Springs, followed by a journey towards the red ridges of Tjoritja/West MacDonnell Ranges. The first destination is Simpsons Gap, where a Welcome to Country awaits. Afterward, you'll have a walk and painting session in this picturesque location.
Next on the itinerary is a visit to the serene narrow gorges of Ellery Creek. Here, you'll have the opportunity to cool off with a swim and engage in another painting session, surrounded by the natural beauty of the area.
Your private and exclusive campsite, which will be your home for the next four nights, awaits your arrival. After settling in, you can take time to rest and refresh before enjoying sundowners. During the beautiful sunset light, dinner will be prepared, and Jock and the artists will engage in various exercises and conversations tailored to the group's interests. A delicious three-course dinner will follow, providing a delightful culinary experience.
In the evening, after the briefing, you'll be treated to a spectacular display as the skies light up with millions of stars. This awe-inspiring sight will serve as a backdrop for inspiration and reflection, creating a truly enchanting atmosphere for your artistic journey.
Day 2: Ormiston Gorge
Approximately 7 hours walking and painting | 2.5km
Ormiston Gorge offer a long day of exploring and painting, where you can paint and move through the landscape at your own pace.
After breakfast, we'll drive to Ormiston Gorge. You'll follow the meandering Ghost Gum Walk, traversing sandy soils and passing through ghost gums on the undulating foothills of the range. The morning light offers delightful views back towards Ormiston, while ahead, the majestic Rwetyepme/Mt Sonder comes into sight. As you make your way, you'll cross tributaries of the Finke River, including Ormiston Creek, revealing the ancient river system that has followed its course for over one million years.
A painting session and peaceful lunch awaits in the shade of the river red gums, set against the sandy riverbed. Afterward, you'll return to the camp for a quiet a break before the evening activities. As the day winds down, you'll have the opportunity for another en plein air session during the longer sunset. This special time of day allows for capturing the changing colors and atmosphere on canvas. The communal dining experience follows, where you can enjoy the company of fellow artists, the warm hospitality, and indulge in a delicious dinner accompanied by beer and wine. The safari-style dining and living tent will provide a comfortable space to relax and unwind after a fulfilling day of exploration and artistic expression.
Day 3: Eagles Landing to top of the Tjoritja / West McDonnell Ranges
Approximately 7 hours walking and painting | 7km
Over the next two days, we will embark on gently paced walks, starting early in the morning. These walks will lead us to magnificent viewpoints, where we can soak in the stunning vistas before descending for our daily painting sessions.
Today's walk begins with an early 4am start and a light breakfast, giving us the opportunity to ascend the Tjoritja/West McDonnell Ranges and witness the early morning light and the vibrant colors of the sunrise. The first hour of walking takes place in the pre-dawn, allowing you to witness the gradual awakening of the landscape without the need to carry your easel. As you navigate the trail, you'll encounter a steady climb to Eagle's Landing. Once you reach this vantage point, take a moment to set up and savor a cup of tea or coffee. This is the perfect time to engage in sketching, capturing the tranquil and captivating beauty of the moment.
After the sunrise, there is an optional walk to the top of the Tjoritja/West McDonnell Ranges. From this vantage point, you can admire the stunning panorama stretching across to the Chewings Range and into a dramatic indented valley. 
After the walk, we make our way back and select a shady spot to set up our easels. Here, we can enjoy a restful picnic lunch, surrounded by the peaceful ambiance of the area. The mid-afternoon heat presents the perfect opportunity to take a break and recharge at our camp. It's a time to relax, rejuvenate, and prepare for the next artistic endeavors that await us.
We bring along sundowners and pre-dinner nibbles for a sunset expedition. Glen Helen Gorge, one of our favorite places, offers a beautiful setting for swimming, painting, and enjoying the gentle evening light. Afterward, we have a short transfer back to camp, where our talented guides have prepared another satisfying feast for us to enjoy and refuel. It's a time to relax, share stories, and appreciate the camaraderie of the group as we reflect on another day's artistic experiences in nature.
Day 4: Rwetyepme / Mount Sonder Saddle & Finke River
Approximately 8 hours of walking and painting | 7km
Today is another highly anticipated day on the track as we make our way to the Rwetyepme/Mount Sonder saddle. After breakfast, we embark on a steady uphill climb of 3km, surrounded by the shadows of Eucalypt and Acacia trees. As we ascend, the landscape expands, treating us to breathtaking views of the Tjoritja/West MacDonnell Ranges. It's an awe-inspiring vantage point that showcases the beauty of Central Australia.
Our walk concludes at Davenport Creek, and a short drive takes us to a campground along the Finke River. Here, we have the opportunity to enjoy lunch, paint once again, and cool off with a refreshing swim. It's a well-deserved break before we return to our campsite for a much-needed rest.
After a full day of exploration and creativity, the evening sets the stage for a relaxed dinner. It's a time to unwind, enjoy a satisfying meal, and appreciate the tranquility of our surroundings.
Day 5: Ochre Pits, Standley Chasm & Araluen Art Centre 
Approximately 4 hours walking and painting | 2.5km
On the final day, we begin by driving a short distance from our campsite to the Ochre Pits, an Aboriginal quarry, where we embark on a brief walk. Afterward, there is time for one last swim at Ellery Creek.
Next, we time our drive to arrive at Standley Chasm when the sun is high above, illuminating the landscape with vibrant colors. Here, we once again have the opportunity to appreciate the stunning scenery, the rich cultural heritage of the Arrernte people, and the majesty of the Tjoritja/West MacDonnell Ranges.
After this enjoyable break, we make our way back to Alice Springs, arriving around 3pm. Our final stop is the Araluen Art Centre, where we can admire landscape paintings by renowned artist Albert Namatjira. It serves as an inspiring conclusion to our incredible five-day journey.
To wrap up the trip, we provide a hotel drop-off, marking the end of our memorable adventure exploring the stunning landscapes and immersing ourselves in the art and culture of the Red Centre.
Exclusive Accommodation
True shelter, something that gives protection and refuge, simple and sustainable, clean and comfortable. Our groups have exclusive use of our private campsite on the Larapinta Trail.
Larapinta Camp
The Larapinta Trail takes us to some remote locations where facilities are simple. Our private and secluded campsite, where we are based for the duration of the tour is located within Tjoritja / West MacDonnell National Park (between Ochre Pits and Ormiston Gorge). Despite the remote location of our camp, you will be provided with comfortable facilities. We have two semi-permanent outdoor toilets with a view, and showers designed for comfort and to suit the environment. 
We provide luxury fully-enclosed swags with mattresses, underlays, cotton sheets, pillows and pillowcases or spacious touring tents offering privacy, two single beds, a rug on the floor and a small reading lamp. They are of standing room height and have space for your luggage. Our stylish safari-style living and dining tent is a great place to relax with a book after a sensational day on the trail. Dinner is served either sitting around the open fire under the stars or in our safari tent at our custom-made dining table.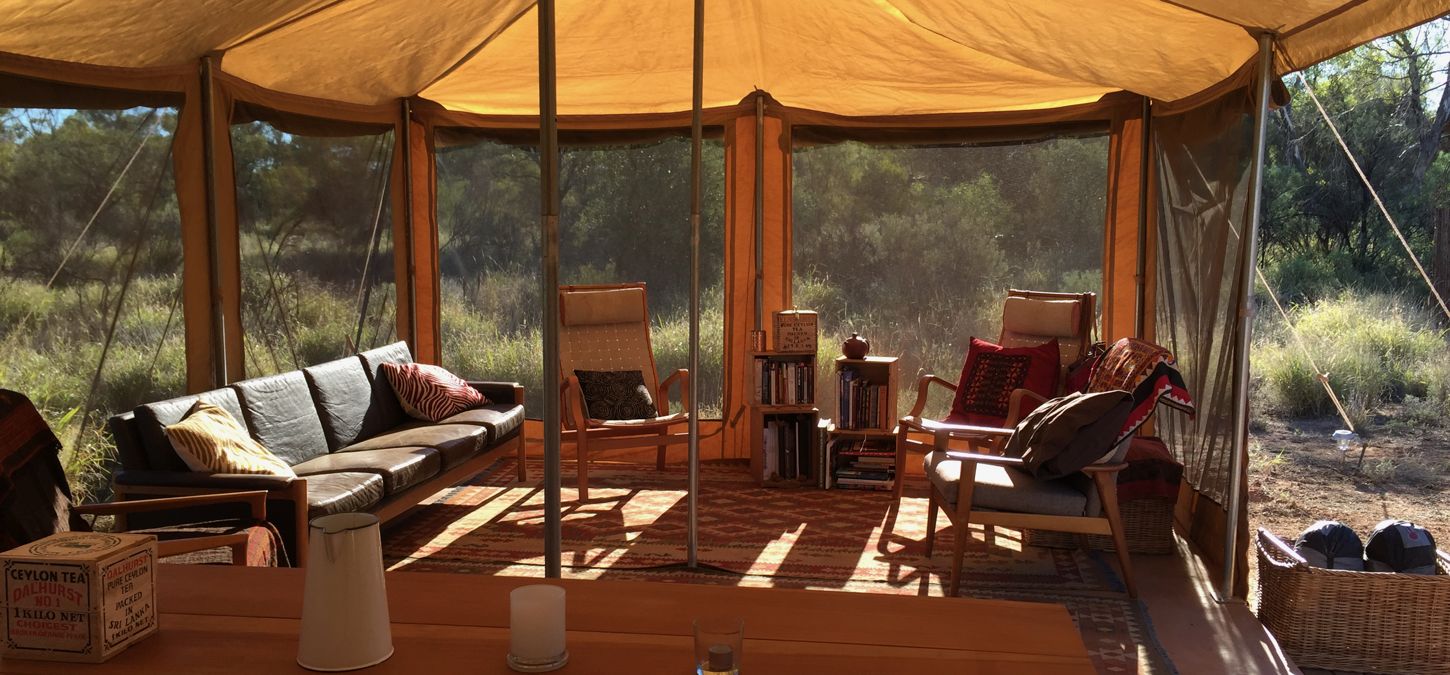 Larapinta En Plein Air Painting Walk (5 days) 
Price per person for departures (inc. GST) (Non-commissionable)
September 11-15, 2024 | $3,995 per person
5-day, 4-night guided photography walk.
Each trip requires a minimum of 8 guests (Twin Share). The maximum is 11.
Bookings
Single supplement
We do not charge for a single supplement.
Limited Edition Experiences — Terms and Conditions 
Our standard booking terms and conditions apply to all bookings. In addition:
Cancellations

more than 90 days from the scheduled departure date, a fee of $350 per person will be charged with the balance of payment refunded;
within 90 days of departure, no refund is available. Bookings can be transferred to another name.

Minimum numbers are required four months before departure.
This walk cannot be booked in conjunction with any other offers and discounts.
Larapinta En Plein Air Art Walk
Return transfers between Alice Springs and the walk base
4-night camp stay at our in-park campsite
All meals, non-alcoholic beverages and a selection of local beer, spirits and wine
Use of a weather-proof jacket for the duration of the walk
Bedding (with the exception of sleeping bags and liners)
Two qualified guides for the duration of the walk
National Parks Pass
Painting workshops with Jock Young
Additional information
Need help deciding? Talk to an expert
We're here to help 9am – 5pm Monday to Saturday, otherwise, email us anytime and we'll be in touch.