Sacred Geography - A Pilgrimage Without and Within
January 27-Feb 1, 2024 | $4,695
You are invited to walk on one of Australia's most beautiful tracks with Sarah Bachelard, in a spirit of pilgrimage, attentive to the voice of the country and to our own truth. Journey, place, landscape and inscape - spiritual awareness is nurtured and deepened by images, metaphors and the lived experience of a sacred geography.
Through conversation, reflection, and the sharing of wisdom and practice from contemplative traditions, this journey is a chance to connect and reconnect, body, soul and spirit. It will invite you to be open in new and different ways to what the poet John O'Donohue calls 'the territories of spirit where you will discover more of your hidden life, and the urgencies that deserve to claim you'.
Cradle Mountain Signature Walk is a six-day walk along the iconic Overland Track, retreating each evening to the comfort of the only private accommodation along the trail.
  For all enquiries and bookings please contact Tasmanian Walking Company on (03) 6392 2211 or email bookings@taswalkingco.com.au
Sarah Bachelard
Sarah Bachelard is an author, retreat leader and founder of Benedictus Contemplative Church, based in Canberra. She is a teacher with the World Community for Christian Meditation and a Circle of Trust facilitator with the Center for Courage & Renewal. Her books include Poetica Divina: Poems to Redeem a Prose World and Experiencing God in a Time of Crisis.
Sarah loves to discern connections between wisdom traditions and lived experience. Pilgrimage and the practice of deep listening to land are important. Together with her partner Neil, she has walked several Camino routes in Spain, and in different parts of Australia.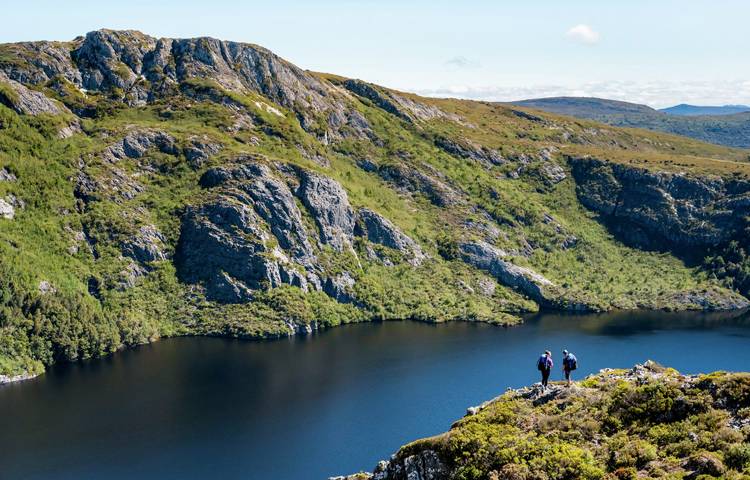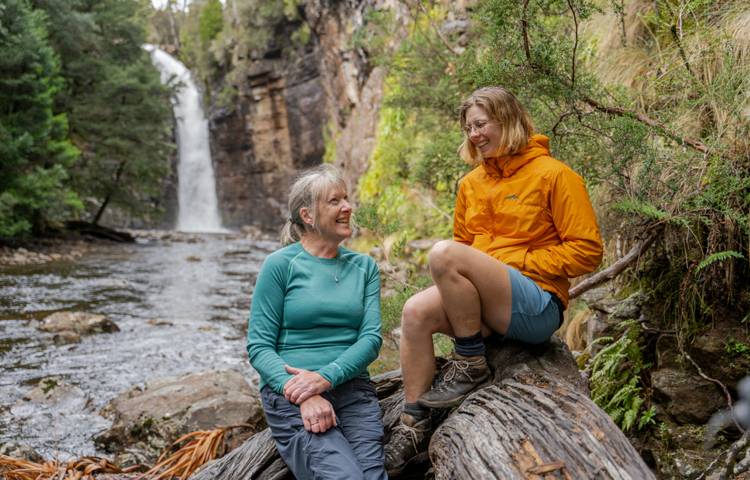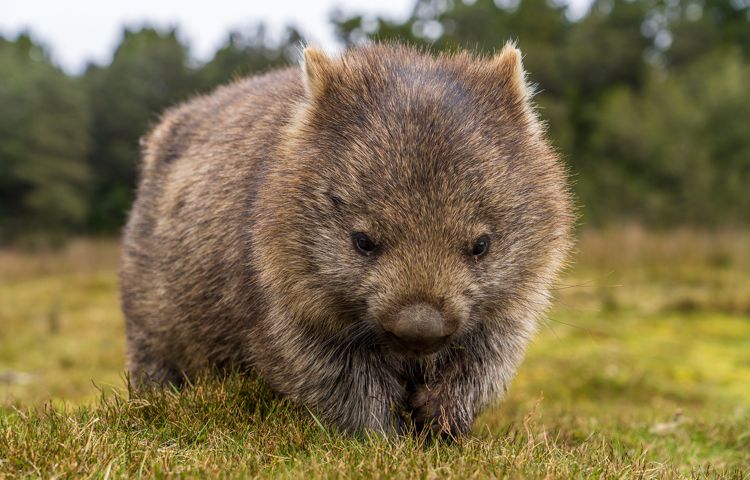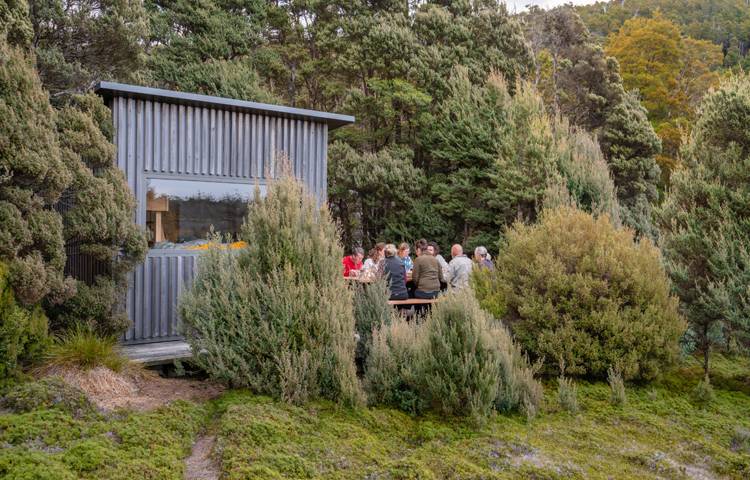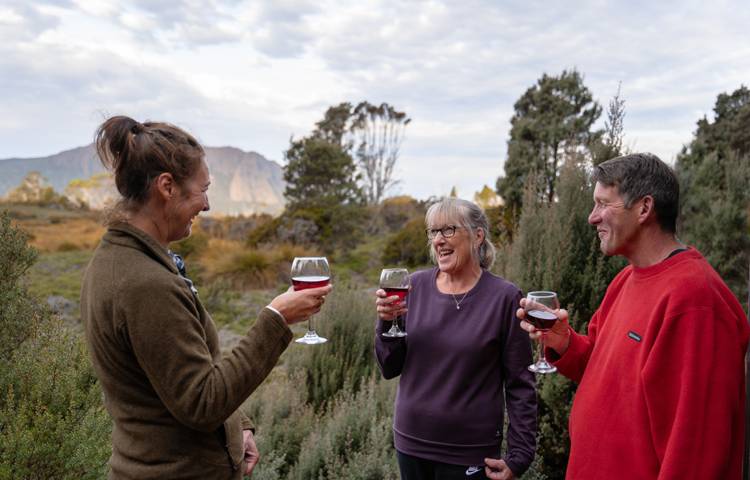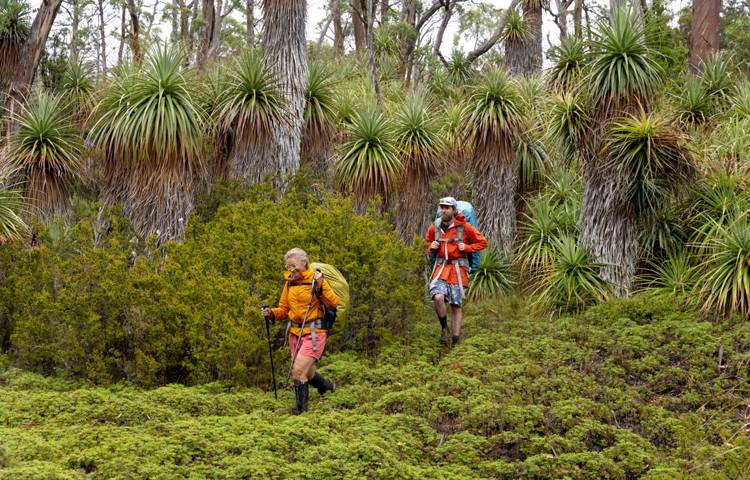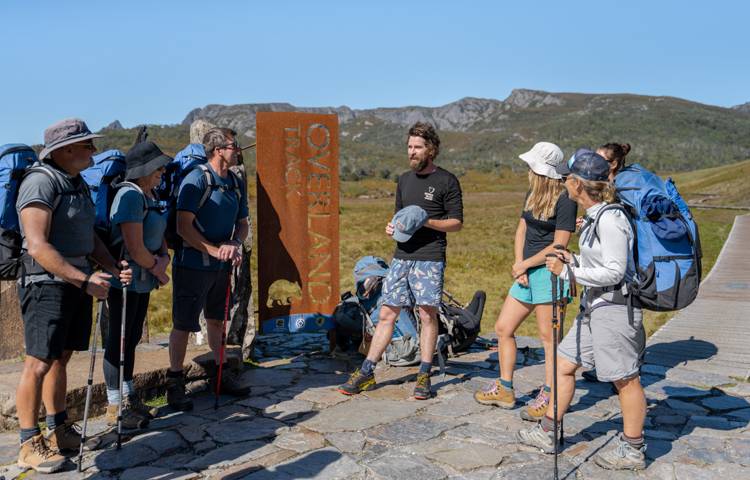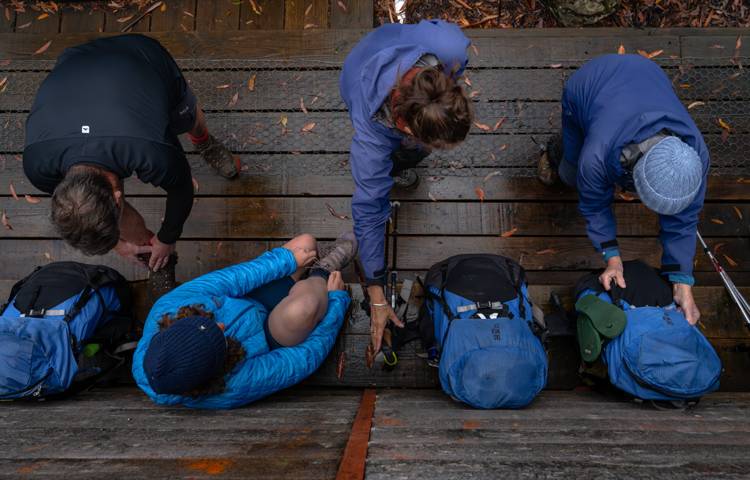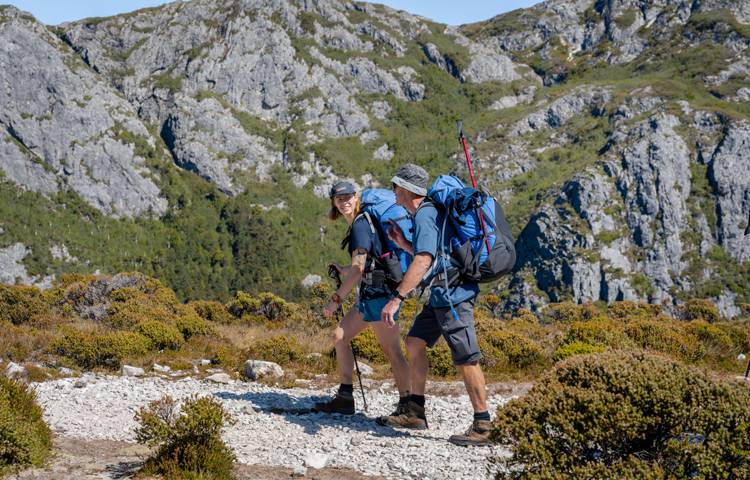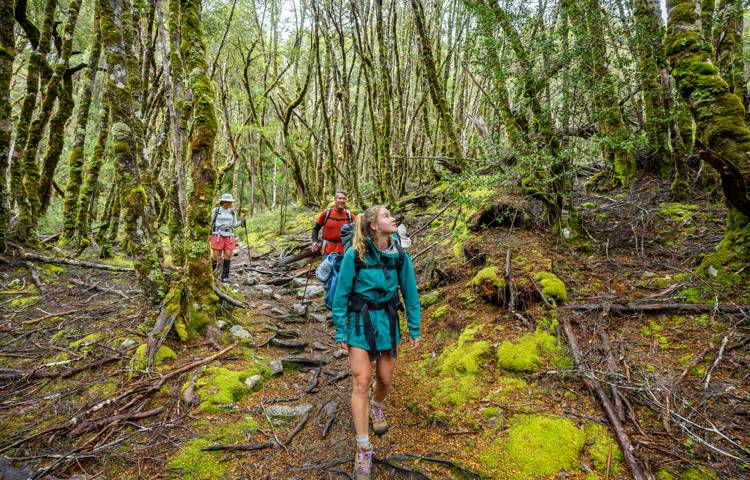 Cradle Mountain Siganture Walk (6-days)
Tasmania's Overland Track is famous the world over and our signature trip is the way to experience it in classic style. Across six days, our most popular Overland experience completes the full journey from World Heritage-listed Cradle Mountain to Lake St Clair.
The fully guided walk begins at Waldheim in Cradle Valley and journeys some 65 kilometres through to Lake St Clair, Australia's deepest natural lake. Our signature trip does not include multiple side trips, but there is the opportunity on Day 4 to summit Mount Ossa.
Sacred Geography Walk Testimonials

Highlights? All good but the adventure came to life with background story and knowledge of place provided by Bert and philosophy of spirit of place by Sarah. The special interest focus of the walk on the overland track, focusing on spirit of place and story of place, is unique to TWC. Fiona H. - 2023 Walk
Highlights? Flowers, views, waterfalls, the company of people I walked with. 10/10. Valerie H. 2023 Walk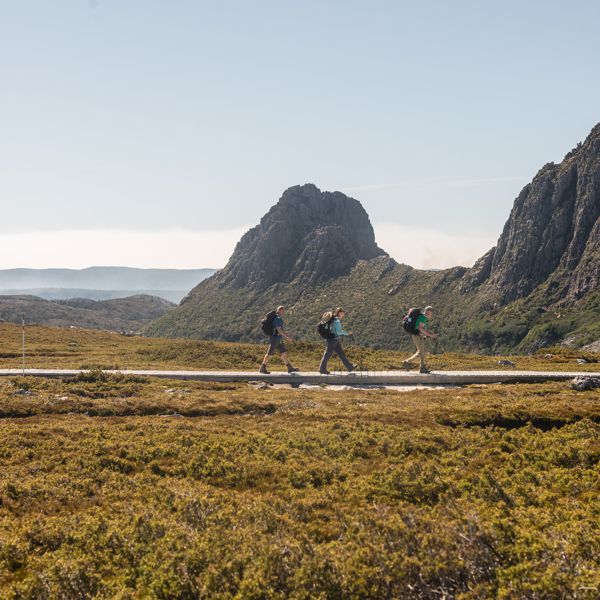 Day 1: Waldheim to Barn Bluff Hut
Approximately 7 hours walking
On the summit of Cradle Mountain in 1910, Austrian-born Gustav Weindorfer proclaimed, "This must be a national park for the people for all time." It's fitting our journey begins at Waldheim in Cradle Valley, where Weindorfer's story is told. We set off on the track, venturing through ancient temperate rainforest, passing the dramatic glacially-carved Crater Lake.
We climb the steepest section of the whole Overland Track today fuelled by a hearty lunch. Reaching Marion's Lookout (1250m) takes about an hour, with steps leading through steeper sections. The reward, providing weather conditions allow, is staggering views of Cradle Mountain and Dove Lake. Every uphill step is worth it.
We continue around the base of Cradle Mountain along the edge of a spectacular glacial cirque before dropping into Waterfall Valley. Our private hut awaits, beneath towering Barn Bluff, having completed the steepest part of your journey (excluding side trips). It's a welcome retreat after several hours walking over exposed alpine plateau where some days the wind howls - a reminder of nature's power.
Day 2: Barn Bluff Hut to Pine Forest Moor Hut
Approximately 6 hours walking
Today we'll be walking across plains where glaciers once rested, slowly moving and scouring out shallow tarns. Although an undulating trek with a few sections of exposed moorland, there are no significant climbs today.
We take our time venturing across vast button grass plains where ancient pencil pines fringe alpine tarns. Rising from the moors, the peaks of Cradle Mountain and Barn Bluff are behind us. Look ahead, and the stately Mt Pelion West comes into view.
Those looking for additional challenge today can take a side trip to Lake Will. Hugged by pencil pines and with its narrow quartzite sand rim, Lake Will is striking. Keep an eye out for gravel mounds along the way, remnants of Joseph Will's coal mining efforts in the 1890s.
This evening, at Pine Forest Moor Hut, enjoy our outdoor dining setting with views out to Mt. Oakleigh in fine weather.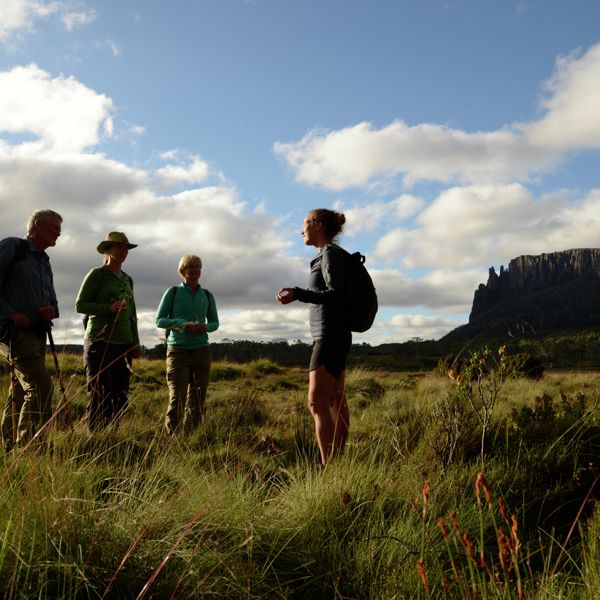 Day 3: Pine Forest Moor Hut to Pelion Hut
Approximately 5 hours walking
This morning we venture through gorgeous myrtle-beech rainforest as we descend around the base of Mt Pelion West, down to the Forth River before it plunges into Lemonthyme Valley. We'll take a break at Frog Flats beside the Forth River, which happens to be the Overland Track's lowest point.
From here, it's a gentle ascent back out of the valley. We leave thick Eucalypt forest behind as the trees part to reveal Pelion Plains. Uninterrupted views of Mt Oakleigh's dolerite spires now come into play.
The Pelion Plains area offers a host of side trips, hugged by mountainous terrain. There are excellent swimming holes, peaceful nooks to rest and abandoned copper mines to explore. Come nightfall, we'll be nestled amongst dry sclerophyll forest at Pelion Hut.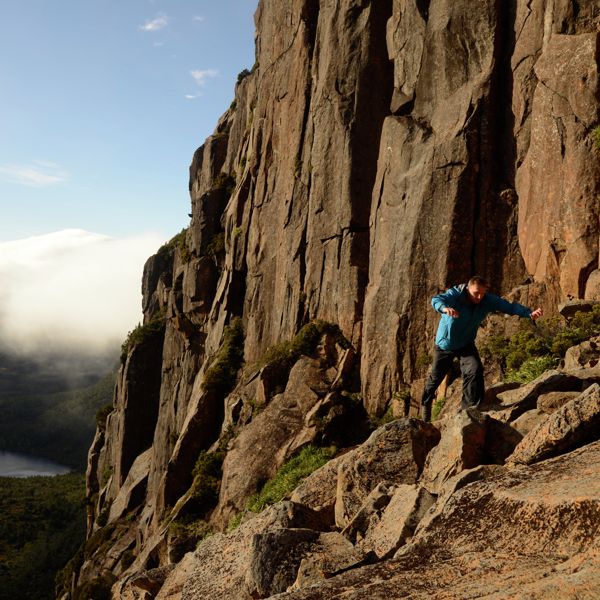 Day 4: Pelion Hut to Kia Ora Hut
Approximately 4-9 hours walking (Optional 5hr side trip to Mt Ossa)
Today begins with a climb of almost 300m to Pelion Gap through beautiful rainforest. Pelion Gap is a plateau stretching between Mt Pelion East and Mt Ossa, affording fantastic views to the south as well as back to the north.
There's plenty of time for side trips from Pelion Gap including the option to summit Mt Ossa. At 1617m, it is Tasmania's highest peak. There are other less challenging climbs, including Mt Doris.
From Pelion Gap it's a further two hours of gentle downhill to the hut. Today, choose to keep things relaxed or challenge yourself to stand atop the island's highest point. Once we arrive at Kia Ora Hut, enjoy a Tasmanian drop with spectacular views out to Cathedral Mountain.
Day 5: Kia Ora Hut to Windy Ridge Hut
Approximately 4 hours walking
Day five is about icy-flowing waterfalls. We depart Kia Ora hut and walk about an hour to Du Cane, where a 1910-built hut remains from the long-gone days of animal trapping. Du Cane Hut is a fine spot to rest, surounded by native gardens and overlooked by the spectacular Du Cane Range.
From here, we wander through some of the oldest forest in the National Park, with King Billy pines as much as 2000 years old. Now, we are above the Mersey River, which descends deeply northward towards Bass Strait, spilling down cliff faces.
There are three major sets of waterfalls in the area. We aim to visit one or more of these, choosing the best to have lunch beside depending on conditions. During the afternoon, we make our way over Du Cane Gap, then descend beside the spectacular Falling Mountain to Windy Ridge Hut. Tonight is a celebratory one, our last evening on the track.
Day 6: Windy Ridge Hut to Lake St Clair
Approximately 3 hours walking
Our destination today is Australia's deepest natural lake - Lake St Clair - shaped by glaciations over two million years. Birdsong helps us along this final day as we walk mainly through flowering dry sclerophyll forests.
We arrive at Narcissus at the northern end of Lake St Clair in time for lunch, before boarding the Idaclair cruise boat for a spectacular 17km cruise back to Cynthia Bay. There's typically around half an hour to look around the Visitor Centre here.
The return trip to Red Feather Inn is through the trout fishing mecca of the highland lakes, descending the rugged Western Tiers. We'll cross the broad plains of the Northern Midlands, passing through the rural townships of Cressy and Longford.
The Track and the Weather
At any time of the year, you can experience extreme conditions on the Overland Track. Freezing temperatures, wind, rain, sleet, and snow can occur. The Track itself has earned a reputation as one of Australia's great hiking challenges. Over six days, you will carry a pack, climb to alpine passes and if weather permits, to the top of  Mt. Ossa. The trail is uneven, rocky, slippery, wet, muddy, has many exposed tree roots and is not well-maintained. It is wild, remote and you cannot be rescued easily. Preparing well for your walk helps you complete the walk and makes it much more enjoyable.
The weather adds another challenge and persistent rain and even snow are possible in summer. Wool socks, merino thermal layers, quality wet weather gear and hiking poles all assist. Please ensure you are fit and able and follow the advice on what to pack in our gear list. If you follow the training plan, you will find the walk more enjoyable. If you have any questions, please contact our reservations team. Below are some images of the track in snow and after rain. Enjoy the comfort of warm and dry huts each evening! Please prepare and pack well and follow the advice in our trip notes' training plan.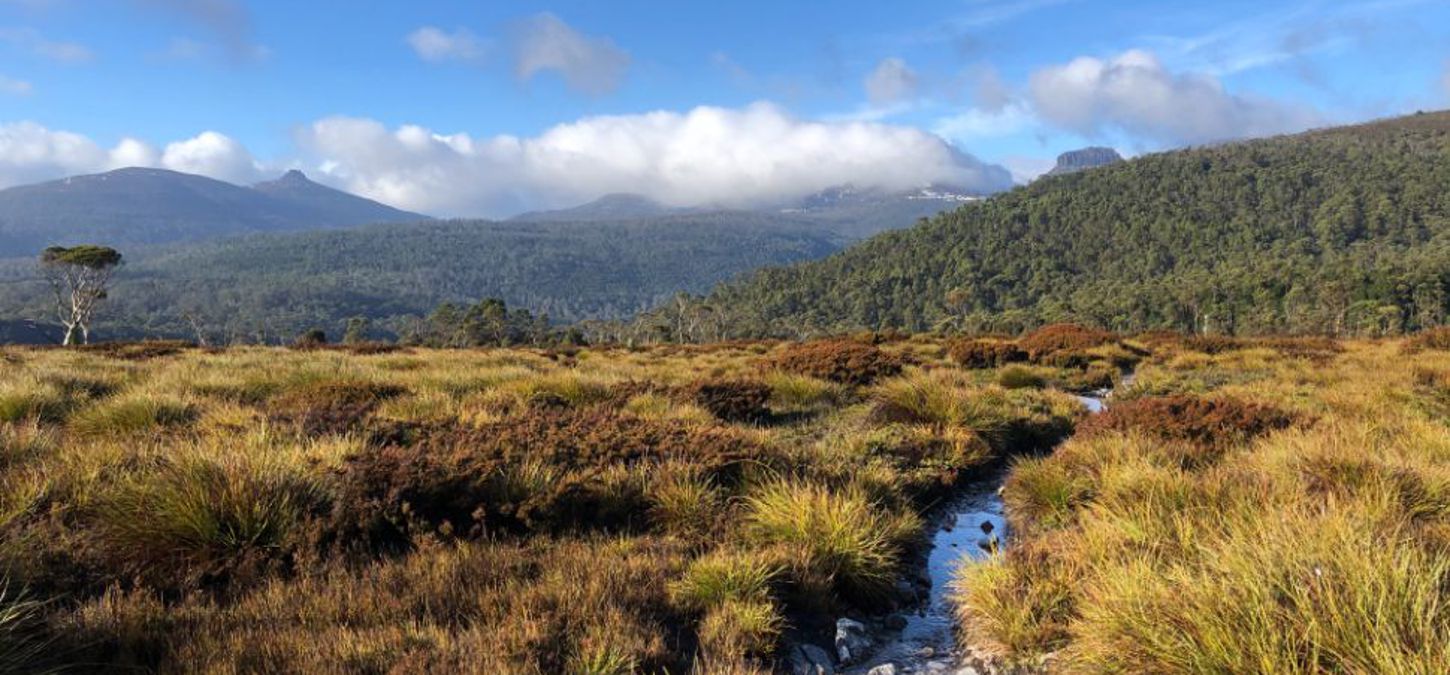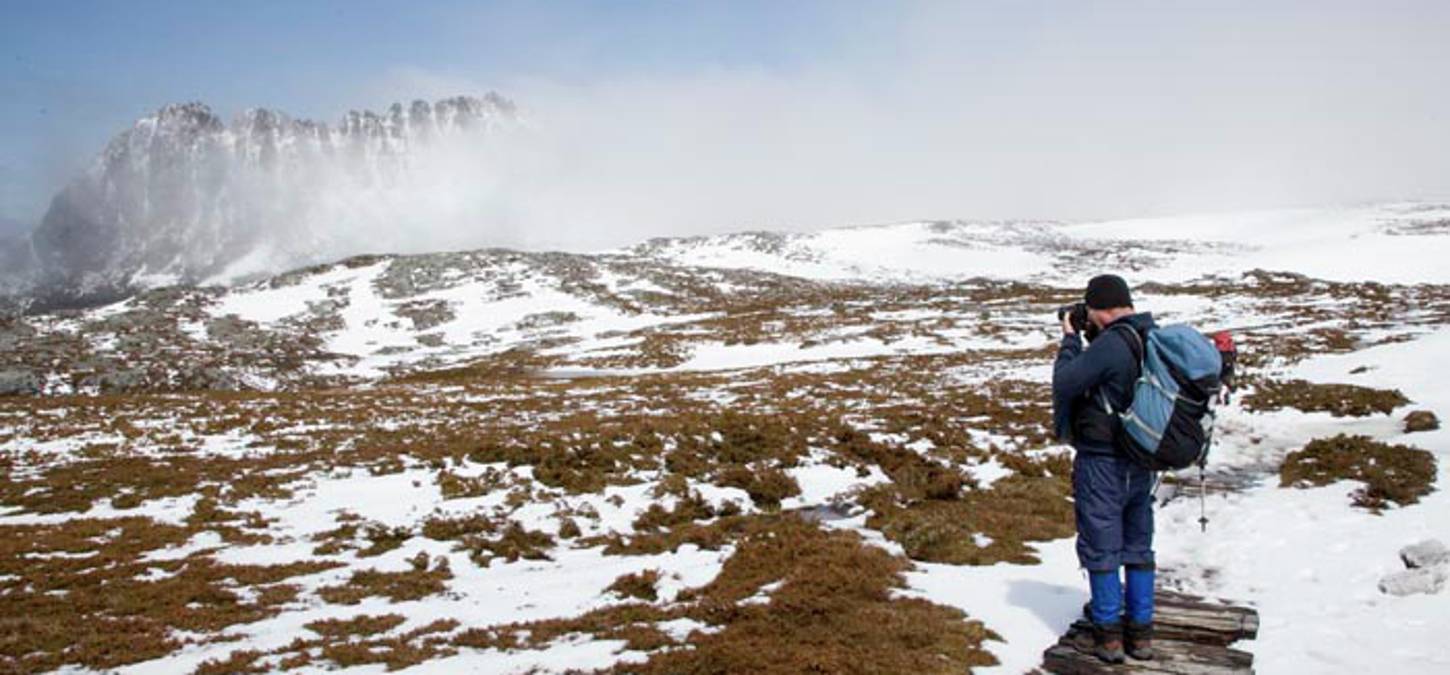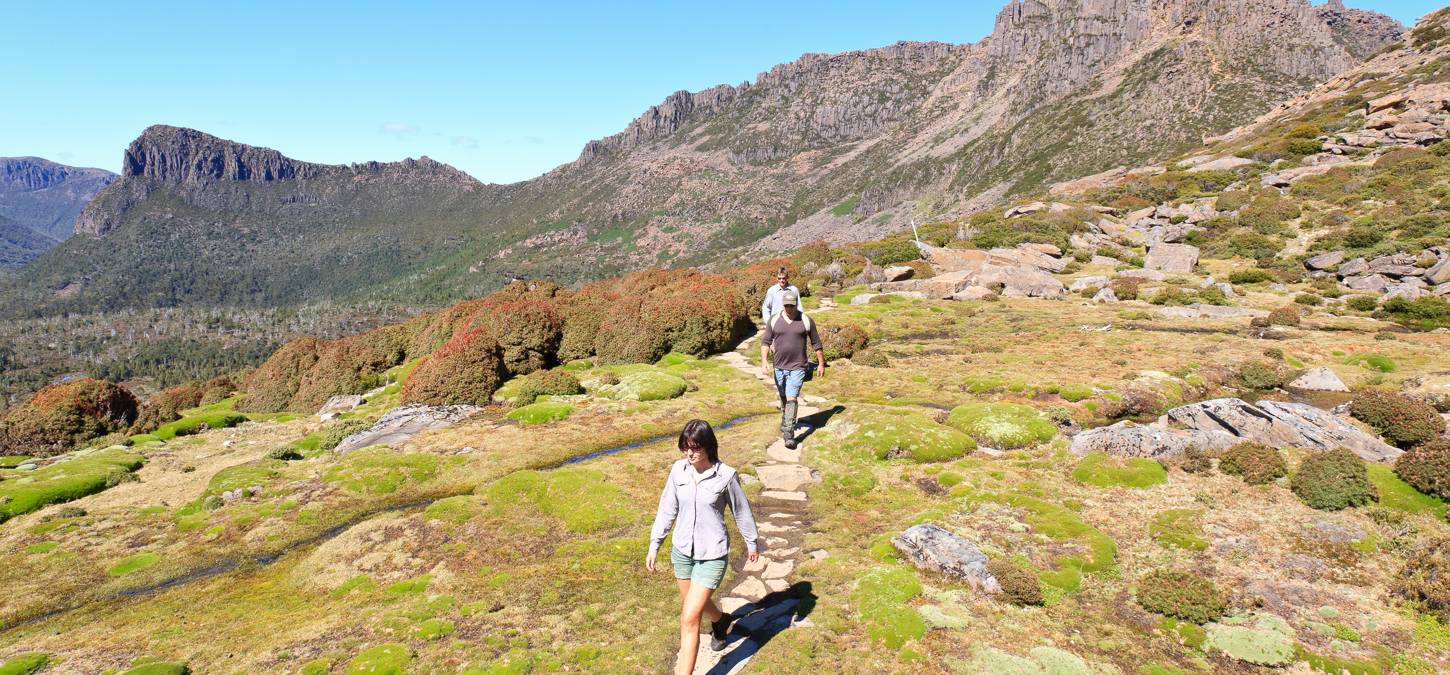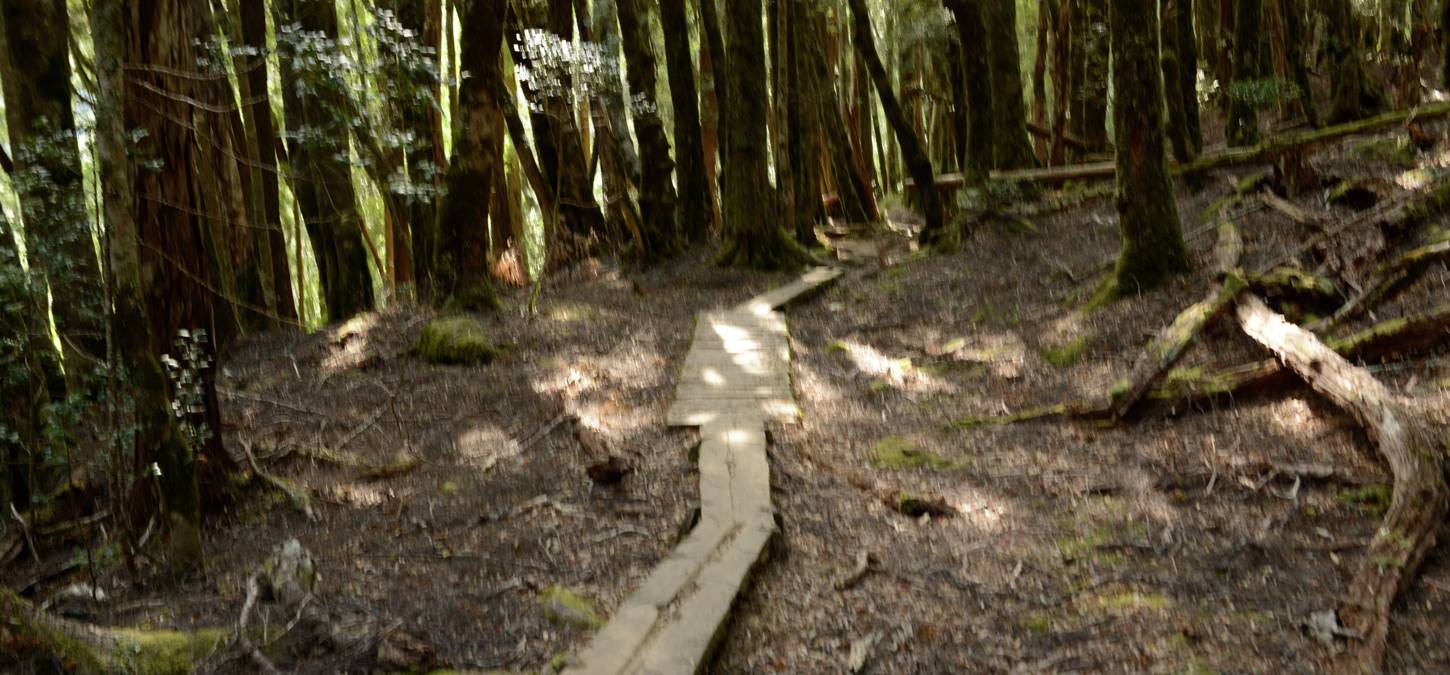 Exclusive Accommodation
True shelter, something that gives protection and refuge, simple and sustainable, clean and comfortable.
Our groups have the exclusive use of the only private hut accommodation along the Overland Track. Each hut has been discretely located off the main trail and offers a hot shower, drying room and twin share accommodation.
Our Private Huts
Operating and owning the only private hut accommodation along the Overland Track is a great privilege, and we take our responsibility toward the National Park & the natural environment very seriously. Operating in such a delicate environment, we place a great deal of importance on minimal impact track and hut practices and the huts are designed to be ecologically sustainable. Each hut is architecturally designed to maximize cross flow ventilation and operate with maximum efficiency with renewable energy. Our private Cradle Mountain Huts are maintained by us to ensure your comfort.
There will be afternoon tea, as well as some time to relax and enjoy your surroundings before dinner is served. In the evening, you are free to relax or take an early night and feel refreshed and revived in the morning.
There are games and a number of books in each hut, which can be enjoyed in the lounge area or, in warm weather, out on the deck or helipad.
The remote location of the huts demands that they are autonomous in terms of servicing. Rain water is chanelled off the roofs into tanks and the huts incorporate self-composting, water-free batching toilets. We provide phosphorous-free soap for our guests, and all waste water is separated through grease traps and sand filters. The residue is regularly removed from each site, along with all other rubbish. Gas and solar are the only sources of power, used for lighting, heating and cooking.
Provisioning of these huts is a unique procedure, once again due to their remote location. Only twice each season, supplies of food, wine and gas cylinders are flown in by helicopter over a two-day period, while all garbage and waste matter is flown out. Nothing is left within the National Park.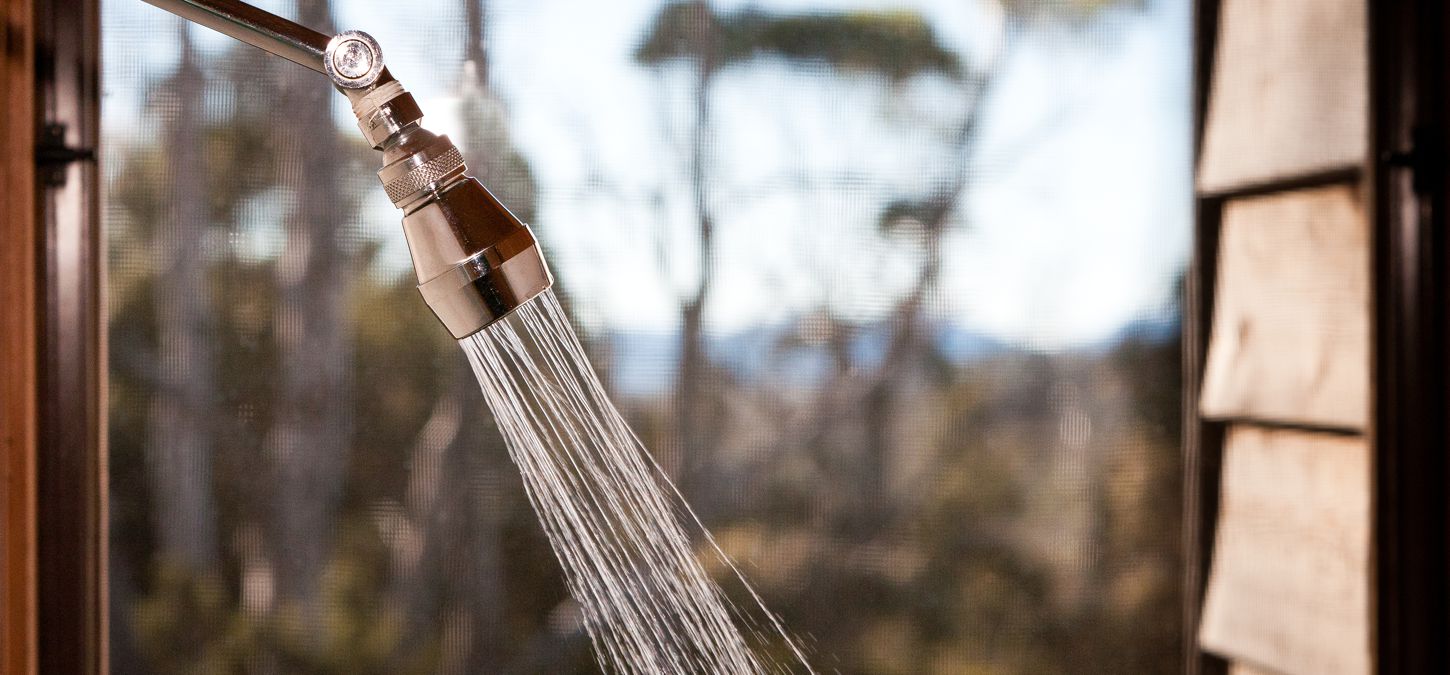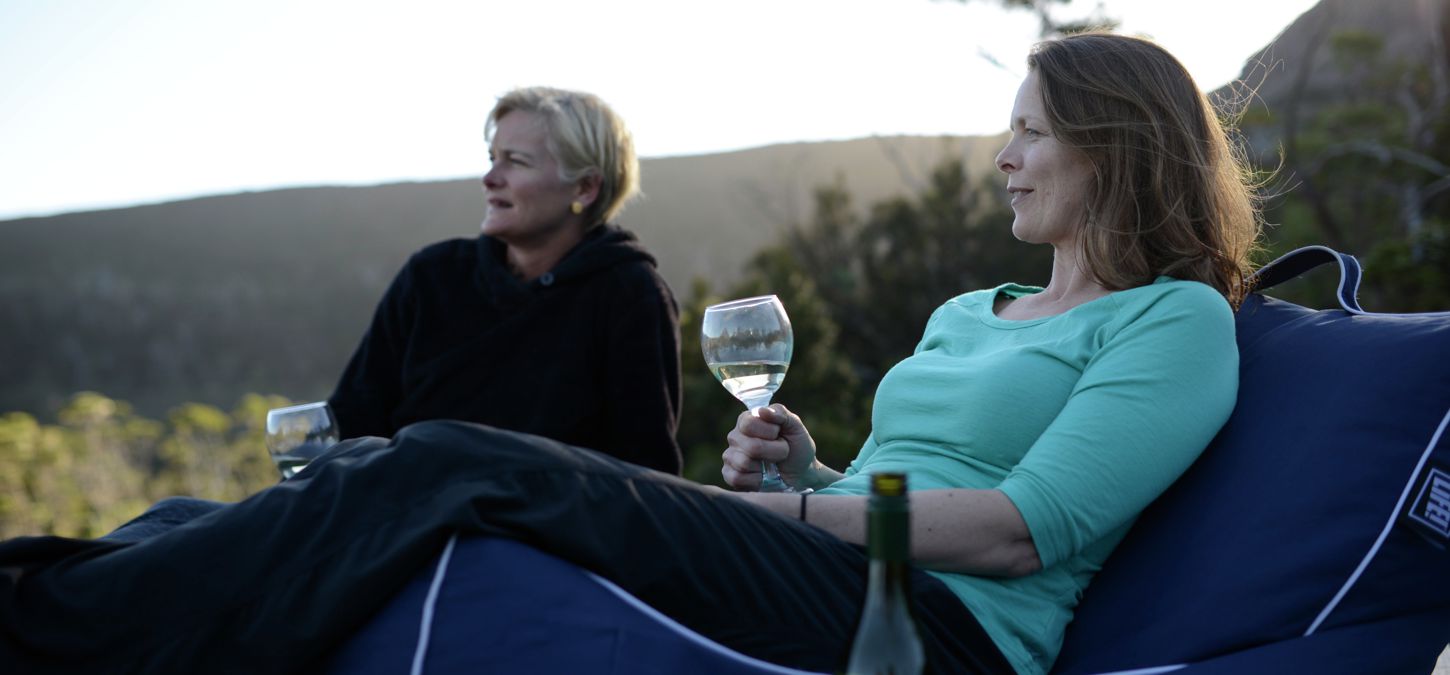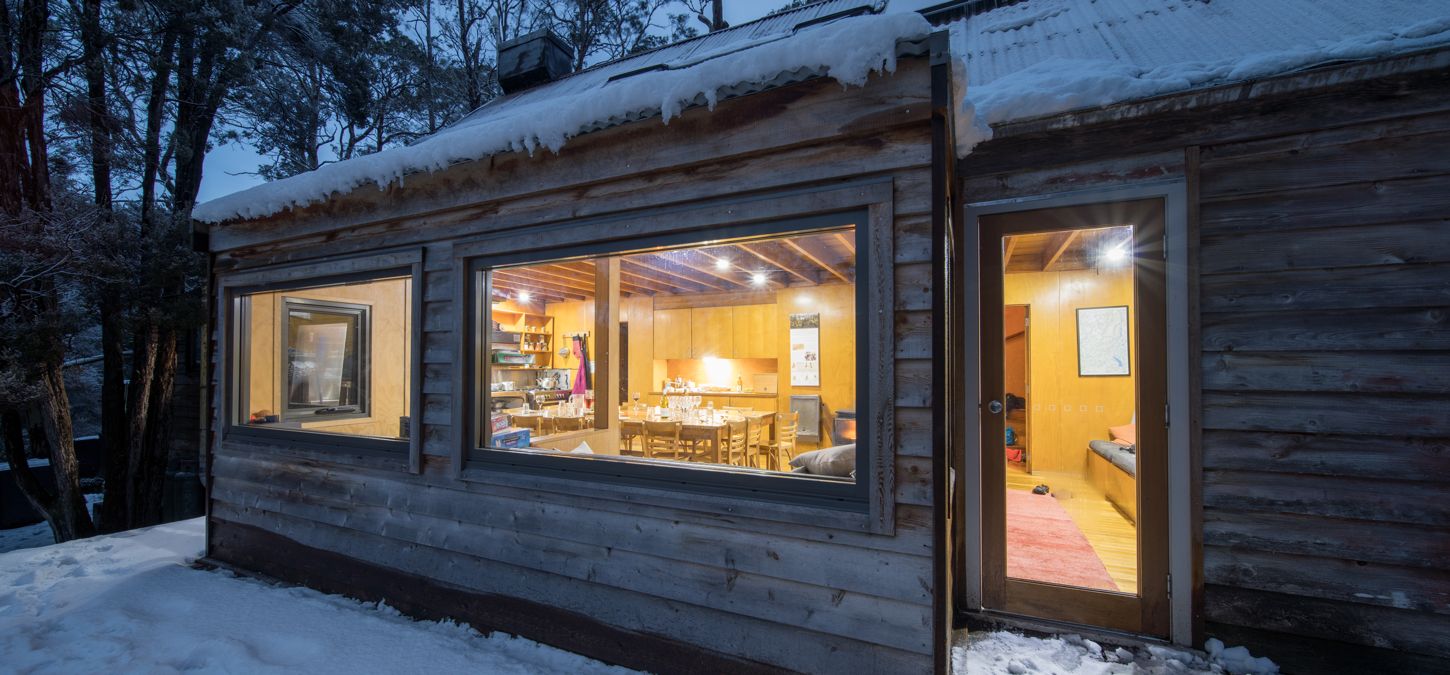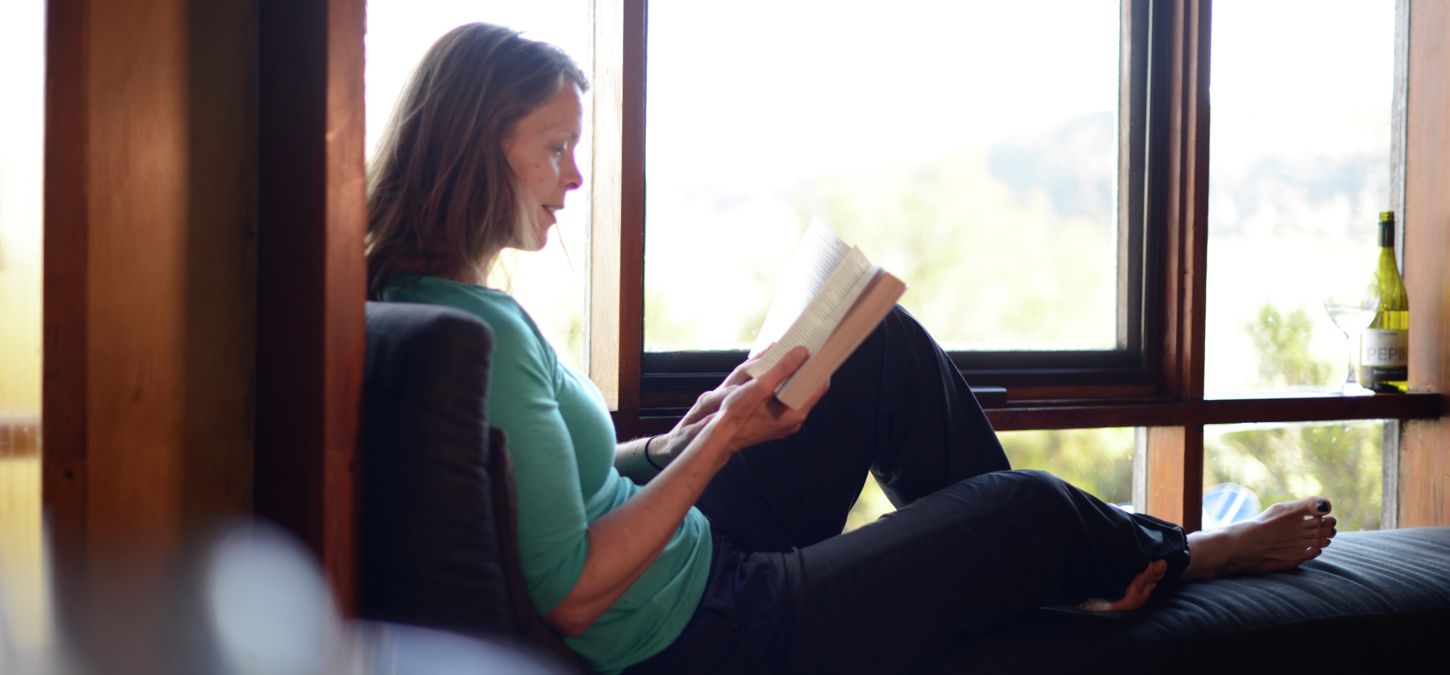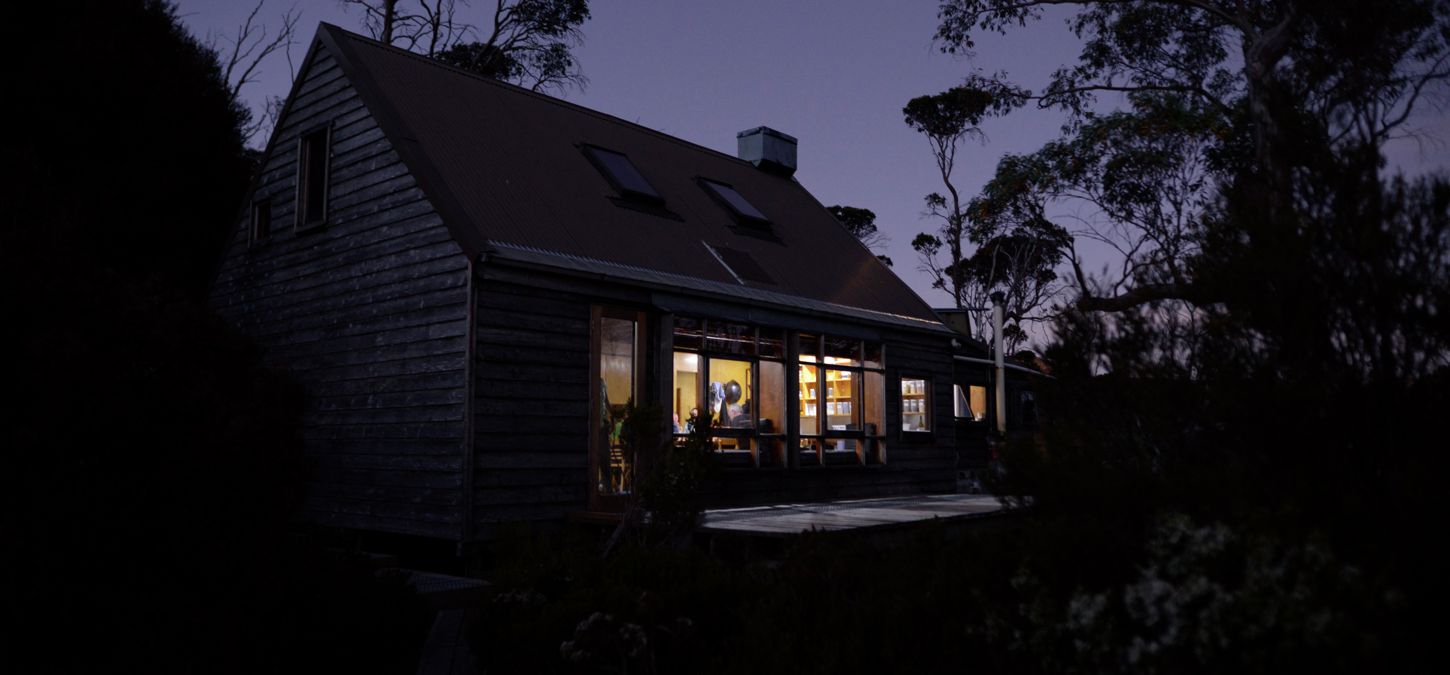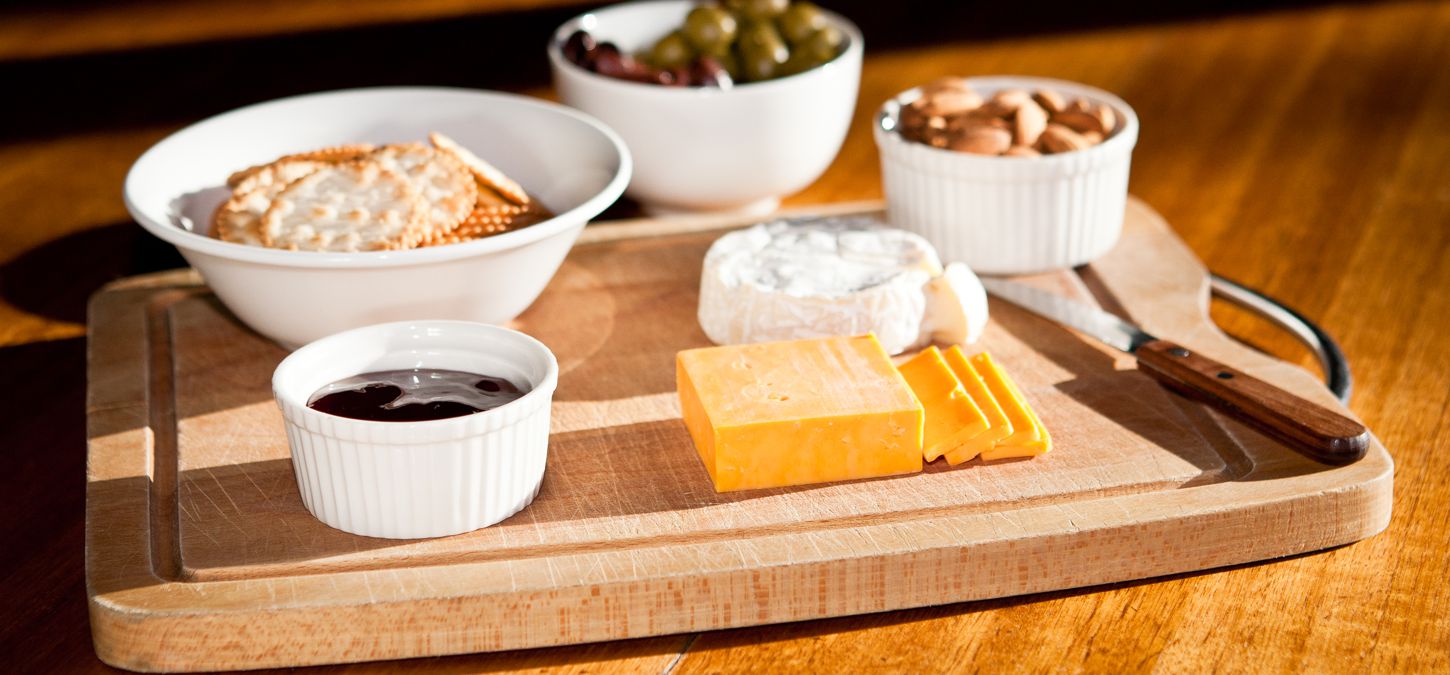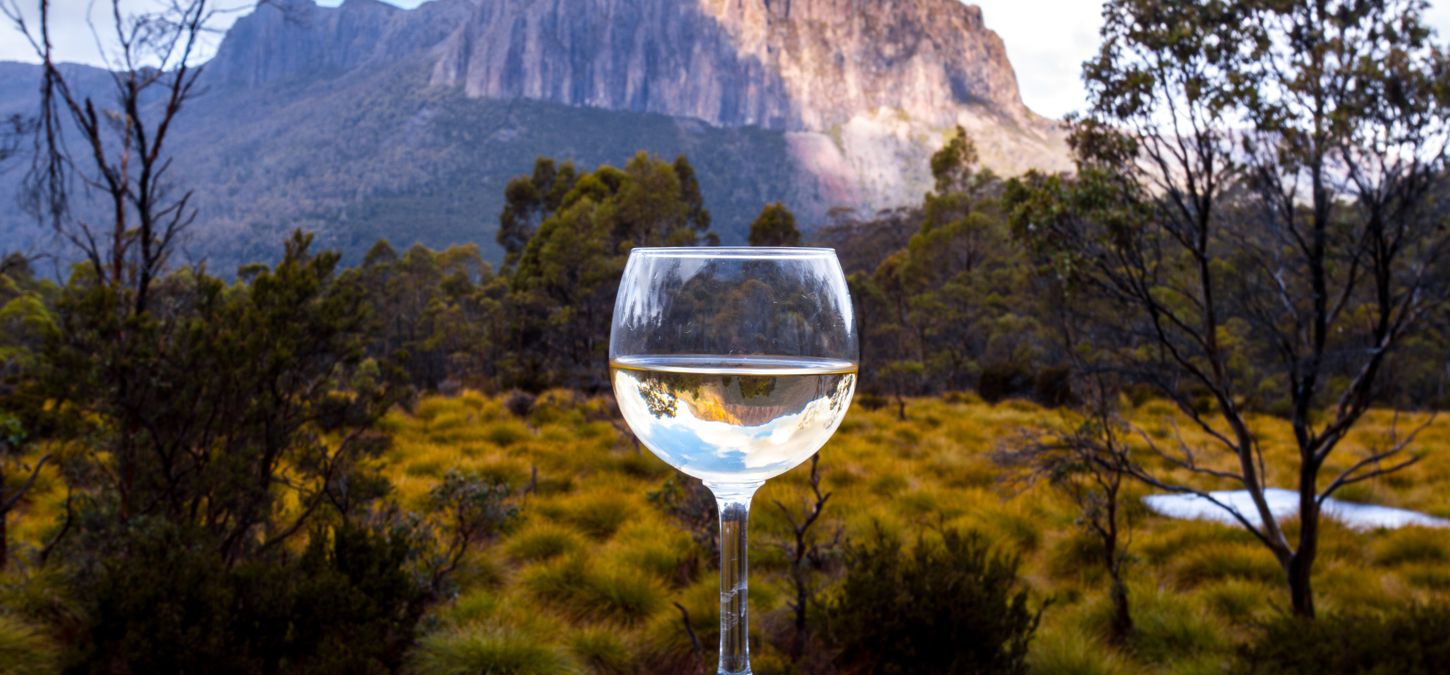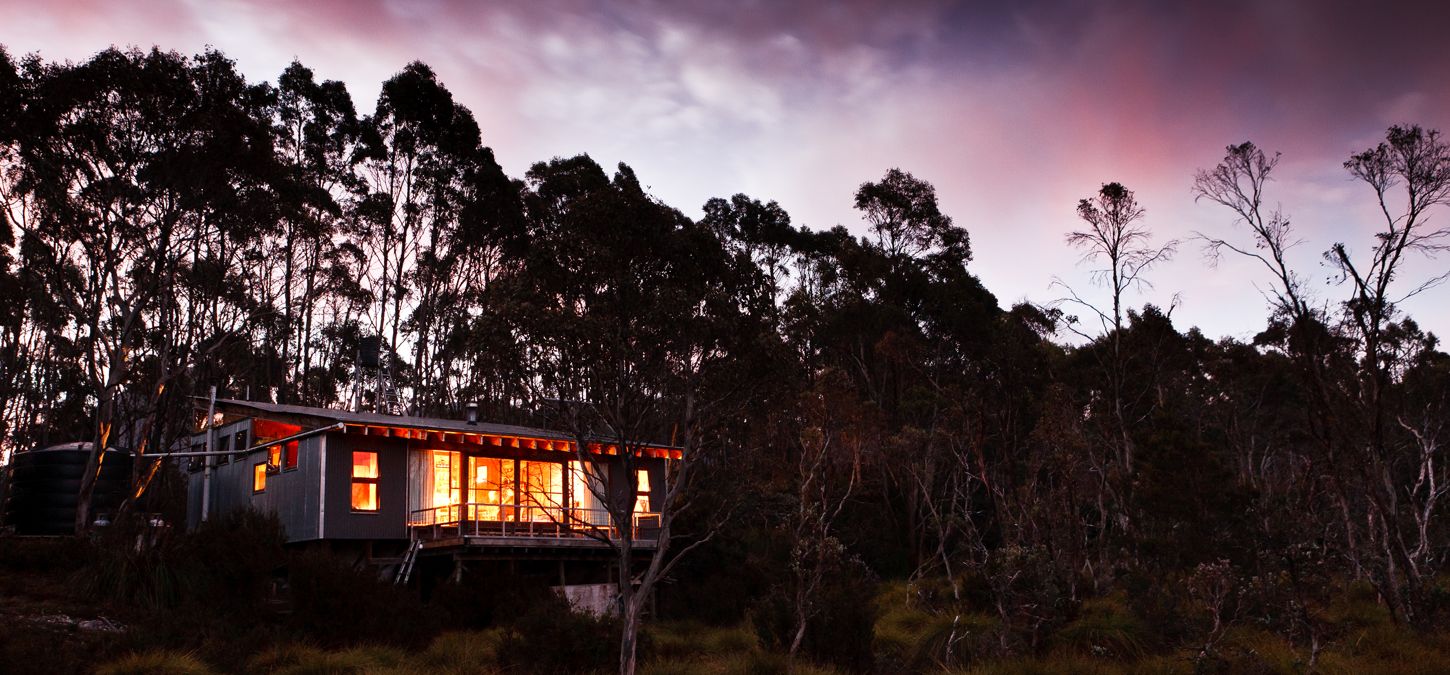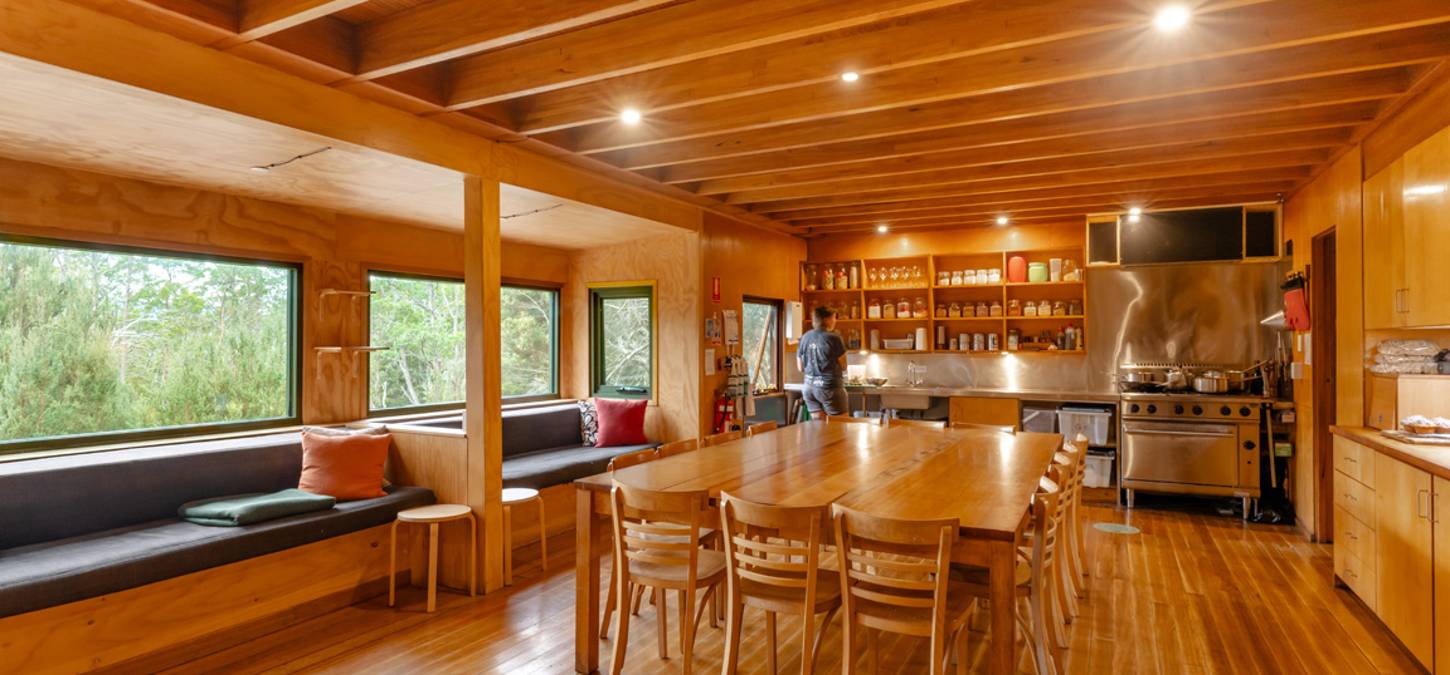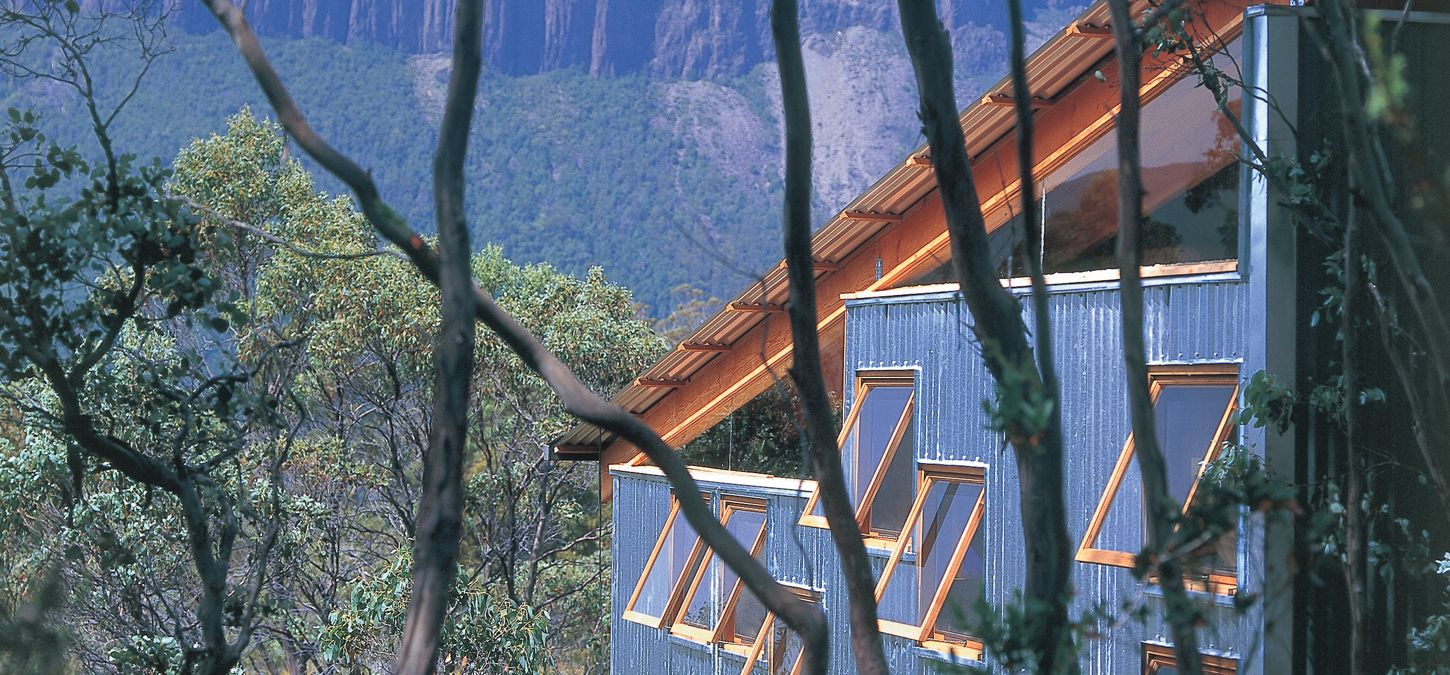 Cradle Mountain 'Sacred Geography' Walk with Sarah Bachelard
January 27-Feb 1, 2024 | $4,695
Price: Walk fee + Facilitator Fee
6 Day Guided Walk (Twin Share)
Each trip requires a minimum of 10 guests to be confirmed four months prior to departure and a maximum of 10 guests (Twin Share). 
Bookings
Special Interest Walks - Terms and Conditions 
Our standard booking terms and conditions apply to all bookings. In addition:
Cancellations

more than 90 days from the scheduled departure date, a fee of $350 per person will be charged with the balance payment refunded;
within 90 days of departure, no refund is available.

Bookings are transferable to another name.

Minimum numbers are required three months before departure.
Inclusions
Return transfers between Launceston and the walk base
Accommodation each evening in one of our five private huts - twin share
All meals and non-alcoholic beverages, plus a limited selection of Tasmanian wines
National Park and Overland Track passes
Boat transfer across Lake St Clair (on Day 6 of the six day walk only)
Use of a backpack and Gore-tex jacket for the duration of the walk
Sleeping bags, pillows and a comfortable mattress at each hut
Sleeping sheet and pillowcase to carry with you
Two qualified guides for the duration of the walk
Additional information
Have a burning question?  Check out our

 

FAQ page, and if you need further help please don't hesitate to

 

contact our friendly reservations team
Ready to start planning your next adventure and want to know what to bring.

 

Check out our detailed gear list, including details on what's provided. If your unsure about anything on the gear list please call us or talk to you local outdoor adventure store.
Need help deciding? Talk to an expert
We're here to help 9am – 5pm Monday to Saturday, otherwise, email us anytime and we'll be in touch.