Bruny Island Seed Collecting Walk
January 8-10, 2024 |  $2,395 per person 
Join our partnership with the Royal Tasmanian Botanical Gardens and help achieve their goal to map and collect rare and precious seeds on Bruny Island. On this special trip, you'll go in search of the highly desired Euphrasia fragosa and rare orchid species with other passionate botanists. 
During this unique and positive travel experience, you will walk the stunning Labillardiere Track with James Wood, manager of Tasmania's Seed Collection Centre, learn how to observe plants during the flowering and seeding phases, how to map and photograph special sightings and where to send your documentation. You will learn which Tasmanian places need more eyes on the ground, which species to look for and when. At the end of the trip, you'll be part of a wonderful community helping Tasmania's precious flora to be more resilient. 
 James Wood of the Royal Tasmanian Botanical Gardens has analysed their seed collection data and this is the next ideal time for Tasmania's Seedbank Program to secure good high-quality seed collections to protect vulnerable and threatened species.
This is a terrific opportunity to make an impact and enjoy the best of Bruny in comfort and yet stay close to nature. Depart from Tasmania's capital Hobart to Bruny Island by private boat to explore the best of Bruny Island's celebrated and hidden trails. Stay at a remote luxury camp, relax and enjoy exquisite meals featuring the island's famed produce.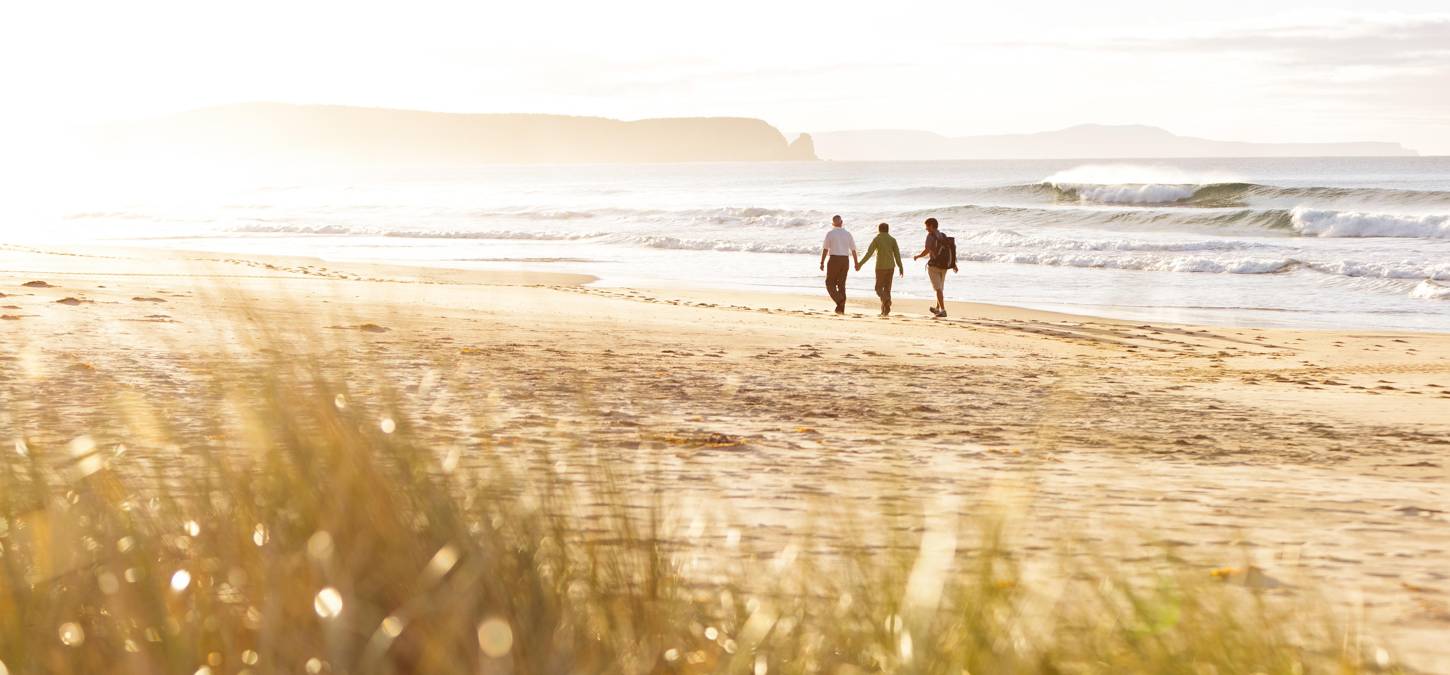 The Tasmanian Seed Conservation Centre
Behind the scenes at the Royal Tasmanian Botanical Gardens lies the Tasmanian Seed Conservation Centre, generally known as the Seed Bank. Seed banking is a conservation measure that provides additional insurance against the extinction of many species in the wild.
The Seed bank is the cornerstone of the Gardens' conservation strategy. So far, the Centre has collected 57% of Tasmania's rare and threatened species.  There are more than 400 threatened plant species in Tasmanian alone, and the Gardens plays an important role in protecting these species through seed collections, ongoing germination testing and through growing them in the living collections.
With increasingly unpredictable weather patterns and threats by fire, this conservation strategy is more important than ever. However many of the species are in remote places, difficult to access and requiring significant resource to undertake collections.  Through working in partnership with the Tas walking Company, we can work more efficiently towards our targets and ensure that Tasmania's rare and threated species are protected into the future.
James Wood is the manager of the Tasmanian Seed Conservation Centre and has worked in and around seedbanking for 28 years. He took on his current post in December 2005 after working for 15 years at the Royal Botanic Gardens, Kew in the UK. Running and overseeing seedbank germination tests for over 20 years, James has a broad background and interest in the challenges of wild species germination. He has been interested in natural history from an early age and developed a specific interest in botany since his mid-teens.
Previous Seed Collection Walks
2020 Cradle Mountain Huts Seed Collection Walk
Read about the Special Covid-19 lockdown mission in this

 

article from The Guardian. 
Pencil Pine seeds collected: 12,900
2021 Cradle Mountain Huts Walk
Four important collections were made, collectors had the privilege of heading off tack, field data and herbarium species secured and future targets identified. It was a celebration of plant lovers and conservation and it took place in one of the most spectacular places on earth.⁠
Olearia pinifolia seeds collected:258,470 
Scapisenecio pectinatus var. pectinatus seeds collected: 19,865 
Scapisenecio albogilvus seeds collected: 3,201 
Drosera arcturi seeds collected: 34,491 
Read about the walk in T's Magazine's article

 

Hunters and Collectors by Kate Hennessy
Please find James' photos from the walk

 

here.
A beautiful collection of photographs taken by Amanda Thomson, a guest on the 2021 walk. can be discovered here.
2022 Cradle Mountain Huts Seed Collection Walk
In January of 2022 James Wood led the second Overland Track with the Tasmanian Walking Company to collect seed as well as survey the vegetation and tell the stories of the native vegetation. Over the 6 day walk, seed collections were made of from 4 different shrubs - Allocasuarina zephyrea, Epacris gunnii, Leptospermum lanigerum and Melaleuca virens, totalling 450,000 viable seed. Additionally, a sample of a distinctive, white-flowered, Epilobium was collected from Mt Pelion East. This plant was spotted on last year's walk, but the importance of the find wasn't appreciated until several days later when photograph from the trip were being examined. With samples secured, some of the material collected was pressed as an herbarium specimen and some of it was grown on at the RTBG nursery. These samples will assist ongoing work at the Tasmanian Herbarium to ascertain the identity of a distinctive, and possibly very restricted alpine herb.

Fiona Walsh has kindly given permission to share some images from the walk: 

https://lnkd.in/g6VTZkZj
Bruny Island Long Weekend (3-days)
On the edge of the Southern Ocean lies Bruny Island. It's a place of bountiful produce, rare wildlife, rainforest and windswept beaches.  A "Long Weekend" on Bruny Island captures and epitomises the Tasmanian experience. 
This luxury three-day escape takes you from Tasmania's capital via private boat to Bruny Island. A maximum of 9 guests are treated to coastal trails, produce direct from the source, luxury camping and exquisite meals. What makes the trip so special is access to Bruny's lesser-known gems.   After traversing headlands where the next stop is Antarctica, visit a local oyster farm and shuck an oyster as pristine waters swirl about your ankles. Finally, retreat back to camp, built completely off-the-grid, with luxury in mind. Crisp sheets on king-sized beds and an outdoor shower framed by towering Eucalypts await. 
Brimming with activity, this weekend is delivered in a relaxed style that will leave you feeling restored in a way only Bruny can.
Day 1: Hobart -Great Bay - Mt Mangana campsite
Approximately 5-6 hours walking + collecting. Distance: 12km.
This morning you will meet your tour guides, James wood and fellow guests (maximum of 8) on the waterfront of Tasmania's capital city, Hobart. Step aboard your private boat and let the adventure begin with a cruise down the Derwent River to Bruny Island.
Today, our goal is walk towards a spectacular cape on the east coast of Bruny Island, exploring the lagoons on route where James is keen to investigate, map, and collect.
On returning from our walk we will wade out into the crystal clear waters of Great Bay to learn how the famous Bruny Island oysters are farmed and shuck them straight out of the water. Next stop; our camp. After a hot shower, join us in the dining house for a drink and to share stories of the day's adventures as the guides busy themselves preparing your dinner sourced from either on the island or in the waters surrounding it. Conversations will flow as James gives an update on the curent activities and priorites of the Seed Collection Centre. 
Day Two: Labillardiere Peninsula
Approximately 5-6 hours walking + collecting. Distance: 14km
Day two might begin with a gentle thumping past your tent. While the inquisitive wallaby isn't your wake up call, his visit, or the promise of warm croissants might lure you from your crisp sheets to reunite with us at the rustic wooden dining table once more.
The Labilladiere Peninsula is a beautiful and gentle trail that loops around a quiet corner of a remote part of the world offering coastal and mountain views as your frequent companion. The walk takes you through dry sclerophyll forests, along a sandy beach teeming with birdlife, visit secluded coves, rocky beaches and dense forests before emerging to gather again at the lighthouse. Our goal is to collect on the south east coast of the Peninsula.
Upon return to our camp, you can take some time to yourself, explore our 100-acre property and try to spot some of Bruny Island's 150 species of birds (including all 12 Tasmanian endemics) while your guides prepare the evening meal.
Day Three: Inala Private Conservation Reserve - Grassy Point - Hobart
After a relaxed breakfast we head to Inala for a private guided tour with one of Inala's expert guides around the Inala Private Conservation Reserve, a 1,500 acre Land for Wildlife property which is home to a variety of threatened species and all 12 Tasmanian endemic birds. Approximately 80% of the property is covered in native vegetation, which ranges from tall wet eucalypt forest with some rainforest species, to wetlands and heathlands. A number of conservation projects, such as tree planting, also provide important wildlife habitat. Of primary importance is preserving and creating habitat for the Forty-spotted Pardalote and Swift Parrot, both of which are Endangered. Inala is home to one of the largest known colonies of Forty-spotted Pardalote, one of Tasmania's most sought after endemics, and is an important breeding area for the Swift Parrot.
Our final destination is a picturesque walk to Grassy Point from Adventure Bay for our last chance to collect. We'll enjoy a final picnic lunch before we drive back to Dennes Point. The return boat trip to Hobart offers a scenic farewell to your adventure. 
An Island Sanctuary 
Our groups have exclusive use of our completely off-grid private accommodation, nestled in amongst tall eucalypts on the foothills of Mt Mangana at the southern end of Bruny Island.
With our days spent walking in wild, powerful, coastal places, our campsite is a sanctuary we can return to each evening. Featuring a gorgeous bespoke designed celery top timber kitchen and dining room, four canvas tents containing split king beds with quality linen, towels and pillows. The highlight for many of our guests is an incredible hot water shower discretely located with spectacular views!
One of the best things about our accommodation being located at the southern end of Bruny Island is the night sky. With no light pollution, the stars are incredible and occasionally we have been lucky enough to experience the Aurora Australis.
Our Bruny Island Accommodation
Our accommodation is built completely off-grid. We harvest the rain from our roof and pressure feed this water for all of our needs, including the incredible outdoor shower. For our shower and hot water in the kitchen, we use a gas system. A solar panel on the main roof provides the power to run our pumps, small energy efficient lighting in the main structure and just two power points to enable guests to recharge their cameras (they do tend to take a lot of photos!)
The accommodation was architecturally designed to have as little impact on the site as possible. In fact, it has been designed so that it could be easily moved to another site. If this were to happen there would be little evidence of the building's footprint. We built from Celery Top Pine, supplied by Southern Forest Farm Products, just across the channel from Bruny Island at Garden Island Creek. The business has a "no waste policy". This means that all the timber used in the construction of our accommodation was salvaged from the southern forests of Tasmania, essentially the timbers left behind as waste in existing forestry coupes.
Once the accommodation was constructed we began a program to restore the rest of the land to its original state. This involved an eradication program for non-native species on the property, as well as a program to re-introduce endemics. Eucalyptus viminalis (white gums) have been planted around the property to support and encourage the very rare and threatened endemic bird species -Forty Spotted Pardalote. These birds only exist where Eucalyptus viminalis occur and Bruny Island is a stronghold for them.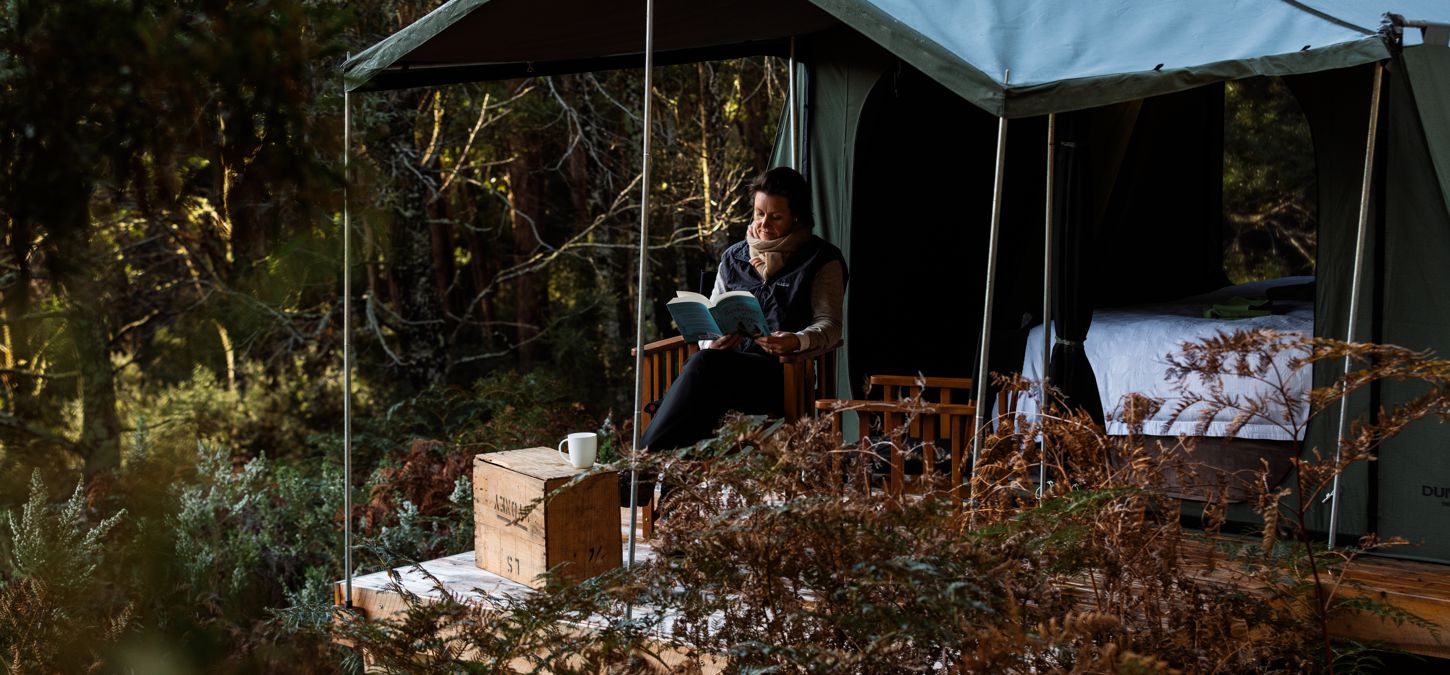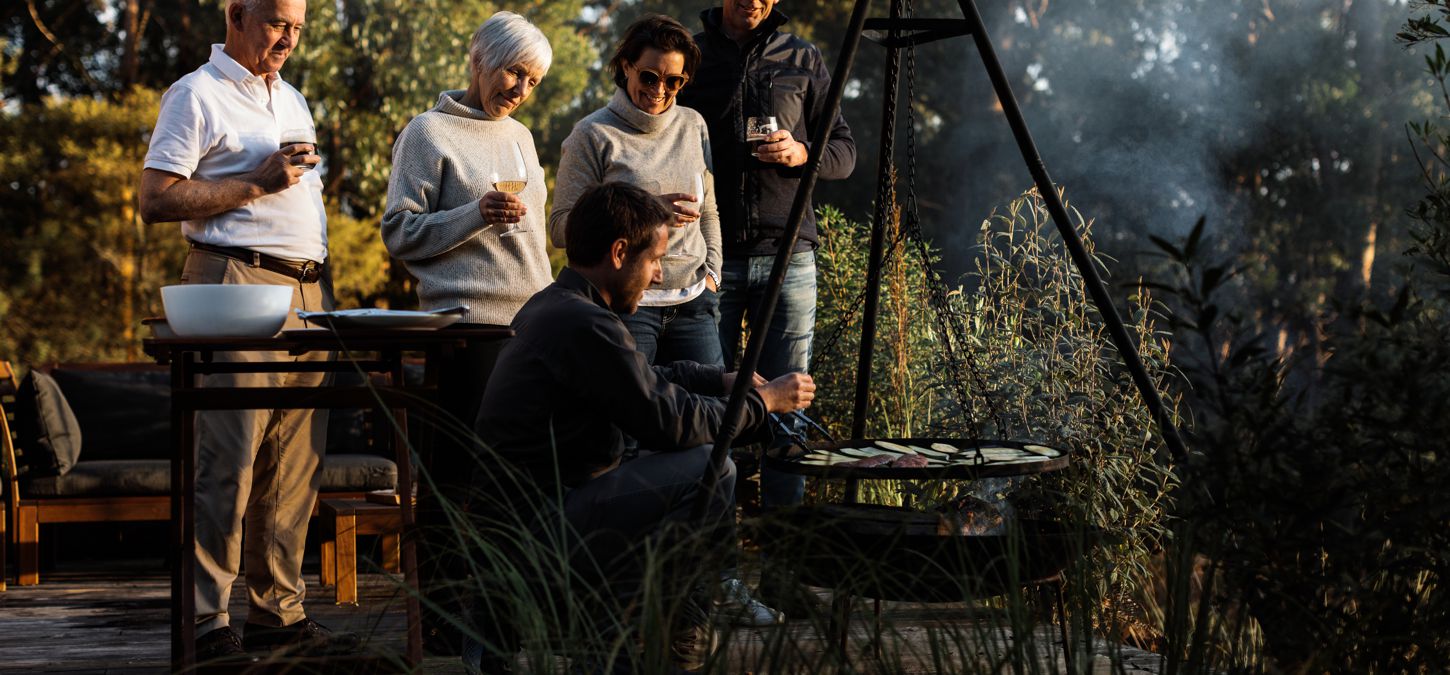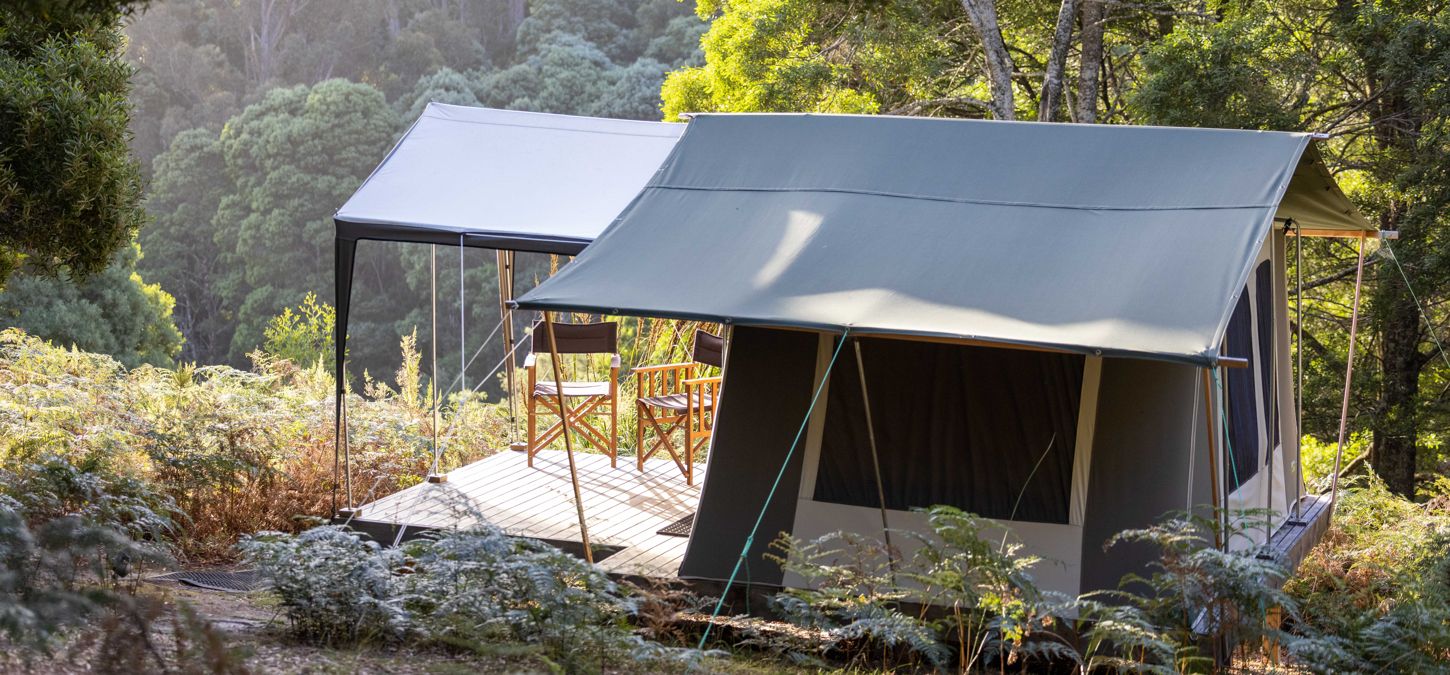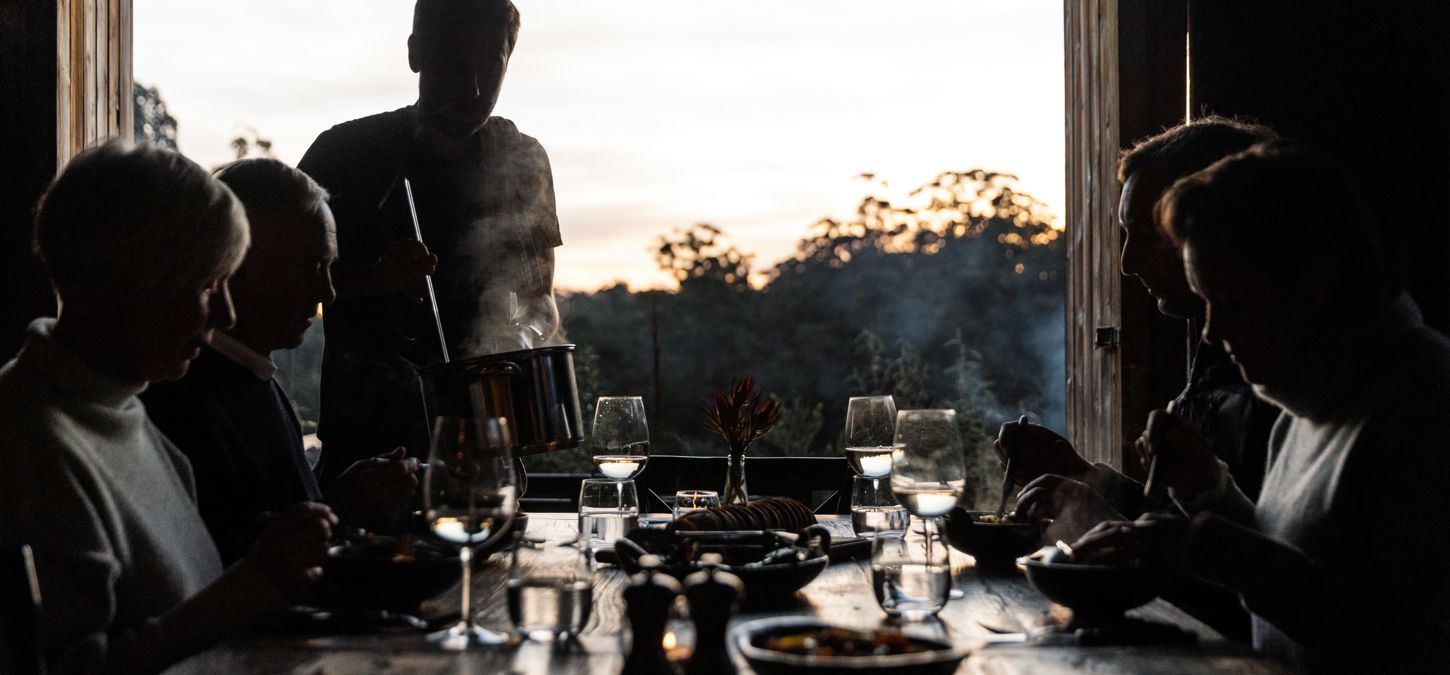 Bruny Island Seed Collecting Walk
January 8-10, 2024 |  $2,395 per person 
Each trip requires a minimum of 5 guests (Twin Share). The maximum is 9.
All accommodation is twin share. A single supplement of $566 per person is available upon request to guarantee a private tent.
Special Interest Walks - Terms and Conditions 
These are in addition to our standard booking terms and conditions.
All prices are quoted per person in $AUD including GST 
A deposit of 50% of the walk price per person and the Guest Information Form are due within five days of booking

Minimum numbers are required 90 days prior to departure. 

The final payment is due 90 days before departure. 
For reservations made 90 days or less from the departure date, full payment is due at the time of booking. 
From 90 days before departure cancellations are not possible, however, bookings are transferable to another person
Travel and pre and post-trip accommodation expenses are not included.
Inclusions
Return transfers between Hobart and Bruny Island
Accommodation (twin-share) each evening in one of our five private tents 
All meals and non-alcoholic beverages, plus a limited selection of Tasmanian wines
Bruny Island Long Weekend guides
National Park passes
All bedding and linen
Additional information
Need help deciding? Talk to an expert
We're here to help 9am – 5pm Monday to Saturday, otherwise, email us anytime and we'll be in touch.