Live Music Walks with Ange Boxall and Splendid Gin
Available for private groups by request | Minimum 16 - Maximum 20 | Price available on request
Walk the Bay of Fires and hear a celebration of women in music with a very intimate Ange Boxall performance at the Bay of Fires Lodge.
This four-day all-inclusive walk includes a performance at the stunning Bay of Fires Lodge. Concert night begins with Gin Cocktails from Tasmania's Splendid Gin. Then it's a very special, intimate acoustic performance by Tasmanian Ange Boxall. 
"Our very fave acoustic singer by a country mile!" - MONA, Museum of Old and New Art (TAS).
Ange Boxall embodies the spirit of the modern Americana star - with a 1970s singer-songwriter heart. Her very own style of country-folk-pop is commercial, crystal clear, and wickedly catchy. 
The Splendid Gin is a premium Tasmanian gin featuring purity and obscurity in equal measure. It is made by Ange, her partner Mike and a few friends on the east coast of Tasmania with the purest of Tasmanian spring water.
For all enquiries and bookings please contact Tasmanian Walking Company on (03) 6392 2211 or email bookings@taswalkingco.com.au.
Photo Credit: Chris Crerar Photography.
A Bay of Fires Lodge Performance by Ange Boxall
Imagine arriving at the Bay of Fires Lodge feeling like you are now a part of this remote paradise. You have walked and become accustomed to the brilliant light, white sands and aquamarine waters. There is a dusting of fine salt on sunned skin and wind-swept hair. Excitement and anticipation are building. Everyone has a couple of Splendid Gin cocktails and the festive air is crackling. There is a buzz of conversation throughout the long-table dinner. The Bay of Fires Lodge has the feel of an endless summer night. Dinner ends, the furniture is re-arranged and guests gather.
Ange begins singing and playing with an ocean sunset as the backdrop.
Ange Boxall will perform songs inspired by nature, in the heart of nature for a maximum of 18 people. Ange's pop-folk style and pristine voice will resonate with music from Joni Mitchell, Fleetwood Mac, Dolly Parton and Carole King as well as her own songs.
Introducing Ange Boxall
"She's kind of 1 part English Rose, 1 part Tasmanian Devil and 1 part gin-soaked Southern Belle" - Lachlan Bryan (AUS)
​Performing Country/Pop  Songwriter, Ange Boxall, hails from the serene but wild beaches of eastern Tasmania. It's here that Ange resides in a big old country house built in the early 1800s and where she also co-owns Tasmanian gin Company, The Splendid Gin.  Ange is the Founder and Creative Director of ECHO Festival - East Coast Harvest Odyssey. Life is good ... it's full of music, art, nature, and fun.
​Signing to Checked Label Services/Sony Music Australia in late 2016, the physical release of Ange's album Into The Wind debuted at #11 on the Official ARIA Australian Albums Chart across all genres, as well as #27 on the albums chart for releases from all over the world!
​Youtube Videos | Music video 1 | Music video 2
Ange Boxall website | Echo Festival | Splendid Gin | Riversdale Mill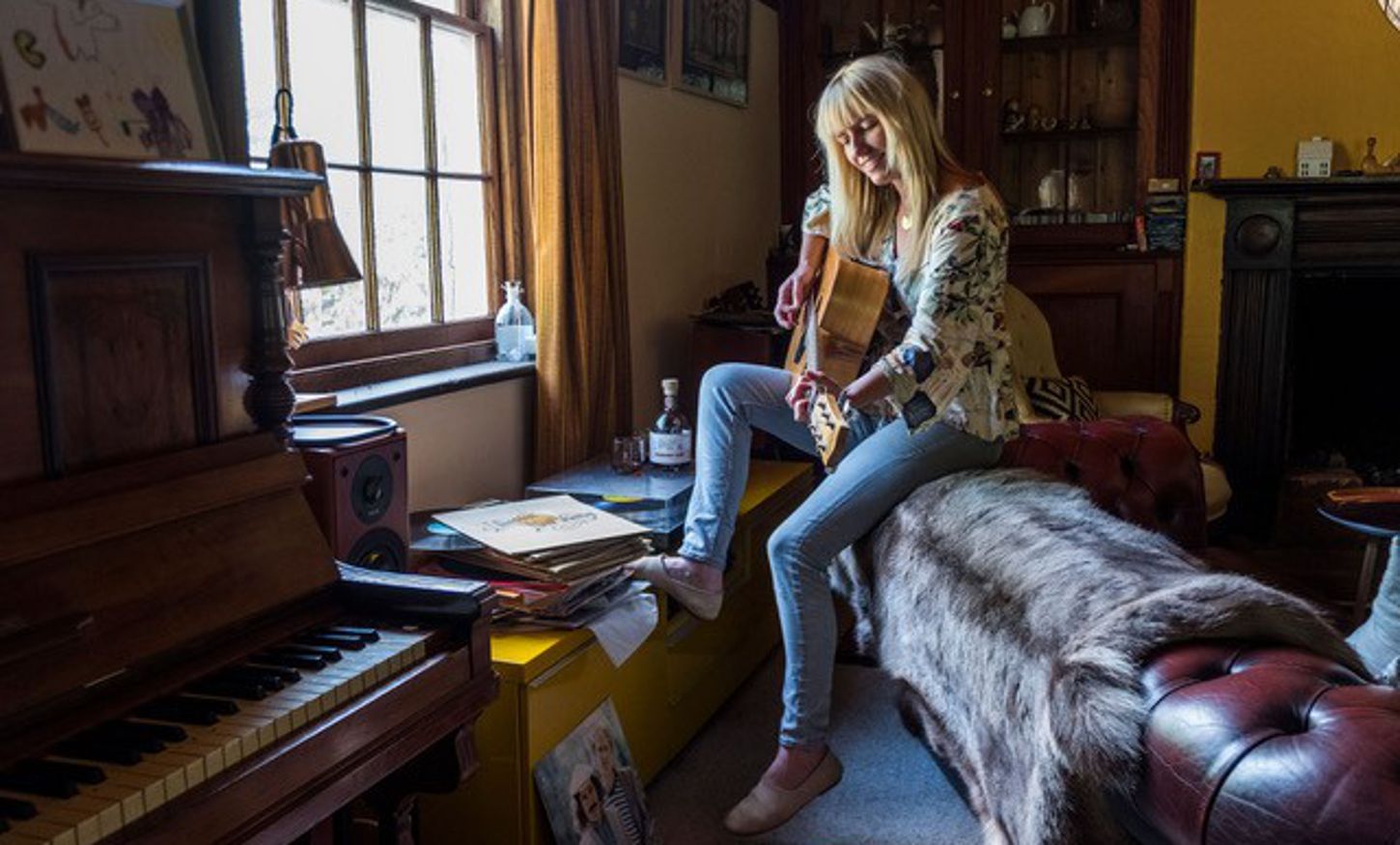 Introducing The Splendid Gin Company
Begin concert night at the lodge with a few cocktails featuring Splendid Gin. It's made by Ange!
The Splendid Gin was born when two couples met on the east coast of Tasmania, both living in historical properties once inhabited by the famous English writer, Louisa Ann Meredith, there was a feeling this was more than coincidence. Their aim is to produce exceptional gins of the highest quality and delightful flavours. Tasmania is their home and they want to showcase that beauty, in a bottle.
Presenting exceptional drinking as a stand alone sip for the connoisseur, or a splendid mixer with your favourite tonic and citrus, the Splendid Gin conjures a romantic past with a twist of contemporary decadence. It is a uniquely Tasmanian gin with a nod to its English heritage, we are delighted to share something quite special indeed.
It's simply Splendid. 
The Bay of Fires Signature Walk (4-days)
If squeaky white-sand beaches and wild coastline appeal to you, the Bay of Fires is a spectacular reason to lace up. We begin at Boulder Point in Mt William National Park where we journey four hours to semi-permanent tents in the dunes. At our forester camp there is no roughing it, take an ocean dip and return for pinots poured and your meal underway.
Day two is all about secluded coves, hearing tales of early inhabitants and making our way to the Bay of Fires Lodge. This is home for the next two nights - where foot spas and library time come standard and signature experiences in the outdoor bath tempt. Day three, grab a kayak paddle and glide down the Ansons River or relax into a 'lodge day.'
We take it easy on the final day, serving up a brekkie out on deck followed by a one hour walk to our forest lunch location. It's then onward to Entally Lodge to celebrate our shared four days.
Day 1: Launceston to Mt William National Park
Approximately 4 hours walking
Guests meet at Red Feather Inn at 8am. Launceston pick-up is from Chalmers Church, 5a Frederick St, at 6.30am. Quamby Estate shuttle departs at 6.30am.
It's time to get your walking boots sandy. Our beach stroll this morning begins at Boulder Point in Mt William National Park. In clear conditions, the Bass Strait islands of Flinders and Cape Barren are visible to the north.
We'll nestle into a protected beach along the coastline for lunch, enjoying the company of native birds, rare shells and marine artefacts. From day one your guides will begin unravelling the Bay of Fires tales; its early inhabitants, visiting explorers and how it came to bear its fiery name.
After about four hours walking, we'll arrive at the Forester Beach Camp, tucked away in secluded dunes. These semi-permanent tents are our home for the night. Relax on the deck with a local wine, take a dip or explore the dune swale location while your guides prepare delicious Tasmanian fare.
Day 2: Exploring the Bay of Fires Coastline
Approximately 7 hours walking
Following a relaxed breakfast at the camp we walk south, absorbing the coastline's bold colours and solitude. Along the ridgelines of sand dunes, views extend across heathlands and out to the ocean. We'll visit marsupial lawns, often encountering quiet native animals and the tracks they leave at nightfall.
Our lunch spot today is a beach sheltered behind the dunes near Eddystone Point Lighthouse. We'll have time to explore the lighthouse and its long-standing story before we trek far-stretching beaches that lead to the celebrated Bay of Fires Lodge.
Afternoon tea will be waiting, along with spa treatments for those who want to indulge. Pre-bookings are best if you're keen to sink into the outdoor tub or settle in for a luxurious few hours at the spa.
Come evening, venture into the library, cast a line off the beach or have your hosts deliver a cold drop while you dip toes into a foot spa on the back deck. Dinner is a Tasmanian long-table affair, featuring produce from the island matched with fine local beer and wine.
Concert for group departing 12 December.
Day 3: Kayaking and enjoying the area
Approximately 6 hours kayaking/walking
Today choose your own adventure. Rise early to the native birds accompanying the dawn, waking to the aroma of a hot-cooked breakfast and freshly brewed coffee. If it's a sunny morning, breakfast on the deck can reward you with whale spotting and dolphins surfing the waves.
Later in the morning, choose to kayak down Ansons River and experience the riparian ecology of this winding waterway. Cross the bird-rich waters of Ansons Bay and conclude with a stroll over the dunes of Abbotsbury Peninsula back to the lodge.
Other options for today include a spa treatment, fishing, snorkelling in the marine nursery, exploring shell coves or enjoying the lodge surrounds. After dinner is when the native wildlife wander out - keep an eye out for wombats, wallabies, Forester kangaroos, possums or even a Tasmanian devil. Don't forget to look up! The night sky from this pristine coastline is an awesome spectacle.
Concert for group departing 11 December.
Day 4: Return to Launceston rejuvenated
Approximately 1 hour walking
Following a leisurely breakfast at the lodge, there's plenty of time for a morning swim or final spa treatment before we depart the lodge. Unlike our other walking, today we venture through eucalypt forests and coastal heathland. We'll enjoy a forest lunch to the sound of native birds, including the endemic green rosella.
Upon our return to Red Feather Inn there will be time to raise a glass to the four wonderful days spent together.
Exclusive Accommodation
The Bay of Fires Signature Walk features superb exclusive accommodation located within footsteps of the pristine Bay of Fires beaches.
Forester Beach Camp 
Nestled in a protected dune swale behind a glorious white sand beach, Forester Beach Camp has been designed as a demountable seasonal structure.  
Twin-share rooms with timber floors, canvas rooves and full kitchen facilities provide perfect seclusion in a setting of unspoiled beauty. Private wash areas and composting toilets provide comfort without harming the environment.
We've obtained special permission to operate this camp within the National Park, so close to the beach and yet so private. Here, you can swim or snorkel in the shelter of a natural, rock-ringed 'harbour', enjoy your meals on the outdoor decks or picnic on the beach under the biggest starry night skies.
The Bay of Fires Lodge
Set on a hilltop, 40 metres above the pounding of the sea and surrounded by National Park, the Bay of Fires Lodge is the only building on 20km of outstanding coastal wilderness.
Enjoying views up and down the pristine white sandy beaches in an area of great significance to the Aboriginal community, a truly ecologically-aware building has been gently let into the landscape. Two long timber and glass pavilions allow maximum connection to the landscape with minimum impact on the environment: all building materials - Tasmanian hardwood and plantation pine - were lifted in by helicopter or hand carried to the site.
The lodge is autonomous in providing and managing its existence. Here you will experience true communion with nature in accommodation that combines simplicity of design with comfort and warmth. In the magnificent living area with its large timber deck and open fire, you'll enjoy delicious meals prepared with the freshest local produce, accompanied by fine Tasmanian wines. Solar power provides the lighting, while hot showers and comfortable hotel beds add a touch of luxury at the end of each day's activities.
All accommodation at the Lodge is twin or double share, with king size mattresses.
There is a small library which is comfortable and cosy looking out over the ocean. This is a great place to sit back and relax or look through our selection of books and magazines.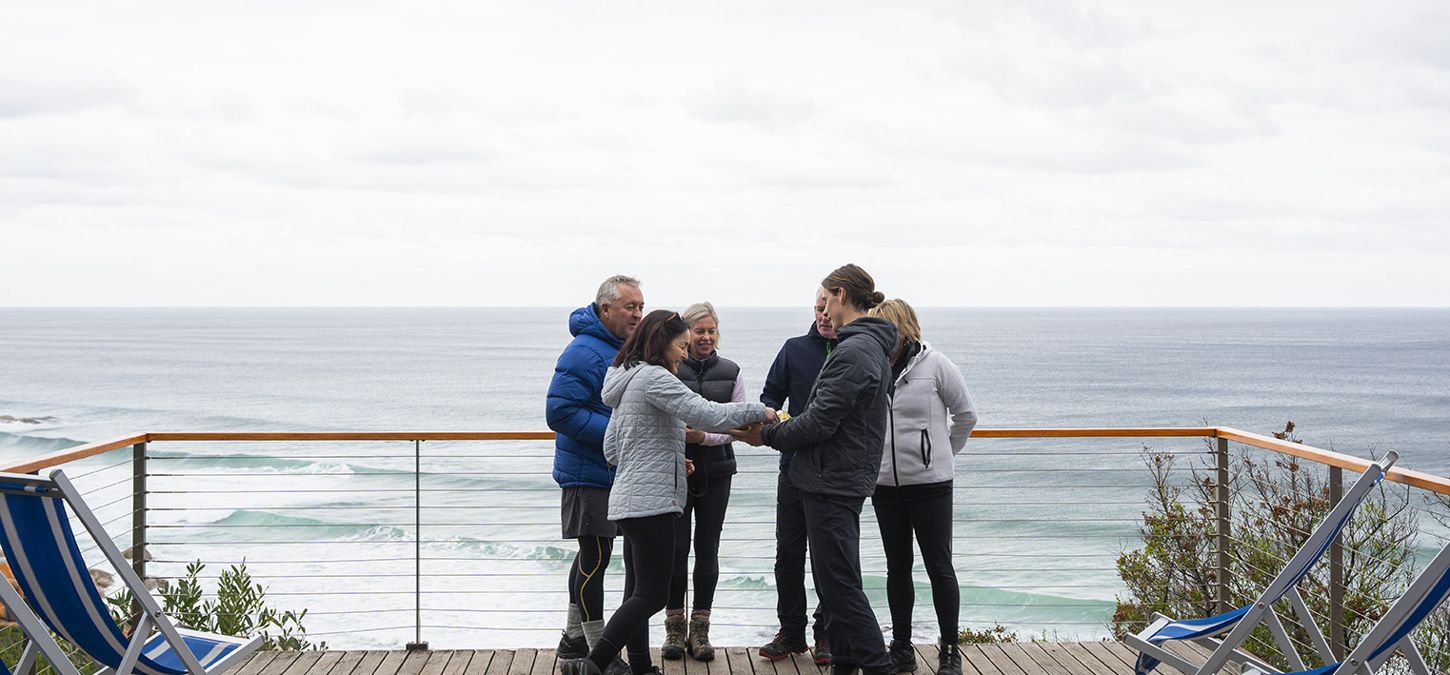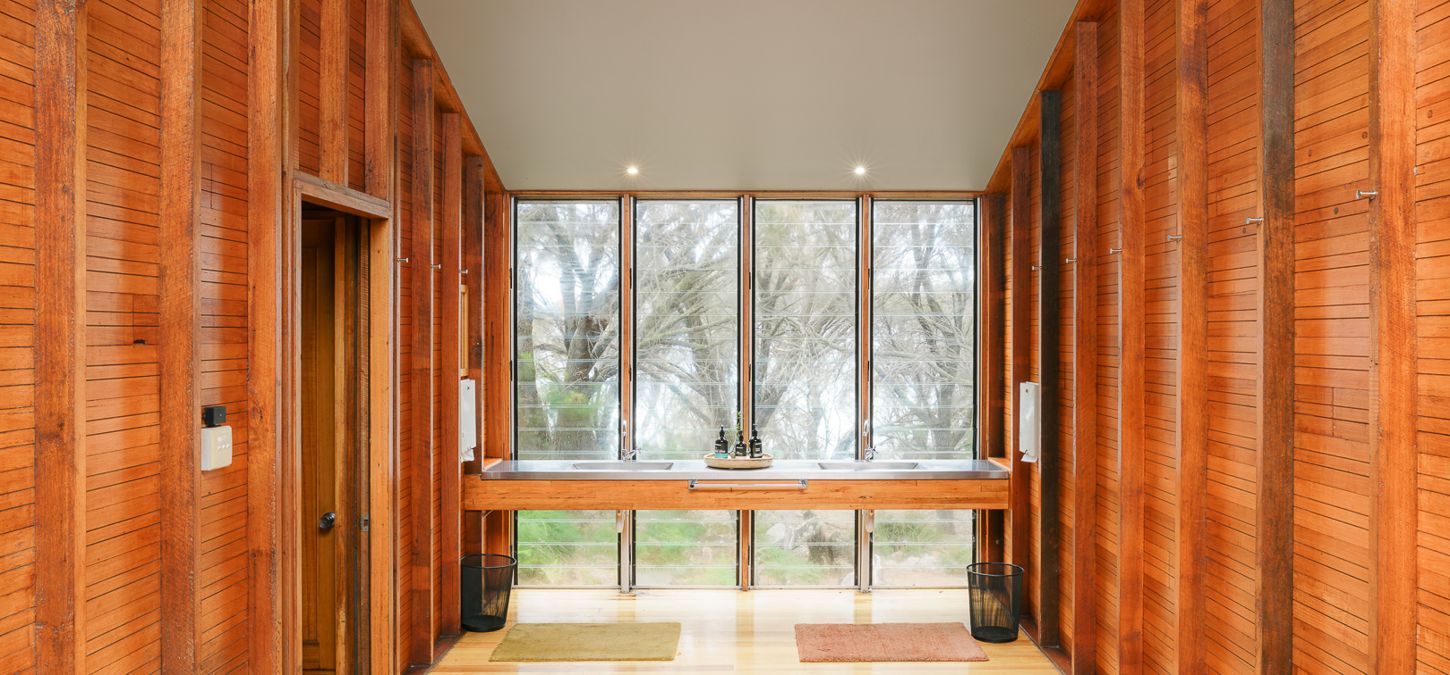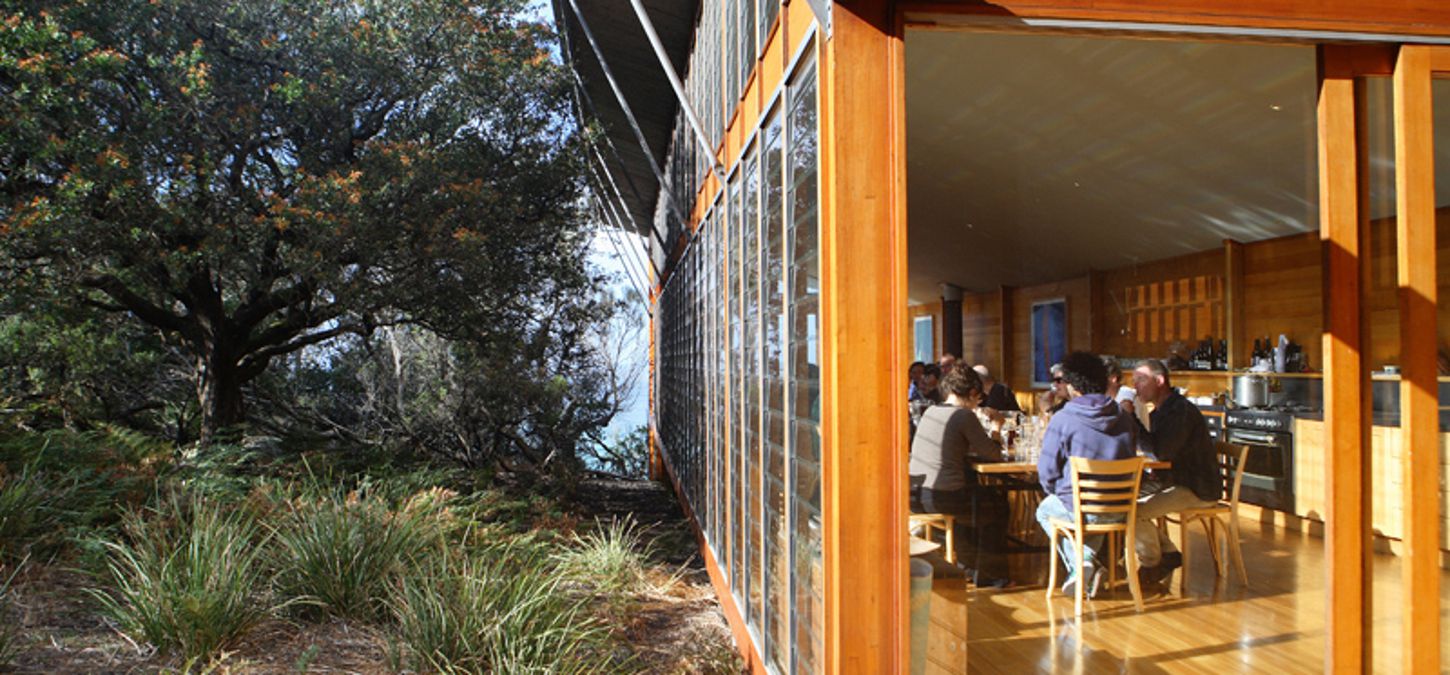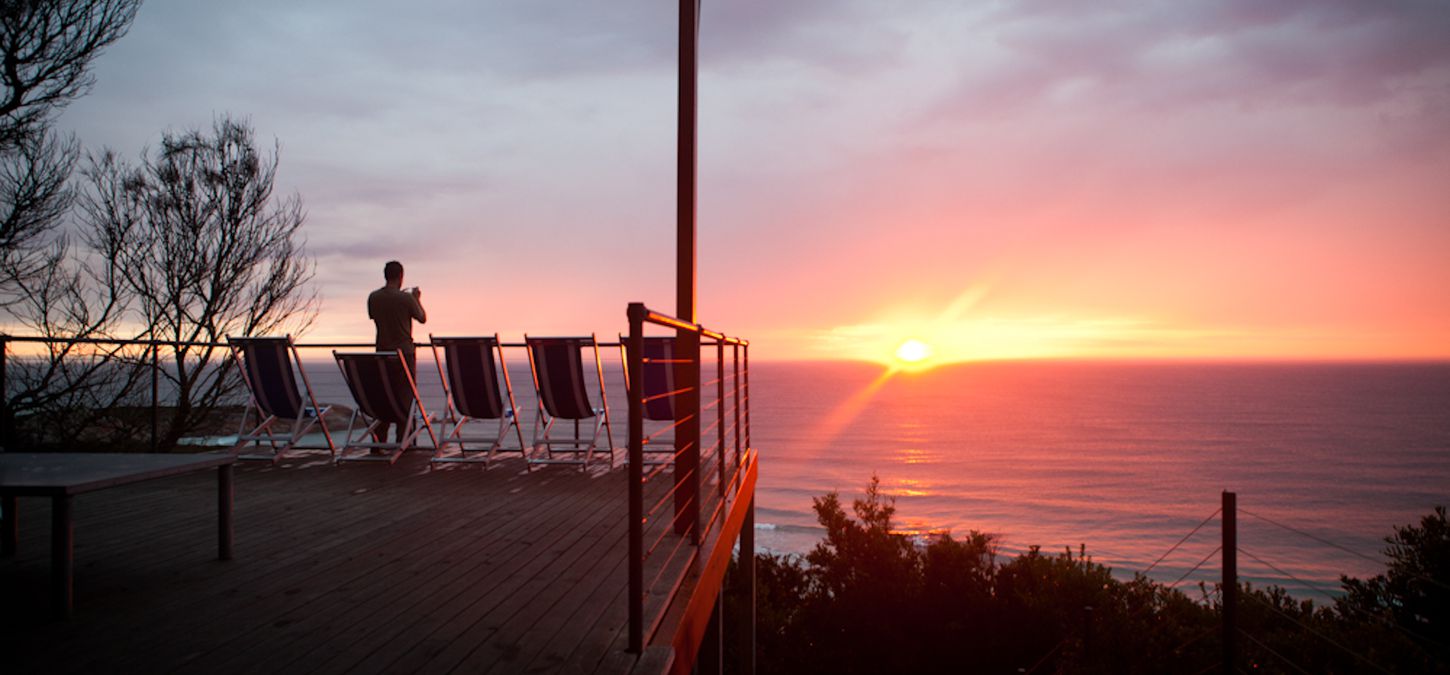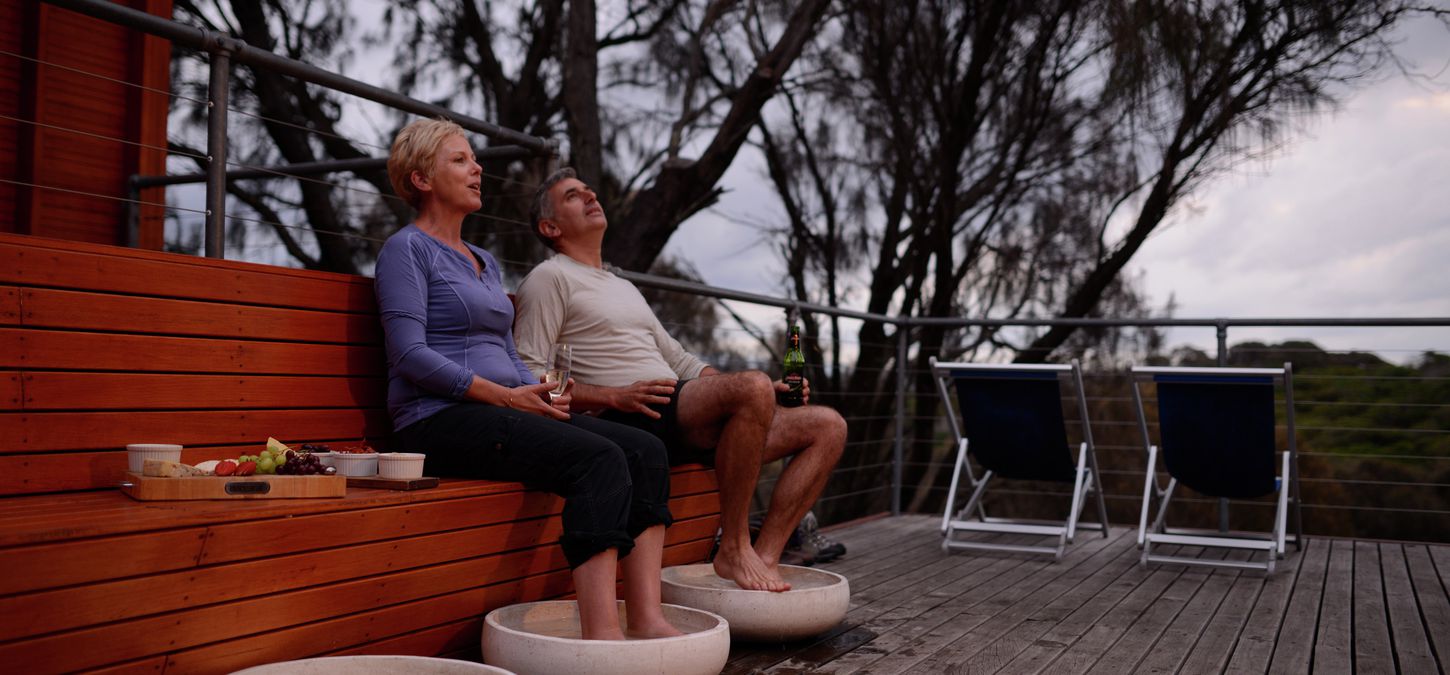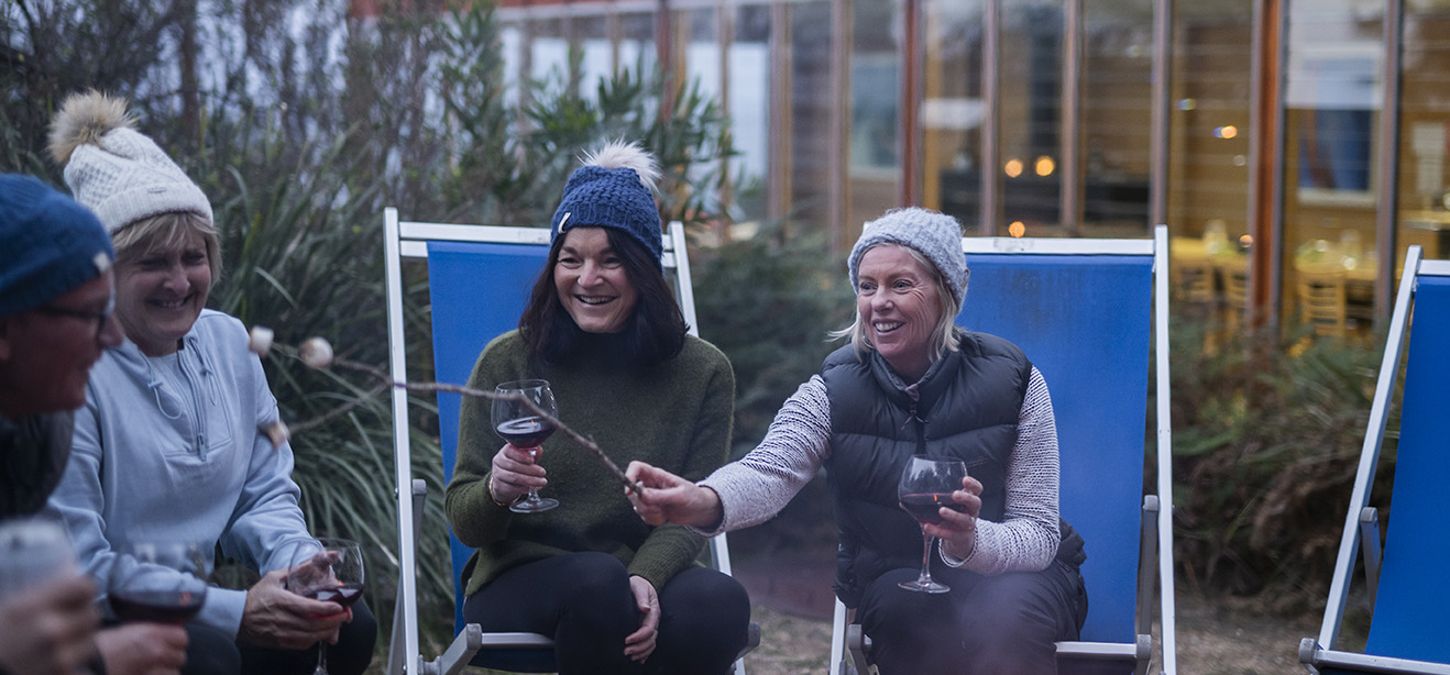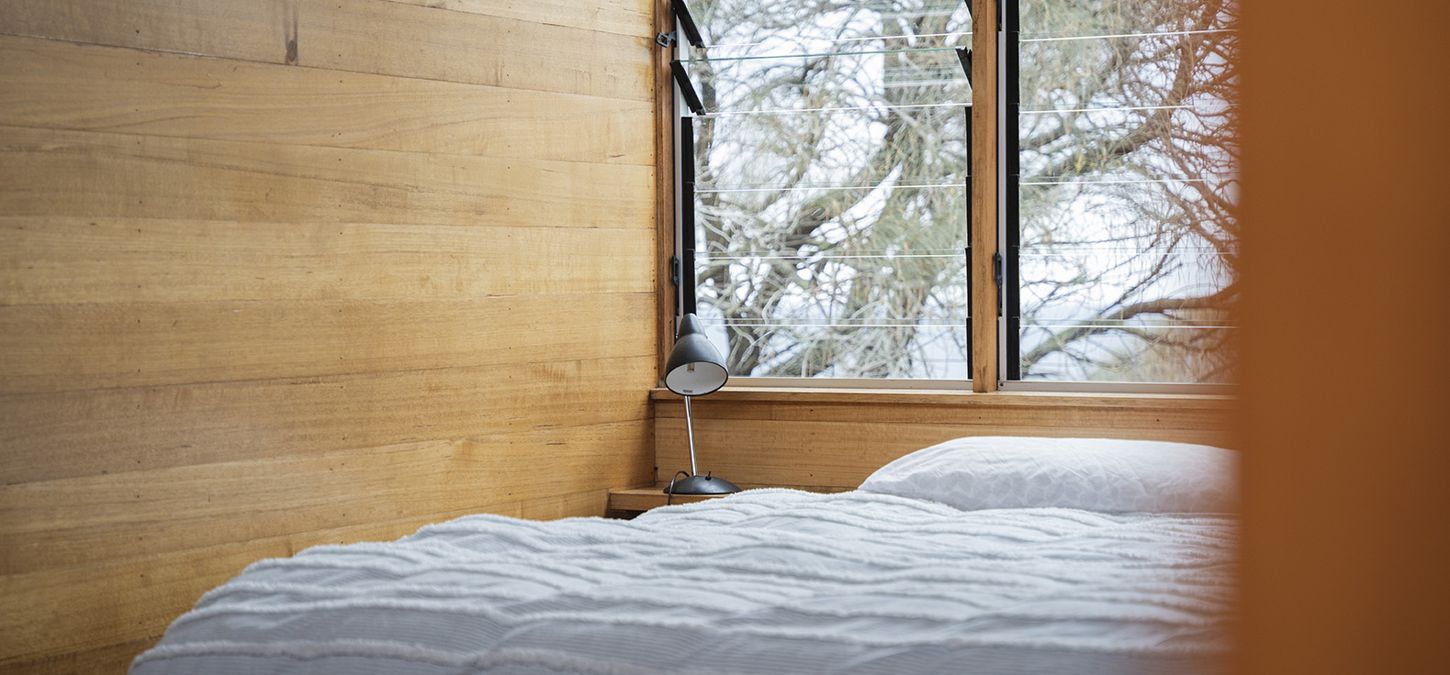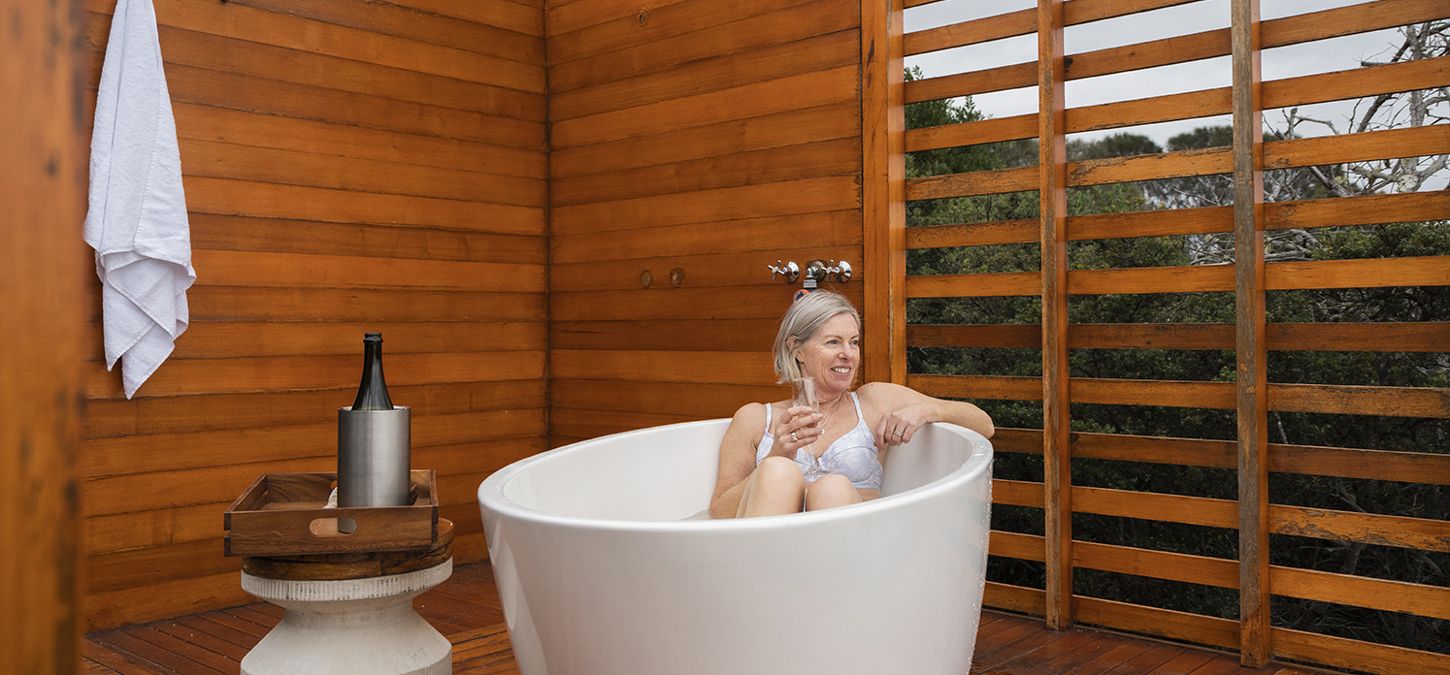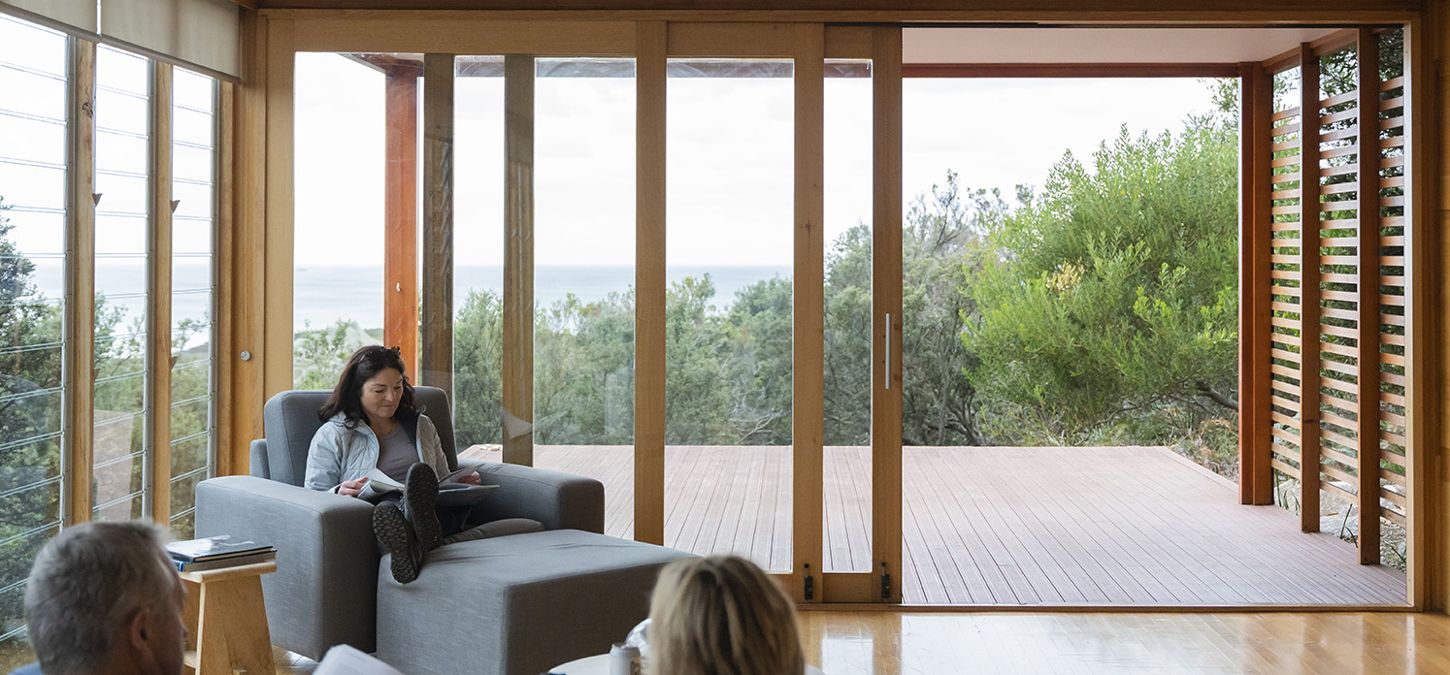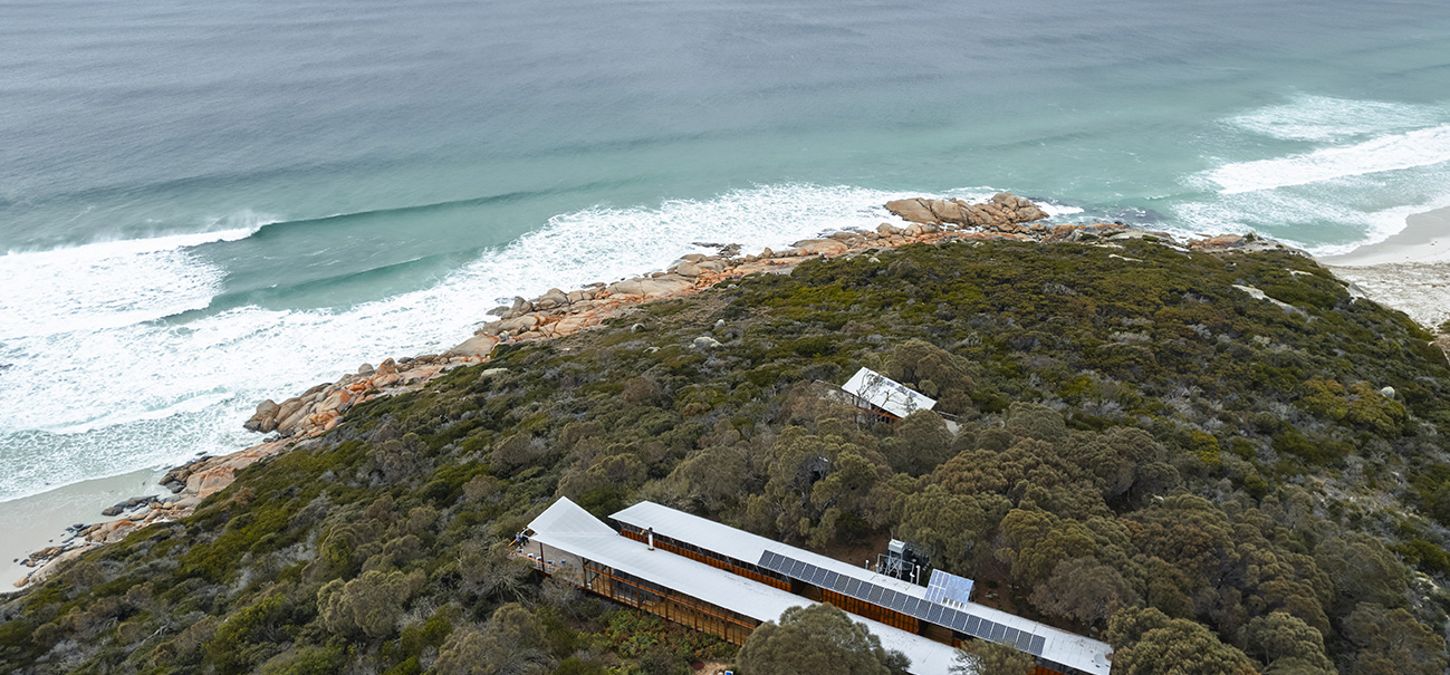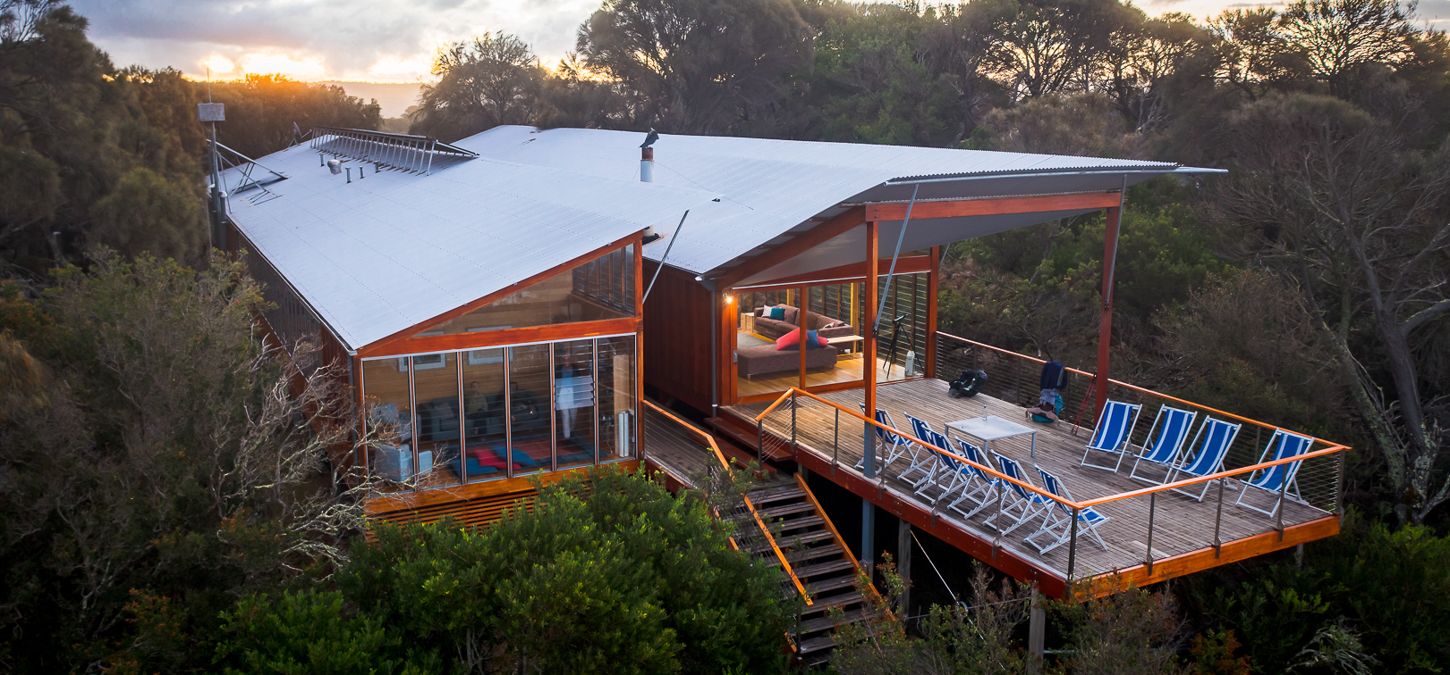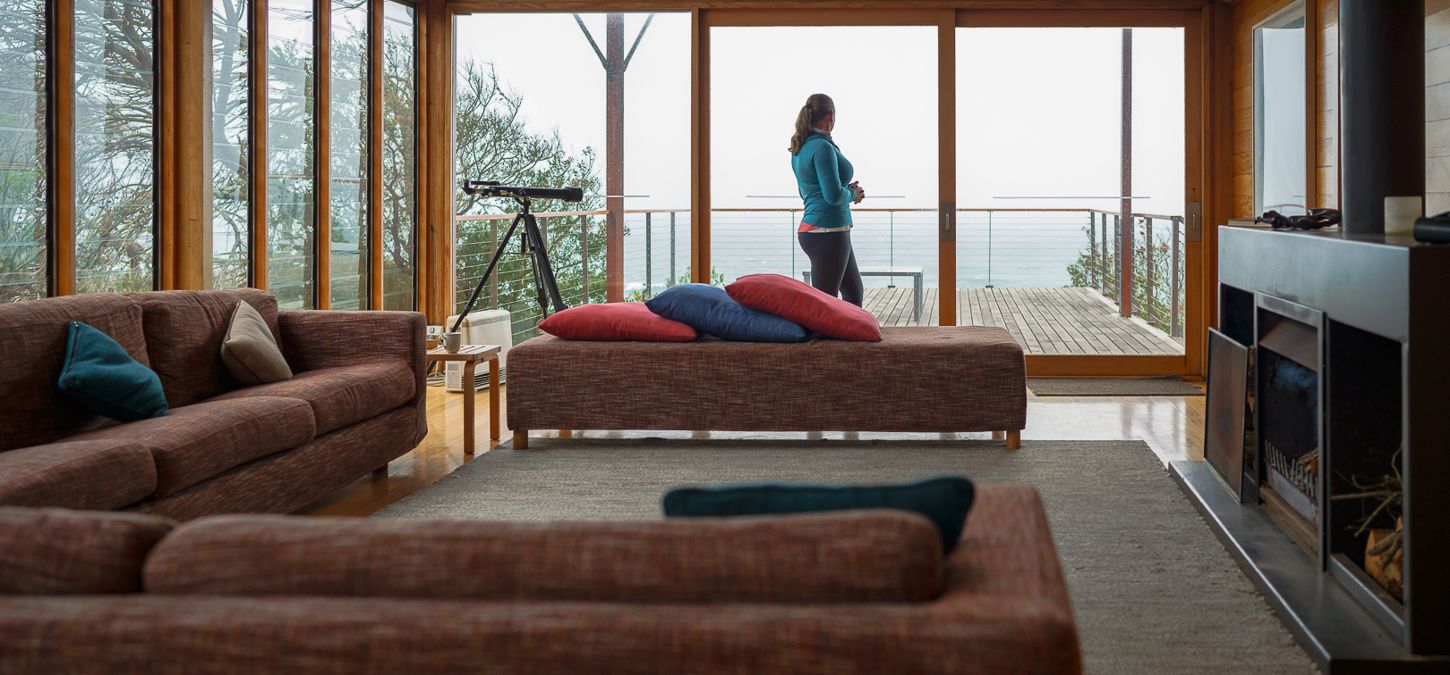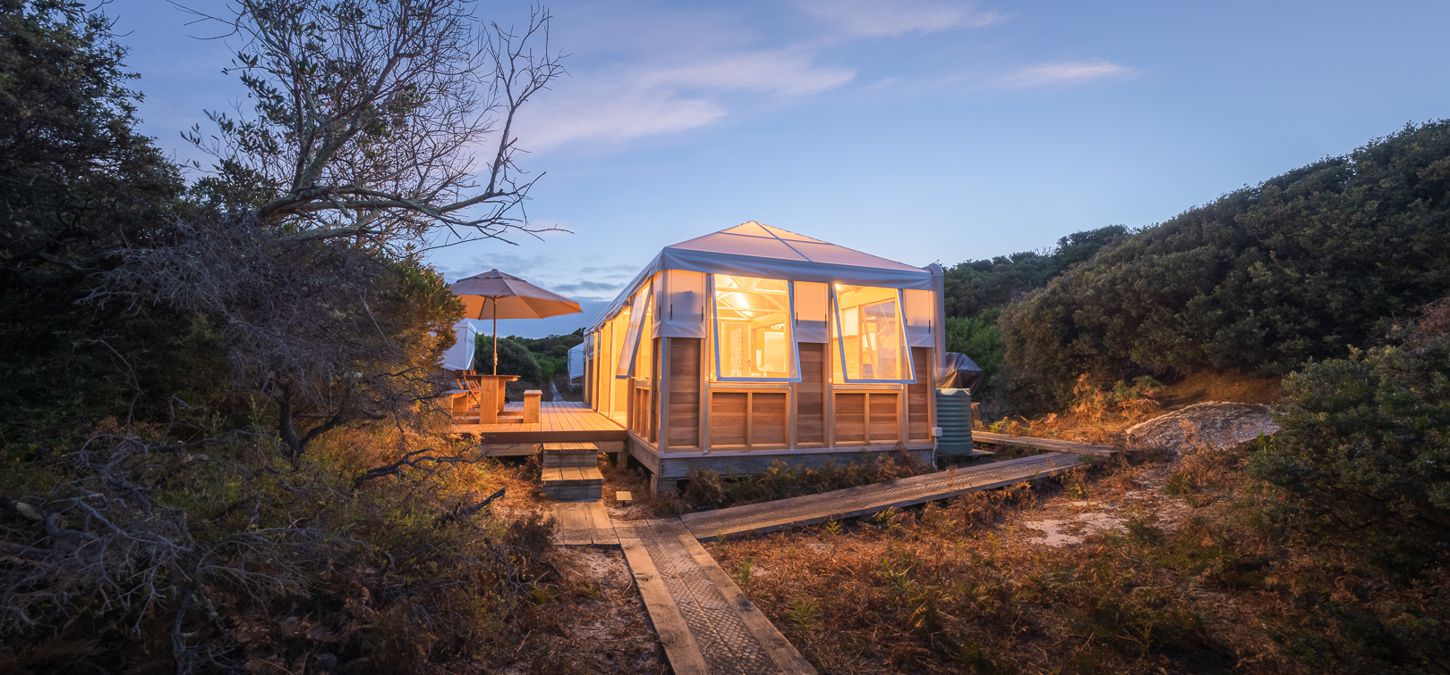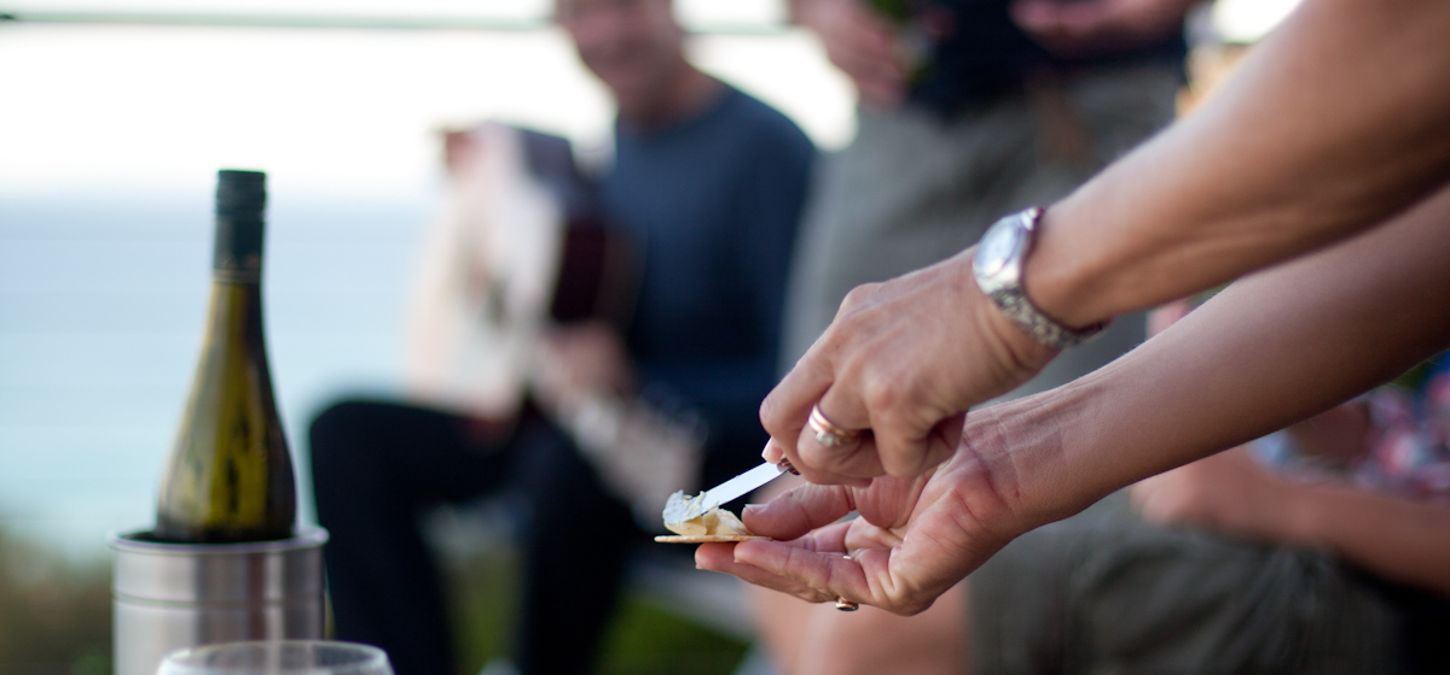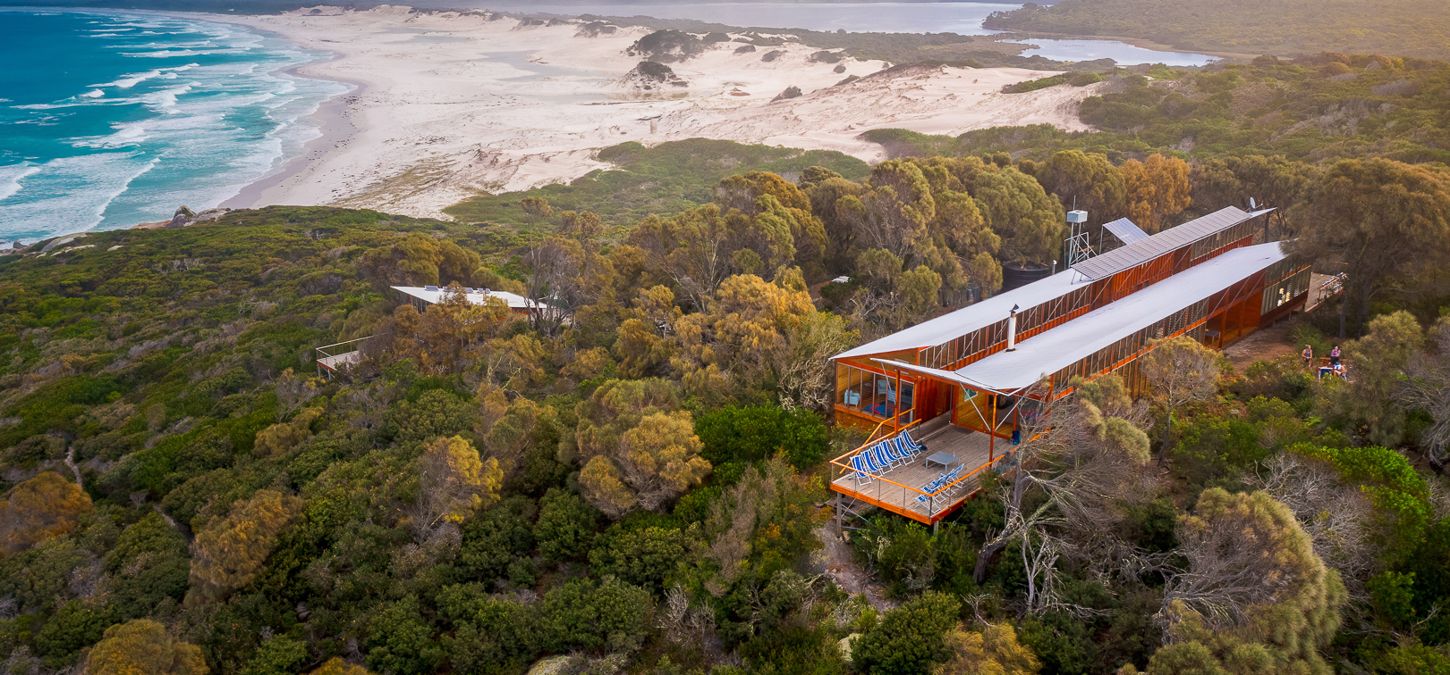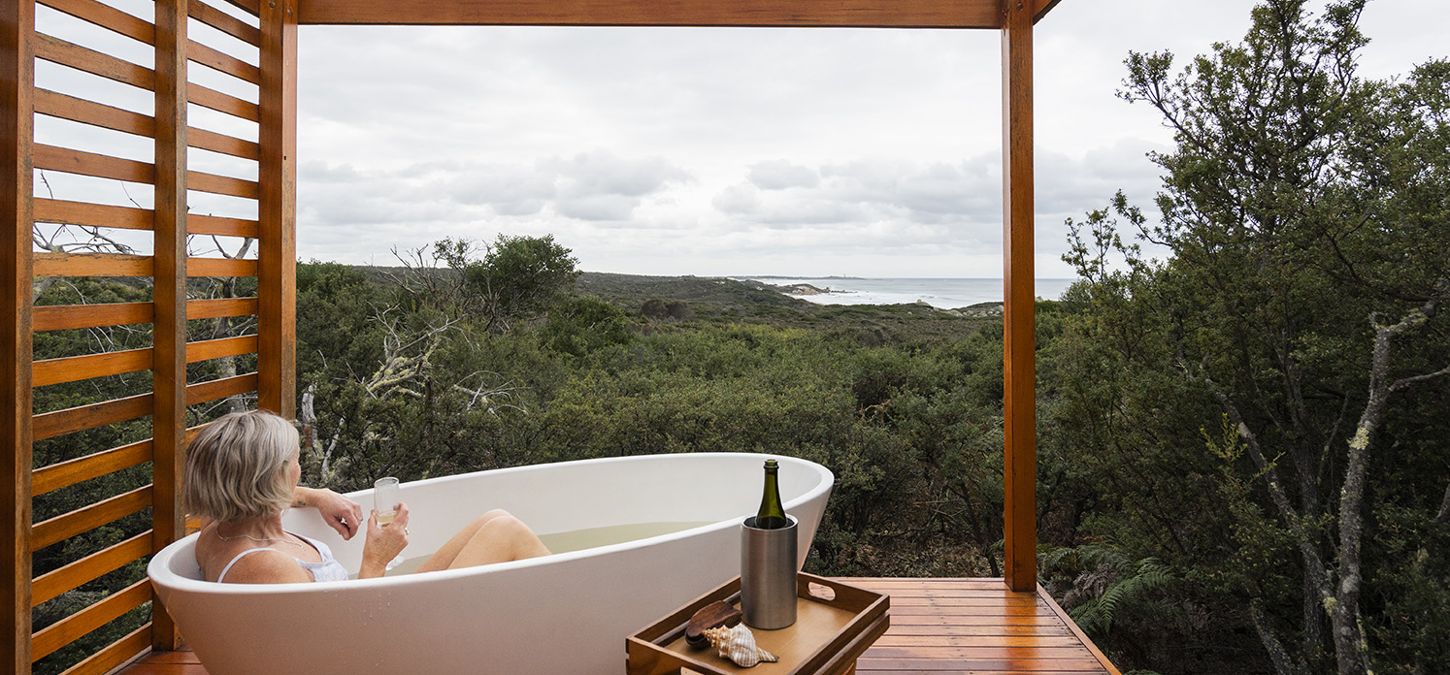 Bay of Fires Live Music Walk with Ange Boxall
Available for private groups by request | Minimum 16 - Maximum 20 | Price available on request
4-Day Guided Walk 
Each trip requires a minimum of 6 guests (Twin Share), three months prior to departure. The maximum is 10.
Bookings
Special Interest Walks - Terms and Conditions 
Single supplements are available on this walk. Cost $2,369

.
Our standard booking terms and conditions apply to all bookings. In addition:
Cancellations

more than 90 days from the scheduled departure date, a fee of $350 per person will be charged with the balance payment refunded;
within 90 days of departure, no refund is available. Bookings are transferable to another name.
Minimum numbers are required four months before departure.
This walk cannot be booked in conjunction with any other offers and discounts.
After the minimum number of bookings has been achieved, the trip is guaranteed to depart.  Due to the high fixed costs on these trips, guests on our 'Walk +' departures who postpone due to COVID-19 as per our Peace of Mind Booking Guarantee, will incur an amendment fee of $500 to reschedule to another departure date. All cancellations by guests will incur cancellation fees according to our standard terms and conditions. Bookings are transferrable.
Inclusions
Return transfers between Launceston and the walk base.
1 night at Forester Beach Camp and 2 nights at Bay of Fires Lodge twin share (Signature Walk).
All meals and non-alcoholic beverages, plus a limited selection of Tasmanian wines. Splendid Gin cocktails prior to Ange's performance.
National Park's pass for the duration of the walk.
Use of a backpack and Gore-tex jacket for the duration of the walk.
Two qualified guides for the duration of the walk.
Musical performance.
Need help deciding? Talk to an expert
We're here to help 9am – 5pm Monday to Saturday, otherwise, email us anytime and we'll be in touch.