Bay of Fires En Plein Air Painting Retreat
May 12-15, 2024 | $3,195 per person

Immerse yourself in the light, colour, ocean and landscapes of the Bay of Fires during a four-day en plein air painting retreat with renowned landscape painter Peter Gouldthorpe. Spend your days capturing the scenery on canvas, and your evenings with other artists indulging in conversations about painting, accompanied by delicious food, fine wine, and the company of fellow art enthusiasts.
The Tasmanian Walking Company and Handmark Gallery are offering a series of Art Walks celebrating Tasmania's unique colour, light, flora, fauna and landscape, hosted by Tasmanian artists. From our base, at the stunning Bay of Fires Lodge, Peter Gouldthorpe will lead this En plein air painting retreat.  You will walk to different locations, carry your easel, set up in nature, and paint the stunning colours and light of pristine beaches, crystal clear waters and granite headlands. 
 The Bay of Fires Lodge is a breathtaking lodge perched above pristine beaches on the northeast coast of Tasmania. All transport, guides, sumptuous meals and local wines are included. During this unique experience, guests will enjoy long table dinner parties, relaxed reading time, cosy indoor and outdoor fires, footbaths and walks along deserted beaches. All guests will have their own room at the lodge.
*Please note that the spa is not available during this retreat. It is our quiet break out space and wet weather retreat. Partners and friends of painters are welcome.
For all enquiries please contact Tasmanian Walking Company on (03) 6392 2211 or email bookings@taswalkingco.com.au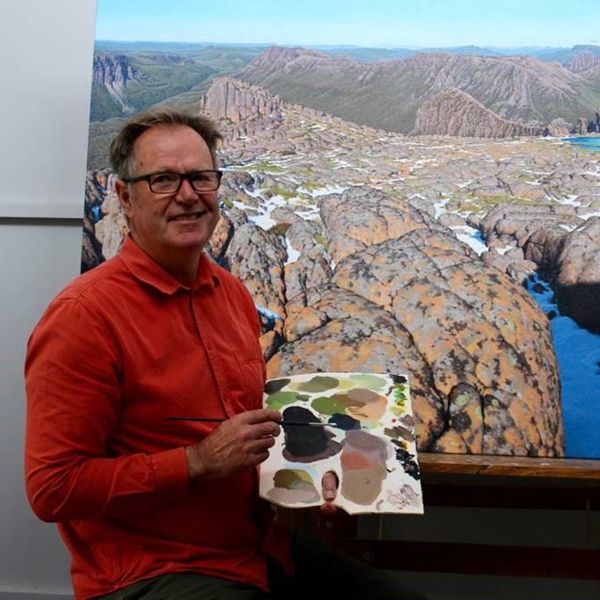 Peter Gouldthorpe
Peter Gouldthorpe studied art at East Sydney Tech for two years but ran away to Tasmania at 19 to paint landscapes. Since then as well as exhibiting his paintings, Peter has written and illustrated many children's books, painted murals and worked on a wide variety of commissions from scientific illustration through to work for film and television but his abiding passion is painting landscapes. 

'I left art school and came to Tasmania when I was 19 years old. The Tasmanian environment was fabulously aesthetic and varied - perfect for someone interested in painting landscapes. Tasmania nurtured my career, and within six months of arriving, I had my first exhibition. The fact that Tasmania has clearly defined seasons and light is definitely special in the Australian context. As a landscape painter, the subjects vary — but composition and colour are the two standout themes that I enjoy playing with the most.' - Peter Gouldthorpe.
Gallery of Peter's works below:
Honeymoon Morning, Stacky's Arch, A Moment from the Shortest Day, Ancient Rhythms, Furneaux, Morning on the Blue Planet, Making a Splash, Lisdilon, Kelvedon, Heavens to Betsy, Pardalote Playground, Adagio, Bills Beach, and A Moment from the Shortest Day.
Handmark Gallery
Our lodges, huts and offices feature the work of Handmark's artists. Allanah Dopson and her team are found in Salamanca, Hobart. 
Handmark is more than a gallery. It is a portal through which we meet Tasmanian artists and where Tasmania reveals its beauty, majesty and moods. The Tasmanian Walking Company's lodges, huts and lounges feature the work of Handmark's artists. Allanah Dopson has spent her life immersed in the arts, both performing and visual. She has a Bachelor of Music from the Queensland Conservatorium and a post-graduate Diploma in Arts Management from City University in London and has worked across Australia. Allanah is the founding Director of the Tasmanian Chamber Music Festival. She has served on the board of the National Portrait Gallery in Canberra, Contemporary Art Tasmania and Brand Tasmania and she is passionate about promoting Tasmania and its artists.
Bay of Fires En Plein Air Painting Retreat 
Tasmania's stunning Bay of Fires gives spaciousness just by breathing its air and gazing upon its long horizons. Imagine combining this expansive beauty and the sense of freedom it inspires, with a relaxed painting workshop.
I'm looking forward to painting alongside you in the landscape and sharing some of my skills and insights gathered over 50 years of painting. One thing I've learnt about plein air painting is not to have a rigid plan but if I had to nominate anything specific that I would like to focus on during our time together, it would be to develop an awareness of or extend people's understanding of composition, just one of the many facets of the visual language.
With any workshop like this, everyone will bring varying levels of skill and knowledge. My intention is to create a collegial atmosphere where everyone feels happy to participate and share. Evenings will include free ranging discussions about art and techniques, also perhaps, taking our paintings from the day a bit further or participating in some drawing exercises. I'll be guided by the areas of interest from the group. - Peter Gouldthorpe.
Testimonial for previous Bay of Fires Lodge Painting Retreats with Jock Young
'I just want to tell you how much I enjoyed the Art Retreat with Jock. We were very fortunate to have perfect weather and the coastal landscape was unbelievably beautiful. The position of the Eco Lodge is breathtaking. Georgie and her team of Rachel, Felix and Ben made our stay memorable. Jock gave us valuable information on how he tackles plein air painting. He encouraged us to step outside our comfort zone and be creative. In the evening Jock talked about artists who had influenced his painting style which was very interesting.
It was a magical four-day art retreat.' - Diana L. May 2022
Materials
Water-based gouache paints are preferred in this environment. We will be painting in a National Park. Non-toxic mediums and solvents, such as non-toxic pastels will be welcome.
Peter recommends:
A paper pad or loose paper with a backing board and clips, at least 40 x 50cm and a recommended weight of 300 gsm. Arches makes good all-around paper.
The use of an easel for ease of comfort. Peter uses a French box easel and if you wish to use one they can be rented or bought from Artery in Hobart - (03) 62343788. 
A selection of bristle brushes ranging from 1 (5mm) to 10 (20 mm).
A water bottle.
A palette or enamel plate.
A selection of tubes of Gouache, including White (perhaps a larger tube or two),Paynes Grey, Lemon Yellow, Cadmium Yellow, Cadmium Red, Alizarin Crimson, Phthalo Blue, Cerulean Blue, Viridian Green and any other colours you wish to add.
A Pencil, charcoal, crayon or pen.
Any other equipment you might already have and wish to use.
Gear Checklist
Please see the Long Weekend (3-Day Walk) gear list for information about what you can take on this walk. The items on the gear list will be packed into your lodge overnight duffel bag and transferred to Lodge with your easel. You only carry the essentials for the day (i.e., water, camera, rain jacket) in your lightweight day pack. The duffel bag (provided by us) which will be transported to the Lodge must weigh no more than 5kgs as this will be carried on foot by our staff up to the Lodge. We will carry your easels to the lodge, and they will not be considered part of the 5kgs of permitted gear.
Itinerary - At a glance
| | | | | |
| --- | --- | --- | --- | --- |
| DAY | WALK SECTIONS | DISTANCE (TIME) | STAY | MEALS |
| One | Eddystone Point to Bay of Fires Lodge | 6kms (3hrs) | Bay of Fires Lodge | -/L/D |
| Two | Workshops and local walks | N/A | Bay of Fires Lodge | B/L/D |
| Three | Workshops and local walks | N/A | Bay of Fires Lodge | B/L/D |
| Four | Return to Launceston rejuvenated | 4km (1hr) |   | B/L/- |
Please note this itinerary is subject to change depending on weather conditions. We will endeavour to remain as close to the written itinerary as is practicably possible. Our guides will keep you up to date and informed along the way. Should you have any questions, please feel free to contact us.
*PLEASE NOTE THAT DISTANCES MAY VARY ON TRACKING DEVICES
Day One: Launceston to Mt William National Park
Approximately 3 hours walking
Guests meet at Red Feather Inn at 7am. Launceston pick-up is from Chalmers Church, 5a Frederick St, at 6.30am. Quamby Estate shuttle departs at 6.30am.
After our morning journey from Launceston, we arrive at the Bay of Fires, to be greeted by the azure blue waters, white sandy beaches and iconic orange lichen-covered granite boulders.  Our lunch spot today is nestled in the dunes near Eddystone Point Lighthouse. We'll have time to explore the lighthouse and its long-standing story before it's time to get our walking boots sandy as we trek far-stretching beaches that lead to the celebrated Bay of Fires Lodge.
Painters will take sketch pads and pencils for this part of the workshop.
Afternoon tea will be waiting, along with a foot spa when we arrive at the Lodge. 
As the evening sets in, guests can relax and unwind. They can choose to venture into the library for some quiet time or gather around the fire for a glas of wine and a chat. Dinner is a Tasmanian long-table affair, where the focus is on showcasing the island's fresh produce. The meal is complemented by a selection of excellent local beer and wine, creating a convivial dining experience.
Days Two and Three: En Plein Air Painting Workshops
Following a relaxed breakfast, painters will walk short distances to a variety of destinations near the lodge to paint 'en plein air'. Our naturalist guides and Peter will choose the best options, guided by the weather.
The coastline's bold colours and solitude, ridgelines of sand dunes, views across heathlands and out to the ocean provide ample opportunities. We'll visit marsupial lawns, often encountering quiet native animals and the tracks they leave at nightfall.
Day Four: Return to Launceston Rejuvenated 
Approximately 1 hour walking
After a relaxed breakfast, guests have the option to engage in painting or take some time for themselves, allowing them to savor the serene atmosphere before departure. Today's short walk takes us on a path that winds its way through enchanting eucalypt forests, offering a change of scenery and experiences.
A forest lunch awaits us, accompanied by the sounds of native birds, including the endemic green rosella.
We return to Launceston and the Red Feather Inn around 5:45pm. For those who need transportation, we provide drop-offs at Launceston Airport at 6:00pm and Launceston CBD at 6:15pm. If any guests are staying at Quamby Homestead, a transfer will be arranged for them.
Upon our return to the Red Feather Inn, there will be time for a celebratory moment, raising a glass to the four wonderful days spent together. It's a chance to reflect on the memories created and the artistic journeys embarked upon, marking the end of a fulfilling experience.
The Bay of Fires Lodge
Set on a hilltop, 40 metres above the pounding of the sea and surrounded by National Park, the Bay of Fires Lodge is the only building on 20km of outstanding coastal wilderness.
Enjoying views up and down the pristine white sandy beaches in an area of great significance to the Aboriginal community, a truly ecologically-aware building has been gently let into the landscape. Two long timber and glass pavilions allow maximum connection to the landscape with minimum impact on the environment: all building materials — Tasmanian hardwood and plantation pine — were lifted in by helicopter or hand carried to the site.
The lodge is autonomous in providing and managing its existence. Here you will experience true communion with nature in accommodation that combines simplicity of design with comfort and warmth. In the magnificent living area with its large timber deck and open fire, you'll enjoy delicious meals prepared with the freshest local produce, accompanied by fine Tasmanian wines. Solar power provides the lighting, while hot showers and comfortable hotel beds add a touch of luxury at the end of each day's activities.
All accommodation at the Lodge is twin or double share, arranged as two king-singles or one king bed. There is a small library which is comfortable and cosy looking out over the ocean. This is a great place to sit back and relax or look through our selection of books and magazines.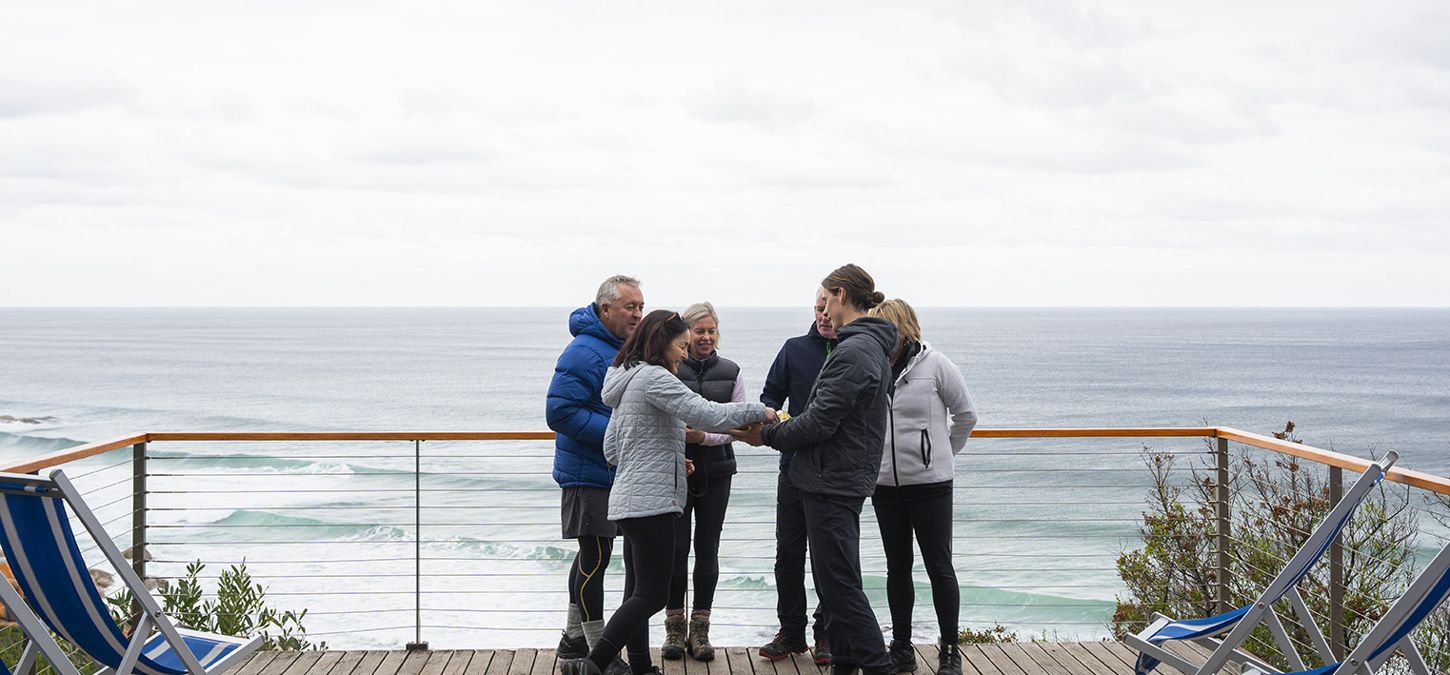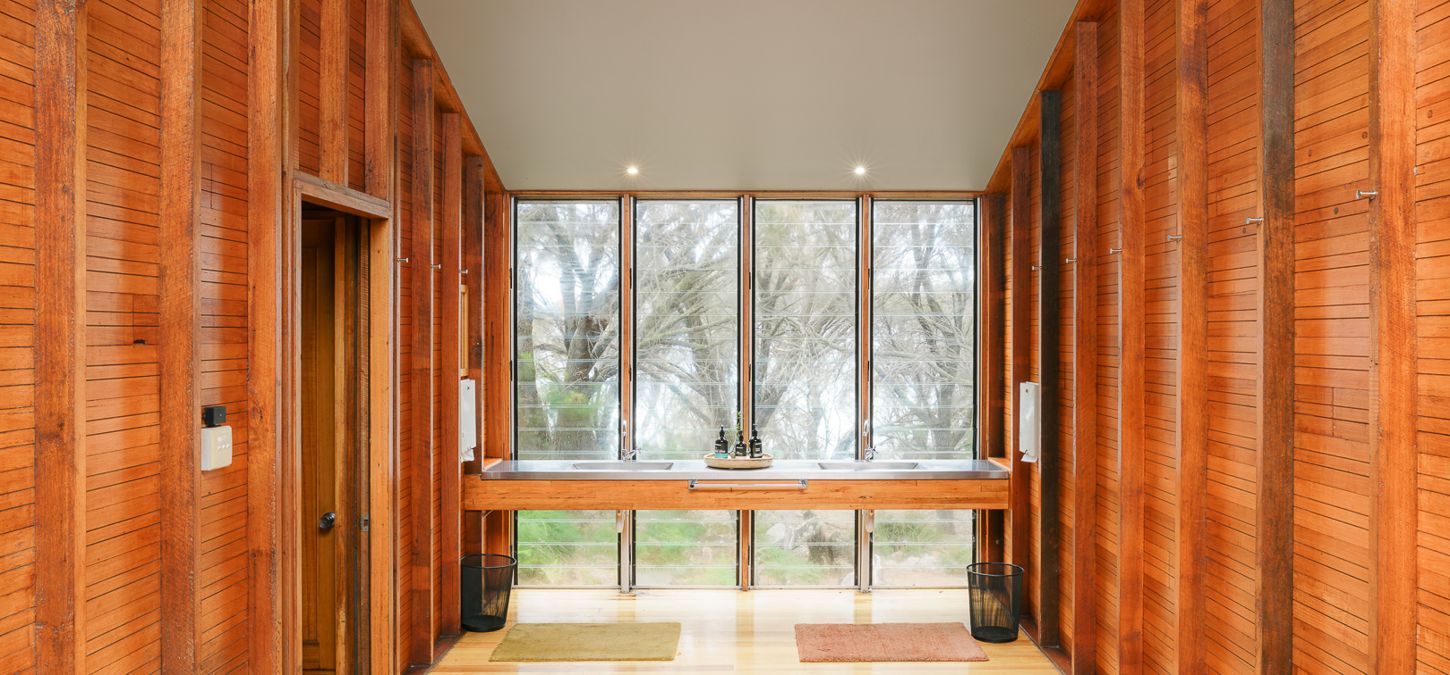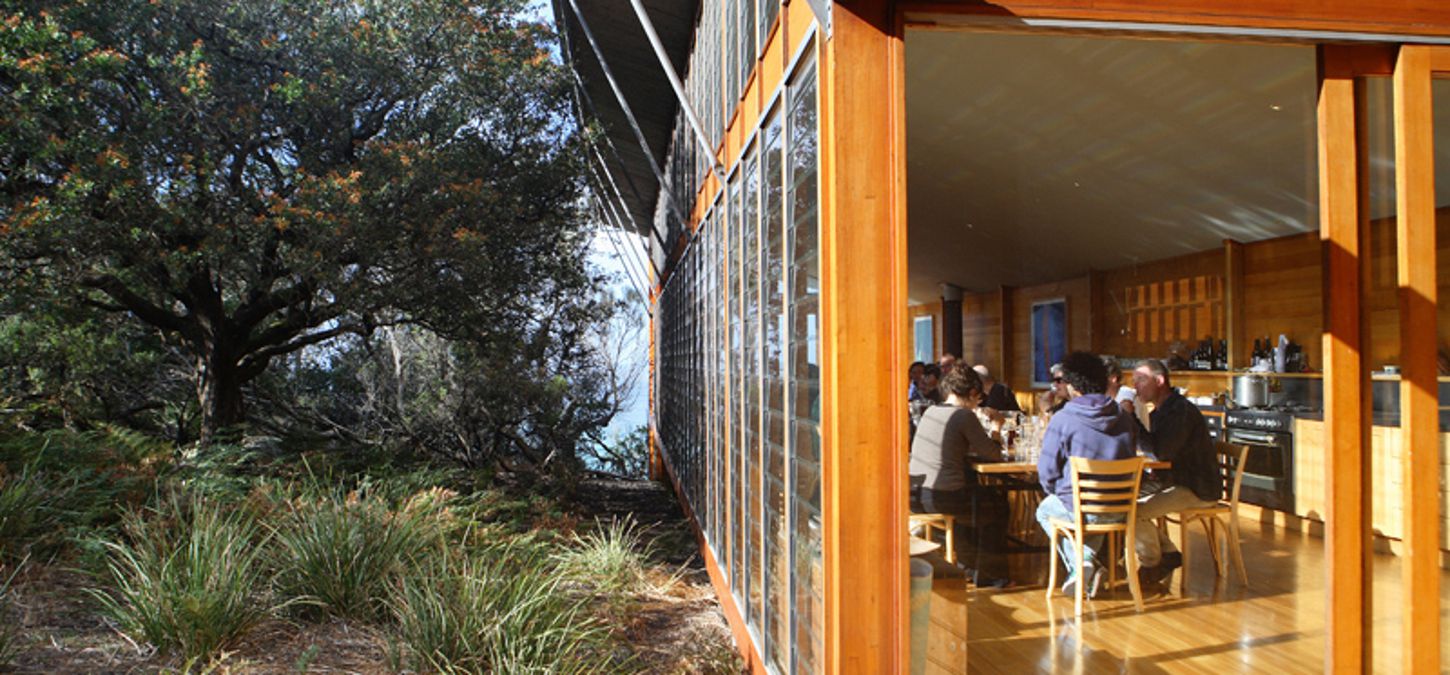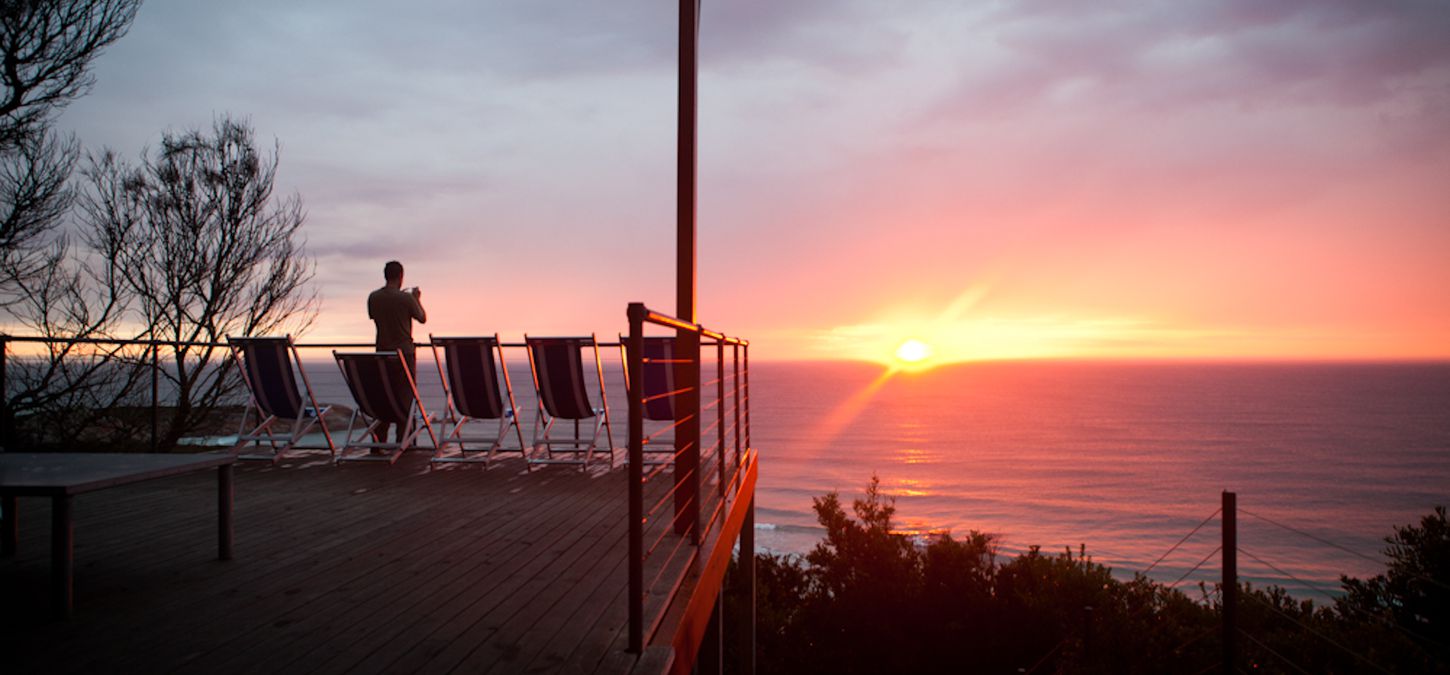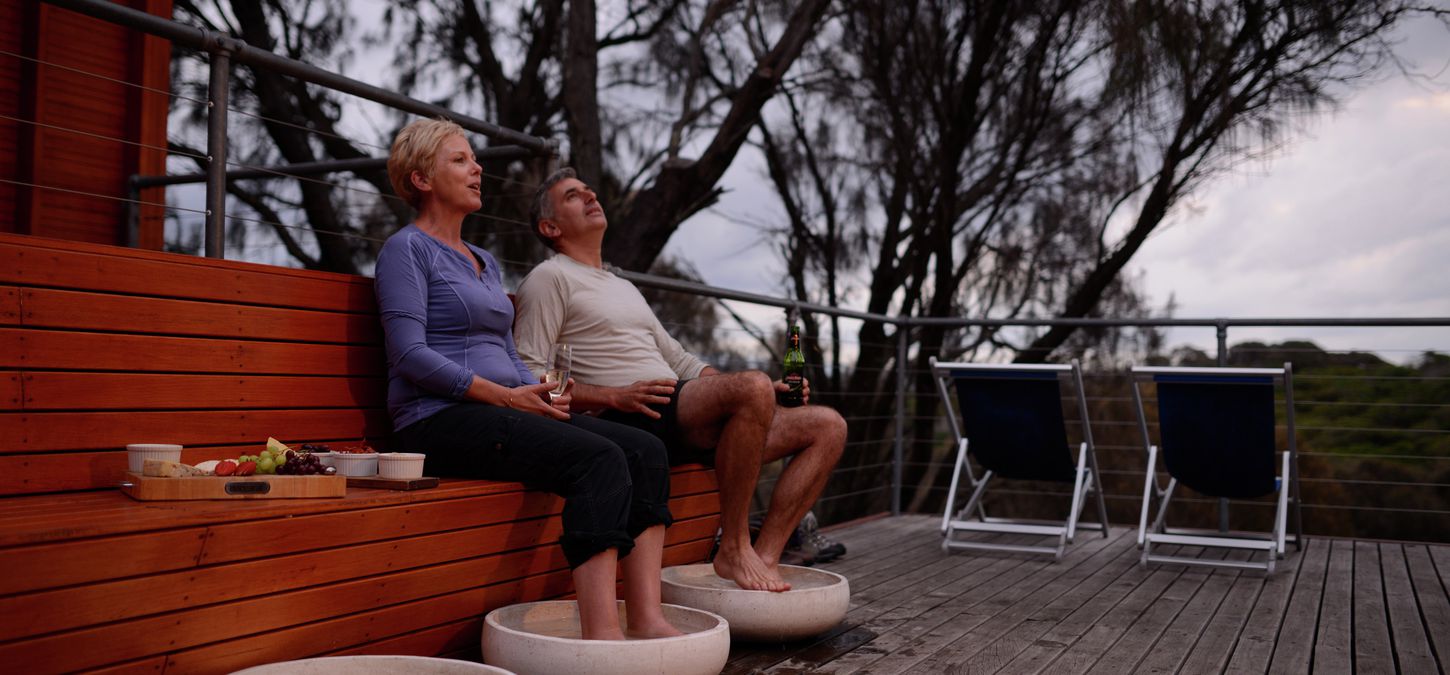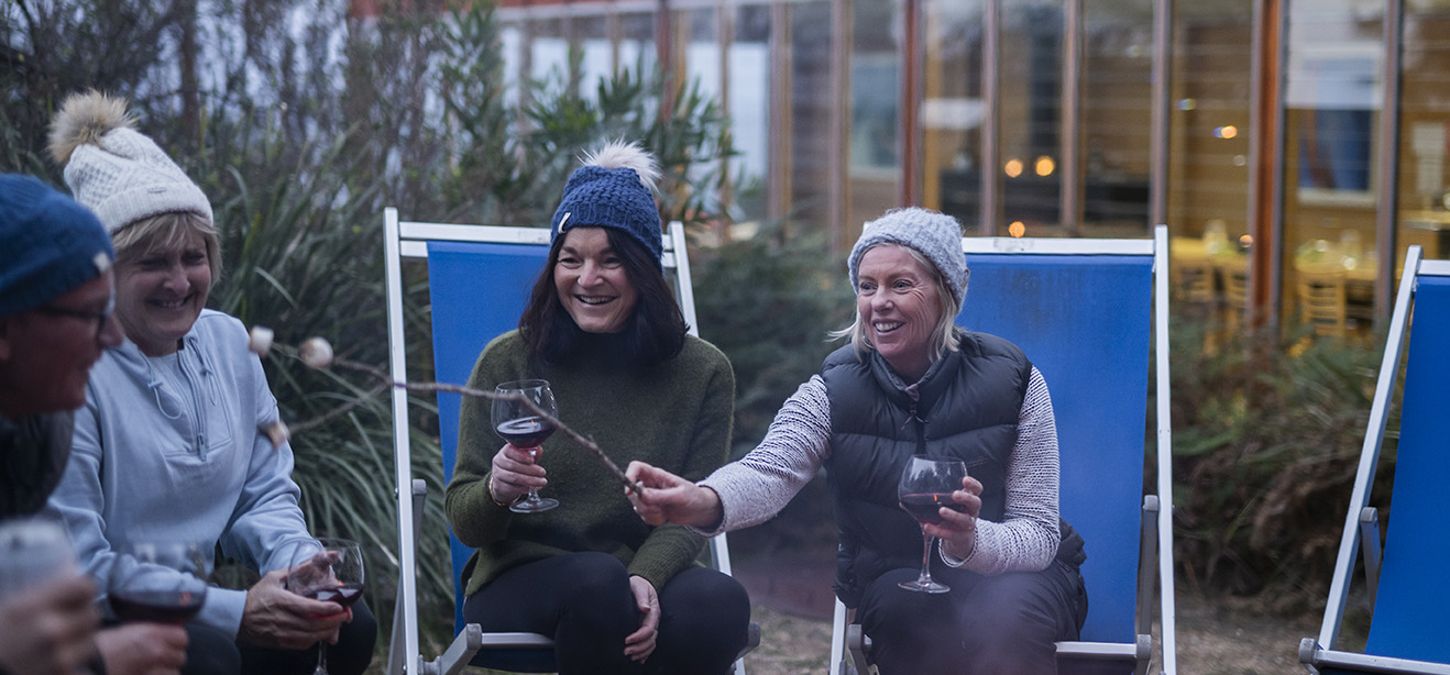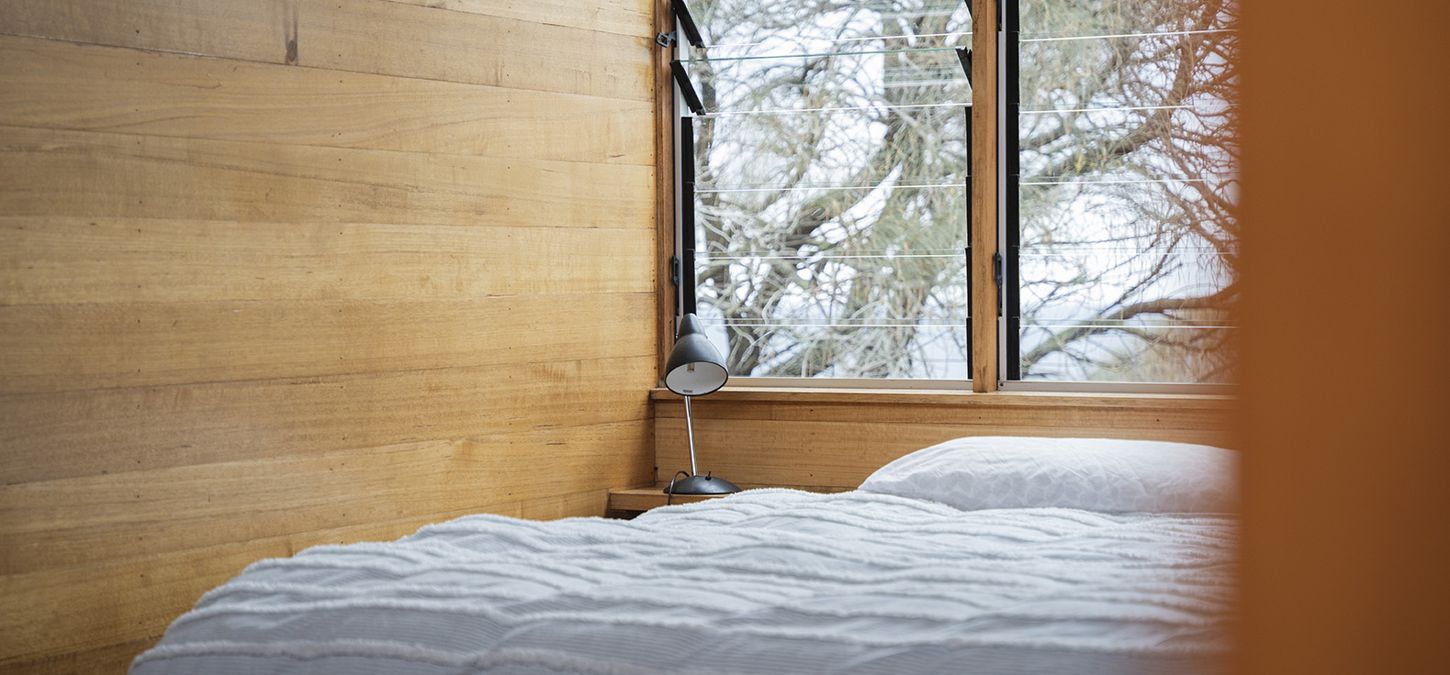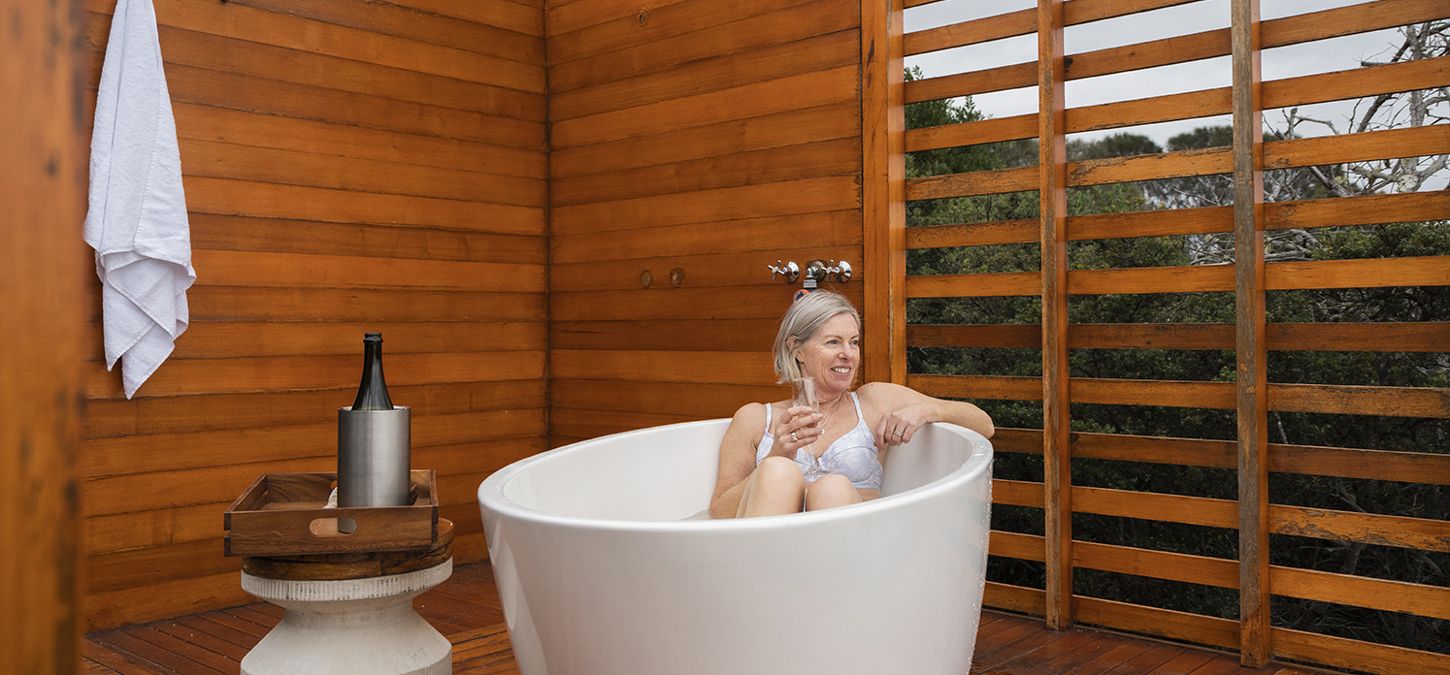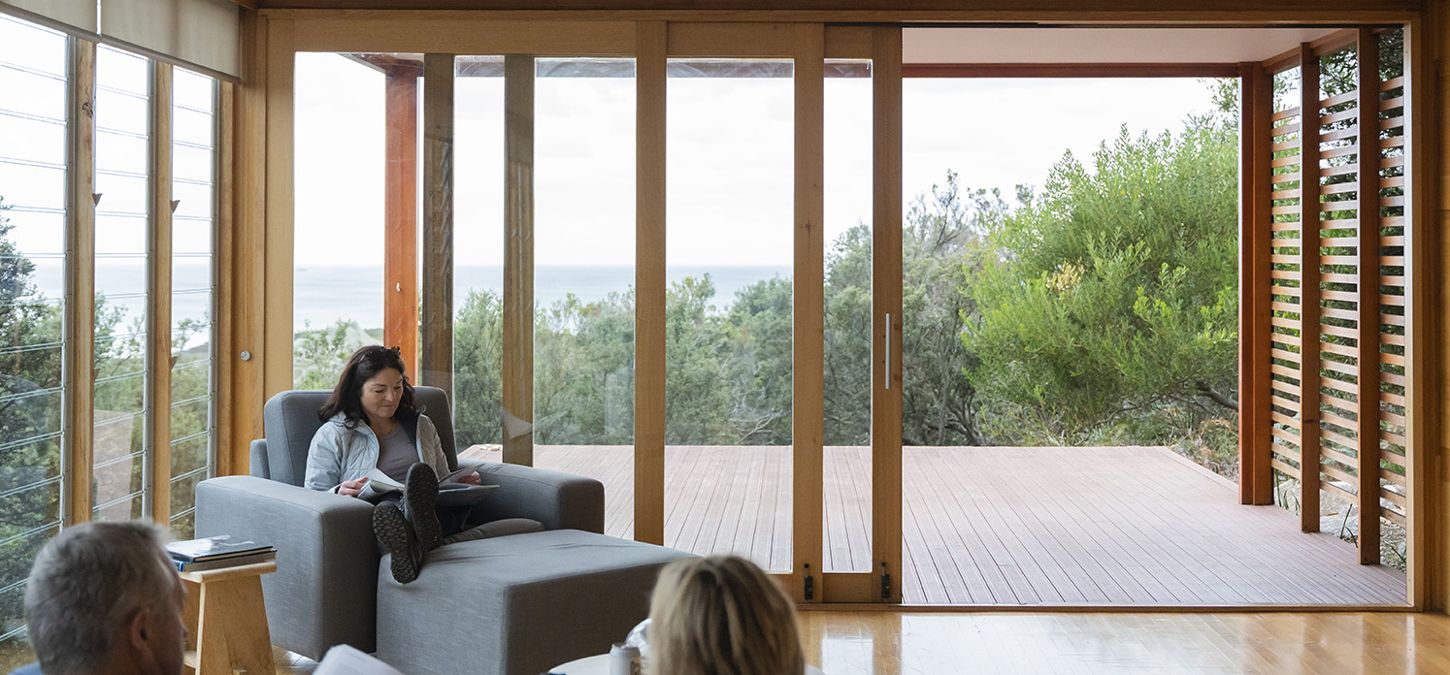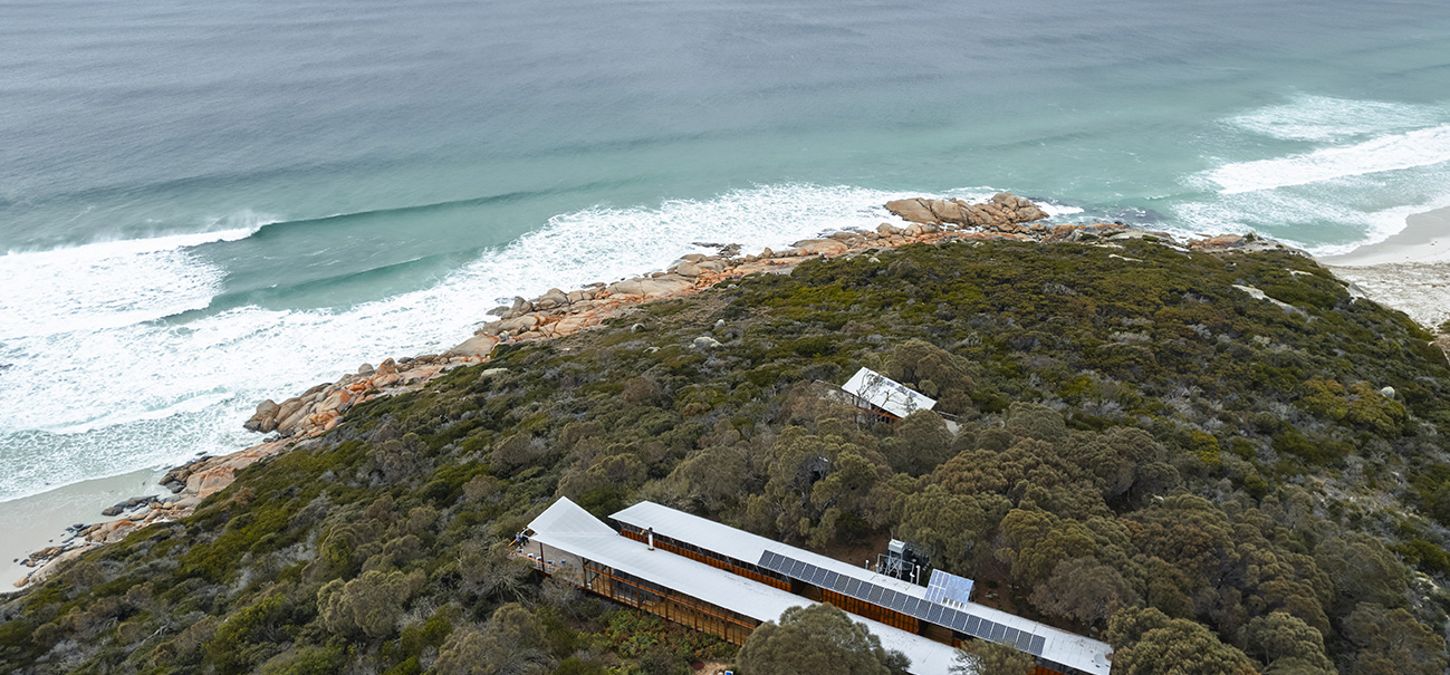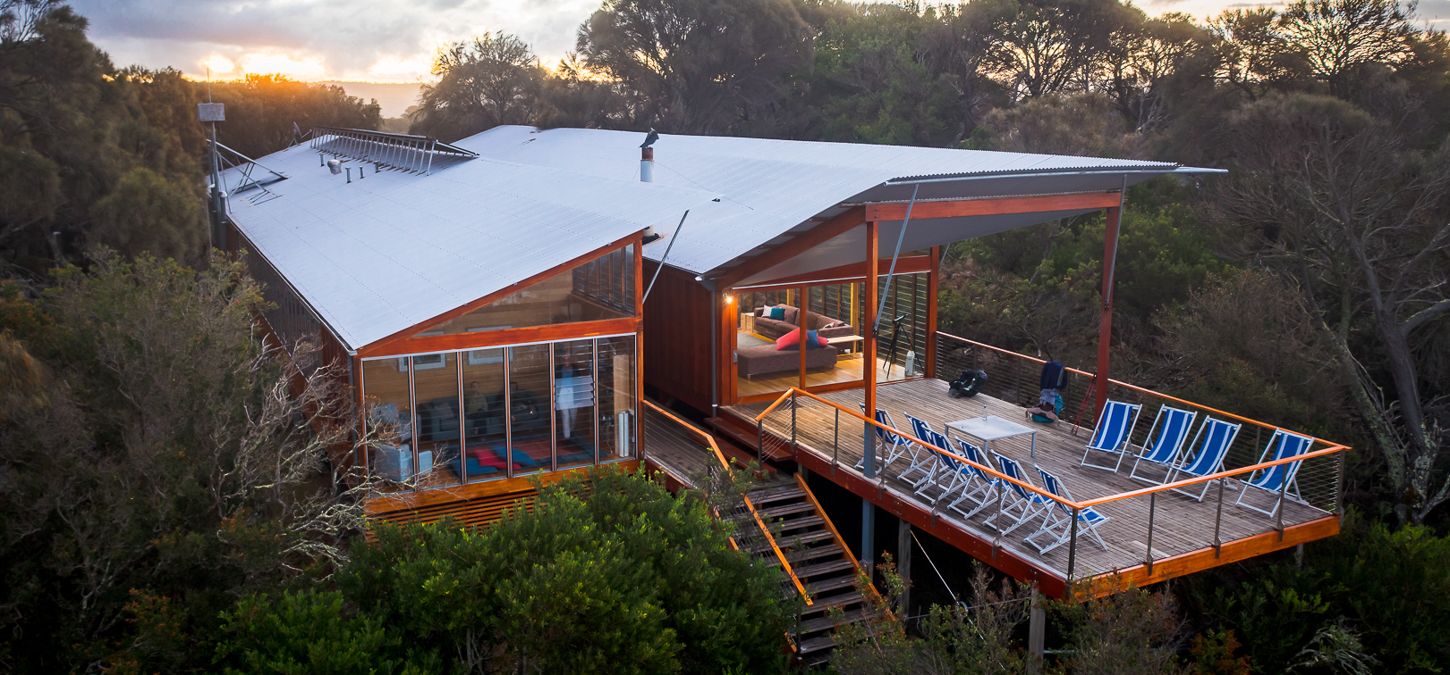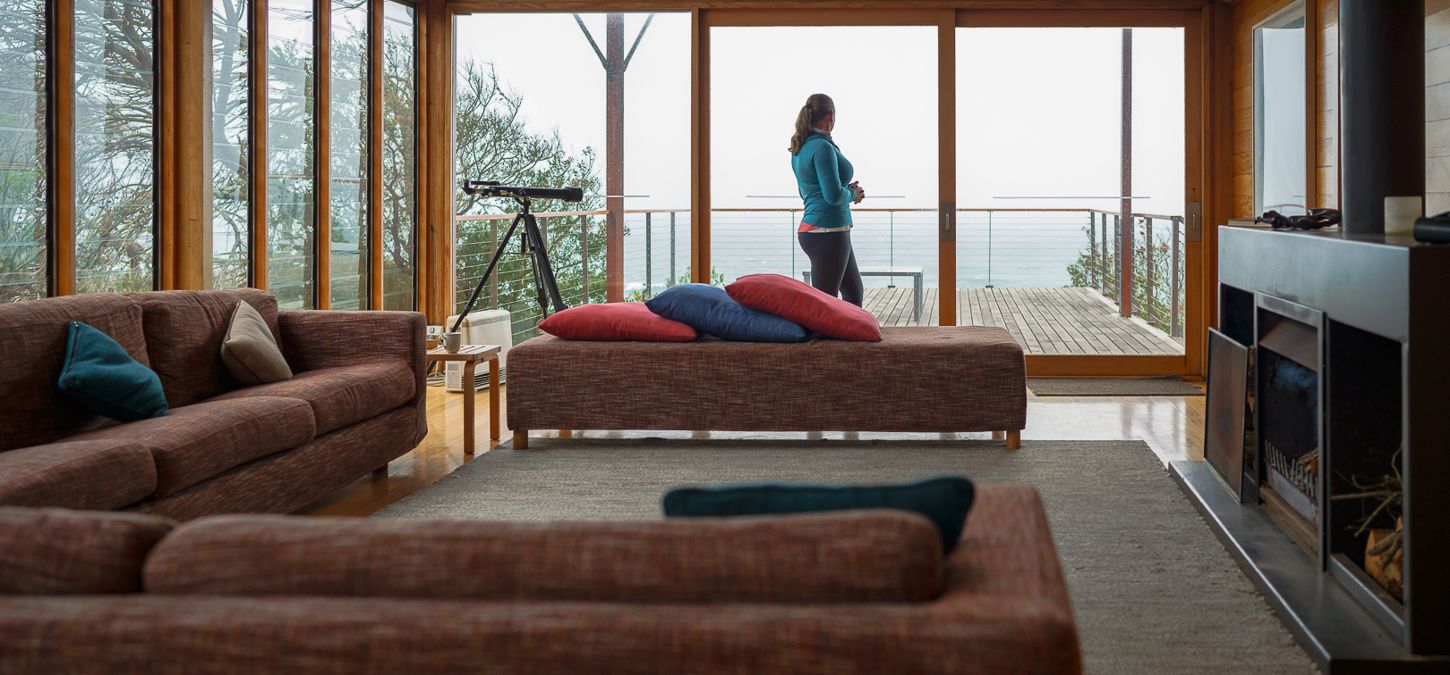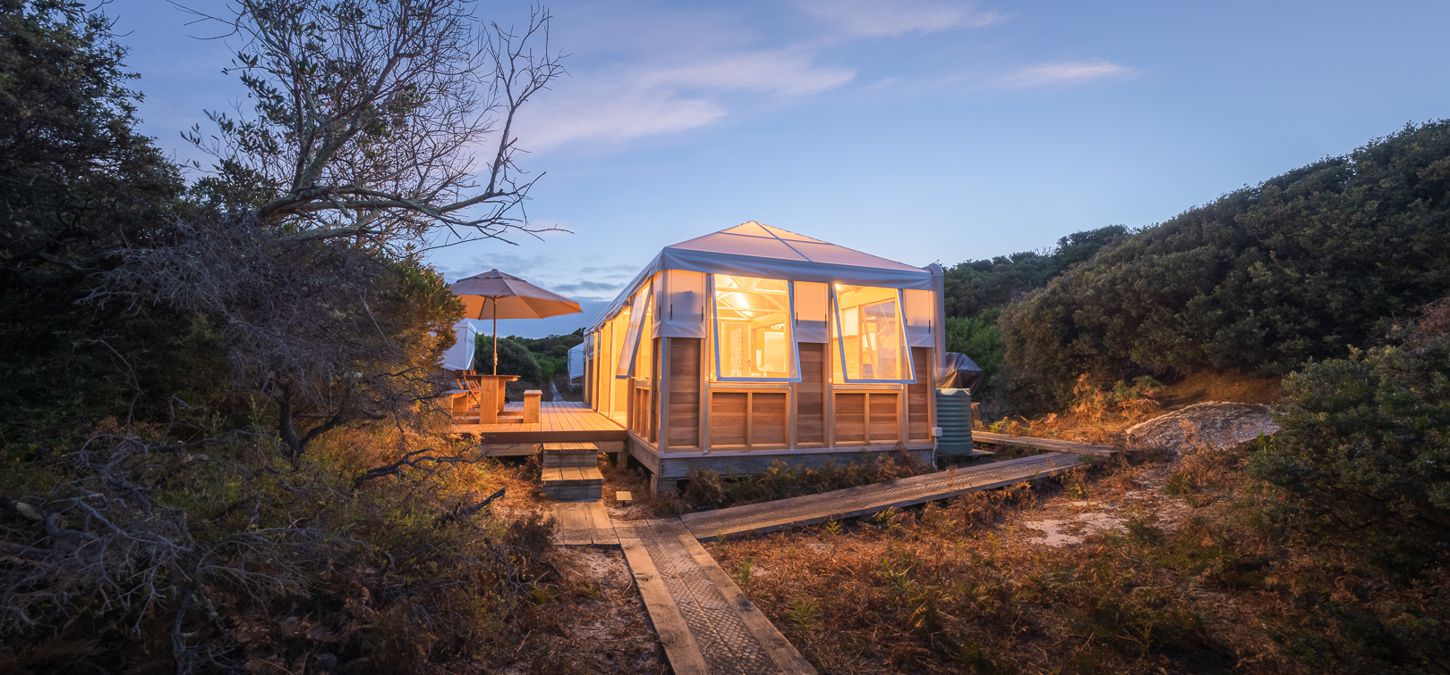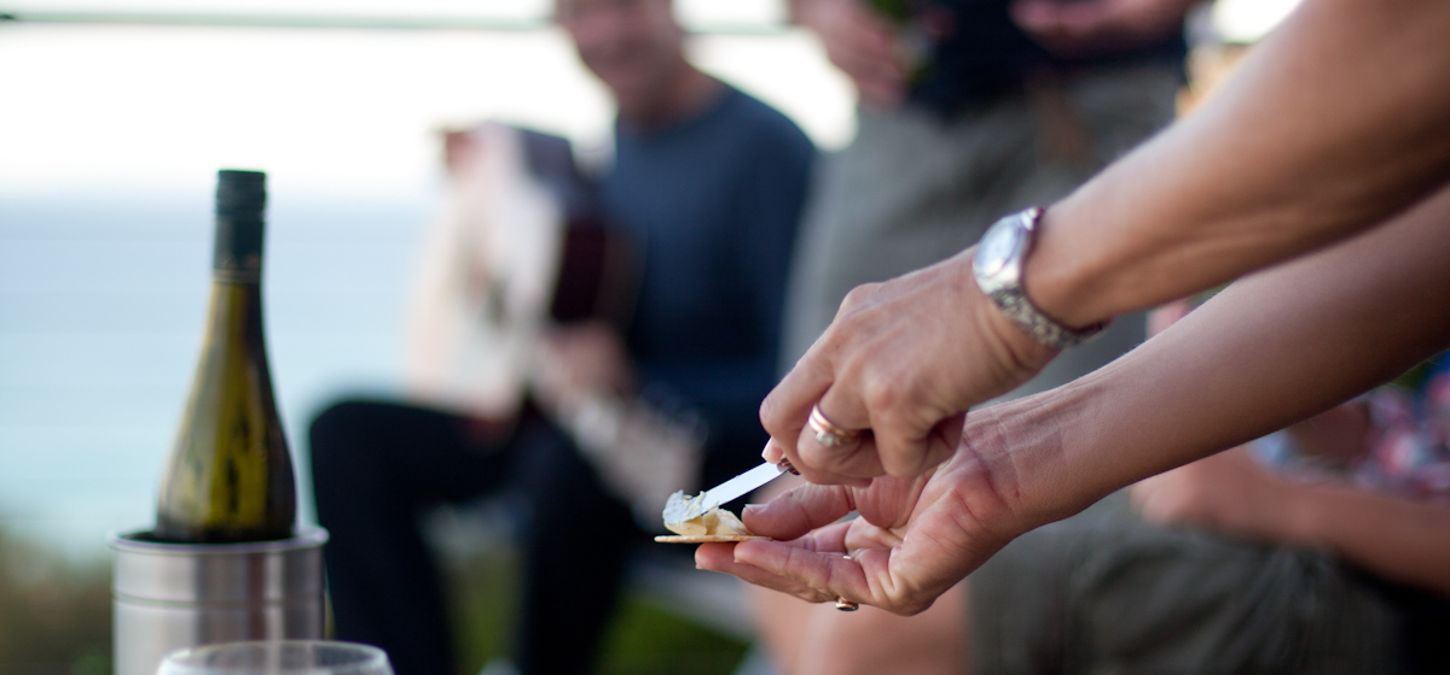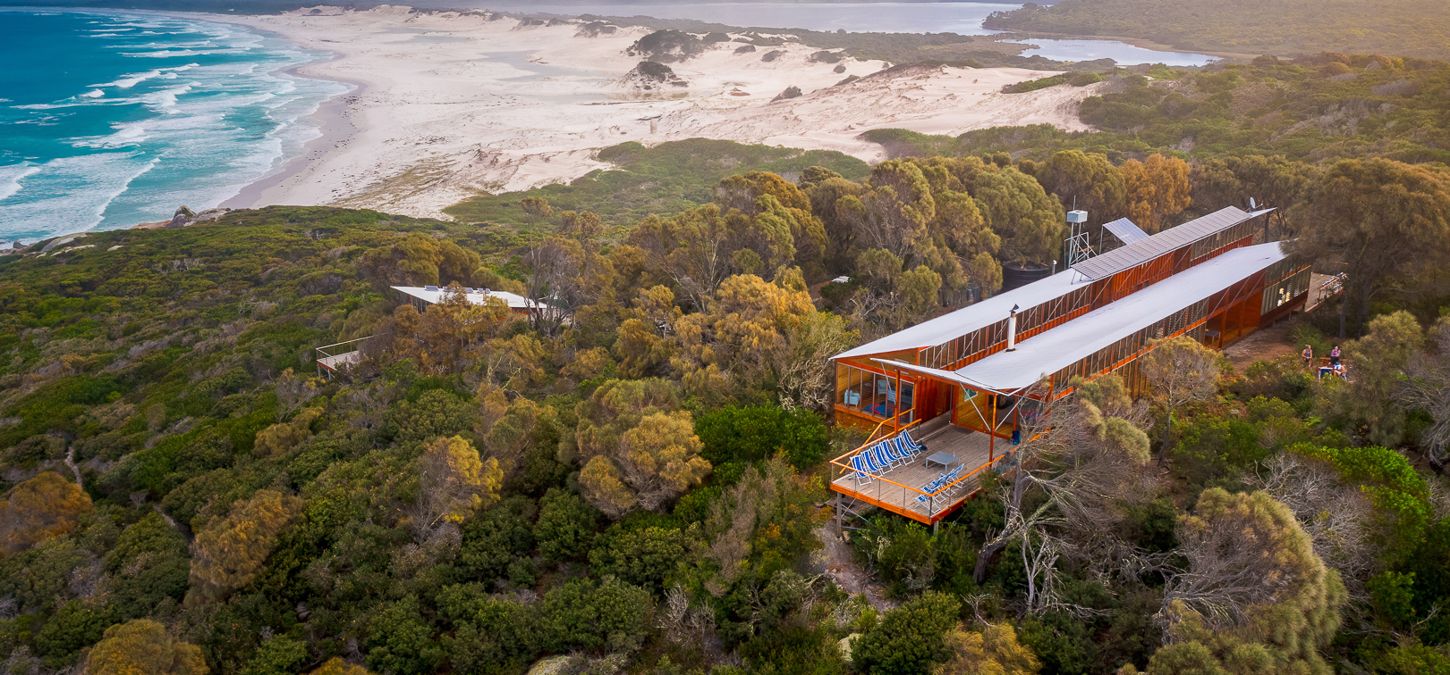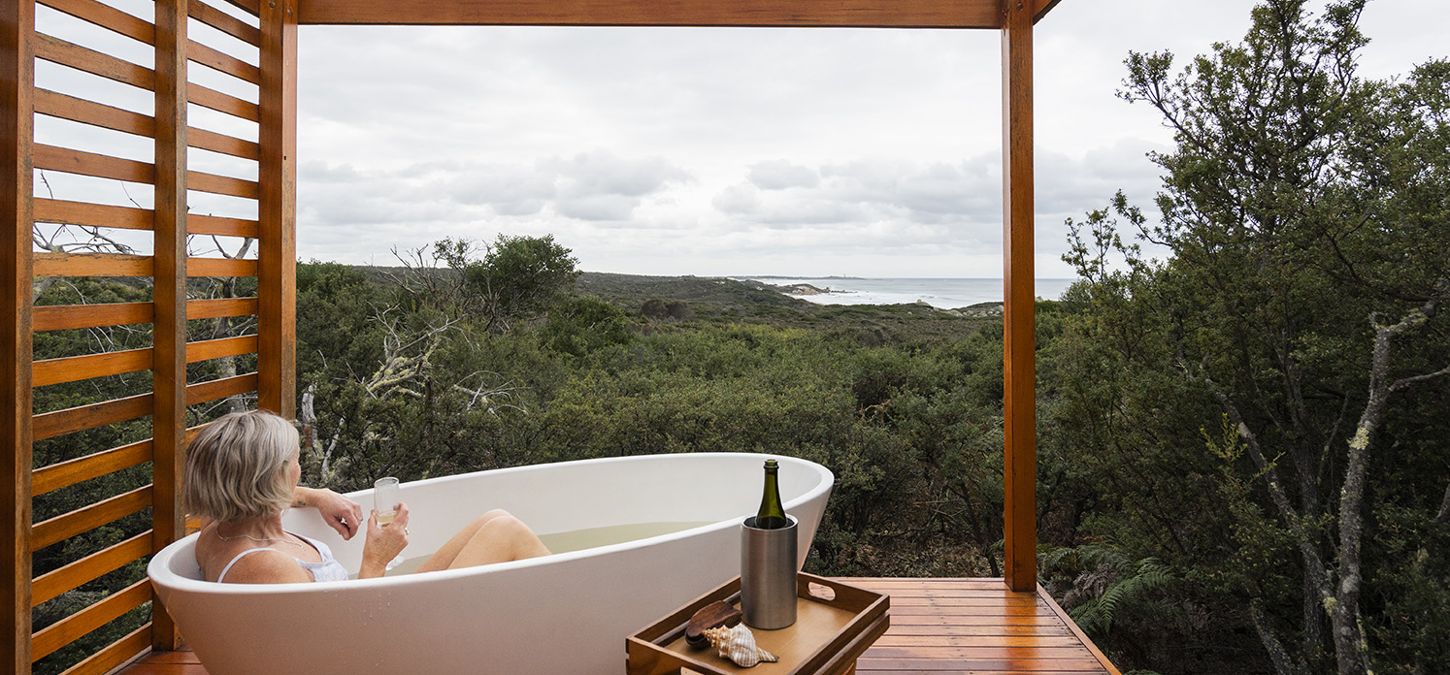 Bay of Fires En Plein Air Painting Retreat
May 12-15, 2024 | $3,195 per person
4 Day Guided Retreat 
Each trip requires a minimum of 8 guests (Twin Share). The maximum is 9.
Bookings
Limied Edition Walks — Terms and Conditions 
Our standard booking terms and conditions apply to all bookings. In addition:
Cancellations

more than 90 days from the scheduled departure date, a fee of $350 per person will be charged with the balance payment refunded;
within 90 days of departure, no refund is available. Bookings are transferable to another name.

Minimum numbers are required four months before departure.
This walk cannot be booked in conjunction with any other offers and discounts.
Inclusions
Return transfers between Launceston and the Bay of Fires Lodge
3 nights at Bay of Fires Lodge twin share
All meals and non-alcoholic beverages, plus a selection of Tasmanian wines
National Park pass
Use of a backpack and Gore-tex jacket for the duration of the walk
Two qualified guides for the duration of the walk.
Additional information
Have a burning question?  Check out our

 

 

FAQ page, and if you need further help please don't hesitate to

 

contact our friendly reservations team.
Ready to start planning your next adventure and want to know what to bring?

 

Check out our detailed gear list, including details on what's provided. If you are unsure about anything on the gear list please call us or talk to you local outdoor adventure store.
Need help deciding? Talk to an expert
We're here to help 9am – 5pm Monday to Saturday, otherwise, email us anytime and we'll be in touch.