Three Capes Adventure Walk with Authentic Leaders Group
Available from May to October each year for private groups.
This unique team-building experience takes place in Tasmania's extraordinary wilderness. Over three days, it brings together the Tasmanian Walking Company's Three Capes Adventure Walk, the challenge of Wim Hof Method breathwork and cold water plunges with Piet Blokker and leadership workshops delivered by the Authentic Leaders Group. We'll take you to the edge, walk the tallest cliff tops in the southern hemisphere, plunge into bracing waters and be refreshed by nature. Your teams will be challenged and supported, engaged by physical adventures, share great food, wine, and conversation and by the end of three days be equipped to work well together.
The Authentic Leaders Group works with you and your People & Culture team to bring together a program designed for you. Prices are tailored to each group.
For all enquiries and bookings please contact Tasmanian Walking Company on (03) 6392 2211 or email bookings@taswalkingco.com.au.
Quick Facts
Inclusions
Three Capes Adventure Walk Itinerary
All Wim Hof Method Practices with Piet Blokker.
All Authentic Leaders Group Workshops.
Return transfers from Hobart or Hobart airport,
Camp and Lodge accommodation.
All meals, non-alcoholic beverages and a selection of Tasmanian wines.
National Park Pass.
Boat transfer from Port Arthur to Denman's Cove.
Use of a backpack and weather-proof jacket for the duration of the walk.
Linen and comfortable beds.
Two qualified naturalist guides for the duration of the walk
What happens after you make an enquiry?
Your details will be forwarded to Nick Randall at the Authentic Leaders Group. A content plan and walk price will be developed to suit your organisation's needs.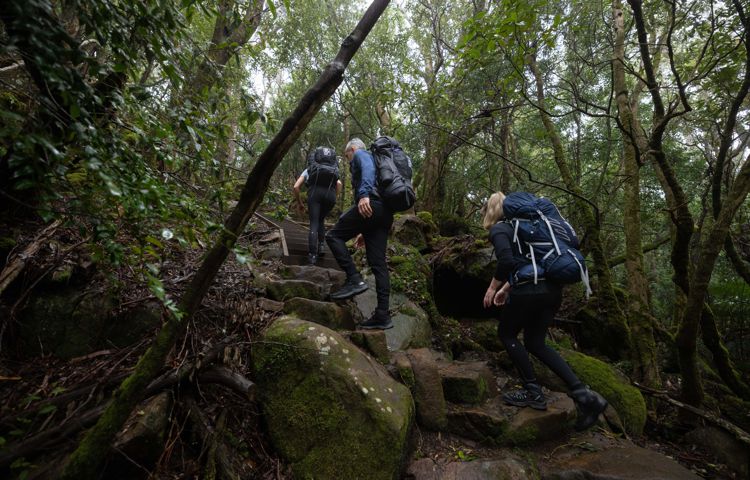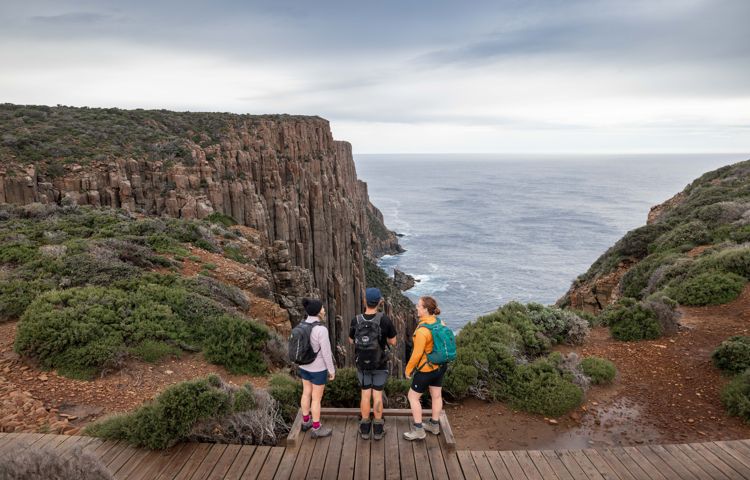 Authentic Leaders Group
Authentic Leaders Group run unique leadership programs for a wide range of corporate and sporting bodies in the heart of nature. These programs have a proven track record for enabling people and companies to work at their very best by creating deeper bonds and connection via shared experience. Their immersions are tailored for your team, ensuring they target the growth areas your company needs the most. It's an authentic experience that offers opportunities for genuine connection, that allows permission to play and considers your team's wellbeing along the way.
ALG Founders are Nick Gall, Jack Riewoldt and Nick Randall. Head to their website for more information.
Aims of the program


Achieve greater purpose through connection and shared experiences

Their activities encourage people out of their comfort zones, unlocking a sense of achievement and connection whilst encouraging creativity. Let ALG be your gateway from stagnancy to growth, helping individuals develop pride and connection to where they work and what they do. This unique and tailored journey will leave your team different than when they arrived, connecting in ways that only a shared experience can activate.

Choose vulnerability and curiosity over certainty

What lies on the other side of your boundaries? How can you commit to vulnerability to pursue a greater understanding of your individual and company purpose and values? Let ALG provide the platform to explore your values and sense of self. They allow you to be curious, discovering where growth areas lie, and exploring new ways of doing things to ensure employees are the best version of themselves.

 

Head to their website for more information.
Piet Blokker - Level 2 Wim Hof Method Instructor
Wim Hof Method combines breathing, cold therapy and commitment, leading to an enhanced natural state of being that offers the following benefits: reduced stress level and better sleep, greater cold tolerance, faster recovery, increased energy and improved sports performance, enhanced creativity, heightened focus and determination, and stronger immune systems and increased willpower.
Read more


At the Age of 21 Piet immigrated to Australia and fell in love with Australia's nature and especially with the pristine, preserved, and beautiful wilderness of Tasmania. ​At the age of 50, he ended up with Lymphoma and Rheumatoid Arthritis due to stress and not looking after his body. He realized that his old life was finished and that this was the beginning of a new life. He started learning about the Dutchman Wim Hof. Without further thinking he ordered the 10-week course. This proved to be his life saving decision! His Awaking Process started up and his RA disappeared and he is now clear from cancer. ​Because of the Wim Hof Method he is now able to have fun with his children and grandchildren. 

Webpage : https://www.staykoel.com/
Three Capes Adventure Walk Itinerary (3-days)

The Three Capes Adventure Walk is a fully-guided walking experience along Tasmania's dramatic Tasman Peninsula and on the iconic Three Capes Track. Designed to challenge, the Three Capes Adventure Walk lets you walk longer, climb higher and discover more of the extraordinary landscapes on offer. This adapted itinerary takes you to the legendary Ship Stern Bluff, standing atop dolerite sea cliffs with seal colonies 300m below. You'll walk among ancient rainforests and along wild coastlines on the Three Capes Track and enjoy the comfort of our private accommodation. Staying at both our luxury camp overlooking Tasman Island and Cape Pillar and our private lodge nestled into the national park. Unwinding and recharging each night with chef-inspired meals and a glass of local wine.
Day 1: Hobart to Tasman Camp
Approximately 4-5 hours walking | 12km
Itinerary 


Groups will meet for a gear check and briefing at Bangor Vineyard. Here our guides will help you to organise your packs for the trip. Please have breakfast before arriving. We provide packs and heavy-duty rain jackets. For items that you decide not to bring, we can store in a safe and secure compartment at the walker base that can be retrieved at the end of day three.

 

After a 1.5-hour bus drive, your Shipstern Bluff adventure begins. You need only carry essential items in a lightweight day pack. This 12km walk will take 4-5 hours depending on the weather conditions and the walking speed of the group. A gentle climb through eucalypt forest opens to spectacular views of the coast and the blue Tasman Ocean before winding down to Shipstern Bluff. Weather and swell permitting, the group will pause for a packed lunch followed by a Wim Hof Method session with Piet Blokker. The trek back provides an uphill challenge and plenty of photo opportunities along the way.

 

The bus will be waiting for you at the trailhead, ready to take you to Tasman Camp to celebrate the achievements of day one. Groups that don't plunge earlier will dip into the cool waters of Safety Beach and walk into camp. Our camp has been designed with comfort in mind — enjoy a hot shower and a delicious meal shortly after in our dining room, framed by clear views to Tasman Island. After dinner, you will take part in some unique ALG themed activities that will heighten your connection as a group and as individuals. The private canvas tents, fitted with two comfortable single beds will be a welcome sight after a full day of activities.

Daily activities 


Wim Hof Method Practices

Breathwork and cold-water swim
Evening breathwork

Authentic Leaders Group Workshops

 
Day 2: Tasman Camp - Crescent Lodge
Approximately 2 hours walking | 6km
Itinerary 


Wake up to morning breathwork and stretching on the deck with Piet, followed by a hearty breakfast prepared by your guides. The morning is devoted to some self and group leadership activities and a longer Wim Hof Method breathwork and swim session. It's a stunning place to learn. On a clear day you'll enjoy views of Cape Pillar and Tasman Island. We gather over lunch, a bounty of fresh produce. It's a short walk back to Safety Cove where a private boat will be waiting to take you on the short trip across to Denmans Cove. On the other side, we may encounter knee-high waters due to a shifting sandbank, so it's a good idea to wear shorts, zip-off walking trousers or pants that can be rolled above your knees.

From here, you'll start the two-hour venture to Crescent Lodge, delighted by stories of history and treated to stunning views along the way. Crescent Lodge is perched high, with views stretching across Crescent Bay to Cape Raoul, and guest rooms spilling into the gully. Your lodge host will greet you upon arrival and will ensure your time here is comfortable, while also preparing a three-course feast of local fare. Settle in with a warm shower as dinner is prepared. Post dinner, our evening growth sessions will take place as the sun sets and stars take to the southern skies.

Daily activities 


Wim Hof Method Practices

Morning breathwork
Extended breathwork and cold-water swim
Evening breathwork

Authentic Leaders Group Workshops

One morning and afternoon session and two evening sessions
 
Day 3: Crescent Lodge -Fortescue Bay
Approximately 8-9 hours walking | 21km
Itinerary 


Wake to the quiet of the rainforest and wander down to the shared dining room for an early breakfast to start the day. Then it's time to lace up your boots for our walk to Fortescue Bay. Today is the biggest day of walking, the challenge lies in the distance covered and the hills hiked. You will cross a diversity of landscapes and ecosystems, including exposed coastal heathlands, surprise pockets of coastal rainforest and climb the peninsula's highest peak, Mount Fortescue (490 metres above sea level). Along the way you will experience moments of stillness to reflect on the journey so far, ensuring your growth is embedded as you move forward as a united group. Enjoy lunch with leafy-framed ocean views overlooking The Monument. You will arrive late afternoon at Fortescue Bay — the finish line! This is your chance to drop the pack and sink your toes into pristine sands and have a quick dip before we head back to Hobart via the airport.

 

Daily activities


Wim Hof Method Practices

Authentic Leaders Group Workshops

Conversation, tips and advice during the challenging walk
Exclusive Lodges and Eco-camps
Our eco-lodges and camps are built with comfort and sustainability at top of mind. Read more about private accommodation on our Three Capes Adventure Walk below.
Tasman Camp

On your first night, we stay at our private eco-camp on the Tasman Peninsula. Nestled into the coast behind Crescent Bay, our camp looks out to the dramatic coastline of Tasman Island and Cape Pillar. The camp is the perfect combination of luxury and the comforts of home. Sleep in your private tent which opens up to the night sky, and relax in our communal lounge or outdoor deck. Refresh with a hot shower and take in the views of this coastal haven!

Crescent Lodge

On night two, settle into one of our eco-lodges which make up the only private accommodation within the Tasman National Park. Our lodges offer true shelter — a place of protection and refuge. They are simple yet sustainable, comfortable and inviting. Comfortable and inviting. Large sliding doors in the living and communal spaces invite the outdoors in, encouraging connection with your surroundings. Each lodge features a dining and kitchen area, expansive views and sleeping quarters.

Our Environmental Commitment 

We consider it a great privilege to provide the only private lodging along this trail and have taken every environmental consideration during the design and build process. Our lodges rest lightly within the natural environment. Sustainability features include water minimisation features and the latest solar power technology. 

We've also worked closely with the topography of the land - each lodge aligning to contours of the existing landscape. This not only has minimised impact on the surrounding vegetation but allows our accommodation to blend into nature's setting.

We trust you'll enjoy your days and restful nights with us.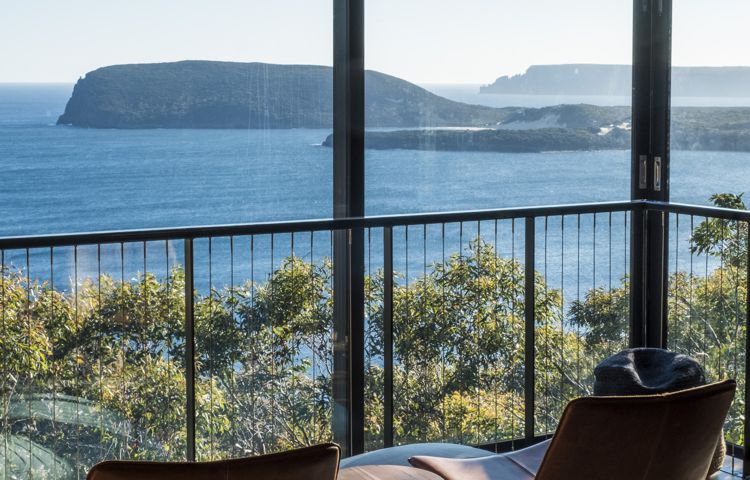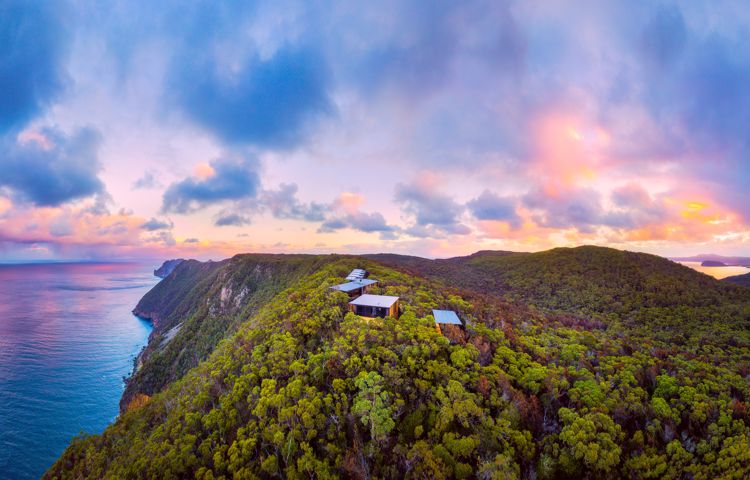 Three Capes Adventure Walk with Authentic Leaders Group
Each trip has capacity for a group of 12 guests plus two ALG leaders.
Price and ALG Content are available by request.
Bookings
Limited Edition Walks - Terms and Conditions 
Our standard booking terms and conditions apply to all bookings. In addition:
Cancellations

more than 90 days from the scheduled departure date, a fee of $350 per person will be charged with the balance payment refunded;
within 90 days of departure, no refund is available. Bookings are transferrable to another name.
Minimum numbers are required four months before departure.
This walk cannot be booked in conjunction with any other offers and discounts.
Inclusions
Return transfers from Hobart.
Camp and Lodge accommodation.
All meals, non-alcoholic beverages and a selection of Tasmanian wines.
National Park Pass.
Boat transfer from Port Arthur to Denman's Cove
Use of a backpack and weather-proof jacket for the duration of the walk.
Linen and comfortable beds.
Two qualified guides for the duration of the walk.
All Wim Hof Method Practices with Piet Blokker.
All Authentic Leaders Group Workshops.
Need help deciding? Talk to an expert
We're here to help 9am – 5pm Monday to Saturday, otherwise, email us anytime and we'll be in touch.