Exclusive Lodges and Eco-camps
True shelter, something that gives protection and refuge, simple and sustainable, clean and comfortable.
Our groups have exclusive use of our private accommodation along the Three Capes Track.  Our accommodation is discreetly placed along the trail, offering warm showers, shared facilities, relaxation and lounge areas and twin share accommodation.
We also have a private eco-camp where guests stay on selected Three Capes Walks. This is built overlooking Tasman Island, Cape Pillar and the Three Capes Track.
LODGE ACCOMMODATION
Each evening, settle into the only private accommodation within the Tasman National Park. Our lodges offer true shelter - a place of protection and refuge. They are simple yet sustainable. Comfortable and inviting.
Walkers have exclusive use of our two lodges along the Three Capes Track. Both are discreetly positioned along the trail, their design responding to the contours of the land. Hot showers, generous lounge areas and plush pillows await.
YOUR PRIVATE LODGE EXPERIENCE
The final steps of each day's walk lead to your lodge accommodation where afternoon tea is served. Free time allows you to explore the lodge, settling on a suitable perch for a glass of Tasmanian wine while your guides prepare the evening meal. As night falls, outdoor decking entices for stargazing on clear southern nights.
Large sliding doors in the living and communal spaces invite the outdoors in, encouraging connection with your surroundings. Each lodge features a dining and kitchen area, expansive views and sleeping quarters. On your final two nights, enjoy cooling off in our invigorating outdoor tub amongst the trees
OUR ENVIRONMENTAL COMMITMENT
We consider it a great privilege to provide the only private lodging along this trail, and have taken every environmental consideration during the design and build process. Our lodges rest lightly within the natural environment. Sustainability features include water minimisation features and the latest solar power technology. 
We've also worked closely with the topography of the land - each lodge aligning to contours of the existing landscape. This not only has minimised impact on the surrounding vegetation but allows our accommodation to blend into nature's setting.
We trust you'll enjoy your days and restful nights with us.
Guests stay in our lodges on our Three Capes Signature Walk and on the second night on the Three Capes Adventure Walk.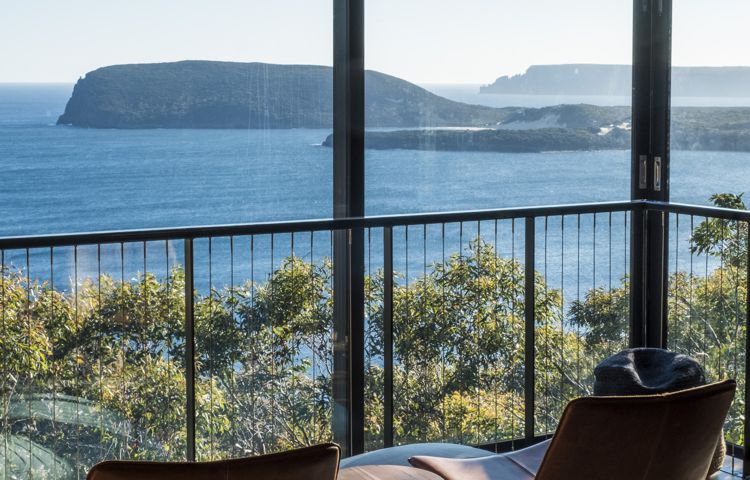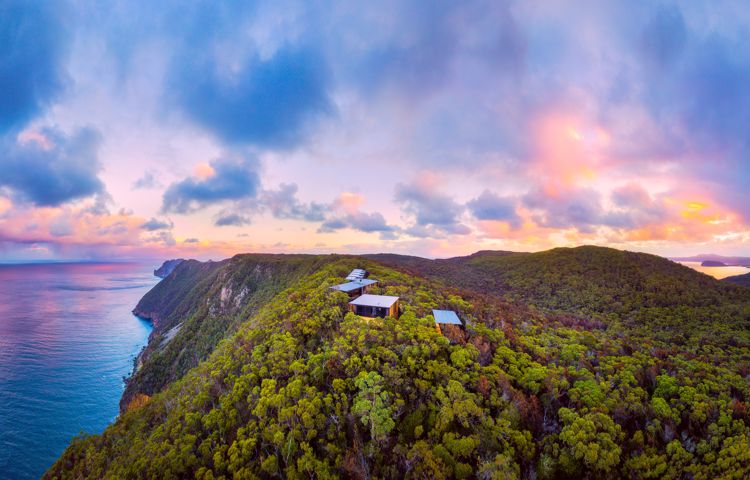 TASMAN CAMP 
We welcome guests to our new Tasman Camp on the first night of the Three Capes Adventure Walk. The camp boasts all of the creature comforts on private coastal land. Sitting between Crescent Bay, and Safety Cove, the prime location offers unique views of Tasman Island, stunning seacliffs and Mount Brown.
Tasman Camp is secluded accommodation on private coastal land. Our camp represents the perfect place to retreat. Although the camp has been built completely off the grid, we are not without our creature comforts including hot showers, which is well appreciated after a long day of walking. With most of our days spent in wild, powerful, coastal places, our camp is a sanctuary we can return to at the end of day one and two, gathering in the dining room and sharing food and stories from the day.
Guests stay at the Tasman Camp on the first night of the Three Capes Adventure Walk