The Way of Transition: Journeying with life's changes
Available by request for private groups
This winter solstice walk is for anyone undergoing or facing change. As we make our way through this landscape of stunning contrasts, at the interface of land, sea, cliff and sky, there will be opportunities to contemplate what it means to come to the edge and end of things, discern possibilities and await their arrival.
The Three Capes Signature Walk is the only guided walk offering the full Three Capes Track experience including the only private lodge accommodation inside the national park. The Three Capes Track is a dry-foot track in winter, returning each evening to cosy lodges for dinner and fireside conversations.
Sarah Bachelard is a theologian and spiritual director of Benedictus Contemplative Church. She is the leader of our successful Cradle Mountain Huts Sacred Geography Walks and has led retreats nationally and internationally. Neil Millar works as a professional supervisor and a facilitator of practitioner reflective learning groups. He is a Circle of Trust® facilitator. 
For all enquiries and bookings please contact Tasmanian Walking Company on (03) 6392 2211 or email bookings@taswalkingco.com.au
Sarah Bachelard and Neil Millar
Sarah Bachelard is a theologian and spiritual director of Benedictus Contemplative Church. She has led retreats and taught contemplative practice nationally and internationally, and is the author of several books, including Poetica Divina: Poems to Redeem a Prose World.
Neil Millar works as a professional supervisor and a facilitator of practitioner reflective learning groups. He is a Circle of Trust® facilitator and has led retreats in a wide variety of settings.
Sarah and Neil have been involved in Edge of the Sacred gatherings in central Australia and have walked ancient pilgrim routes in Spain, Portugal and France. They love bushwalking, wilderness, and exploring connections between inner and outer landscapes.
Three Capes Transitions Walk (4-days)
At the interface of land and sea;
beach, cliff and sky,
places at the edge put us in touch with beauty close at hand
and a wider horizon;
evoke our vulnerability
and open us to possibility.
- Sarah Bachelard and Neil Millar
This landscape of thresholds evokes themes of turning and transition; presence, possibility, and awe. Along the way, stories, poems and the insights of wisdom traditions will complement the geography and experience of the walk. At the turning of the season, in the bracing depth of winter, you are invited to come away and discover a wider horizon. Whilst walking, there is time for one-on-one chats with Sarah and Neil. Afternoons and evenings at the lodges provide time for group conversations.
Walk with us and we'll take you a step further, a step deeper. We're the only guided walking company authorised by the Tasmania Parks and Wildlife Service to climb the iconic Blade and walk the Three Capes Track. You'll rest your head in the only private accommodation within the Tasman National Park. Our exclusive, architect-designed Crescent Lodge and Cape Pillar Lodge are your havens within the wilderness. Think hot showers and superb dining.
Walking with lightweight packs (10kg or less) and pulling a chair up to three-course meals, let our world-class guides take you on an unforgettable journey.
Day 1: Hobart - Crescent Lodge
Approximately 2 hours walking
Upon arrival at Stewarts Bay, we will make our way down to the jetty where a private boat will be waiting to depart for our short trip across to Denman's Cove at 1.15 pm. Cruising with views back to Port Arthur, aside from the possible seal and dolphin spotting, some of the highest dolerite cliffs in the Southern Hemisphere come into view, an indication of the drama to come.
A short wade ashore from the boats signals your arrival at Denman's Cove, where we'll fuel you with local produce for lunch, in preparation for a gentle walk through coastal woodland to the rocky refuge of Surveyors Cove. At this point, we follow a gradual incline up to the lodge.
Crescent Lodge is perched high, with far-stretching views across Crescent Bay to Cape Raoul, with guest rooms spilling into the gully. Settle in with a warm shower as your guides-come-chefs prepare a three-course feast of local fare. Post dinner, take your Tassie pinot to a quiet deck for your own private sunset.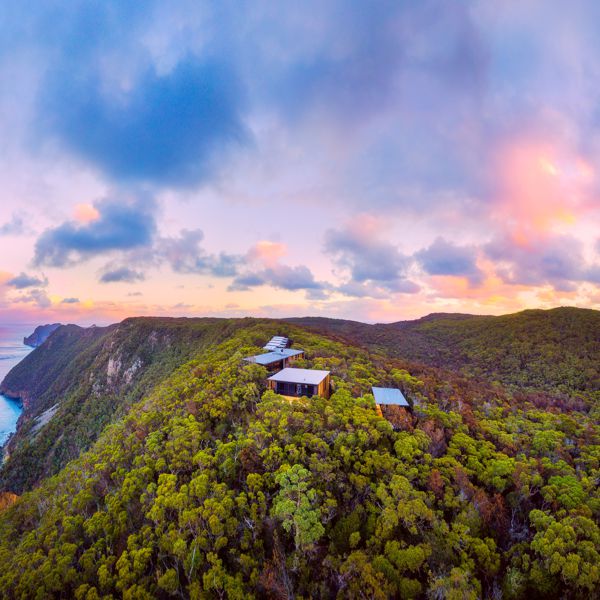 Day 2: Crescent Lodge - Cape Pillar Lodge
Approximately 5 hours walking
Wake to the silence of Crescent Lodge and wander down to the stunning dining room for a hearty breakfast to start the day. From here, head due south with views across Safety Cove and Maingon Bay to Bruny Island. Climbing Arthurs Peak, 300 metres above sea level, is worth the oceanic vista. In these parts, White-Bellied Sea Eagles soar in the thermal currents, so be sure to look skyward. Lunch isn't far away, an easy downhill descent to south-facing cliffs where pelagic seabirds are plenty - albatross, petrels and gannets. Here, there's nothing between you and Antarctica.
Following lunch, skirt the edge of Tornado Ridge before heading south toward Cape Pillar Lodge, your base for the next two nights.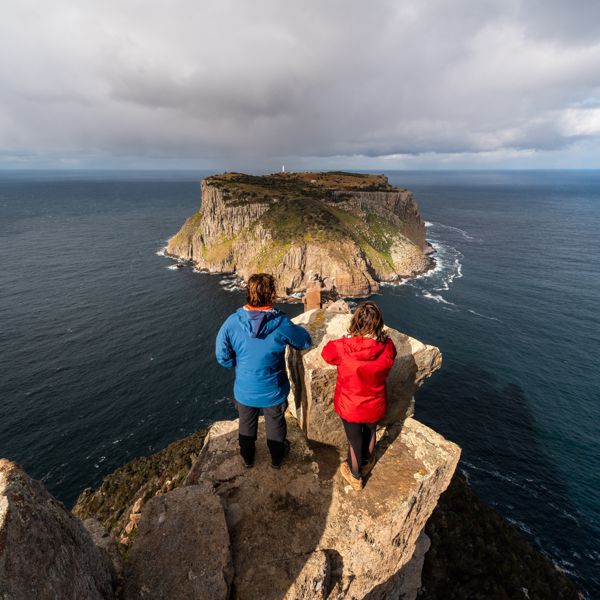 Day 3: Cape Pillar Lodge return
Approximately 6 hours walking (optional)
This is the most adventurous day of your journey. Today you'll walk through silver gum forest (Eucalyptus Tenuiramis), a species endemic to the area, out to the highest sea cliffs in the Southern Hemisphere. There's little wonder Cape Pillar has been afforded other names - Hurricane Heath and Desolation Gully. A side trip to The Blade is a must, with staggering views across to Tasman Island.
Lunch is served at Chasm Lookout - with Tasman Island's weathered lighthouse in sight. It's then a direct return journey home to Cape Pillar Lodge where three-course goodness and ocean views await. By now, walking strangers might just have become firm friends. Unlace the boots and read a book, with the sea breeze in your toes.
Day 4: Cape Pillar Lodge - Fortescue Bay
Approximately 6 hours walking (Cape Hauy side trip optional)
Time to farewell Cape Pillar's safe forest haven. From here you'll cross Retakunna Creek (local indigenous dialect for creaking trees) en route to a patch of rainforest. Breathe it in - lush mosses, ferns and vibrant greens. Next mission is the peninsula's highest peak, Mount Fortescue, climbing some 490 metres above sea level. Enjoy lunch with leafy-framed ocean views overlooking The Monument.
Take the side trip and enjoy the majesty of Cape Hauy - or simply remain with the group for a final cliff-walk descent onto the cool white sands of Fortescue Bay. This is your chance to drop the pack and sink your toes into pristine sands or perhaps take a celebratory dive into the crystal clear waves. We will then travel back to Hobart via the airport. We will finish in Hobart with a glass of celebratory bubbles.
Our Private Lodges
Each evening, settle into the only private accommodation within the Tasman National Park. Our lodges offer true shelter - a place of protection and refuge. They are simple yet sustainable. Comfortable and inviting.
Walkers have exclusive use of our two lodges along the Three Capes Track. Both are discreetly positioned along the trail, their design responding to contours of the land. Warm showers, generous lounge areas and plush pillows await.
YOUR EXPERIENCE
The final steps of each day's walk lead to your lodge accommodation where afternoon tea is served. Free time allows you to explore the lodge, settling on a suitable perch for a glass of Tasmanian wine while your guides prepare the evening meal. As night falls, outdoor decking entices for stargazing on clear southern nights.
Large sliding doors in the living and communal spaces invite the outdoors in, encouraging connection with your surrounds. Each lodge features a dining and kitchen area, expansive views and private bedrooms. 
OUR ENVIRONMENTAL COMMITMENT
We consider it a great privilege to provide the only private lodging along this trail, and have taken every environmental consideration during the design and build process. Our lodges rest lightly within the natural environment. Sustainability features include water minimisation features and the latest solar power technology. Bird-friendly Archimedes wind turbines bolster our renewable energy resources.
We've also worked closely with the topography of the land - each lodge aligning to contours of the existing landscape. This not only has minimised impact on the surrounding vegetation, but allows our accommodation to blend into nature's setting.
We trust you'll enjoy your days and restful nights with us.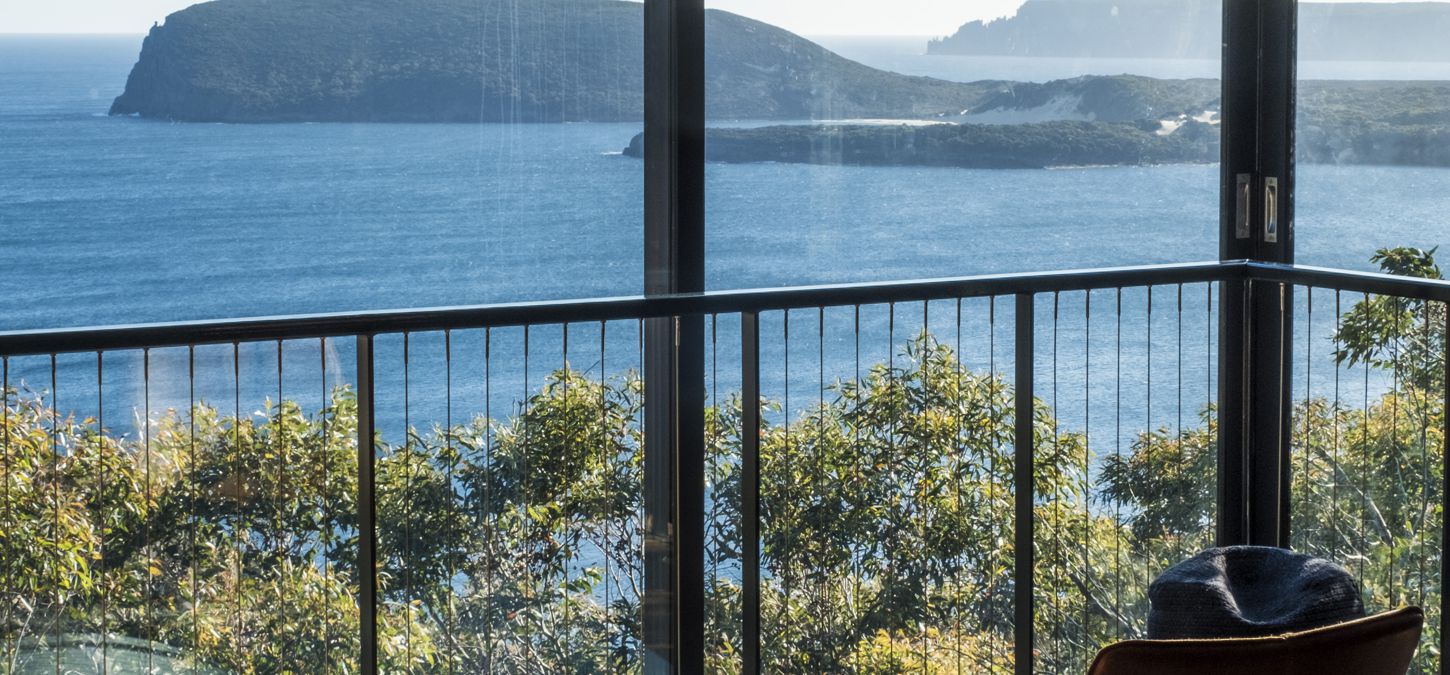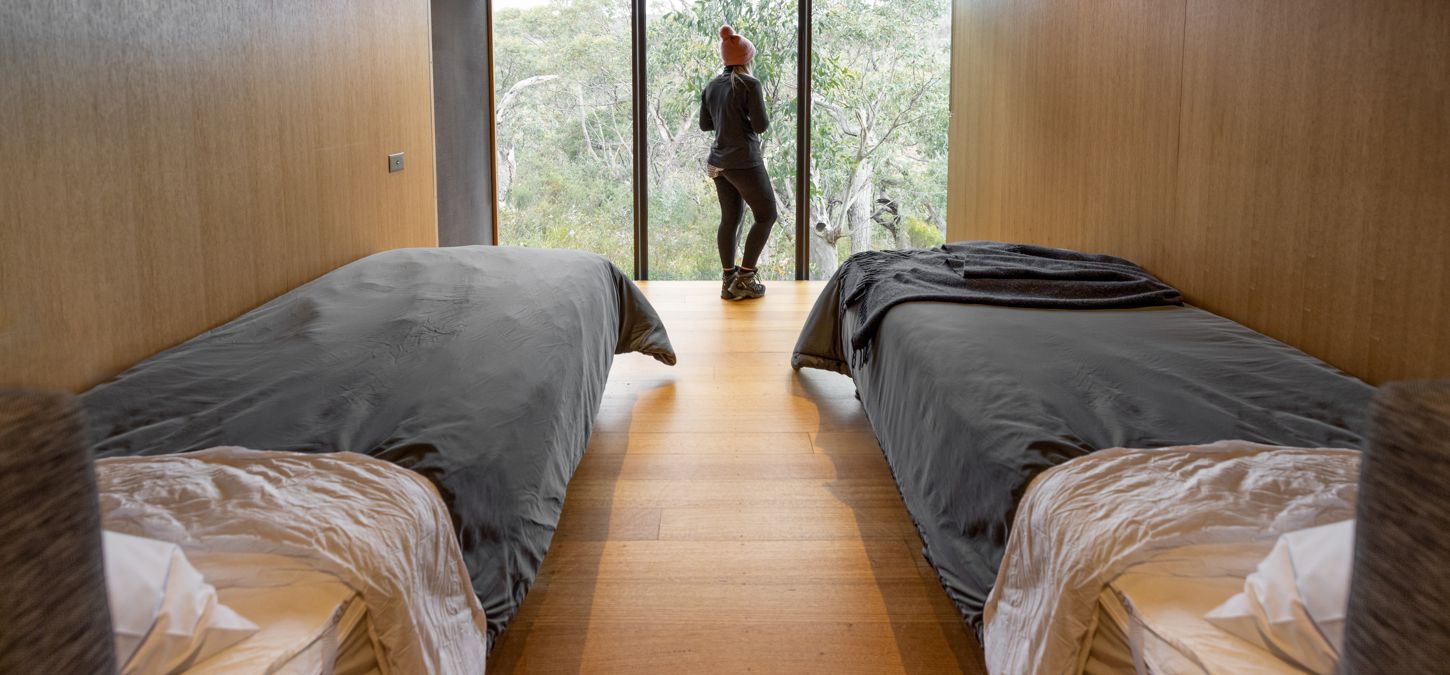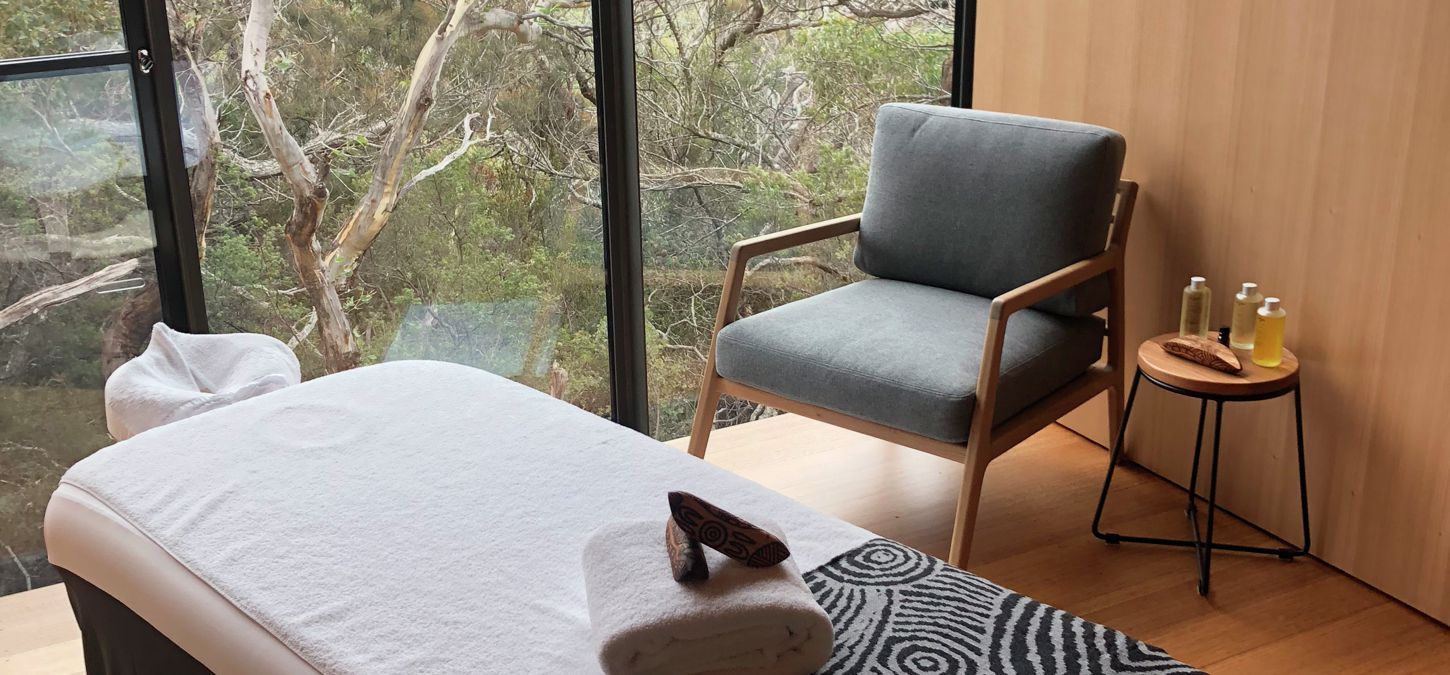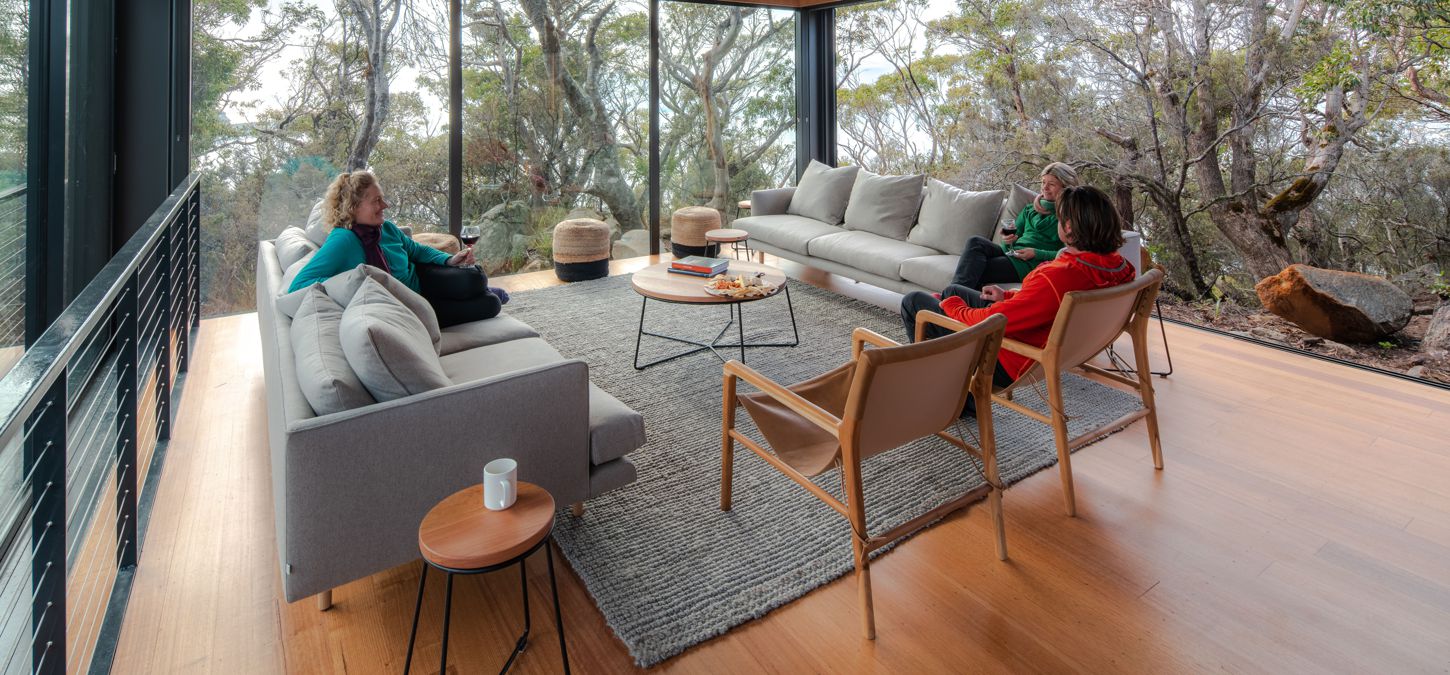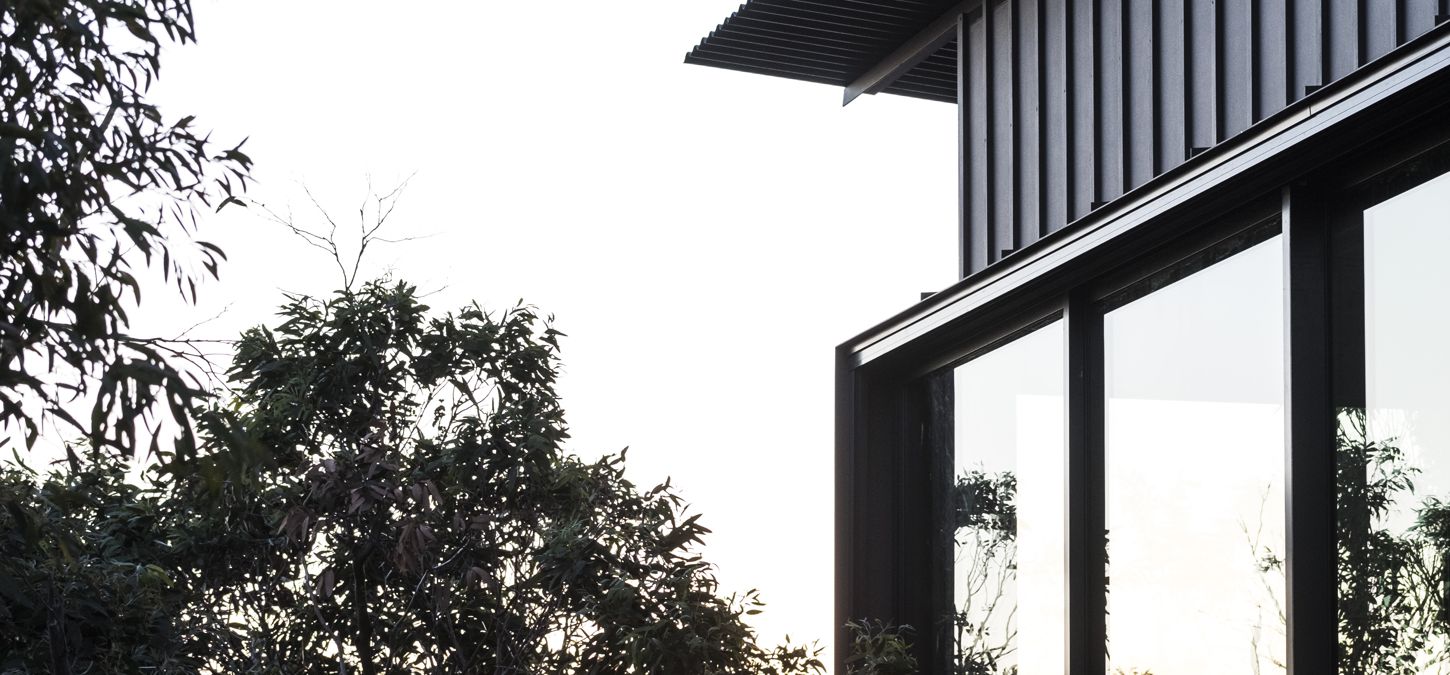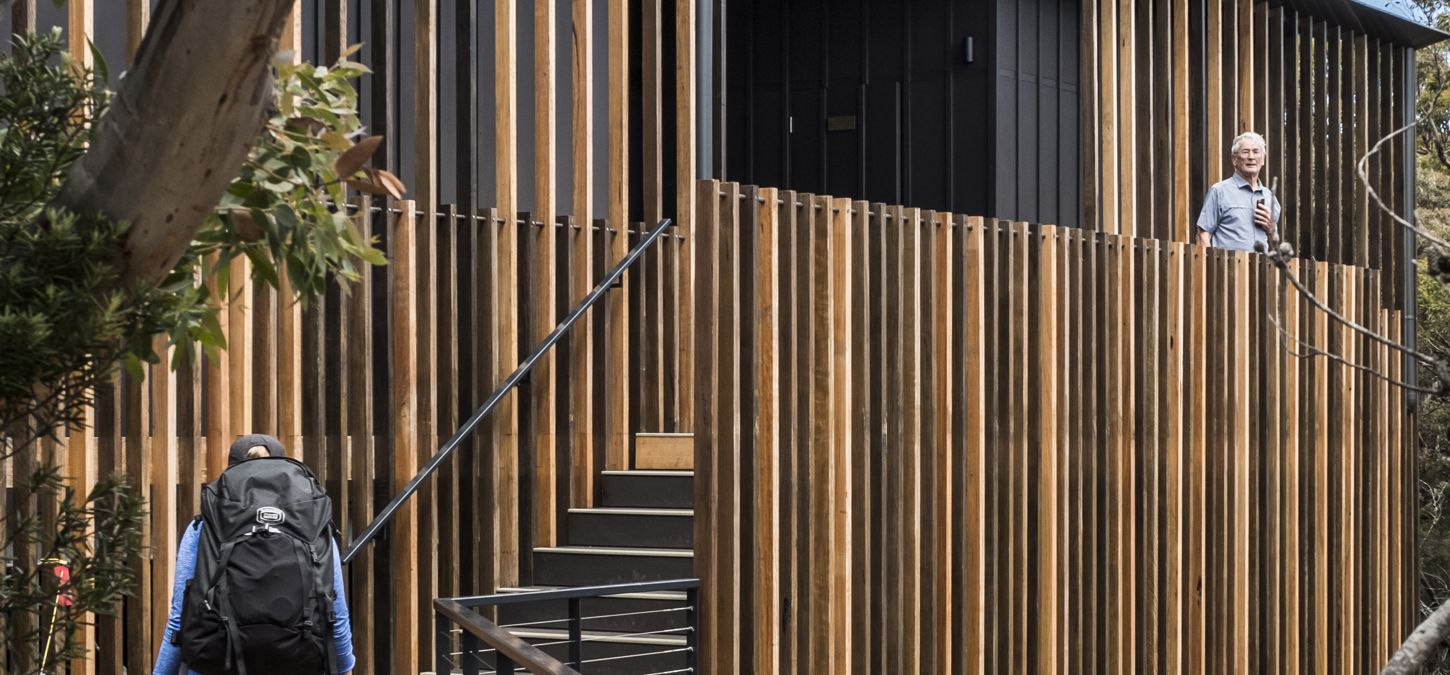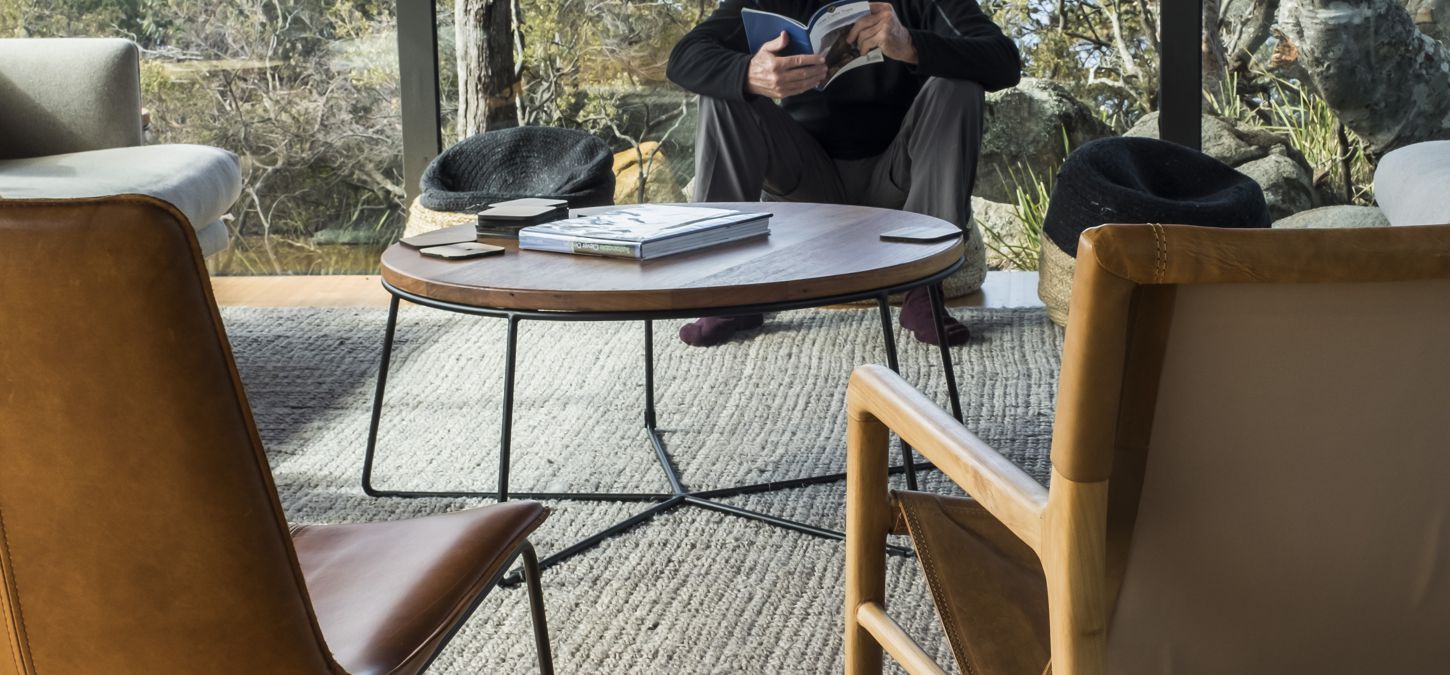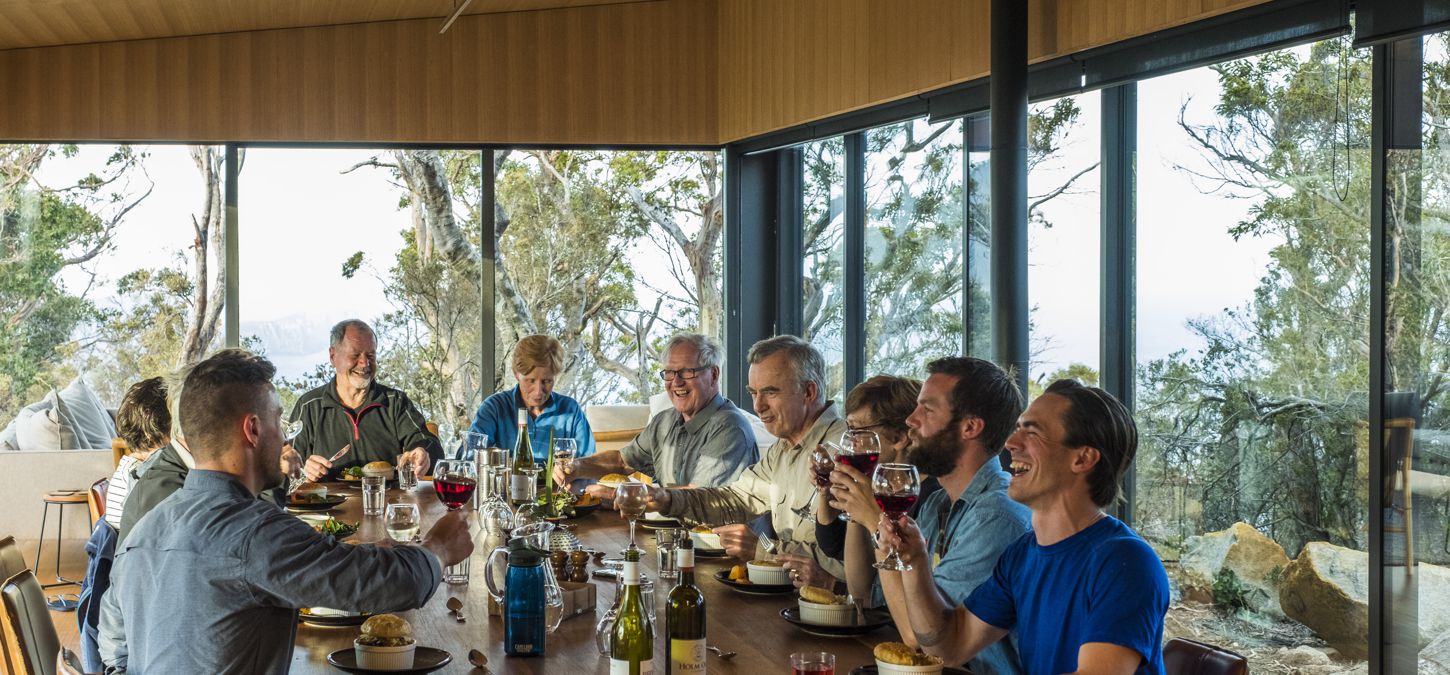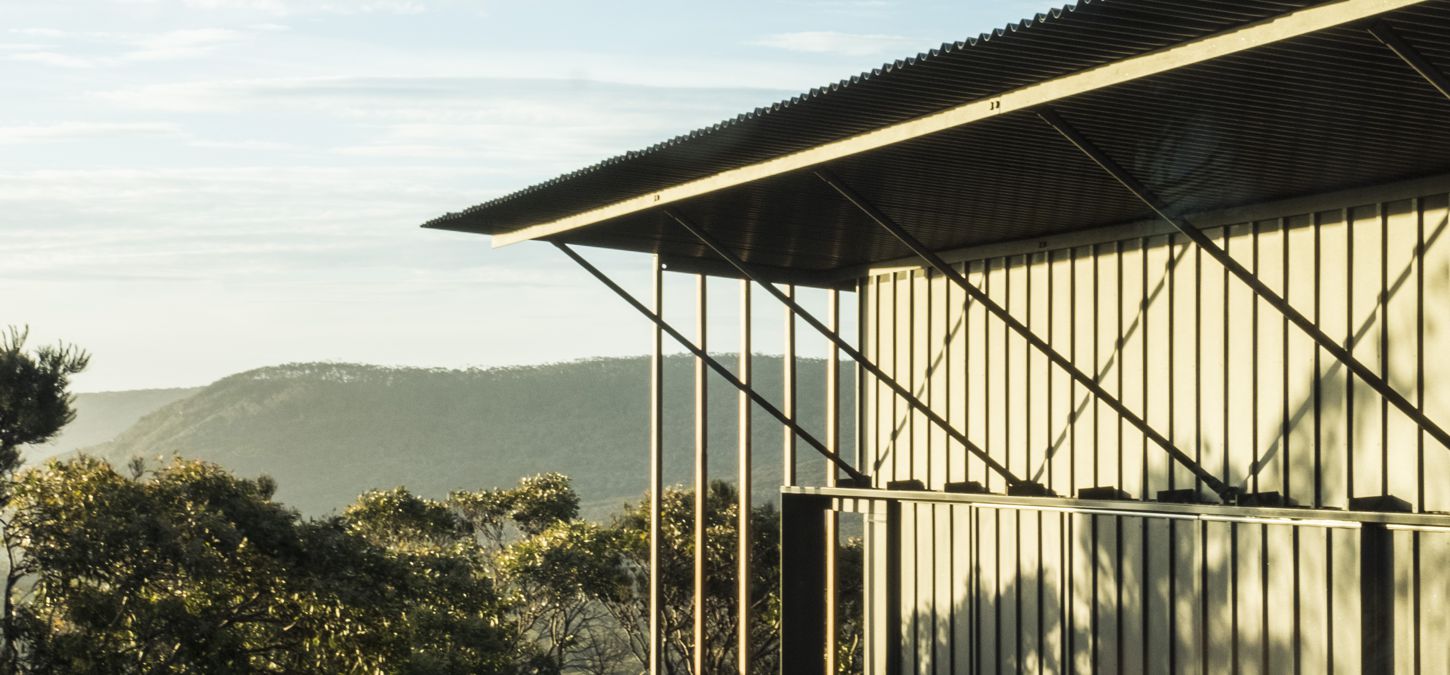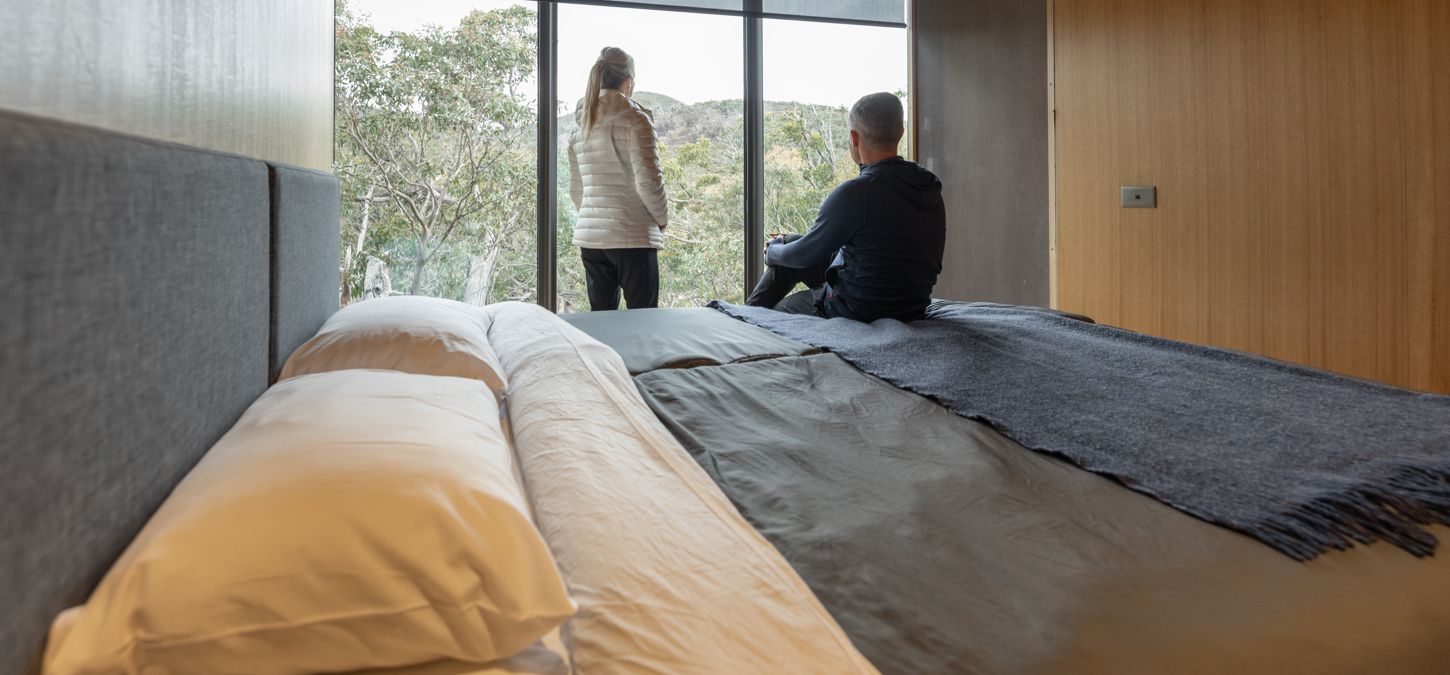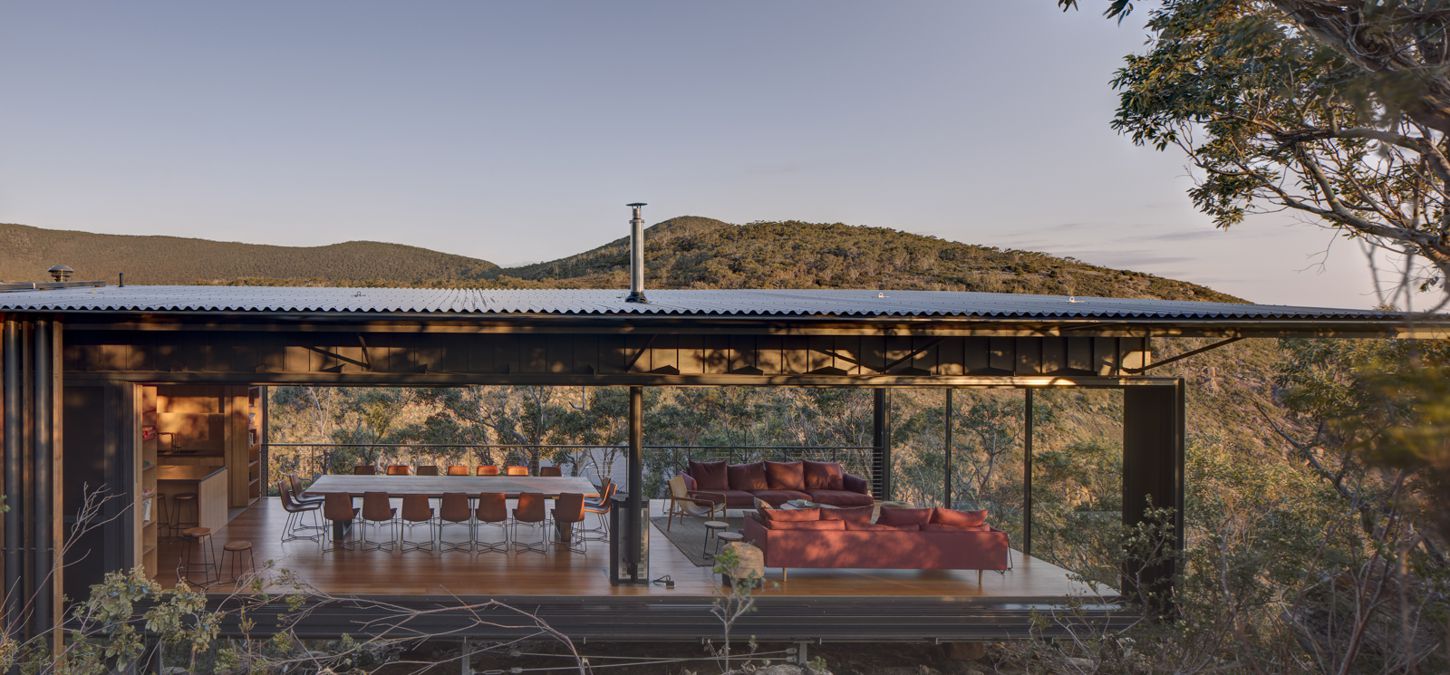 Three Capes Walk with Sarah Bachelard and Neil Millar
Available by request for private groups
4-Day Guided Walk 
Each trip requires a minimum of 10 guests (Twin Share). The maximum is 12.
Bookings
Special Interest Walks - Terms and Conditions 
These are in addition to our standard booking terms and conditions.
All prices are quoted per person in $AUD including GST.
A deposit of $500 per person and the Guest Information Form are due within five days of booking.
The final payment is due 90 days before departure. For reservations made three months or less from the departure date, full payment is due at the time of booking.
Cancellations

more than 90 days from the scheduled departure date, a fee of $350 per person will be charged with the balance of payment refunded;
between 90 and 60 days prior to departure, you will be charged 50% of the full trip cost with the balance refunded; or
within 60 days of departure, no refund is available. Bookings are transferable.

Travel and pre- and post-trip accommodation expenses are not included.
Return Walker Discounts are welcome

Single supplements are available on this walk ($5,591 per person).
After the minimum number of bookings has been achieved, the trip is guaranteed to depart.  If for any reason, the trip cannot go ahead due to restrictions placed upon travel due to Covid-19, guests will be permitted to reschedule their walk to the new date provided for the departure or rebook a different walk within 24 months. Cancellations by guests for other reasons will incur our standard cancellation fees.
Inclusions
Return transfers from Hobart
Lodge accommodation 
All meals, non-alcoholic beverages and a selection of Tasmanian wines
National Park Pass for the duration of your walk
Boat transfer from Port Arthur to Denman's Cove
Use of a backpack and weather-proof jacket for the duration of the walk
Linen and comfortable beds
Two qualified guides for the duration of the walk
Need help deciding? Talk to an expert
We're here to help 9am – 5pm Monday to Saturday, otherwise, email us anytime and we'll be in touch.