Calling all adventurers. Are you ready to cover 45kms across three days? It's not all hard work though. On night one you'll be among the first to experience our new standing camp, visit and experience the views of Crescent Lodge on night two, where you'll be able to spot your tracks from the previous day.   
So, let's enjoy a quick walk through … 
Day 1: 
After meeting early in Hobart, we bus down to the trailhead of Cape Raoul to begin our adventure. With just a day pack (larger packs stay on the bus) we begin this 14km (5-6hrs) return walk with a lookout where seals may call. If the weather behaves, we'll enjoy lunch with views, or in a sheltered location on the stunning return walk. 
We'll then bus to Standup Point Camp, for long table dining and to be among the first to settle into our lush new standing camp. You will find yourself cosy of an evening in our durable tents, after relaxing in our communal living spaces, carefully designed to take advantage of the striking views of Tasman Island all year round.  
Day 2: 
Today is pretty much identical in distance and time to our first day which includes a private boat ride. Wake to a hearty breakfast then enjoy a pack-free summit of Mount Brown. This 8km (4hrs) walk is worth every upward step. On a clear day, you'll take in Cape Raoul, Cape Pillar and Tasman Island.  
Beached at Safety Cove, we'll fuel you with local produce before a private boat whisks you across to Denman's Cove to begin the 2-hour walk into Crescent Lodge. Shorts or trousers you can roll up/zip off are handy as you may need to walk in knee-high water at our beach landing. 
On arrival at Crescent Lodge your host will serve up three incredible courses of local fare, dessert can be followed by watching the sun sink from our deck. Look out over Crescent Bay and out Standup Point Camp from the day prior. 
Wrapped in a protected gully, drift off in our comfy lodge beds. The last day awaits.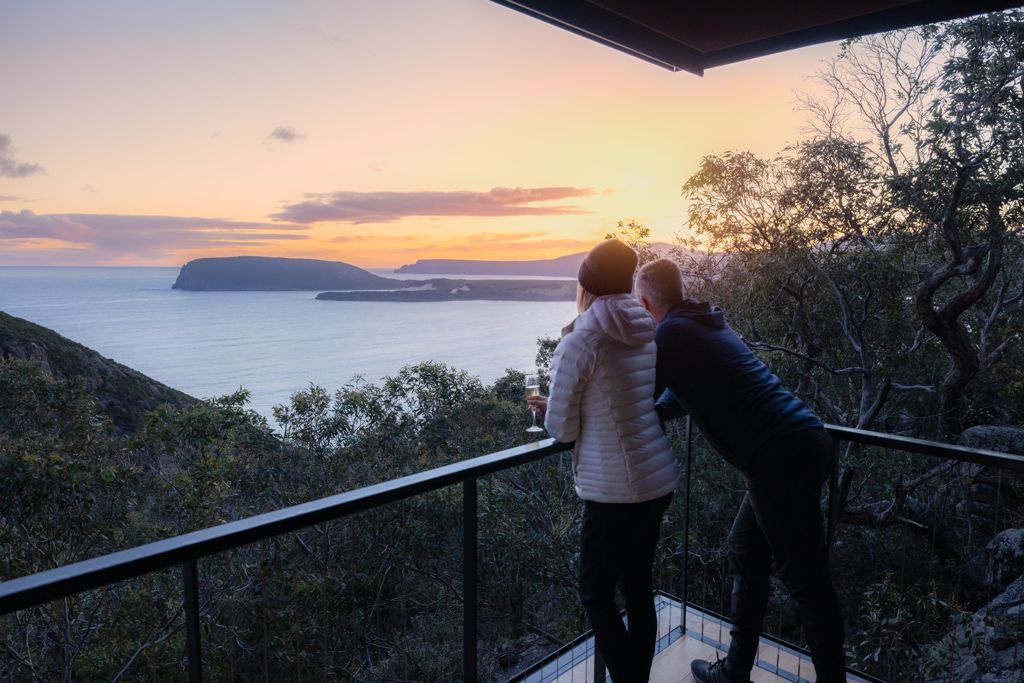 Day 3: 
The final day is the longest - a 17km (7-8 hrs) walk through to Fortescue Bay. This landscape shifts and changes; from exposed coastal heathland to unexpected rainforest pockets. We'll climb 490m above sea level to summit the peninsula's highest peak, Mount Fortescue, enjoying lunch with a side of ocean views. Look down over The Monument as your guides continue to share intriguing stories of those who walked this land before us, the geology and more. 
By late afternoon, we'll arrive at Fortescue Bay. This is your moment to leap in for a celebratory dip. The cool waters of Fortescue are the ultimate reward for our adventurers. There's not a finish line like it! 
We are now taking bookings for this new adventure! Be the first to experience all of the above (and more). 
Visit our Three Capes Adventure page for more information. 
For bookings: email bookings@taswalkingco.com or call 6392 2211.