Supporting local at Tasman Camp
At Tasmanian Walking Company, we strive tell the stories of Tasmania through all areas of our walking experience. All of our accommodation is sustainability built and gently placed in the Tasmanian wilderness with custom interiors to suit each iconic walk. Our latest camp is no exception. Built overlooking Crescent Bay with dramatic views out towards the Three Capes Track, Tasman Camp was built with local suppliers and businesses at the forefront.    

Come walk with us on our Three Capes Adventure or Tasman Long Weekend guided walks and see our amazing interiors at Tasman Camp, sourced locally, and designed by local artists and suppliers. 
Books: 
Our bookshelf is stocked with a wide array of literary gems, all available for purchase from the Hobart Bookshop in Salamanca Square.  From Tasmanian literature and pakana stories, to history, flora and fauna guides or even playing cards. You will find something for every reader in our walker library at Tasman Camp. 
Missed out on finishing a book on your Three Capes walk? Browse their incredible range of Tasmanian literature here 
Crockery:  
Our ceramic crockery used at the camp was made by the father and daughter combo at GV Pottery. Based in Hobart, you can contact George and Georgie through their website here.  
Décor 
All of our wooden bowls, glass birds and wooden fruit are purchased from Brooke St Pier in Hobart. Visit their website here. 
Tapestry Weaving: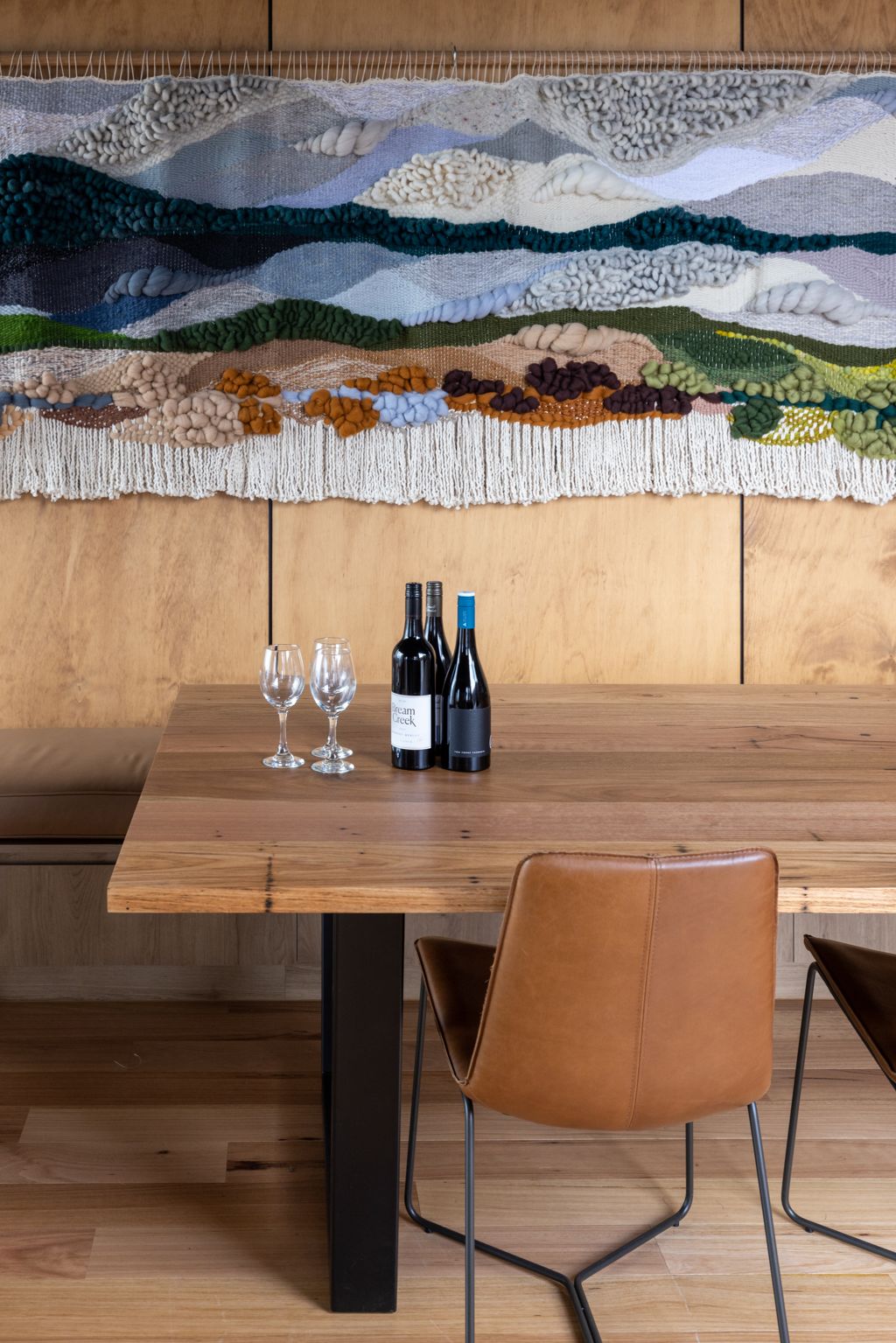 The gorgeous large tapestry is a woven tapestry made by Maryanne Moodie, based in Melbourne.   
We sent Maryanne a photo of the view outside the dining window, and she handwove this on a loom in her own creative interpretation! Maryanne sells her work in Australia and around the world. You can view her work and get in contact through her Instagram account here  
Lighting 
We have already had loads of questions about our black floor lamp in the communal space at Tasman Camp. It's called "The Bill" Standing Lamp from local Hobart maker Stuart Williams  
Stuart. Visit thier website to learn more. 
Black & White Photography Prints:  
All of our photography was printed and framed by the very talented "Full Gamut" in Hobart  
Leather Upholstery Benches:  
Our Leather Benches were made by Sewture, a furniture and upholstery company based out of Longford in Northern Tasmania. You can view all of their specialty products and services they offer here 
Want to stay at Tasman Camp?